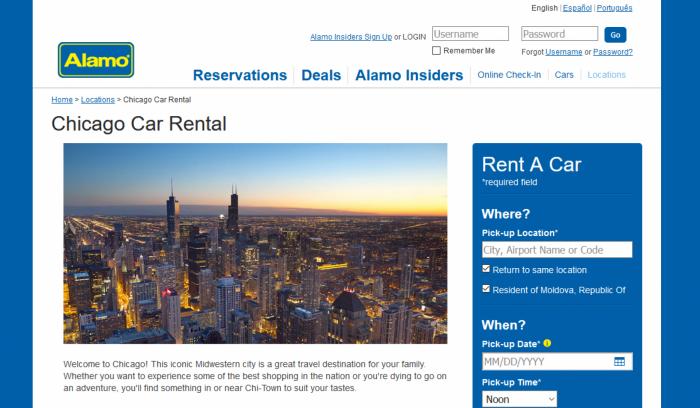 Location: 3 locations
Highlights
Hassle-free pick-up service, even for non-airport locations
Competitive pricing, way lower than the city's average
Instant discount for online rentals
Decent range of Chicago airport car rentals
Incredibly time-saving phone check-in option
Let's face it; renting a car in a big city like Chicago can be a nightmare sometimes, but you can count on Alamo to eliminate most of these car rental headaches and customer pain-points. The sister company to our top pick – Enterprise, Alamo has become a darling of customers because of its fast, fuss-free car return process.
Alamo is often considered the underdog of the Chicago airport car rentals, which may explain why it does particularly well with budget-conscious young renters. Their rates for a compact or standard car stagger at around $41 per day, which is approximately six percent lower than average.
While the company offers superb services, their locations are certainly limited, with only 3 in Chicago. If you think about it, that's three chances for the company to set itself apart for its renter base. It helps that most of these locations are close to airports, but you can expect pick-up service if you book from a non-airport location. That's a massive plus especially if you don't have a ride to their office.
In a bid to give the likes of Hertz and Enterprise a run for their money, Alamo greets their customers with an array of advanced perks. For example, they give you an instant 5 percent discount when you rent a car online.
Even though their loyalty rewards program is comparatively basic, they are a great option if you intend to share the driving with someone else. That's because they will run you about $12 per day for a second driver, which is much lower than most of its competitors.