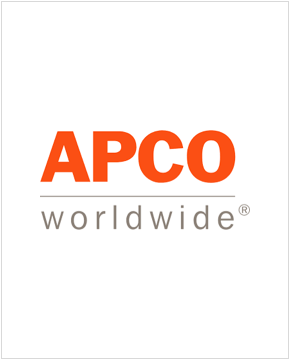 30 S Wacker Dr Suite 1270, Chicago, IL 60606
Phone: (312) 440-8686
With three headquarters in Washington D.C., Hong Kong, and Belgium and 30 offices in major capitals throughout the Americas, Europe, the Middle East & Africa and Asia Pacific regions.
Founded: 1984
CEO: Brad Staples
Top Clients: Dell, Ebay, IKEA, Honda, World Government Summit, Walmart, Microsoft
Expertise: Public affairs, reputation and crisis management, opinion research, and corporate responsibility.
One of the largest privately owned PR firms and strategic communications consultancies in the world, APCO Worldwide serves all types of organizations, with a focus on healthcare, energy, and tech, as well as food and retail industries.
Its top notch crisis experts, including former journalists and lawyers, helps CEOs or a high profile individuals navigate reputational challenges, investment opportunities, and crises.
APCO Worldwide's main assets? Its proprietary tools. APCO's "Emergency Response," for instance, consists of a team of highly-trained professionals who are ready to respond within 60 minutes to material crises such as spills, derailments, fires, mine emergencies, crashes, or hurricanes. Their "Return on Reputation" is another impressive asset, in the form of a research model that calculates how a company's reputation will impact business outcomes.