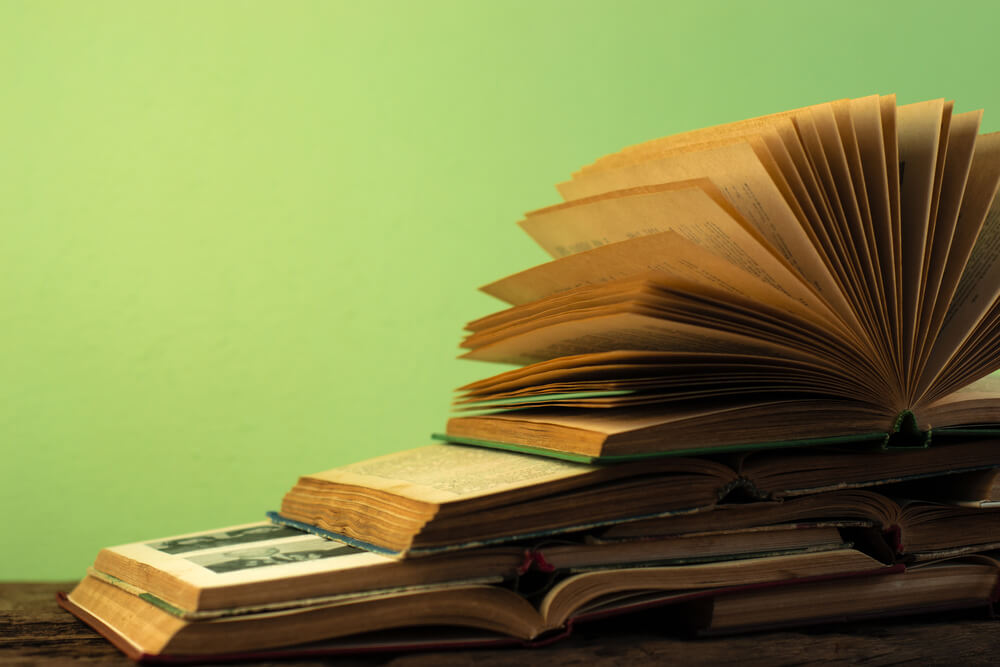 They say a picture is worth 1,000 words. Well, when that picture is in an action-packed graphic novel, it might as well be worth a million words. For action junkies, graphic novels are the best action books. They are bold, colorful, exciting, and they illustrate the action in a way that words alone could never do.
Graphic novels that make the best action books, whether they are the best action adventure books or the best action romance books or some other sub-genre of the action graphic novel world, all have a few things in common. They have heroes and villains – although these distinctions are not always well defined – and high stakes and propulsive events that lead the characters into fast-paced and frenetic situations that are pulse-pounding to read.
There are many great, action-packed graphic novels available today. The art form has grown over the years from something marginalized and often viewed as juvenile to something that now holds considerable respect in the literary world. With so many action adventure books to choose from, it can be hard to know where to start or what to read next.
This is why we have put together this list of best action books. Below we will lay out some of the top graphic novels in the genre. Some graphic novels on the list are very well-known and others are a little more obscure. What they all have in common is that you won't be able to put them down with all the action inside. Here are the best action books to get your heart racing.
1. Sin City – Frank Miller – 1991 
Amazon
This is arguably the most famous graphic novel for the general public thanks to two Hollywood movies based on the book that were co-directed by Frank Miller, Robert Rodriguez, and Quentin Tarantino, featuring an all-star cast. If you are new to the genre and looking for a good place to start getting into the best action books that graphic novels have to offer, this is it. Frank Miller's neo-noir story has vivid characters that inhabit Basin City (which is nicknamed Sin City). Here you will find mobsters, criminals, crooked cops, corrupt politicians, hard-luck cases, and strippers with hearts of gold. These characters get involved with murder, kidnapping, car chases, and much more. The books include individual vignettes called "yarns" where interconnected characters have their own adventures. These books are dark and filled with action which gets Sin City the #1 spot on this list.
2. Watchmen – Alan Moore, Dave Gibbons – 1988 
Amazon
Sin City may be the most well-known action-based graphic novel but for fans of the genre, Watchmen is in the top spot. You know that fans consider this the pinnacle of best action books when you see that it is the best-selling graphic novel of all time. Written by British author Alan Moore – who you will see a few more times on this list with different illustrators – Watchmen is set in an alternate history version of the U.S. where superheroes were common from the 1940s on but "now", in the 1980s, they are outlawed and in retirement. When a former "costumed vigilante" is murdered, these former superheroes must come out of hiding and investigate both the murder and the larger conspiracy of which it may be a part. The other reason this book is a great entry point to the best action adventure books of the genre is that there is also a 2019 HBO limited series you can watch as a companion piece.
3. Sailor Moon – Naoko Takeuchi – 1992 
Amazon
In Japan, they do action-packed graphic novels just as well, if not better in some cases, than Americans and Brits. It is from this country that you get some of the best creators of these types of stories as well as some of the best action adventure books and best action romance books. Sailor Moon is a perfect example of this. The book revolves around Usagi Tsukino, a middle school student who transforms into a superhero named Sailor Moon to lead her group of Sailor Soldiers to search for and protect the legendary Silver Crystal. Sailor Moon and her team must battle evil forces to find the Silver Crystal and then defend it from villains who want to use it to destroy the universe. This is not only an action-packed book but it is one with a strong female lead character whose adventures men and women alike will love to follow.
4. The Invisibles – Grant Morrison – 1994 
Amazon
Scottish writer Grant Morrison created The Invisibles, one of the best action books to come out of the 1990s, with a rotating cast of artists. The series follows members of The Invisible College, a secret organization fighting against a group of aliens who have enslaved the majority of people on earth without them knowing it. This team, which includes a young English hooligan, a mob hitman, an ex-NYPD cop, and a transgender shaman, uses everything in its power from magic to technology to extreme violence to fight against their oppressors. This book is definitely a little crazy and controversial but it doles out a ton of amazing action scenes, even if they can be hard to figure out at times. This is also an incredibly influential graphic novel that fans of the genre will recognize as inspiration for all types of different works.
5. Scott Pilgrim – Bryan Lee O'Malley – 2004
Amazon
This may be among the most well-known and best action romance books thanks to the 2010 cult comedy hit, Scott Pilgrim vs. the World. The film starred Michael Sera, Mary Elizabeth Winstead, and a who's who cast of 20-something actors of the moment. It was based on this graphic novel by Canadian creator Bryan Lee O'Malley. The plot revolves around slacker musician Scott Pilgrim and his love interest, Ramona Flowers. They fall in love but in order to date her, Pilgrim must defeat her 7 evil exes. These battles come in the form of video-game style action sequences and are as funny as they are exciting. It is definitely a different type of action book than many of the darker titles on this list but it is no less exhilarating.
6. 300 – Frank Miller – 1998
Amazon
Another author with more than one entry on this list, Frank Miller, wrote this epic swords and sandals graphic novel about the Battle of Thermopylae. The battle was fought between King Leonidas of Sparta and his Greek coalition and Xerxes the Great of the Achaemenid (Persian) Empire. Miller's fictional retelling of the battle may be most well-known these days from the 2007 Gerard Butler film. However, the graphic novel is even more action-packed and enthralling than the movie. The story is rather well-known now but, as the title hints, it is about 300 Spartan soldiers who hold off Persian invaders for two days and nights before they are finally betrayed by one of their own. The Spartans still get their pound of flesh in the end and the story inspires Spartan soldiers for generations to come. It will certainly inspire action novel readers as well.
7. V for Vendetta – Alan Moore, David Lloyd – 1982 
Amazon
Here is another title from Alan Moore that even newcomers to action graphic novels will recognize thanks to the 2005 Hollywood thriller starring Natalie Portman and the man in that now very familiar Guy Fawkes mask. The story is set in the post-apocalyptic UK where the evil Nosefire political party has risen to power and instituted a fascist system of government. V, a former Nosefire political prisoner in a Guy Fawkes mask along with his protégé Evey are hell-bent on killing the Nosefire powers that be, bringing down the system, and letting anarchy reign. V uses break-ins, bombings, and political assassinations to help his revolution along.  Although it isn't exactly among the best action romance books, the mentor/ mentee relationship between Evey and V is incredibly intense. No one knows graphic novel action like Moore and this book, his earliest that appears on this list, shows why.
8. Akira – Katsuhiro Otomo– 1982 
Amazon
Tokyo was long ago destroyed by a blast during World War III and Neo-Tokyo has risen in its place. Corrupt politicians and crime now run the city and it is rampant with gangs doing battle in the streets. The story follows two teens, Tetsuo and Kaneda who run a motorcycle gang. When Tetsuo develops mysterious and powerful psychic powers, the army takes notice. Tetsuo's powers are very similar to those of Akira, the mostly unknown figure who caused the blast that leveled Tokyo in the first place. It is up to Kaneda to protect his friend from capture while trying to figure out exactly what it all means. This is not only one of the best action books, but it is also one of the best examples of the Japanese cyberpunk genre that has become very popular in graphic novels. This book is a classic and has had a feature-length anime movie, an anime TV show, a live-action movie, and a video game made from it.
9. Polar – Victor Santos – 2009 
Amazon
In Spanish author Victor Santos' Polar, we meet international hitman, Black Kaiser. He was one of the most feared spies and assassins in the world when he worked for the shadowy Damocles Agency. Now in retirement, he is violently forced back into the field when someone from his old agency tries to assassinate him. What follows is a battle between one man and an army of assassins and spies. As the book tells it, there are only 2 options: either they kill Black Kaiser or Black Kaiser kills everyone who is after him. This is a fast-paced shoot 'em up graphic novel that easily takes its place among the best action adventure books. The story has its roots in a silent webcomic by Santos which morphed into a more traditional graphic novel and finally a Netflix original movie in January 2019.
10. Batman: The Killing Joke – Alan Moore, Brian Bolland – 1988 
Amazon
You can't have a list of the best action adventure books without having a Batman graphic novel included. That is how this 3rd Alan Moore entry and 9th best-selling graphic novel of all time gets here. Although this is a Batman book in name, it is actually the origin story of Batman's greatest nemesis, The Joker. The story alternates between present-day Joker who is trying to destroy Commissioner Gordon while Batman tries to stop him and flashbacks of Joker as a comedian and family man who is descending into madness. The book's Joker origin story has become the preferred narrative for the character in the Batman universe. Batman film directors Tim Burton and Christopher Nolan and Joker director Todd Phillips have all sighted this book as a big inspiration for their Joker characters.
11. Dead Body Road – Justin Jordan – 2013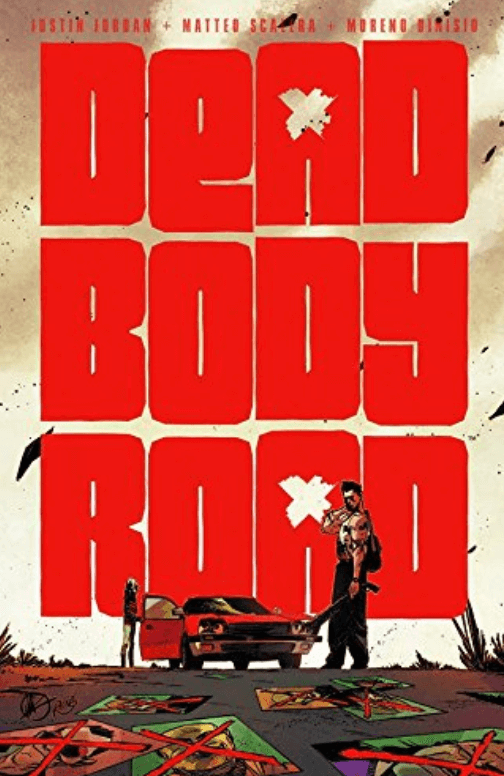 With Dead Body Road, author Justin Jordan created an action-filled graphic novel that is also one of the best action romance books in the genre. The romance is between the main character, the damaged former lawman Orson Gage, and his wife. The problem is, his wife has been murdered by a criminal gang in a bank heist gone wrong. What follows is a modern western-inspired revenge tale where Gage sets out to avenge the death of his loving wife. The only way to do this in his mind is to kill everyone involved. If you are a fan of bloody tales of revenge where the "hero" will stop at nothing to kill the people on  whom his mind is set, this is the graphic novel that will have you burning through the pages.
Buy Dead Body Road – Justin Jordan on Amazon here.
12. Shanghai Red – Christopher Sebela and Joshua Hixson – 2018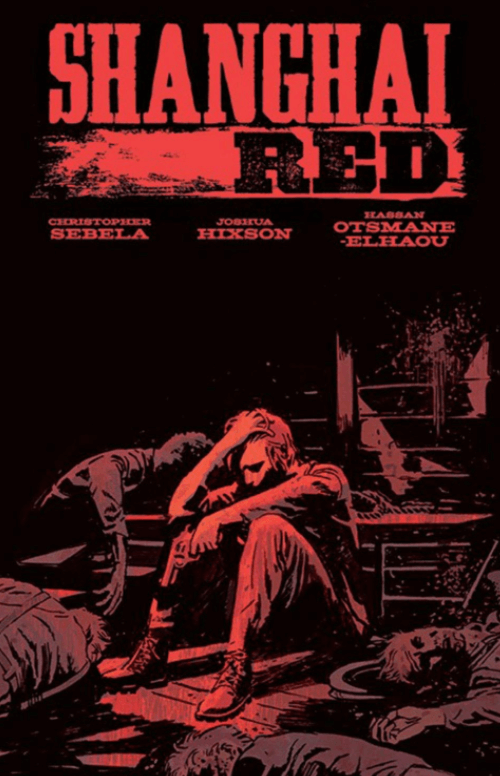 The title Shanghai Red refers to the 1800s practice of people being "shanghaied" or kidnapped and sold as hard laborers to ship captains. Red, the main character, had this happen to her in Portland. She wakes up from being drugged and finds herself on a ship setting out to sea. When she returns years later, she sets out to find and get revenge on the men who sold her into this terrible situation. Disguised as her male alter-ego Jack, Red goes on an action-packed and bloody revenge spree. The tagline of the book pretty much sums up what to expect when you crack open the front cover. It says, "They took her life from her. She's come back to return the favor."
Buy Shanghai Red – Christopher Sebela and Joshua Hixson on Amazon here.
13. Wires & Nerve – Marissa Meyer – 2017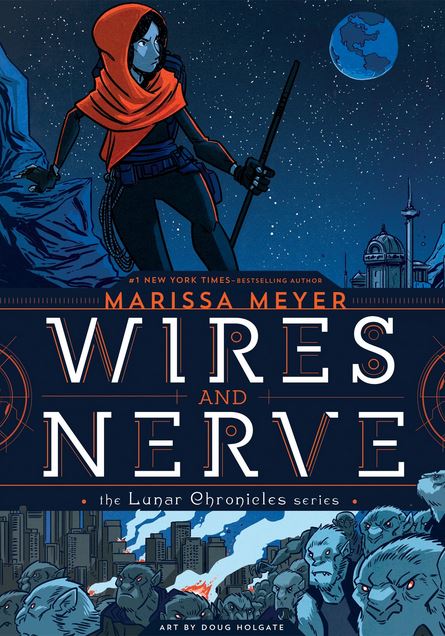 Marissa Meyer is a New York Times bestselling author who has written a number of award-winning young adult fantasy novels over the course of her career. What many people may not have known is that she started writing by creating fan-fic pieces based on her favorite graphic novel, Sailor Moon. So, it was no surprise that in 2017 she launched a graphic novel action series of her own. Even though the main character of Wire & Nerve, Iko, is an android, her love story with a charming royal guard makes this one of the best action romance books on this list. The book isn't all androids in love; it also features Iko hunting the leader of a pack of wolf-hybrid soldiers in the same universe that one of Meyer's other series, Lunar Chronicles, is set.
Buy Wires & Nerve – Marissa Meyer on Amazon here.
14. Destroyer – Victor LaValle – 2017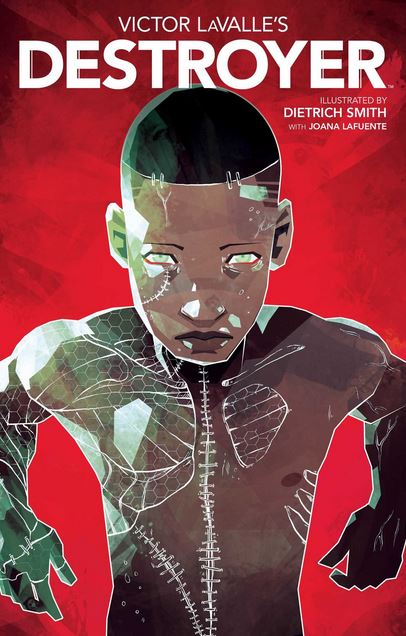 The action is this book comes from a combination of a classic horror story and all too real modern-day events. The idea behind this story by acclaimed novelist and writer Victor LaValle is that a descendent of Dr. Frankenstein decides to team up with the original monster her family created over 200 years ago. She comes to this decision after her African-American son is killed during a run-in with the police. She and the Frankenstein monster her family created, no longer wish to be part of society, all they want to do is destroy it. This book is filled with action, destruction, fantasy, and horror but still feels very grounded in real life which makes it that much scarier.
Buy Destroyer – Victor LaValle on Amazon here.
15. Son of Shaolin – Jay Longino, Canaan White – 2017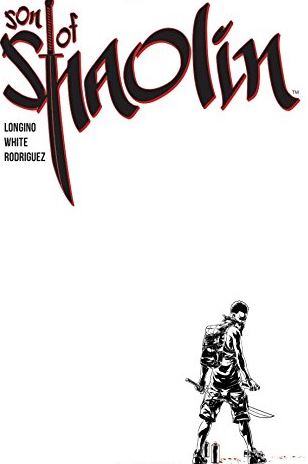 Kyrie is an aspiring street artist living in Harlem, New York. One day, he discovers a confusing secret: he is the last person in a bloodline that goes back to a mysterious group of Shaolin kung-fu masters. With this secret, he meets Master Fong, a man with whom he develops a close relationship and who tutors him in the ways of his ancient elders. This kung-fu epic leads to a showdown with Red Fist, a killer who seems impossible to stop. He may have already killed many of Kyrie's bloodline, and now Kyrie is tasked with both stopping him and surviving the assassination attempt. This is a gripping modern story crossed with a classic kung-fu tale. It is a very popular graphic novel right now and the right to make the film version has recently been bought by Dwayne "The Rock" Johnson's production company.
Buy Son of Shaolin on Amazon here.
16. The Last American – John Wagner, Alan Grant, Mick McMahon – 1990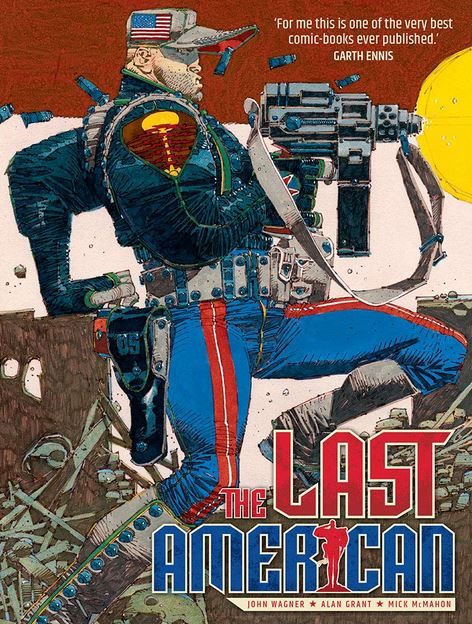 This post-apocalyptic action war book was written in a collaboration between writers John Wagner, Alan Grant, and illustrator Mick McMahon. The plot involves – another character on this list with the last name Pilgrim – U.S. Army Captain Ulysses S. Pilgrim. It is two decades after a nuclear war has destroyed the earth and Captain Pilgrim is awakened by military robots. The U.S. Army chose him to survive the nuclear holocaust and now it is time to carry out his mission. He is tasked with scouring the earth to find out if there are any humans left or if he is, in fact, the last American. The novel will not only get your heart racing but also get you thinking about the true cost of nuclear war.
Buy The Last American – John Wagner, Alan Grant, Mick McMahon on Amazon here.
17. Safe Area Goradze: The War in Eastern Bosnia 1992 – 1995 – Joe Sacco – 2001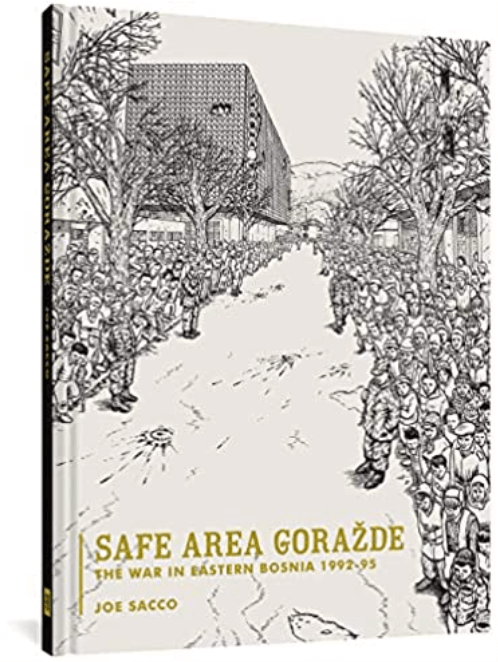 Most action-based graphic novels are pure fiction. On this list, you have seen some of the best action adventure books, the best action romance books, or the best action revenge books. This is the somewhat rare non-fiction action book. Journalist and comic book creator Joe Sacco spent 5 months in 1996 in the war-torn former country of Yugoslavia. He was able to gain access to Goradze, a Muslim town that was overrun by Serbs during the Bosnian War. During this time, the town was under siege, and Muslims who lived here were not able to leave. Sacco draws a very human and real picture of the people living in this region who were just coming to terms with the fact that the war was finally ending and that they had made it through, unlike many of their friends, family members, and neighbors. A story like this in graphic novel form is truly remarkable.
Buy Safe Area Goradze: The War in Eastern Bosnia on Amazon here.
18. Run For It: Stories Of Slaves Who Fought For Their Freedom – Marcelo D'salete – 2017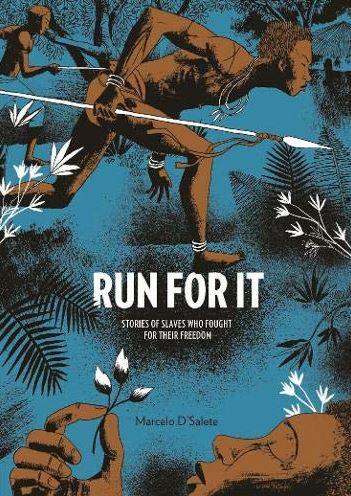 One more heart-racing and heartbreaking real-life graphic novel to end the list, this book tells the mostly untold, until now, story of Brazilian slavery. Just like in America, plantation owners in Brazil bought slaves who were kidnapped from their homeland in Africa throughout the 17th, 18th, and 19th centuries. The semi-fictionalized stories in this graphic novel are inspired by historical documents about slaves in Brazil rebelling against this cruel and unusual practice. It tells the tales of 5 slaves who tried running away from their captivity. There are love stories, stories of the deep, dark Amazon jungles, brutal stories, and even some patented Latin American magical realism. It can be a hard book to read because of the cruelties and atrocities these slaves were forced to endure but it is such a powerful book that, if you pick it up, you won't be able to put it down.
Buy Run For It: Stories Of Slaves Who Fought For Their Freedom on Amazon here.
You Might Also Like: