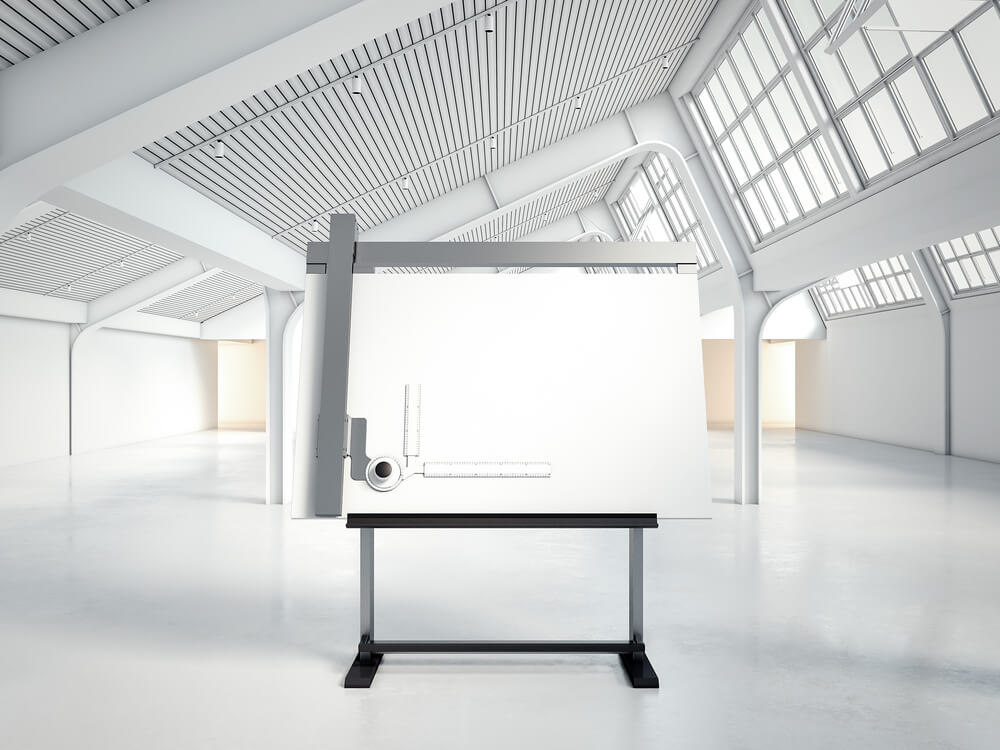 Many people find art and self-expression relaxing, but as any professional artist will tell you, relaxation is not baked into the cake. You might be trying to paint your masterpiece or satisfy the exacting demands of a high-paying client. Every touch of the brush to the canvas could permanently alter the trajectory of, or even ruin, the whole project. That's anything but relaxing. Some artists may need a meditation break just to achieve enough zen calm to start making brushstrokes.
What is missing from that kind of exercise in high-pressure artistry? Impermanence. Perspective. The art of letting go.
Buddha boards harness the zen of letting go by allowing you to create beauty that won't last. Better than an Etch-a-Sketch, it's like the original SnapChat but way more relaxing with no social competitiveness!
On a Buddha board, no brush stroke is permanent. It is designed to fade. Whether you paint images of shattering beauty, juvenile sketches, or outrageous ugliness, within moments the Buddha board will be blank again. As implacable as the turning of the world, the Buddha board moves on. Like the gift of each new day, it is ready for you to paint a new image on a blank canvas.
Buddha boards are made of an ingenious cardboard blend that is white when dry, dark when damp. By painting the board with a brush wet with simple tap water, you can create soft black images in whatever pattern or abstract form suits you. As the Buddha board dries, the image fades.
This makes a Buddha board the perfect tool to center yourself in the middle of a stressful day,  to have a little artistic expression in your day that is yours and no-one else's, without the consequence of permanence. You can paint doodles, sketches, pictures, words, blessings, curses, whatever strikes you in the moment and lowers your blood pressure. Buddha boards are all about living in the moment and then moving on to the next moment.
The best part—if your Buddha board sketch happens to be a masterpiece, you can always snap a quick cell phone pic of it!
Add a little impermanent beauty to your home or office. Here are our picks for the 12 best Buddha boards you can buy in 2023.
1- The Original BUDDHA BOARD
Amazon
This is the Buddha board that started it all, the original article. The 12-inch-by-9-inch cardboard "canvas" mounts at an angle into a slot above the water reservoir, with another slot in the reservoir for the included bamboo brush. Simply pour water into the reservoir and it's ready to use. If you like, you can add an extra soothing and natural touch by filling the reservoir with smooth river rocks.
The bamboo brush creates soft-edged, arresting black images reminiscent of the Japanese calligraphy that inspired the board. It's suitable for children ages five and up, and durable enough to last years with proper care. Enjoy images crafted for the moment, not for the masses, and feel your cares and troubles start to fade away along with the drying, fading images.
2- Buddha Board Enso
Amazon
For people who want to take their Buddha board relaxation on the go, Buddha Board presents the Enso. You can't exactly tuck a Buddha board reservoir full of water into a backpack or satchel, unless you don't mind a soaking-wet backpack or satchel.
The Enso solves this problem by introducing a reservoir to the brush. Water is stored in a container in the brush's handle to continually dampen the bristles. The Enso pairs this brush with a 10-inch-by-10-inch cardboard canvas that can be dampened many times without bubbling or peeling. The canvas folds into a steel enclosure that fits into any carrying case. Take care of it, and it will provide expressive relaxation for years.
Fun fact—"Enso" comes from the word "ensō," Japanese for "circular form" and often used to refer to the "Zen circle," a circle drawn with one continuous brush stroke. The Zen circle is one of the most popular images to draw on a Buddha board. It represents the state of being alive to the moment, free to let creativity flow.
3- Buddha Board Mini 
Amazon
The Buddha Board Mini takes the portability of the Buddha Board Enso to the next level. It takes the idea of the metal enclosure (available in special-edition "mindfulness" white) and shrinks it down to a compact 5-inch-by-5-inch canvas and carrying case. Pair this with the Enso's self-moistening brush, and you have a Buddha board mini that fits into even the smallest of spaces.
This self-contained easel-and-canvas design can be set up on a desk, in a park, on an airplane,  anywhere you need a little peace of mind and ephemeral expression. The reservoir brush fits easily into a TSA-compliant plastic ziplock baggie for liquids.
4- Creative Mark Dream Board for Water Painting Meditation & Stress Relief
Amazon
Creative Mark offers both a 9.45-inch-by-11.81-inch dream board, as well as a compact folding 5.31-inch-by-5.79-inch portable board. We recommend getting the bundle that contains both. For so little extra money out of pocket, it represents a superior value. You can keep the larger dream board with its water reservoir on your desk, and take the smaller folding easel board on the road with you in your backpack or carrying case.
Both cardboard drawing surfaces are made of high-quality ABS polymer, resistant to peeling and bubbling. Each unit comes with its own bamboo brush to paint beautiful, temporary images in non-toxic, fume-free water on either dream board.
5- AOVOA Repeatable Water Drawing Board
Amazon
The extra-large water artistic board by AOVOA comes with both a bamboo brush and two refillable reservoir brushes. The board itself mounts on a reservoir stand perfect for a desk or counter top, which you can fill with stones or plants and dip the brush into. Or you can keep your water-paint in one of the refillable brushes. The refillable brushes are perfect if you want to take your water-drawing board canvas on the road. Images drawn on the repeatable water drawing board fade as the water evaporates, a zen representation of the impermanence of existence.
6- Nirvikalpa Samadhi Board: Water Drawing Set for Painting
Amazon
Nirvikalpa brands its version of the Buddha board after samadhi, a powerful state of focus and enlightenment and the highest state of consciousness recognized in Hindu yoga. Interestingly, samadhi is strongly associated with the state of peace achieved at, or just before, death.
Celebrating a state of consciousness before death seems thoroughly appropriate for an artist's canvas created specifically for images designed to disappear. Not only is the moment fleeting, not only are feelings fleeting, but life itself is fleeting. The Nirvikalpa Samadhi Board invites users not to fear endings, but to make peace with them and even welcome them as doorways into something new and perhaps higher.
The Samadhi Board comes with a bamboo brush and desktop reservoir stand.
7- Zen Life Zen Artist Board
Amazon
Zen Life makes a water art board with a 12-inch-by-8.5-inch canvas that can be oriented in either portrait or landscape position to form a sounding board for your innermost thoughts in visual form. An eco-friendly form of expression, only water is required to create beautiful, soft, high-contrast imagery responsive to your hand and expressive of the moment.
Sitting on a desktop, an image on the Zen artist board provides mental relief, but also the Zen understanding that all moments—the good, the bad, the indifferent—pass and each one is valuable. They make us who we are … and then they are gone. Make a mistake? That also fades.
The Zen Artist Board carries with it a 30-day satisfaction guarantee.
8-
Zen Satori Board
Artist Board
Amazon
This artist board by Satori comes with much more than the 11.8-inch-by-9.4-inch artist board and water-reservoir stand. It comes with an entire Chinese calligraphy set, tucked into a gorgeously-decorated cigar box. Inside the box are two bamboo brushes, as well as a water dish and a decorated porcelain brush rest.
It also includes a Chinese inkstone, a kind of mortar-and-pestle tool used for grinding inks and dyes and rubbing them on surfaces, dating back to China of 6,000-7,000 years ago. We don't recommend using inks on the artist board, only water—painting it with ink would be permanent and defeat the purpose. However, the Chinese inkstone is a cool artist extra that complements the ancient, Asian spiritual roots of the artist board.
9- AOVOA Art Water Drawing Board
Amazon
Relaxant sweetens the deal of their desktop art water drawing board with an extra-large collection of brushes—three bamboo brushes and a refillable reservoir brush, perfect for using your water drawing board if you don't have the water reservoir or another water source handy. The brushes come in different sizes so you don't have to rely 100% on technique to get a thicker or thinner soft black stroke on the art board. Relaxant offers this art water board with a 100% money-back guarantee.
10- Original Buddha Board Water Painting Set
Amazon
Buddha Board offers one of the most complete and self-contained packages in the water-drawing board space. Their extra-large 12-inch-by-9.5-inch water drawing board comes with a dedicated canvas carrying case which you can use to take your drawing board anywhere you might care to use it. In addition to the water-reservoir desktop stand and bamboo brush, it also comes with a water-reservoir refillable brush, which allows you to use the water painting board even if you don't want to bring the hefty reservoir with you.
Buddha backs this artist board with a 100% money-back guarantee.
11- Mini Buddha Board, Black
Amazon
The Mini Buddha Board is available in several colors, including natural steel and meditation white. If you want to add a little fabulous pizzazz to your meditative water drawing, Buddha Board also offers this signature, portable product in pleasing pink. Not only is the steel housing of this built-in carrying case/easel colored pink, but so is the cardboard drawing board itself. With the pink Mini Buddha Board, you can make your temporary drawings on a backdrop not of pure white, but of pleasing pink.
The Mini Buddha Board functions the same as its less colorful counterparts in every other way. It comes with a refillable water-reservoir brush, perfect for portable Buddha board drawing sessions without the necessity of a separate reservoir stand. The soft, dark images on the black 5-inch-by-5-inch board fade as the water dries, wiping away both your mistakes and your brilliance to a blank canvas ready for a new day, a new moment, a new rosy thought.
12- Mini Zen Life Artist Premium Meditation Board
Amazon
Want a larger canvas to paint your fleeting thoughts and emotions in water art that will soon dry and disappear? This Mini Zen Life meditation board gives you critical additional space at 5 inches by 5.75 inches and is easy to orient in either portrait or landscape direction in the notch above the water reservoir base. It comes with its own bamboo brush to create soft, dark, soothing temporary images on this extra surface.
Tips on Selecting the Right Buddha Board
There aren't that many Buddah boards to choose from, and they all work in a pretty similar way. It might seem like any board will do if the price is right. None of them require toxic paint or produce fumes—tap water is the only medium you need to create beautiful, soothing, or silly images on your Buddha board. Almost all of the boards come with brushes, some of them with carrying cases or attractive containers.
The different Buddha boards on the market do vary in a few important ways. Understanding them and considering how you intend to use your board will help you select the best Buddha board to express yourself, relieve stress, and meditate on the ephemeral.
Size of the Canvas
The original Buddha board was roughly the size of a standard sheet of paper, 8.5-by-11 inches give or take a centimeter or two. This is usually the perfect size to express a unified thought in pictorial form—limiting enough to resist the temptation to be busy, but expansive enough to get into some detail. Some of the best Buddha boards that sit in the notches above water reservoirs can even be oriented in landscape orientation or portrait orientation.
Some artists and meditative souls, however, may prefer a smaller canvas. The 5-inch-by-5-inch Buddha board mini beats the traditional Buddha board in terms of portability. It definitely facilitates the creation of a unified, single image to ponder and watch fade. However, such a small canvas makes it hard to render an image in much detail, especially with the soft calligraphy that is the Buddha board's strengths.
Buddha boards also come in sizes a little larger than standard paper, up to about 10×13 inches. Artists who want to sketch multiple images or delve into further artistic detail may want to choose these bigger canvases—especially if desk space is in generous supply. Smaller may be better if you have little desk space to spare.
Desktop vs. Portable
The Buddha board was designed as a desk accessory in two pieces—the art board and the base. The base served double-duty as a water reservoir, which the artist could use to wet the ubiquitous bamboo brush and make lovely brush strokes on the beard, which tucked conveniently into a notch in the base. The reservoir of a desktop Buddha board could be decorated further with river rocks, fake plants, real plants, statues … even goldfish if you wanted to get extra crazy and create a temporary, mini koi pond.
However, the Buddha board desktop base doesn't pack easily into a suitcase, satchel, or backpack. You certainly can't pack it away filled with water. If you like the idea of taking your Buddha board on the road, you might want to consider a folding-easel Buddha board like the Enso or the Mini. Just remember to select the right brush. A folding-easel Buddha board will go into any carrying case large enough, taking up little space, without soaking the rest of the contents of the case.
Materials
The best Buddha boards are made of natural materials like wood, bamboo, stone, paper, etc. Some Buddha boards, however, could be made of synthetic materials like plastics or other polymers. Look for a Buddha board made from non-toxic plastics, especially if it is rated as safe for children five or older.
The materials from which the board is constructed could also impact the longevity of the Buddha board, discussed below.
Durability
The best Buddha boards are built to last … sort of. The bases may be made of heavy plastic, wood, or stone, but the boards themselves are cardboard and/or polymer, which can easily break if you abuse them. This is especially true of desktop Buddha boards.
Portable Buddha boards like the Enso or Mini tend to be built into metal carrying cases that fold into an easel and also preserve the image even while the board is tucked away in its case. Metal housings tend to make for longer-lasting Buddha boards.
If the art board is made of cheap materials the board could start to peel or bubble. Check reviews to make sure this isn't an issue with the board you choose.
Brush Selection
Buddha boards tend to come with one, or both, of two different brush styles. The traditional bamboo brush is usually made of natural materials and feels soft and soothing in the hand, with good weight and grip. However, a bamboo brush is only useful if you have a water reservoir to dip it in. This could be the reservoir in the base of a desktop Buddha board, a separate reservoir, a glass of water, the tap, a pond or stream … whatever water source is within reach.
If you don't want to have to rely on outside water sources, however, many portable and folding Buddha boards come with a reservoir brush, a brush that resembles a cross between a syringe and a stain-removal marker. The syringe-like reservoir can be refilled from the water source of your choice. By squeezing the plunger, the bristles of the brush become saturated and you're ready to draw! Of course, a plastic reservoir pen might not have that natural, energetic hand feel that comes with bamboo.
Some Buddha boards come with both styles of brush.
Accessories
While the parts of a Buddha board are relatively simple, it's always nice to get extras. Some accessories that might attract you to one Buddha board over the other might include:
Extra brushes.
A decorative case.
A carrying case.
River rocks.
A ceramic brush stand.
Chinese inkstones.
Guarantee or Warranty
A Buddha board does not have a lot of moving parts. As such, you really can't expect a manufacturer's warranty to protect it long-term. A warranty entitles you to return the product to the manufacturer for repairs or replacements within a set period of time. When shopping for the best Buddha board, it's probably not useful to hold out for a warranty.
A satisfaction guarantee is a different story. Some companies offer a money-back guarantee if your product is faulty or if you are unsatisfied in any way. You usually have to return the product, and time limits like 30 days might apply. If you are nervous about ordering online and a stickler for product quality, look for a Buddha board that comes backed by a money-back guarantee.
You Might Also Like: