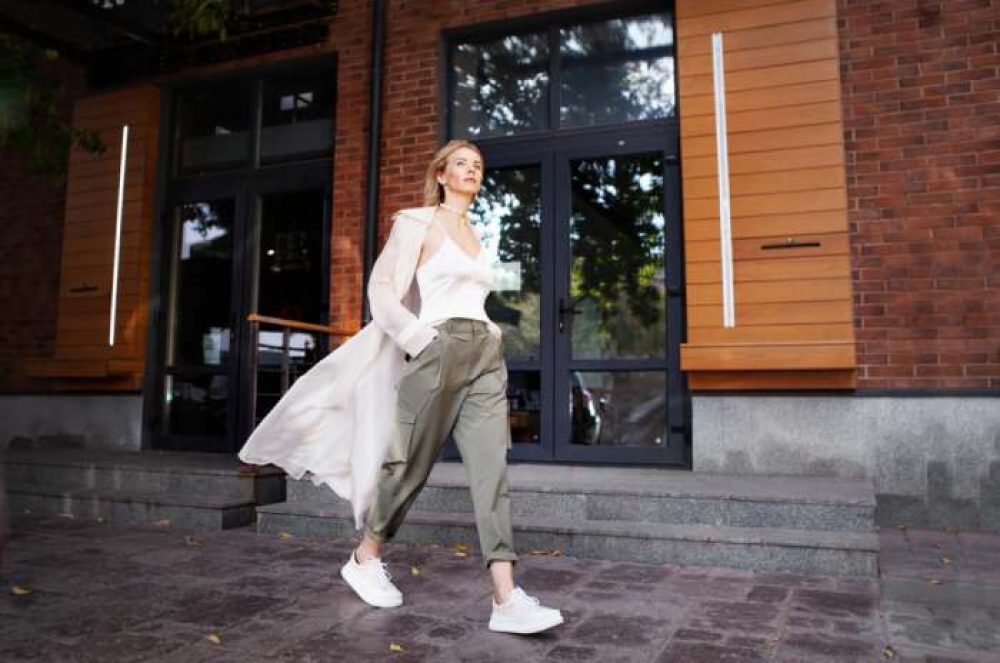 We'll have to admit – cargo pants aren't the first piece of clothing that comes to mind when you think of women's fashion, but this retro style that was crazily popular in the 1990s has made a huge comeback in recent years. Of course, they're now more refined and fashion-forward than their purposely crumpled cousins from thirty years ago.
That's right; cargo pants are back with a bang, and they're more stylish, more elegant, and more functional than ever before. The cargo pant trend is so hot right now that many street-style stars, A-list celebrities, and Instagram influencers have boarded the bandwagon. From big-screen sweetheart Jennifer Aniston and reality TV socialite Kim Kardashian to the model extraordinaire Bella Hadid, everyone's adding these multi-pocketed retro gems to their wardrobes.
Love them or hate them, no one can deny that cargo pants' rise to fame is all about pockets (the roomier, in fact, the merrier). They can tuck away your keys, phone, credit cards, notebook, and even makeup. 
We love that you can have a good pair of cargo pants at the ready for a wide array of activities. Whether you're heading out for a stroll in the park, hiking your favorite trail, or doing a DIY project, they're practical and have plenty of pockets for the essentials. That's why we often associate them with suburban dads mowing their lawns, grilling a mean burger, repairing their plumping, and whatnot.
However, women's cargo pants shouldn't sacrifice style for function. Thankfully, today, we're able to find cargo pants in a wide range of styles, colors, and designs to suit every occasion, every mood, and every outfit. While that's definitely a good thing, it can be hard to choose the perfect pair for you. Don't worry – we've done the legwork, so you don't have to spend countless hours researching all of the different styles, designs, and brands of women cargo pants out there. 
Below, you'll find our top 9 picks for the best cargo pants every woman deserves to have in her closet. We chose them because they're stylish, fitted with fun, exciting features, and boast tons of glowing reviews from real wearers, plus they're from brands we love and adore.
1- Sanctuary Clothing Rebel Pant Organic Green
The Sanctuary Clothing Rebel Pant earns our top spot because it checks all the right boxes: they're insanely chic, stylish, and super comfortable with a relaxed design for everyday fit. The cotton-rich fabric feels buttery-soft, delightfully light, and breathable. We're sure every girl will love the roomy yet non-bulky pockets with hideaway snaps, offering superb comfort, style, and function.
Sanctuary Clothing already had our attention with some of the best leggings out there, and these cargo pants continue in that seasonless tradition. Most reviewers rave about the gorgeous prints & colors, which include organic green, spring camo, and forest camo.
PROS
Pockets are plenty roomy

Versatile and comfortable yet not too bulky thanks to the relaxed fit

Great for light workouts, running errands, or casual wear
CONS
2- Libin Women's Cargo Joggers
Amazon
Next up is the Libin Women's Cargo Joggers. While our top pick is an all-rounder, these cargo pants are geared more towards working out. We certainly appreciate the extra pockets, but the winner is the breathable material that helps wick away moisture. The relaxed fit is great for casual wear and running errands.
They're less pricey than our #1 but can't beat them in the timeless style. Amazon reviewer Sara says "They have exceeded my expectations so much so that after I received my first pair, I went back to order 3 more." 6/26/2021
PROS
Stays up during workouts because of drawstring enclosure

Wick-away, breezy fabric

Available in 7 colors from army green to steel grey.
CONS
Zipper pockets could be roomier
3- AOWEER Women's High Waisted Cargo Pants
Amazon
These cotton-rich cargo pants from AOWEER are durable, sexy, and breathable, making them our versatile go-to for everything from work to streetwear. Unlike our first two picks, these feature a high-rise waistline that's amazing for stomach support and control. The fit is a bit off, though.
Reviewers rave about these cargo pants, too. "The pants are very comfortable," writes Leon on Amazon. 6/26/2021. And we're right there with her; the soft cotton fabric is comfortable to work out in and wear all day. We also appreciate that they're full-length, as they're fun to wear with any shoe, from work boots to sneakers.
PROS
High-waisted with straps for stay-up wear

Super comfy
CONS
Taller wearers say the size is on the smaller side.
4- MISS MOLY Women's Capri Cargo Joggers Pants
Amazon
Capri joggers are our favorite kind of cargo pants, and this pair from Miss Moly fits the bill. If they were cotton-made, they could undoubtedly be our second or even first choice. But hey – polyester and rayon make a great sweat-wicking tag team. We also like the stretch factor.
More than half of reviewers praise their relaxed fit and lightweight. "Very light weight with plenty of pockets for my dog training," says Amazon reviewer Jeanne A. Another raving reviewer notes that they're "So comfy and cute!" 6/26/2021.
PROS
Perfect fit

Available in over ten colors from beige to rose red

Machine washable
CONS
Pocket positioned towards the back, rather than the sides
5- Love Moda Women's Trendy Slim Fit Belted Cargo Pants
Amazon
From the neat packaging down to the last detail, the Love Moda cargo pants have a lot going for them. As a petite girl, I love how they fit snugly without looking too baggy. We're positive you'll love the stretchy, comfortable fabric. They also feature an elastic hem, a belt that's easy to do/undo, and a zipper fly for all-day hassle-free wear.
They may not sport an ultra-high waistline like AOWEER's, but they sure make up for this in better quality. We love the manifold color and print options, so there's something for everyone. One Amazon reviewer says, "I would definitely recommend these". 6/26/2021. Well said, Jae B.
PROS
Fantastic quality

Super comfortable

Available in many different awesome colors and prints
CONS
Curvy women may find the waistline a bit tight

Fabric is slightly rough
6- RBX Active Women's Drawstring Capri Pant
Amazon
These RBX activewear cargo pants cut with an amazing dose of designer appeal. The stretchy fabric is 92% polyester and 8% spandex, so they're seriously airy, cool, and moisture-wicking. But the pair has no cotton, which makes it a little inferior to our other picks.
A little shy of 3,000 reviewers give these cargo pants a perfect rating, and most of them describe them as "excellent", "comfy", and "cool." "Wow! They feel like butter!," comments Amber on Amazon. 6/26/202. In our books, the elastic waistband and drawstring are the highlights of the pants. They make it effortless for us to adjust the fit.
PROS
Extra cool and comfy

Vivid colors
CONS
Some size discrepancies reported
7- Voghtic Camo Cargo Pants for Women
Amazon
A pair of these camo cargo pants from Voghtic is a total steal, costing a fraction of what other pairs on this list go for. We find that they may not be the safest bet for working out, but these cargo pants are ideal for casual and everyday wear. We love their side pockets, as they're both roomy and functional.
They've received many glowing reviewers for their fit and style options, too. They come in tons of colors and prints, not to mention available in all 3 major size groups, including petite and plus-size. Amazon reviewer Gina comments: "Fits right to ankle bone." 6/26/2021.
PROS
Great fit

A ton of camo colors, from pink to green
CONS
Lacks a bit in the stretch department
8- RlaGed Women's Cargo Hiking Pants
Amazon
As veteran hikers, the light, breathable material blend of these cargo pants from RlaGed appeals to us. We absolutely love the drawstring in the waistband, as it helps the pants stay put throughout our hiking expeditions. One Amazon user says, "[these are] perfect hiking pants … very comfortable and true to size for me." 6/26/2021.
If you have fair skin, like mine, you'll also appreciate the sun-protective fabric, which also feels surprisingly comfy and soft to the touch. The four-way stretch spandex is godsent, hugging the body contours for a slim, snug fit. To sum it up, they're "Lightweight, quiet, and dry fast," as Mike V puts it on Amazon. 6/26/2021
PROS
Breathable, quick-drying fabric; great for outdoor activities

No chafing

High-rise waistline
CONS
Run a tad small, especially for plus-size women
9- Arctix Women's Insulated Cargo Pants
Amazon
There's plenty to love about the Arctix cargo pants – they're well-insulated for winter outdoor activities; sport reinforced fabric for added support & durability, and feature handy boot gaiters. With the two-button and zipper enclosure, we're rest assured these pants will stay in place for hours during intense workouts and activities.
Unsurprisingly, the cargo pants are the priciest of the bunch but do come with premium features. Well over 4,500 Amazon reviewers gave it a five-star rating and a thumbs up for warmth retention, silky-soft feel, and of course, insulation. One first-time wearer had this to say:" I stayed dry and warm the entire day of skiing. Which is seriously impressive because I fell at least 20 times in blizzard-like conditions." 6/26/2021.
PROS
Stay dry & cozy in chilly weather

Buttery-soft feel on the skin
CONS
Some durability issues reported
BUYING GUIDE FOR THE BEST WOMEN'S CARGO PANTS 
How We Chose Our Best Cargo Pants for Women
It's no secret that the cargo trend's here to stay, and almost all leading women's clothing brands have at least a few variations of their own on the market. We'd have to say that not all of these cargo pants are created equal — which is why we put together multi-prong criteria to narrow all the available options down to a list of the very best cargo pants for women this year.
First of all, our team of experts tested each item for comfort, style, durability, and performance features. Not just that; our fashion editors also weighed in with the most stylish pieces to zero in on the most comfortable, longest-lasting, and overall the best cargo pants you can get right now.
The next sensible thing to do is look at what regular cargo pants users have to say, so we made sure to check reviews and ratings on Amazon, Target, Walmart, eBay, Google, and other leading sites. We found that some of the fan-favorite cargo pants boasted more than 5,000 five-star ratings, most probably because they offer great value and have been on the market for quite a while.
For that reason, we made sure to turn the spotlight to other lesser-known yet equally or better quality items. These are cargo pants from fairly unknown companies that are giving big-name brands like Dickies, Lee, Cherokee, and Arctix a run for their money. 
Even so, we generally made it a numbers game, preferring those that have more raving reviews and a higher percentage of five-star ratings overall.
We also understand that when you're searching for cargo plants, it pays to consider when, how, and why you'll be wearing them. That being said, we are the top factors that we took into account to whittle the list down to the 9 best candidates:
– Reviews
For every pair of cargo pants sold on an online marketplace, there's always a trail of reviews and ratings that customers leave for others to see. Salespeople also add colorful and useful information to many FAQs and concerns that buyers may have.
As far as questions and reviews on Amazon are concerned, there's a good chance that other shoppers and wearers have also similar queries. Or that they've detailed what they love and dislike about each product.
For this list, we analyzed thousands upon thousands of user reviews to see to it that only products that met their expectations make the cut. We also highlight some of the reviewers' delights and comments to enable potential buyers to make a more informed choice.
– Cost
The price of women's cargo pants is one of the key decision factors that you should keep in mind. Luckily, we found that cargo pants for women are available in a wide range of price points, so there's definitely something to match your budget.
From our research, women's cargo pants cost an average of between $15 and $150. While you surely get what you pay for with cargo pants, that doesn't imply that all the products at the top of the price spectrum are worth their cost tag. More often than not, we found that they're just products offered by better-known brands.
If you're after a pair of cargo pants for everyday wear, we recommend that you spend $50 or less. These cargo pants include most cotton and synthetic fabric items. They typically are a hit or a miss when it comes to durability, so expect to be back to the shopping scene sooner rather than later.
Once you plunge into the $50-$100 range, we're impressed by the dramatic leap in style, durability, and quality. Leggings in this mid-price range look more gorgeous, feel extra soft, fit more snugly, and come in way more designs, cuts, and colors. Providers are a mix of both major manufacturers and premier brands like Sanctuary Clothing & RlaGed.
At the higher end of the price spectrum, closer to $150, we mostly found name-brand and exclusive cargo pants. Items in this upscale category generally check all the right boxes and come with amazing embellishments. There are also a number of cargo pants pushed by well-known Instagram influencers and celebrities in this range.
– Fabric
Everything goes when it comes to materials used to make cargo pants. We came across pants woven from the usual fabrics, such as corduroy, polyester, denim, cotton, rayon, spandex, and nylon.
Our go-to fabric for women's cargo pants is definitely cotton. The natural fabric is ultra-soft, warm, and comfortable for all-day wear without being bulky. We also love that it's gentle on the skin and offers decent breathability.
Most brands incorporate some polyester, spandex, and other synthetic materials to offset cotton's lack of wick-away capacity, improve stretch, and boost fit. These synthetic fabrics also hold dye better, dissipate odors quickly, and maintain their shape for longer.
Another fabric aspect that we pay particular attention to is its washability. There's no reason that you shouldn't be able to toss your favorite cargo pants in the washing machine. Likewise, we prefer wrinkle-free and crease-resistant materials.
– Comfort
Every woman seeks stylish comfort when we shop for clothes, and it's no different when looking for the best pair of cargo pants. This is where we know cotton fabric does its magic, which is why we preferred cotton cargo pants when it comes to comfort.
Good thing, cotton-rich cargo pants are also fairly breathable and incredibly durable. We love how they allow us to move around and about freely no matter the kind of activities or mood we're in. Comfort also has something to do with sizing, waistline features, and the length of the cargo pants.
– Pockets
Why are cargo pants for women so spectacular? Again, pockets are almost the sole reason why cargo pants became quite popular in the first place around three decades ago. Cargo pockets are quite practical and can safely & securely accommodate your important must-haves like keys, wallet, phone, and other accessories — they can literally take the place of your purse.
While not the only core feature in today's cargo pants, pockets can still make or break any well-made pair. The last thing we want to see in a pair of cargo pants is a set of pockets that add bulk and hurt their usability.
The more pockets the design includes, the more carrying space we have, but this can often come at the expense of style and comfort. For women's cargo pants, we find that less is more, preferably inconspicuous and out of the way of the pants' highlight features like belts.
– Occasion
We know that chic heels, statement tops, and cool shoes are usually easy and fun to shop for, but it's quite surprising how hard it can be to find complimentary cargo pants for the occasion. Naturally, we favor versatile cargo pants that can transition effortlessly from occasion to occasion.
We understand that a smart choice of cargo pants can be a statement-making addition to your outfit, and a poor choice can instantly ruin your ensemble. We love cargo pants that can be paired with every kind of shoes, from strappy heels, a chic pair of loafers, to an excellent sneaker.
– Design 
The construction of the cargo pants is only part of what makes them so popular with men and women alike. They must be made to last with longer-lasting materials like denim, twill, cotton-rich, and knit fabrics.
That said, we also focus our investigative lenses on the design elements of the cargo pants, most of which have a great impact on their wearing experience. After pockets, the next design element we inspect is the belt. Do cargo pants have a belt loop or not?
Opting for cargo pants with a belt is often a matter of personal preference. The loop-around belt sure helps with getting the right fit but can end up undoing some of the figure-hugging properties of the cargo pants.
Another design feature that we think is important is the zipper, but not everyone's on board with this. Some feature a two or three-button-fly design, while others skip these features altogether. In either case, they add a familiar appeal to the pants, plus make it easy to put on and remove them.
– Color and Print Options
We're ardent fans of bold, bright-colored pants, and this ring trues when it comes to cargo pants. They help us make a fashion statement and match our personalities & taste in style. That's not to say cargo pants in neutral hues are a poor choice; it's all about what speaks to your personality the most, not to mention other factors like occasion and comfort.
All of our picks come in multiple colors and several different fun, exciting prints to choose from, including solid colors, camo, leopard, and floral prints. Our hope is that you'll have a lot of fun, as we always do, trying to style and build your favorite looks using cargo pants.
Women's Cargo Pants FAQ
1. Are Cargo Pants in Style in 2021?
Most of Y2K's popular fashion trends are making a massive comeback recently, and cargo pants are some of these trendy styles. In 2021, cargo pants for women have been given a lease of life, making their way into Fashion Week runways, celebrity wardrobes, and everyday wear aisles.
This hippie style of pants historically elicits a lot of tongue-wagging from both aisles of the fashion industry, but recently there's been consensus that they're here to stay. 
The reemergence and continued popularity of cargo pants in 2021 among women from all walks of life is no accident. These pieces of clothing are nowadays more fashionable, practical, and stylish than ever, not to forget that they can be worn with many outfits.
2. Are Cargo Pants Work Pants?
Generally, cargo pants are built to last and stand up to frequent use. The question of whether they qualify as work pants often boils down to the nature of your job. For instance, if you work outdoors, these durable pants can do the trick.
Today's cargo pants are quite chic and stylish enough to wear with most business casual and career outfits. However, some offices don't allow them at the workplace, especially in executive settings.
3. Who Can Wear Cargo Pants?
Any woman can wear cargo pants. You can don cargo pants as casual wear, use them for light workouts, dress them up with statement pieces, or lounge around the house.
4. Do Cargo Pants Look Good?
Yes — gone are the days when cargo pants were awkwardly baggy, scraggy, and crumpled. Nowadays, women's cargo pants are refined and come in a myriad of great-looking prints, patterns, colors, and styles. Of course, whether they look good or not comes down to your personal taste.
5. What do girls wear with cargo pants?
It depends on whether you want to dress them up or down; whether you're gunning for a casual, posh, formal, chic look, etc. That said, here are some general rules-of-thumb, dos, and don'ts when wearing cargo pants:
We prefer pairing them with short shirts (preferably in matching or contrasting colors) because cargo pants tend to be a bit baggy and loose.

Go well with fitted shirts and tank tops

Accessorize with a bandana and sunglasses

Unless you're dressed in a formal outfit, donning cargo pants with heels is no-go

Floral tops and cargo pants don't marry well

Don't add too many clashing prints and colors when styling your cargo pants.

Go for a strapless tank top with your cargo pants if you want a touristy look & feel
6. What shoes go best with cargo pants?
As we've mentioned, heels are a no-no when wearing cargo pants. For best results, we prefer to stick with sneakers, flats, and even loafers. Moreover, it's best to match the prominent color of the pants.
7. How do you wear skinny cargo pants?
Skinny cargo pants go with high boots, most tank tops, tees, and accessories like scarfs
8. How do you wear baggy cargo pants?
Baggy cargo pants typically pair well with short tops, tees, and shirts.