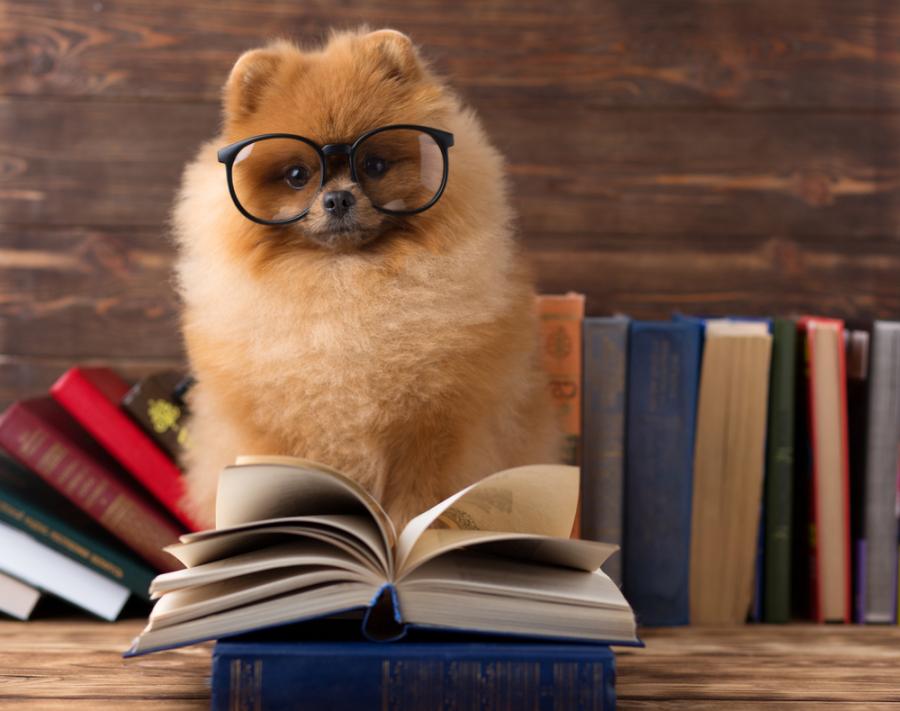 Dog lovers know that having a dog is one of the best and most rewarding experiences in life. Dogs are loyal, fun, wonderful animals that make the perfect companions for people. There is a reason they are known as "man's best friend". Dog lovers also know that there is nothing worse than having an undisciplined, untrained dog as a pet. This is why training your dog is so important.
If you have had a dog beside you your whole life or you are someone who is thinking about getting a first dog, you should also think about how you will train that dog. That is why this list of the best dog training books is so important. It is the ultimate resource for picking the right training guide for both you and your dog.
This list of the best books on dog training will not only help you train your canine companion but also help you pick the right dog, understand your dog better, and care for your dog in the best way possible. These books were written at different times and espouse different training philosophies but no matter which one you pick, they will all help you have a greater dog-as-pet experience. Here are the best dog training books in 2023.
1. How to Be Your Dog's Best Friend – The Monks of New Skete – 1978
Amazon
This book has been around for decades and gets regularly updated with the best and most modern techniques of how to train your dog. It is no surprise that this bible of dog training comes from an order of monks based in New York State. These monks are world-renowned for training German shepherds.  The manual they have created is the gold standard in the world of best dog training books. Here, you will find everything you need to know about dog training from selecting the right dog to proper training methods. Every step along the way is based on their core principle, "understanding is the key to communication, compassion, and communion".
2. No Bad Dogs: The Woodhouse Way – Barbara Woodhouse – 1982
Amazon
Barbara Woodhouse was one of the first celebrity dog trainers.  Her 1980s TV show, Training Dogs the Woodhouse Way spread both her name and her dog training method throughout the UK. Her message soon spread to America as the 80s went along and she became a regular guest on U.S. TV shows such as 60 Minutes, The Tonight Show, Donahue, Merv Griffin, Good Morning America, and more. The core of her training philosophy – and the origins of the book title – is that there are no bad dogs, just inexperienced owners. Over the years, The Woodhouse Way has taught thousands of dog owners how to create good, obedient dogs with compassion and a positive attitude.
3. Cesar's Way – Cesar Millan – 2007
Amazon
Probably the most famous dog trainer in the world, Cesar Millan was the star of the Emmy-nominated hit reality show, The Dog Whisperer which ran from 2004 to 2012 and was broadcast in more than 80 countries. In addition to being a TV personality, Cesar wrote 7 books on dog training.  His first book, Cesar's Way, is the one that makes the list of best dog training books. Cesar's three-pronged plan, exercise, discipline, and affection – in that order – is great but the book is more than just another set of dog training philosophies and protocols. It also chronicles Cesar's own story from his humble beginnings in Sinaloa, Mexico to a world-renowned dog trainer to the stars with loads of celebrity clients, appearances on the Oprah Winfrey Show, and a reality show of his own. This book will not only inform you about dog training but entertain you as well.
4. Don't Shoot the Dog! – Karen Pryor – 1984
Amazon
Another of the best dog training books that has been around forever but now comes in an updated version for the 21st century. Author Karen Pryor is a behavioral psychologist and marine animal expert whose revolutionary "clicker training" method has become a go-to style for many of the world's best dog trainers. Although her training is deeply based on scientific knowledge, her book is easy to understand and engaging to read. She gives reader tips on things like affection training and the 10 laws of shaping behavior. These laws will work with dogs, any other types of animals, and even human beings. This book is not just one of the best books on dog training ever written but also one of the best books on animal and human behavior.
5. Zak George's Dog Training Revolution – Zak George – 2016
Amazon
Right now, #1 in the best books on dog training comes from YouTube sensation and TV host Zak George. The 41-year-old from Atlanta Georgia rose to fame in the early days of YouTube with his dog training videos.  He parlayed that success into the show SuperFetch on Animal Planet and the show Who Let the Dogs Out? on the UK kids channel, CBBC. Instead of a one-size-fits-all approach, George impresses upon dog owners that they need to tailor their training methods to their dog's individual energy level and personality traits. Doing so, George promises, will lead to better and faster results. The fact that the chapters in the book have corresponding YouTube videos adds another aspect that makes this one of the best dog training books ever.
6. Decoding Your Dog – The American College of Veterinary Behaviorists– 2015
Amazon
If a dog training book written by one veterinary behaviorist is good, a book written by an entire college of veterinary behaviorists is that much better! Seeing authorship attributed to an entire college of scientists may sound stuffy, but what makes this one of the best dog training books is that it is so well-written and easy to understand. The authors tell us that "unwanted behavior is the number-one reason dogs are relinquished to shelters and rescue groups." To remedy this, these veterinary behaviorists go through individual behavioral problems and address how to remedy them in an effective and efficient manner using positive reinforcement.
7. Lucky Dog Lessons – Brandon McMillan – 2016
Amazon
One of the biggest impediments to normal people training their dogs is that they think it will be a major time commitment and take weeks, months, or even years to accomplish. Brandon McMillan, host of the Saturday morning CBS show Lucky Dog is here to show you how you can accomplish training your dog over the course of one week. Like most authors on this list, McMillan believes that even the "worst" dogs are able to be trained with the right technique. He espouses a philosophy that involves building trust, establishing focus and control, and mastering training techniques. He also gives readers his 7 Common Commands that he teaches every dog he trains. These commands are SIT, STAY, DOWN, COME, OFF, HEEL, and NO. With these 7 commands and the rest of the helpful tips in this work, one of the best dog training books on the market, you will have a well-trained dog by this time next week.
8. Team Dog: How to Train Your Dog – The Navy SEAL Way – Mike Ritland – 2015
Amazon
When you think of the best training in the world, you probably think of the United States Navy SEALs. Well, ex-Navy SEAL Mike Ritland takes the military precision and focus he learned during his time with the world's most feared fighting force and applies many of those lessons to dog training. What makes this one of the best books on dog training is how well SEAL training and dog training work together. Using terms right out of the SEAL handbook, Ritland describes how dog owners should be the "team leader" in the house, exert "command and control" over their pet, and demonstrate "situational awareness" to make the best of every situation. This is as much a dog owner training manual as it is about dog training.
9. Dog Language: An Encyclopedia of Canine Behavior – Roger Abrantes – 1997
Amazon
Just because dogs don't speak the same language does not mean that they do not talk to their owners. Dogs communicate with humans all the time, it is just up to the humans to know, understand, and interpret what they are saying. To help you translate your dog's postures, poses, and actions to better understand what they are saying, this encyclopedia of dog language is one of the best dog training books to help you do that. In the book, Roger Abrantes, a Portuguese doctor and author who has a PhD in evolutionary biology and ethology and a BA in philosophy, provides over 300 clear illustrations on what dogs do and what that means for you. Even if you are not in the process of training your dog it is interesting to see what dogs are "saying" and with the great illustrations, it even makes a nice coffee table book.
10. 101 Dog Tricks – Kyra Sundance and Chalcy – 2007
Amazon
On this list of the best books on dog training, most deal with training puppies to become good pets or dealing with dogs who exhibit problematic behavior. Sometimes though, you just want to train your dog to do some fun and awesome tricks! This book, 101 Dog Tricks: Step-by-Step Activities to Engage, Challenge, and Bond with Your Dog is written by dog trainer and performer Kyra Sundance and her pet Weimaraner Chalcy. Sundance is known for her acrobatic dog act which she has performed everywhere from The Tonight Show to NFL and NBA halftime shows. Among her credentials: she has trained Hollywood dogs to work on movie sets including the four-legged stars of Beverly Hills Chihuahua 2 and My Dog Ate What?. In this book, she shares step-by-step instructions on how to get your dog to do all sorts of fun tricks. These range from the simple "sit" or "shake hands" tricks to the complex "clean up your toys" or "get me a beer" tricks. No matter what level you want to teach, you and your dog will have hours of quality time learning tricks from this dog trainer to the stars.
11. Perfect Puppy in 7 Days – Dr. Sophia Yin – 2011
Amazon
Here is another dog training book that promises a week's worth of work and a lifetime of well-behaved dogs. What sets this book apart is that it is specifically written to be used with puppies. The book is very visual.  With over 400 photos, it lays out a step-by-step plan to not only train your puppy but also plenty of other behaviors. The book is about bonding with your pet, communicating with them, and preparing them to lead a happy and productive life. Dr. Yin, unfortunately, passed away in 2014 so the book is no longer in print and it may be hard to find a new copy. It is still readily available for purchase in digital formats which is still a great way to get all the knowledge and expertise packed in this book.
12. The Power of Positive Dog Training – Pat Miller – 2008
Amazon
This book, from world-renowned dog trainer Pat Miller, is not only good for dog training newbies, but also for more experienced trainers. The book covers the basics of dog training but also goes far deeper. Miller shares some of his more advanced dog training techniques so even experienced trainers will learn something new. Especially for dog owners who currently rely on clickers or treats in order to get results from their dog, this book will help immensely. Miller shares practical tips and tricks that will get dogs off of treats and clickers while still preserving the training you and your dog worked so hard to achieve.
13. Family Dog – Richard A. Wolters – 1999
Amazon
One of the reasons people have loved dogs so much for so long is that they are the perfect family pet. Children, adults, boys, girls, pretty much everyone loves having a dog as a pet. That is why the Family Dog book is so great. Respected and experienced trainer Richard A. Wolters walks you through a plan that will create the perfect family dog no matter what kind of family you have. It is a slower process than some others on this list; Wolter's family dog plan is sixteen weeks long.  However, it is very thorough and, as the subtitle of the book says, it is "a simple and time-proven method. This book is particularly good for families with children because it goes in-depth into the relationship between kids and dogs.
14. Before and After You Get Your Puppy – Dr. Ian Dunbar – 2004
Amazon
Ian Dunbar is the founder of the Association of Pet Dog Trainers and a member of the Dog Fancy Hall of Fame. When Dr. Dunbar started sharing his puppy training methods in the 1970s, the standard way to train a dog involved drill sergeant-like techniques and rough use of the leash. The doctor shifted the whole industry into a more positive reinforcement direction with his methods and the dog trainers of the world have never looked back. In this 2004 book, Dr. Dunbar shares his techniques for training basic manners, avoiding behavior problems, and transforming temperament. His approach still uses positive reinforcement with toys, treats, and games as rewards instead of harsh treatment and punishment. It is never a bad idea to get advice from a Hall of Famer and Dr. Dunbar certainly is that.
15. The Beginner's Guide to Dog Agility – Laurie Leach – 2006
Amazon
If you have mastered teaching dogs' basic commands and good behavior, maybe you are ready to take it to the next level. If you have ever watched the Westminster Dog Show or a competition show on Animal Planet, and thought, "my dog and I could do that!", then this book is for you. This book teaches you how to build your own agility obstacles at home and, using a clicker, how to get your dog started on agility training. Before you know it, both you and your dog will develop new skills that involve them jumping through hoops, running through tunnels, and navigating cones like a pro. It is great fun for you and your dog and encourages dog/trainer bonding. You will both develop new skills and a deeper bond thanks to Leach's book.
16. Puppy Training for Kids – Colleen Pelar – 2012
Amazon
Every kid should have a puppy at some point. It is great fun and helps teach compassion and responsibility as well. To ensure that having a puppy helps teach these lessons, it is a great idea to have kid dog owners be involved with training new puppies. In this easy-to-read, visual book, author Colleen Pelar helps kids learn all the basics of dog training. She doles out lessons to young readers on everything from clicker training to teaching the dog how to meet new human and animal friends to how to select the right chew toy. The best part about this book for adults is that it features clear and informative sidebars that tell adults how to help and support their child and their pet along the way. This book is a great parent, child, and dog bonding tool.
17. How to Housebreak Your Dog in 7 Days – Shirlee Kalstone – 2020
Amazon
Here is one last book that offers a week-long solution to one of the biggest dog training problems. Sure, everyone would like to train their dog to stay and sit and fetch and get a drink from the fridge but for many of us, that is just not realistic. What is realistic (and very necessary) is to get your dog to stop peeing in the house. If that is your goal, this book by Shirlee Kalstone is your best guide. It offers all types of solutions and programs to accomplish the simple yet difficult goals of getting your dog to relieve itself where YOU want them too, not where they want to go. Whether your dog is aging or a puppy and you are trying to housebreak, paper train, or litter train, this book will share the secrets of getting this to happen within 1 week.
18. Fired Up, Frantic, and Freaked Out – Laura VanArendonk Baugh – 2013
Amazon
Dogs are like people in many ways. Like people, dogs come in all shapes, sizes and personality types. This book is a great guide to help owners deal with dogs that are extra energetic, angry, anxious, or just generally a little crazy. It can be hard to deal with dogs who exhibit these personality traits but the author, Laura VanArendonk Baugh, is here to help. The book itself is a fun and humorous work that deals with the serious issues dog owners face such as fear or aggression, and when a dog's personality may actually require medical attention. With her suggested one-minute training sessions, VanArendonk Baugh will help you deal with these tough to deal with pups because they aren't bad dogs, they just need the right help.
---
YOU MIGHT ALSO LIKE: