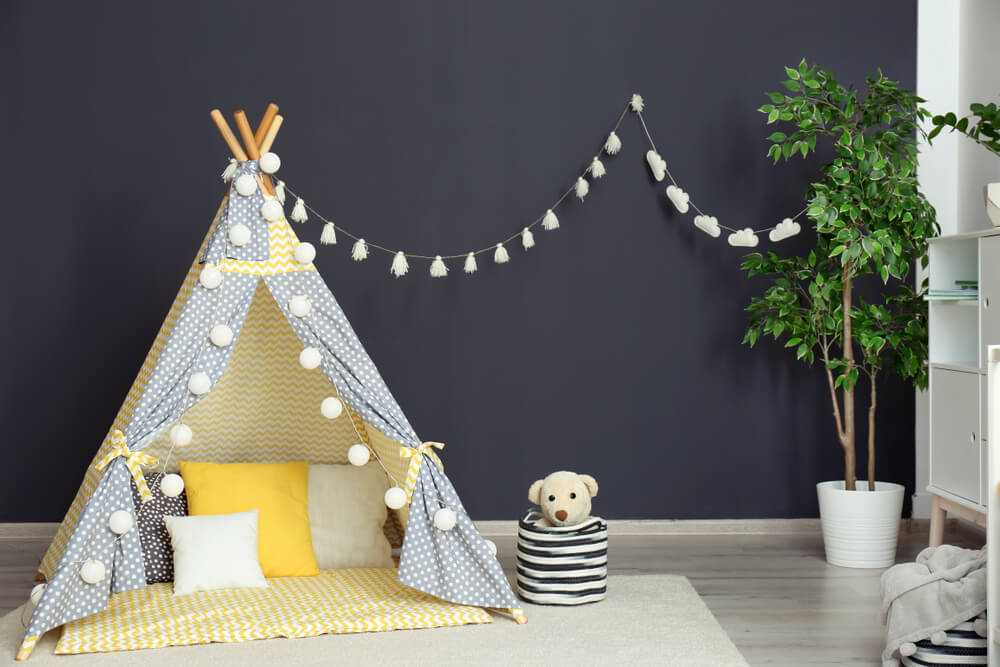 A kid's tent is more than a tent; it's a fun, foldable slice of heaven where your little ones can hunker down, play, and let their imaginations run wild. Though they're not quite the same as the rugged outdoor options you'll find in an adult camping gear aisle, your kids can still pretend to be camping!
I bet you've got lots of fond memories building awesome blanket forts with your siblings, friends, or parents when you were little. As a parent now, you dread the thought of having to ransack your closet for clean sheets and pillows that you have to wash when the fun ends. That's where a ready-made kid's play tent comes in handy.'
A kid's teepee tent is easy to open and conveniently collapses into a compact size so you can tuck it away underneath the bed or in the closet. They also come in a variety of sizes, themes, and styles, with several indoor, outdoor, and hybrid designs. This way, you can choose from a wide selection of simple tents, or go for an ice-cream truck, rocket ship, castle, or jungle gym – there's definitely something to buoy your child's imaginative play.
But which tent is right for your kid? Most kid's tents can be deplorably shoddy and often come apart after a few uses. To get the best bang for your buck, opt for a sturdily constructed tent with features, size, theme, and shape that your child would be thrilled to have.
With so many kid's tents on the market, it pays to choose wisely. Our buying guide will walk you through the major factors and tips so you can settle on the very best.
Ahead, you'll find our favorite picks for the best kid's tent in 2023.
1. USA Toyz Rocket Ship Play Tent for Kids
Amazon
Best kid's tent overall
If you're after a fun, durable, and affordable playhouse that's gender-neutral, then you'll love the USA Toyz Rocket Ship. This pop-up kid's play tent lets your child's imagination skyrocket into the stars. Sized at 40.5 in. x 51 in., the lunar-themed play space is roomy and made of breathable polyester material, making it ideal for both outdoor and indoor use.
From our experience, most tents need a lot of cleaning up and setting up, but not this beauty. With a streamlined collapsible pole design, all you have to do is unroll the cloth door. It's a perfect choice for kids ages 3 and older.
2. Little Dove Kids Foldable Teepee Play Tent
Amazon
Best kid's teepee tent
Looking for the best addition to your kid's bedroom or playroom? We're madly in love with this modern kid's teepee tent from Little Dove. Made from sturdy pine wood and 100% untreated cotton canvas, this lightweight gem spans 43.3 x 59 x 70.9 inches and is ideal for two preschoolers.
Customers rave about its roomy inside which is perfect for playdates and sleepovers, plus there's plenty of room for stuffed animals, toys, books, and more. Other noteworthy features include an entrance flap, roll-down curtain, two inner pockets, and gorgeous patterns that can be easily wiped clean.
3. FoxPrint Princess Castle Play Tent with Glow in The Dark Stars
Amazon
Best choice for princesses
Your little angel will find the beauty and extravagance of this fancy playhouse perfect for the ranks of royalty. Measuring 41.5 x 41.5 x 54 inches, this super-lightweight tent features polyester construction and is shaped with shock-corded fiberglass poles. The pink beauty collapses flat to fit back into its carrying case for added play both indoors and on the move.
Your littlest princess will surely love the glow-in-the-dark stars and hearts that are spread across the tent's walls. Most parents say it is affordable and spacious enough to accommodate several princesses ages 3 and up. And its peep-through window allows hassle-free, discreet supervision.
4. Playz 5-Piece Kids Pop up Play Tent
Amazon
Best tent with crawl tunnels
This elegant array of tunnels, ball pits, and tents is a merrymaker in and of itself. The pop-up setup comprises 2 crawl tunnels, a ball pit, and 2 superbly designed tents. This elaborate 5-piece playset is sure to deliver hours and hours of fun for your child and friends. The beauty of it is that the individual pieces can be interchanged and combined in a variety of ways – it never gets boring!
There's a lot more to love about this playset: it's tough enough for outside use, waterproof, and quite durable. The ball hoops, mesh accents, and vibrant colors complete the ensemble in a lovely and unique way that inspires budding minds.
5. The Original AirFort Build A Fort in 30 Seconds
Amazon
Best choice for easy setup
If you're looking for a quality midrange kid's tent, look no further than Air Fort's Original Build A Fort. It's a spacious and well-made tent that inflates easily and quickly with virtually any box fan. Expect the setup to last no more than 30 seconds.
You will appreciate the spaciousness of this 72-inch diameter, 48-inch high tent. Most parents found that an adult can sit inside without a fuss. The inflatable tent is effortless to pack away, fitting easily back into its carry case. The only notable shortcoming is that the fan attachment can be a bit unstable while the kids are playing inside.
6. Pacific Play Tents 60601
Amazon
Best cottage-style kid's play tent
This cottage play tent is the real deal. It packs three or more standing kids inside and can be converted into a realistic playhouse. A great choice for parties and playdates, the tent hasn't been overrun by complex designs and accessories.
This cottage playhouse sports adorable garden prints, tunnel ports, windows for easy supervision, mesh panel, and a full curtain with cute tie backs. The sturdy poles have been safety-proven to avoid shatters and splints, plus the whole setup can fold back to fit its carrying bag. It's perfect for both indoor and outdoor fun.
7. FoxPrint Rocket Ship Tent
Amazon
Best bang for the buck
For parents and guardians looking for an affordable option with a touch of flair, this space play tent from FoxPrint is a spot-on choice. With a collapsible design, the rocket ship tent is easy to set up and comes with a handheld projector packed with multiple space photos. It's plenty roomy to house three or more kids.
The fun rocket ship construction definitely stands out. However, some reports have claimed that the tent is a little flimsy and might tip over
8. KUUQA Ball Pit Play Tent
Amazon
Best choice for ball pit
Want to become an instant celebrity in your child's world? This KUUQA Ball Pit Play Tent is certain to do the trick. Kids will love the playful polka-dot playhouse, which boasts a hexagon playpen ready-made for children and basketball hoop. The setup is designed to help your little one develop social play and motor skills.
The ball pit is made from top-grade memory steel and velvety-soft polyester fabric. It's convenient, lightweight, and folds into a compact size for no-fuss storage and portability.
9. Little Tikes Cape Cottage
Amazon
If you're in the market for a realistic-looking homestead tent designed especially for toddlers, then Little Tikes has got you covered with this compact guy. This cape-style cottage has two shuttered windows for supervision, two doors for easy entry, and generally homey appeal.
We love that it has a mail slot and flag stand. Its layout might seem too small, but it's just the right size for kiddos ages 2 and up. You can place it indoors or outside; it's built for both situations.
10. EocuSun 3-in-1 Folding 3pc Kid's Play Tent with Tunnel
Amazon
This may be the most versatile option we've reviewed so far. This extra spacious tent provides children with a handful of different ways to have fun and play.
Although ball hoops aren't part of the package, the tent's ball pit is a modest size. All parents will flip over the beautiful polka-dot prints and the straightforward pop-up design for super easy setup. A small hitch, however, comes in the form of the tacky pieces that may not fit snugly back in the carrying bag.
11. Pacific Play Tents 19790 Kids Tree House Bed Tent Playhouse
Amazon
If you desire to whip up a dream bedroom for your kid, check out this bed play tent from Pacific Play. This twin bed takes a playhouse tent to a whole new level and makes a cozy sleep haven for your little one to play, dream, learn, and read.
Made from 190T polyester taffeta fabric and ultra-strong G3 poles, the playhouse tent secures easily to a twin-bed mattress (there's an option for the double or full-size mattress). It's a great tool to help your child transition seamlessly from a cot to a bed.
12. TazzToys Kid's Teepee Tent
Amazon
TazzToys Kid's Teepee Tent comes with a water-resistant base that will help safeguard your precious floors from spills. The teepee presents a rustic appeal thanks to its exposed poles, but the setup is sturdy enough to hold two or three friends. It has two windows and dual interior pockets to store your child's precious accessories.
You will fall in love with the unpainted, non-toxic cotton tent with thick canvas. The battery-powered lights will project a magical glow over the tent. What's more, it's a gender-neutral option that is cute and durable.
13. Creatov Kid's Tent Toy Prince Playhouse
Amazon
Let your child rule the kingdom with a royalty-style playhouse. The highly portable castle tent is perfect for your little prince and princess. Measuring 2 x 13.2 x 15.2 inches, they will certainly find this posh palace very roomy.
The design includes 2 mesh windows for added breathability and easy viewing. It is also detailed with roll-up doors for welcoming guests to the castle and to keep intruders at bay. The sturdy playhouse can be used both outdoors and indoors, plus it can be folded and tucked in its carrying case. It's available in either charming pink or royal blue.
14. Pacific Play Tents Kids 'Me Too' Dome Tent
Amazon
Best conventional choice
Unable to take your kids camping? Create a camp right in your own home with this nifty dome-shaped kid's play tent. Measuring 42 x 48 x 48 inches, this play tent provides an abundance of space for unfettered play and is roomy enough to house kid-sized furniture, toys, and three or more pals. The topnotch quality polyester taffeta helps prevent tears and rips.
A fun playhouse with a classic dome style, we like how the vibrant colors stimulate a child's imagination. The design incorporates an easy port for a crawl tunnel with roll-down flaps, as well as a front-door closure secured with Velcro.
15. PEP STEP Teepee Tent for Kids
Amazon
We were absolutely charmed by this extra tall play kid's teepee tent with lots of interior space. It forms the dreamy place for your little ones to let their imaginations run wild. It's a shame the tent isn't waterproof; it could have been the perfect outdoor teepee.
Made from 100% cotton in a single piece, the tent goes over five 7ft poles. We were impressed by its topnotch quality and the fact that it is large enough to accommodate adults. It also incorporates a window and the poles fit snugly for durable and sturdy construction.
How to Choose the Right Kid's Tent
There's nothing quite as exhilarating for a kid as a secret den, a hideaway to hole up in, play make-believe games, read, and retreat, especially when snow or rain strikes. A tent can make a nice roomy spot to store toys and stuffed animals in your child's playroom.
Here are some important factors you need to consider to find a kid's tent that will turn indoor stay into adventure time.
Tent Type
This is probably the first thing you should keep in mind when shopping for kids' tents. There are three common types available today: air-supported tents, stick-supported tents, and pop-up tents. Obviously, the choice will come down to the size and your child's preference.
Air-support tents: The name says it all – these are tents that stay inflated and hold their shapes thanks to fans that continuously blow air into them. As such, they will start to lose shape once the fan is turned off. Notably, air-supported tents are typically larger than other styles, so they are a great choice if you've several little ones to entertain.
Stick-supported tents: Tents of this type are propped up by poles or "sticks" typically made of plastic or wood with foldable joints much like what you'll find in the modern collapsible tables and camping tents. As you might imagine, they are much more stable and sturdier than other types of tents but are a little difficult to set up. If you're looking for a tent that will last longer, there's your answer.
Pop-up tents: As soon as a pop-up tent is unboxed, it automatically "pops" into its desired shape courtesy of a flexible metal structure. These thin, bendable metal pieces can fling open and fold up for effortless packing and storage.
Pop-up tents are the cheapest of the bunch and quite lightweight, making them a great portable option. The trade-off for the flexibility and low price point is that these tents can easily get broken or ripped, so they aren't exactly strong.
The Size and Shape of the Tent
Tents designed for kids' play come in a huge variety of shapes. Some are whimsical figures designed to look like circus tents, rocket ships, castles, or cartoon characters. Some are modeled after automotive themes, such as earthmovers, fire trucks, or luxury cars.
Some follow traditional shapes, with rectangular, circular, teepee, and domed shaped tents being the most sought-after. No matter what you choose, you'll need to ensure before making the purchase that you've enough space for the tent in its set-up or unfolded size. More importantly, the shape should match your kids' tastes.
Talking of size, the average kid's play tent will take up 3-4 sq. ft. of space. At this size, it can fit snugly in a room's corner and can hold up to 3 toddlers. They're probably just big enough for 1-2 elementary school children/preschoolers.
A third grader, on the other hand, might not feel too comfortable in something of this size. Thankfully, you'll find an assortment of larger models out there. Specifically, opt for a tent with a base that measures 50-60 inches if you're buying for an older kid.
Height won't be an issue as most kids stand no taller than 4ft. Nonetheless, you can find a kid's teepee tent that's much taller at the center.
Patterns, Prints, and Themes
Most tents have prints of favorite movies, TV shows, cartoon characters, and other pop culture fantasies. It all boils down to what your kid loves. For instance, if your little one yearns for dogs, opening a tent with puppies on it will give your kid an instant thrill. Unfortunately, the only downside is that there comes a time when your kid will no longer be into dogs.
Circus, wildlife, pirate ships, castles, and rocket ships are some common themes appearing on children's tents. Once again, these themes are awesome and loved by kids, but some children will soon outgrow a specific theme while still into play tents.
That is why most experts recommend that you get a tent in a solid color pattern or scheme. These are particularly ideal if you're after entertaining kids of several kids of varying ages. A solid hue like red, blue, or green is a great gender-nonspecific choice that'll serve your child well for many years.
Added Fun Features – Ball Pits and Crawl Tunnels
For added fun and play, some tents integrate a crawling-style tunnel into the setup as an extension or attachment. Most of these collapses and assume a flat position for easy storage. Most tunnels measure 4ft long and 19″ in diameter and are often detachable so you can use them on their own.
Another fun add-on is a ball pit usually fitted at one end of the crawl tunnel while the tent is attached to the other end. This way, your little ones can enter the tunnel from the tent and crawl through until they find themselves in the pit.
Tent Prices
Kids' play tents come in different price ranges. Inexpensive models cost as low as $10, and they will only offer an easy and quick thrill for your child. These cheap tents are not likely to last, and the flimsy fabric can easily tear.
Midrange models come at around $15 to $20 and offer some pop-up elements as well as support features found in standard camping tents. The vast majority are crafted from sturdier fabrics like nylon, so they are more durable than low-priced models. For between $20 and $30, you should be able to get an even sturdier and somewhat larger tent that may last a little bit longer.
High-end tents will set you back well over $30. Accordingly, they are kitted out with fun features like ball pits and crawl tunnels. Most high-end teepee-style models are significantly more expensive; be ready to cough up more than $50 for one.
Materials
If you're looking for a durable and sturdy tent, consider investing in one made of canvas or nylon. They usually hit your wallet harder, but the upgrade in sturdiness and durability may well be worth every penny. Those made with light fabrics are more likely to tear or break after a couple of uses.
You Might Also Like: