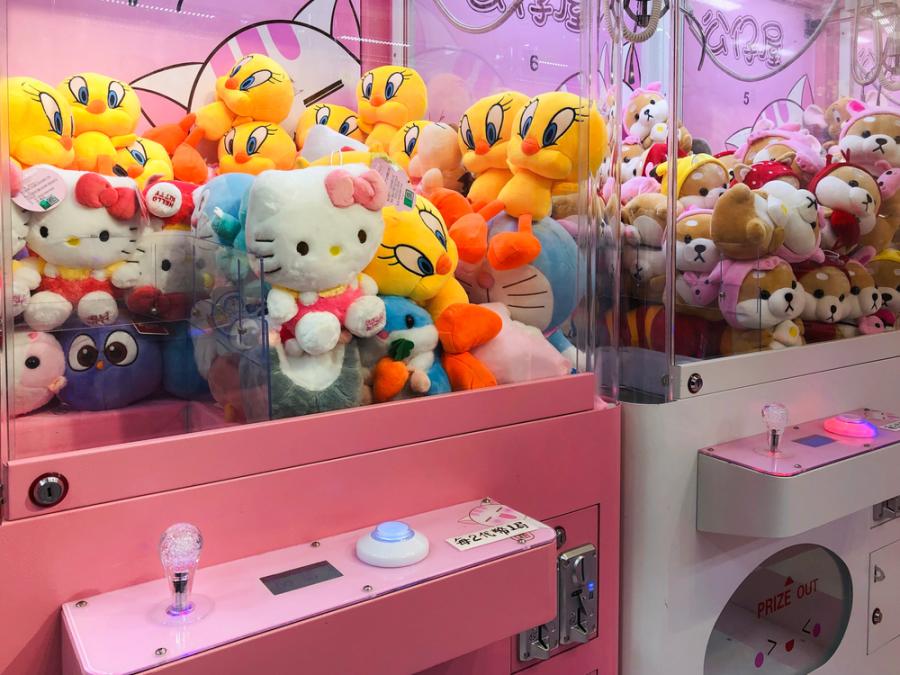 In the early 20th Century, the world was captivated by the largest excavation and construction project ever undertaken by humankind—the building of the Panama Canal. Perhaps the most iconic symbol of the build project was the descending crane claw, used to excavate millions of tons of earth to carve out the nascent waterway that would become a heart valve of world commerce.
Arcade game developers capitalized on the public fascination by designing the first claw machine games. In fact, the first such games were named to evoke the construction projects that made them famous—"Panama Digger," "Erie Digger," "Miami Digger." They were coin-operated and rewarded lucky and skillful players with candy prizes. The first claw machine game was designed in 1893 but didn't make its public debut until 1926.
Over time, machines evolved to dispense prizes like cigars, lighters, even jewels and precious metals, finding places not only in pubs and arcades but also casinos.
While their early origins are mostly lost to public consciousness, claw machines' appearance in  popular movies, as well as their wide distribution in arcades and restaurants, has made the claw machine, with its transparent tank and a cornucopia of prizes so temptingly close and yet so far, a mainstay among children of all ages and even adults.
A mini claw machine enables parents and guardians to put the fun and excitement of a claw machine right on the kitchen or game table at an affordable price. Kids can even insert plastic coins and use the claw to attempt to retrieve any toy, treat, or prize they care to insert, improving their fine motor skills all the while.
Here are our picks for the 12 best mini claw machines available on Amazon.
1- JSNY Electronic Arcade Claw Machine
Amazon
The Claw by JSNY fits easily on the table and comes with no assembly required. It takes three D-cell batteries, which aren't included, but it includes plastic coins to simulate the experience of an arcade game, making it a fun and beloved toy for kids age 8 or above.
You and your kids can fill this toy claw machine with their favorite treats, including small toys, candies, or other treats, and then operate it with three easy joystick levers to grab, pick up, and drop their prizes into the dispensaries. Treats are more fun when you have to work for them!
2- Flameer Creative Electronic Mini Candy Grabber Toy Doll Claw
Amazon
Larger than many of the tabletop claw games on this list, the Flameer Creative Toy Doll Claw game provides a more robust experience, powered by three D-cell batteries and manipulated by three joysticks to grab larger prizes.
The joysticks are marked with helpful guidelines of what each joystick does. The whole toy claw machine is decorated in cheerful, gender-neutral colors of yellow, orange, green, and dark blue to resemble a booth at a carnival.
3- KONFA Mini Candy Claw Machine 
Amazon
Operable with only two AA batteries, this affordable game by KONFA comes in three colors—blue, pink, and green—and offers a variation on the typical claw game with a dome-shaped tank and a claw that twists on an axis from a central pole. Operated with two twisters and a level, this toy claw machine is perfect for smaller children, adorned on the top with a cheerful owl face.
The claw is designed to grab one of the included child-safe plastic prize balls, into which a candy or small toy can be enclosed as a reward for a successful game.
4- Fdit Claw Toy Grabber
Amazon
Fdit offers a lot of cool bells and whistles to bring their claw-grabber toy to the next level. In addition to four plastic coins that simulate the arcade experience, Fdit includes sixteen cute "jelly-bean-shaped" toys to drop into the tank and get the kids started on a fun day of claw-grabbing. Of course, you can drop in any candies, toys, or treats you want for the kids to grab, adding extra personalization and motivation to a toy that improves their hand-eye coordination.
The machine has a remarkably affordable and easy battery requirement of three AAs. It also comes with a built-in digital clock readout that can be used to tell the time, time the game, or even function as an alarm clock.
5- Etna Products TT The Rocket Ship Claw Toy Grabber Machine
Amazon
Etna Products offers a cool spin on the mini claw machine that will be perfect for kids who love carnival games and rocket ships. The cylindrical prize tank forms the fuselage of a toy shaped like a rocket ship, similar to the claw game in a certain popular animated movie. To make the toy even cooler, it plays music and flashes multicolor lights at the touch of a button.
Prizes are not included, but you can fill the tank with any prizes you see fit. Extra points for alien-shaped toys. The game is easy to operate with one joystick and runs on three inexpensive AA batteries.
6- SYLTL Grabber Machine with Lights Music Mini Claw Machine
Amazon
SYLTL beefs up the fun of your typical three-joystick tabletop claw game with multicolored blinking lights built into a festive, gender-neutral assembly of pastel yellow and turquoise (also available in pink). It also includes music, which can be muted or adjusted with two different kinds of volume controls.
Additionally, SYLTL includes a lot of accessories, including plush animal toy prizes, colorful ball prizes, and plastic arcade tokens to activate the game. The machine runs on either D-cell batteries or USB power.
7-
Pratcgoods
Mini Cute Claw Machine Arcade Game
Amazon
Pratcgoods offers a tabletop mini claw game with an extra-strong claw, up to 50% stronger than competitors. This results in more prizes clamped, and a greater feeling of accomplishment for the children playing.
The game itself is very user-friendly, with a digital clock to count down the 40-60 seconds of gameplay mounted right above the three controller joysticks and the slot into which children can insert the included plastic coins to simulate the arcade experience. The unit is powered by USB and comes with 18 plastic tokens and 10 doll prizes, which can be substituted with prizes of your choice.
8- ForBEST Home Claw Machine
Amazon
This versatile, pleasing pink toy by ForBEST comes with many options, including the ability to power the machine by either USB cable or six AA batteries. It also has a dual-power mode, operable by either a joystick and four buttons built into the machine or by a remote control that takes two AAA batteries.
Other features kids can discover at the touch of a button include several varieties of music with adjustable volume (for Mom and Dad!) and automatic demonstrations. The machine turns off automatically after five minutes to save battery life. The game includes a collection of child-safe animal toys to include as prizes, but of course you can add any prizes you want to the tank.
9- XIANGTAT Claw Machine
Amazon
The perfect gift for the little girl who loves claw machines, the "magic doll machine" by XIANGTAT is a pink or turquoise claw palace fit for a princess. It fits on both kitchen and kiddie tables and doesn't require coins (or even fake plastic coins) to operate. Simply press and hold the top "light" button for two seconds, and you get 60 seconds of claw gameplay, plus 40 seconds of extended gameplay. Just add your favorite toys and prizes to the tank and start grabbing!
Additionally, the XIANGTAT claw machine comes with cool extra features, including a remote control that you can use to play instead of the control panel. The remote control takes two inexpensive AA batteries to operate, and the machine itself requires six AAs, a big advantage over machines that require expensive D-cells that you probably don't have lying around the house.
The machine also plays music at the touch of a button and comes with a 30-day money-back guarantee.
10- CISAY Mini Claw Machine
Amazon
The CISAY Mini Claw Machine offers an interesting "twist" on the mini claw machine genre, no pun intended. Instead of levers and drop buttons, the CISAY machine features a claw affixed to an arm in the middle of a round tank, with 60 degrees of rotation and a spinning dial that turns it. This helps train children as young as three in valuable hand-eye coordination skills differently from other claw machines.
The CISAY Mini Claw Machine is safe for kids as young as three years old, depending on the prizes. The toy claw machine comes with several child-safe plastic balls to be used as prizes in the claw machine, but it can also be used to grab your child's favorite child-safe candies. This machine is also very affordable.
11- Nicknocks Prize Claw Doll Machine Play Ground
Amazon
There's more to the Nicknocks Claw Doll Machine than just a claw machine. It includes tons of extra features kids will love, including a spinning pirate-ship wheel, a swinging panel door, and a swinging oven so kids can pretend they're running a concession stand in addition to playing  a claw game. The toy is also decorated with diamonds, wings, and other accoutrement, colored in sumptuous pink and perfect for little girls who love extras.
The LOZ Claw Doll Machine is built from high-quality ABS and comes with several prizes, including cross-compatible "nano brick head" dolls
12- GMAXT Mini Claw Machine with Music and Lighting
Amazon
GMAXT offers a cute take on the popular tabletop mini claw game with this 60-second timed game that includes a helpful digital timer above the controls, helping reinforce a child's counting skills at the same time as they develop their fine motor skills.
The toy claw machine comes with 10 dolls to use as prizes, although you can substitute your own toys or treats. Successfully retrieving a toy will trigger music and animations, making this toy extra-stimulating for young minds. The unit can be powered either by three D-cell batteries, or by USB.
Tips for Picking the Perfect Mini Claw Machine
Mini claw games might all seem the same, but you do have some choices to make to narrow your options for the perfect gift for your child. Here are some considerations to make when looking at the different mini claw games available to you:
Age of the Child
Most toys include guidelines of what ages they might be appropriate for, but these guidelines are not gospel. Every aspect of the toy needs to be taken into account.
Smaller toys, for example, might be appropriate for toddlers and babies because they can manipulate them easily. Of course, they also love to throw things or bash them against surfaces, making it critical to choose a toy that is durable. Try to pick a machine where the child won't succeed if (s)he decides to pull off the joystick instead of operating it.
Conversely, an older child might be insufficiently stimulated by too small of a toy. Bigger children tend to do better with bigger toys.
Some mini claw machines come with accessories like included toys or plastic tokens to drop into the slot and replicate the fun of plugging change into an arcade game. This can be great for older children, but keep in mind the tendency of younger children to put just about anything they can get their hands on into their mouths and noses. Be very careful of what kinds of smaller, inedible objects are included in a toy for a small child, lest you end up with a choking hazard or a trip to the emergency room.
Price
Mini claw machines vary widely in price, from close to $10 to over $100. Your budget for new toys will probably dictate which mini claw machines are an option for you.
Lower-priced machines are usually smaller and have fewer features or accessories. Be wary, though, of smaller mini claw machines that don't cost much money. If you mean to get the toy for a small child, befitting the small toy, the materials might be cheap and the toy could easily break if the child decides to get rough with it.
That said, the child might outgrow the toy quickly. A pricier, more durable, all-ages toy with more features might be worth the investment if it is meant to entertain multiple children of different ages over the course of several years.
Power Source
Most mini claw games do not come with the batteries you will need to operate them. You will probably need to supply your own battery power, and this can be an important consideration, especially when it comes to the overall cost of operating and maintaining the toy.
You will usually see one or more of the following power sources required for these toys:
AA Batteries. Smaller toys with fewer features will require between two and six AA batteries to operate them. This is often one of the least costly ways to operate a mini claw machine. AA batteries are inexpensive, easy to store, and widely available in bulk.
D Batteries. D-cells are bulky, powerful batteries and can be used to power larger machines with features like audio and flashing lights. D-cells are also expensive, especially if you need more than one.
USB Power. Some mini claw toys can be powered by a USB cable, which often is included and can be plugged into any powered USB input (although the input or adapter is usually not included). Some mini claw machines may have the option to either run on batteries or USB. The downside of a USB-powered mini claw machine is that it is less portable.
Safe Materials
Every parent wants to make sure that, in addition to not posing a choking hazard, the toys they give their children contain safe, non-toxic materials. Most countries have admirable manufacturing controls that ensure child-safe output.
Unfortunately, China, one of the largest manufacturers of toys, especially those sold on Amazon, has come under fire in the past for using unsafe materials. In the US, the Consumer Product Safety Improvement Act has reduced the availability of toys made from unsafe materials in toy stores. Still, buying online requires extra thought. Some things to look for include:
Lead Paint. Chinese-made toys in particular have been flagged for their use of lead paint, but it's hard to avoid toys made in China at times.
PVC. This popular form of plastic can be found in many toys, but most forms of it are not safe for babies. PVD #3 is safe, but #1, #2, #4, and especially #7 should be avoided.
Check the reviews on Amazon or the online seller. See if the toy has made any recall lists. If necessary, see if you can trace the toy to its manufacturer at alibaba.com and look at the buyer reviews there.
You have some extra safety built-in if the toy includes a "100% PVC-free" label or if it bears an ASTM International label, especially code F963. This code means that the toy is compliant with US safety standards.
How it Operates
Toys are not just for a child's enjoyment (although stimulating a child's instinct to play is a big strength of toys!). The right toy can also foster skills in delayed gratification, socialization, turn-taking, and frustration tolerance. Which mini claw machine you pick may determine which of your child's skills it helps develop.
Operational controls on a mini claw machine might include:
Joysticks. A mini claw machine might include one or more joysticks to move the claw through its three axes of motion.
Twisters. Radial claw games may include twister controls that help the child develop coordination and strength radially through the fingers and wrists.
Buttons. Pushing a button can activate lights and music, start the game, or drop the claw. Buttons marked with pictures or words help children learn to visually link form with function.
Prizes Included?
Most mini claw games supply parents and guardians with the option to stock the tank with whatever prizes they see fit, provided that they are small enough to dispense, large enough for the claw to grab but not too heavy. Great options include small toys or dolls, candies, or other treats.
Many mini claw machines, however, do include prizes. These might take the form of plush toys, small plastic toys, or even plastic hollow balls that can have prizes and treats inserted into them for a customized prize-winning experience.
Sounds and Lights
The claw game may be enough to keep many children occupied, but many mini claw machines have more fun in store. Some of them feature flashing lights, which add a festive note of celebration to a winning claw round or which just make the game more fun.
Other mini claw machines make noises upon a win or the push of a button. A mini claw machine may have several built-in musical cues. This can make the mini claw machine a noisy toy, which parents need to be aware of for the sake of their sanity. Some mini claw machines with auditory elements may include a volume control or a mute button.
Guarantee / Warranty
A satisfaction guarantee protects buyers to a certain extent. A factory or retailer's warranty provides even more protection. It is uncommon to find a long warranty on a toy like a mini claw machine—they are meant to be outgrown by fast-maturing children, to a certain extent. However, some mini claw machines come with a 100% satisfaction guarantee from the retailer. This may be good for a short period of time, like a week or 30 days, but it at least protects you in case the machine doesn't function as expected or breaks down quickly.
---
You Might Also Like: