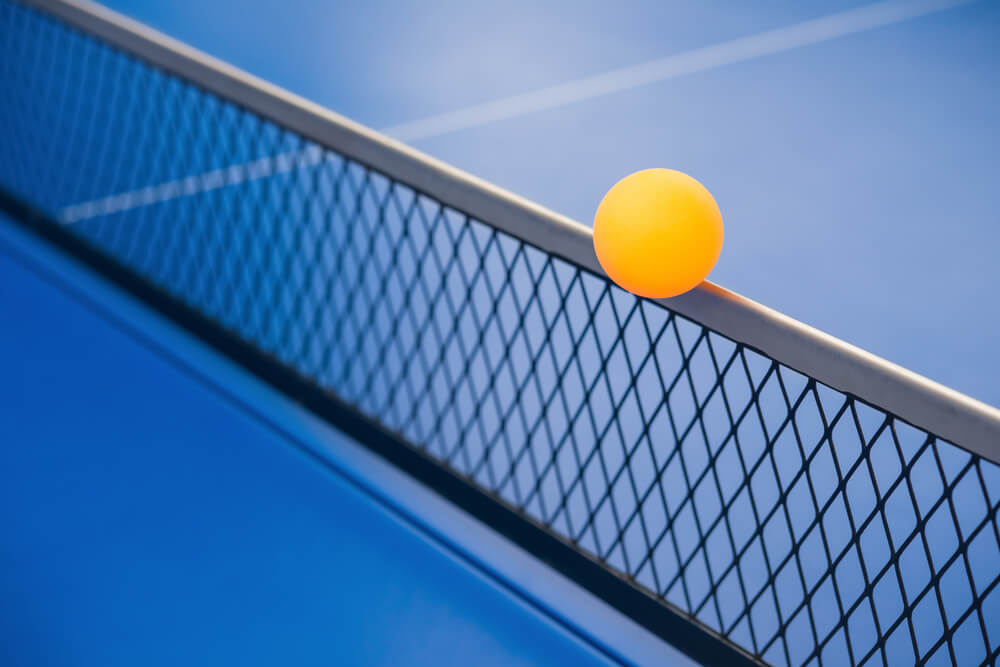 Ping pong players consider their tables, paddles, and balls but ping pong nets are often the most forgotten part of the game. A strong, sturdy, durable, ping pong net is an important part of any ping pong match though. This is why you need a great ping pong net.
When looking at ping pong net, whether you are looking for a replacement net or an upgraded net, you want to make sure you take a few factors into consideration. You want to make sure they are sturdy, stable, and that they conform to any regulations for the type of match you play.
To help you decide between the best ping pong nets of 2021, we have reviewed some of the top nets on the market. These nets will allow you hours of fun and friendly competition in your basement, rec room, man cave, or patio. Here are the best 8 ping pong nets of 2021.
1. Comesee Collapsible Table Tennis Net Professional Steel Ping Pong Net Clip Grip Mesh Training Competition Portable Tension Adjustable Post, for Adults & Kids
Amazon
Highlights:
Comesee ping pong net set is composed of premium cotton-blend net and sturdy steel post, capable for daily training or professional competition games.
Precise tension adjustment with a height measuring tool for regulation play
Easy set-up and removal with spring-activated clip
Review: 
This is one of the best overall replacement ping pong nets you can get for your table. The net is 69″ when fully stretched out, which means that it will easily fit most standard home ping pong tables which are 55" to 60" in width. It also will fit on most tables, regardless of thickness, up to 1.3". Overall, it is a very versatile net but will not fit tournament-sized 72" tables.
The hand clamps that you use to attach this net to the table make it incredibly easy to install. It is also very easy to take off for storage of you take with you to another location and use it with another table. And, even though it is easy to move from place to place, once you clamp it, the rubber grip system makes sure it stands up strongly on the table no matter how many times and how hard the ball is hit into it.
One more nice thing about this ping pong net and the company that sells it is that Comesee offers very good after-sales service. If you have any problems with the net of need help setting it up, the company gets back to you fast, replying to emails within 24 hours usually. This gives you good peace of mind that you won't be stranded with a product that doesn't work or does not make. sense to you.
2. DHS Table Tennis Net & Post Set, WTTC International Tournament #P104
Amazon
Highlights:
DHS Table Tennis Net and Post Set #P104
Net Fixing: Inside / Post Fixing: Spring
72″ cotton mesh net and heavy-duty metal posts
Review: 
DHS is a well-known table tennis equipment brand that is especially popular in Asia where the game is incredibly popular. This is an attractive blue, white, and black net that is used in some of the biggest World Table Tennis Championship (WTTC) international tournaments around the world. The net is designed to fit tournament-sized 72" wide tables but will accommodate a smaller, home table as well with some excess net on either side.
This is one of the sturdier ping pong nets you will find because of the clamping system. While it is not quite as easy as some of the clamping systems, all you have to do is spin a wheel to affix to the table. There is another wheel you can spin on the clamp to adjust the tension and height of the net as well. As long as you tighten the wheel enough, this net is not going anywhere during gameplay.
One more thing that makes this set a very good value is that, in addition to the net, posts, and clamps, this set comes with some additional equipment as well. There is a special ruler that you can use to help position the net exactly at regulation height on the table. If you take the net off often or transport it to different tables, this is very helpful to get a consistent and regulation net height every time.
3. JOOLA Spring Professional Table Tennis Net and Post Set – ITTF Tournament Approved – 72in Regulation Ping Pong Net with Spring Activated Clamp Attachment
Amazon
Highlights:
TOURNAMENT QUALITY: The premium JOOLA Spring Net has passed professional testing requirements and is approved and authorized by the International Table Tennis Federation (ITTF) for the use in competition, including the Olympics and World Championships.
EXCEPTIONAL MATERIAL AND DESIGN: Includes two sturdy, heavy-duty metal posts with a quick and easy setup clamp system for attaching the bracket to the table. The net is specially designed with a double-woven cotton-steel thread to last for years.
QUICK & EASY ASSEMBLY: This durable ping pong net & post set is 72″ long and the posts fit on tables up to 1.5″ thick. Once the net is attached to the table, use the ball and chain at both ends of the net so the net is at the correct tension.
Review: 
You know that with JOOLA, you are getting very high-quality table tennis equipment which is why the company has multiple ping pong nets on this list. The JOOLA Spring Professional Table Tennis Net and Post Set is probably the highest quality net on this list but it is also the most expensive. Like most things in life though, you get what you pay for and when you pay around $60 for a ping pong net, you are getting an amazing piece of table tennis gear.
One of the issues that many replacement or upgraded ping pong nets have is that to get them tight enough to stay on your table without moving, you need to really dig the clamps into the table. This can damage your table which is something no one wants. This JOOLA net has rubber padding on the inside of the post clamps to protect your ping pong table top while also making sure that the net has a tight fit when attached to the table.
In addition to being good for your table, this is one of those ping pong nets that provide everything else you need as well. It is 72" long so it will fit on a standard, tournament-sized table and is approved for the highest level international competitions by the International Table Tennis Federation (ITTF). It also comes with a specialized height adjuster tool to make sure the net perfectly conforms to regulations each and every time you set it up.
4. STIGA Premium Clipper 72" Regulation Table Tennis Net and Post Set with Easy Set-Up and Spring Activated Clip
Amazon
Highlights:
Tournament-Level Table Tennis Net and Post Set
72″ Premium Cotton Blend Net and Heavy-Duty Steel Post
Easy Set-Up and Removal with Spring-Activated Clip
Review: 
This is a competition-grade ping pong net that is approved for competition by another of the sport's most prestigious governing bodies, USA Table Tennis (USATT). The net itself is 72" long so it will fit on regulation, tournament approved ping pong tables. It is no surprise that this net from STIGA makes the list of best ping pong nets of 2021 because it is a very well-known and well-respected brand in the industry. This is a very good net and a good value for the relatively low price.
The ease of set up, storage, and movement is one thing that makes this ping pong net so great. The clamp is a spring-activated hand clamp that is easy to open and close and clamps safely and securely to your table. There is nothing to screw of twist, just a simple, hand-activated clamp that anyone can use. The only issue with the hand clamp is that it does not give you as much leeway as some of the others on this list and will only work with tables that are 1" thick or less.
This is a very well-made net as well. The net itself is made from a premium cotton blend that stretches for great tautness and strength. It offers nice rebounding too during gameplay. You can also finely tune and adjust the net so it sits and plays exactly how you like it. There is a regulation measuring tool that comes with the set and precision tension adjusting with a string that runs along the top of the net.
5. Champion Sports Table Tennis Net Replacement, Ping Pong Net for Any Table 60 to 72 Inch 2 Pack Navy
Amazon
Highlights:
Champion Sports professional competition table tennis net replacement. Not included net posts
Measuring 60 to 72 inch in length, 6 inches in height, the premium cotton blend net offers strong tautness, stretchy, and good withstand pressure
Easy set up for this ping pong net, slides down to the existing posts
Review: 
The apparatus of ping pong nets consists of 3 main parts. These are the posts, the clips, and, of course, the net itself. Of these 3 parts, the net itself is the part that is most likely to wear, fray, and ultimately breakdown and need to be replaced. That is why, oftentimes, when looking for a replacement net, you will only need the net itself. That is why for around $10 this 2-pack of replacement nets only is such a great deal.
The nets come in an attractive and simple navy blue and white color scheme so it will not clash or look out of place on most any ping pong table. The nets will fit both home and tournament tables from 60" to 72" in length. They are easy to set up and install with pull-through strings through the top.
These replacement nets are tough and durable so once you get this 2-pack, you should be set with your ping pong net needs for a very long time. They are made to be so durable that you can use them on both indoor and outdoor ping pong tables. As replacement ping pong nets, there are not a lot of bells and whistles here but you do get very high-quality ping pong nets that will last a long time.
6. JOOLA Club Competition Table Tennis Net and Post Set – Portable and Easy Setup 72″ Regulation Size Ping Pong Screw-on Clamp Net
Amazon
Highlights:
LIGHTWEIGHT RECREATIONAL NET SET: Weighing just a pound, this ping pong net set is perfect for any recreational player looking for a new or replacement net
EASY ASSEMBLY & REMOVAL: Screw-on premium net set with protective rubber clamp onto your ping pong table and you are ready to play! When finished, simply unscrew the clamp and remove the net from the table.
ITTF REGULATION LENGTH & HEIGHT: This durable ping pong net & post set is 72″ and the posts fit on tables up to 1.5″ thick. Once the net is attached to the table, use the ball and chain at both ends of the net to verify the net is at the correct tension.
Review: 
This net is one last entry on this list of best ping pong nets from one of the best companies in the business, JOOLA. Like most of the equipment from this company, this net set is serious stuff. It fits 72" tables and can be used in any legitimate table tennis competition. The red posts really make it stand out from other net sets as well.
This net will clamp incredibly securely to any table, up to 1.5" wide. This feature means it will clip to thicker tables than almost any set on this list. While it takes a little longer than others to set up, the clamp and screw design makes it hold tight.
Just because it takes a little tie to set up though doesn't mean you cannot take it on the go. The whole set is incredibly lightweight so you can transport it from your home to a tournament with ease. As with all JOOLA nets, this is a good investment for the serious ping pong players out there and will lead to better gameplay at your table. The price is in line with many other sets so it stands out as a good value as well.
7. CORTEX TOYS Pirate Pong – Portable Themed Table Tennis Set
Amazon
Highlights:
Ahoy Mates! Can you play Ping Pong with just one eye?! Grab an eye patch and a sword paddle for an amazing game like no other
With all depth perception thrown overboard, you can make your competitor walk the plank by winning the ultimate game of Pirate Pong
Complete with two sword paddles two ping pong balls two eye patches and a fish net- you've got everything you need rule the sea
Review: 
Not all great ping pong nets are meant for serious competition and are made to adhere to precise specifications that make them tournament-ready. Some are just plain fun. This Pirate Pong set from Cortex Toys falls into the category of just being a lot of fun. This is a perfect set for kids and if you are looking to introduce youngsters to the game, this set is a great way to do it.
The set itself comes with everything you need for some great pirate and ping pong themed fun. It has a net that looks like pirate ship netting, 2 sword-style ping pong paddles, 2 skull, and crossbones ping pong balls and even 2 eye patches to give the true Seven Seas buccaneer experience. It is great for a party, to give as a gift, or to get young kids started as ping pong players by including imagination and fun into the game.
The game is very good for youngsters as it can help with physical activity and hand/ eye coordination. The set also comes with a "Pirate's Rule Book" for Pirate Pong. The set is good for any kids (or kids at heart) who are between the ages of 4 or 5 and teenagers. It is even a great game for an adult Halloween party. The only thing to note is that the set does have small pieces that could potentially be choking hazards. For this reason, it is not advised for children aged 3 and under.
8. Sanung Outdoor Weatherproof Table Tennis Net and Post Set – Waterproof 72″ Regulation Size Ping Pong Screw-on Clamp Net – Ideal for Indoor and Outdoor Use
Amazon
Highlights:
PLAY LIKE A CHAMP: The Sanung Outdoor Ping Pong Net and Post Set is tournament-level and competition-ready, allowing you to practice like our JOOLA Champions!
WEATHERPROOF: Includes weatherproof plastic posts and 66-inch-high quality nylon mesh net – a perfect addition to your Sanung Outdoor Table Tennis Table!
PLAY YOUR WAY: Adjustable height and tension capability let you adjust your net in the way that best suits your playing style.
Review: 
This outdoor ping pong net set is the same equipment which is used by both pro and amateur players alike and even shows up at the top levels of the sport like at the US Open Table Tennis Championships and Olympics. This is not the last time you will see a Sanung net on this list. They are quite simply one of the most trusted names in not only ping pong nets but the entire game. The company has over 65 years of professional-level ping pong experience and is known for its high-quality products.
Playing ping pong outdoors is one of the great joys of the game and you want to make sure that you have a net that will stand up to the conditions and not wear out fast when played out in the elements. This net will fit almost all standard sized ping pong tables that are 9' by 5' and up to 1.5 inches thick.
Another reason that this net is so beloved by players of every level is that is adjustable so you can play any way you like. You can easily adjust the height and tension of the net to give you and your opponents the type of game you want to play. If you want to play outdoors, on a net that is used by the pros, this Sanung net will be great for you.
How to choose the best ping pong nets this year
When choosing the best ping pong net for you, you need to know exactly what to look for. It is not enough just to know what the best brands and products are, you really need to know what you are looking for in a net in order to make the best decision. Here are a few top tips about what you need to take into consideration and how you can choose the best ping pong nets this year.
Size Matters 
Not all ping pong tables were created equal which means that not all nets will work with all ping pong tables. The biggest reason that certain nets will not work with certain tables is the size of the table. More specifically, the length of the table is very important to keep in mind when looking for the right net for you. Make sure you are very familiar with this number before you start shopping for a net.
As a general rule of thumb, ping pong tables come in a few standard sizes. While these are the most common, custom or specially made tables might differ in their exact size. The largest table you will generally find is 6 feet (or 72 inches) wide. Smaller, home tables that are also common can be 5 feet wide (or 60 inches) wide. Even slightly smaller, 55-inch tables are out there as well.
There is nothing worse than buying a new net, stretching it out, and finding it is either way too small or way too big for your table. This is why knowing the exact length of your table is the first thing you need to do when you are in the market for a new net.
Open Wide
After the length, the thickness of the table is the next thing you want to consider if you are buying a whole net set which includes clamps and posts. If you already have good clamps and posts and are just buying a replacement net (like the Comesee 2-pack above) you can disregard this part of the tips section.
Most ping pong tables are relatively thin but nice ones or custom-built ones may be thicker. Some tables also have reinforcements by where the net clamps are to ensure stability. Most net set clamps will be able to clamp securely around tables that are 1 inch thick. That will usually be sufficient but if your table is thicker, you may need more clearance.
Luckily, this shouldn't be a major problem. It is fairly easy to find sets that have clamps that accommodate an inch and a quarter, an inch and a third or even an inch and a half. Once again, it is best to measure the thickness before you order a net set so you don't have to return a set you really think you would have loved.
A Strong Connection 
Once you know that the clamps are wide enough to clamp around your table you want to make sure the clamps have a very good grip. It is so important that your net stands straight and tight and does not droop or easily get knocked over when it gets hit. You also want to be able to tighten it quite securely and with a lot of tension so the ball bounces back to the player when it hits the net.
Security is incredibly important but you also do not want it so tight that it digs into the table and does damage. You never want a $30 net set to ruin a few hundred or even a few thousand-dollar tables. Make sure the clamps have some sort of padding or rubber so when you take the net off, it won't leave big marks.
Where Are You? 
Finally, there are indoor and outdoor ping pong tables so you want to make sure you get the net to match. Having the wrong net on your table will mean you will have to replace the net much more often or you may not be getting the best performance from the net. Indoor nets usually offer more performance but they can't stand up to the elements. Outdoor nets are designed for the elements but may not be right for indoor tables. Whichever you play on, having the corresponding net is always a good idea.
---
YOU MIGHT ALSO LIKE: