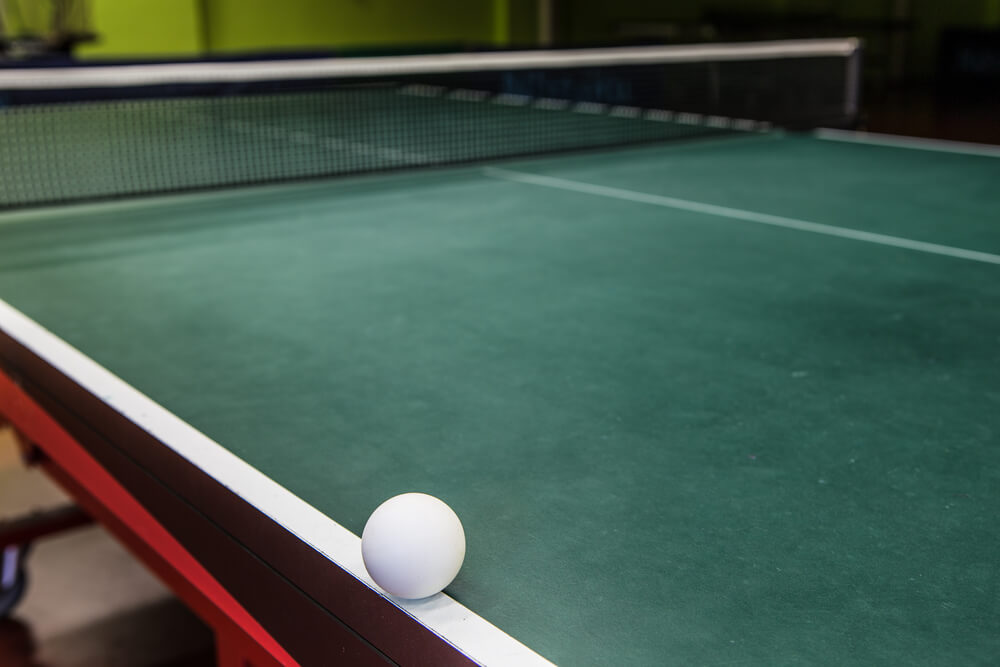 It isn't always possible to fit all the game tables you want in your rec rooms, basements, or man cave. This is why a ping pong table top is such an amazing product. They transform your space and give your game area more versatility and functionality and freshen up your room.
A ping pong table top can take an ordinary table, a pool table, an air hockey table, or some other table and give you another use for it. Whether you are getting tired of your old tables or it goes unused, a ping pong table top is a great way to get more use out of your space.
Getting the right ping pong table top for you and your space takes a little thought and research but will change your whole gaming space for the better and give your area an incredibly fun added dimension. Below we will look at and review the best ping pong table tops out there today to help you pick the one that will fit best in your home. Here are the best ping pong table tops of 2023.
1. Indoor Table Tennis Conversion Top with Net Set by Rally & Roar – 2 Piece (5/8" Thick) or 4 Piece (1/2" Thick) Set – Quick Set Up, Portable Tops, Space Saving Storage, Regulation Tournament Size
Amazon
Highlights:
READY, SET, ROAR! The R&R Tennis Table Converter Top is a convenient way to play a pop-up game of ping pong virtually anywhere. With its unique 2 or 4 board design, you can convert an air hockey or pool table into a ping pong game in seconds.
EASY ASSEMBLY: Our indoor game equipment is user-friendly. Choose between the hinged, 4-panel model, or 2-panel. Both options easily lay them across a table, attach the net posts to both sides, and you're ready to face-off with friends and family.
DURABLE CONSTRUCTION: With professional-grade materials, the quality of these table tennis kits are unrivaled. The 2-piece set is 5/8" thick while the 4-piece offers 1/2" of smooth playfield – both guaranteeing optimal bounce with silk print striping.
Review: 
The reason this ping pong table top tops this list is due to its size, quality, and innovative design features. With a regular ping pong table top, you will find that it is a single piece or two pieces that lock together. This Rally & Roar ping pong table top comes in a traditional 2-piece style but also a 4-piece style as well. This helps with many things like ease of storage and how you put it together. The 2-piece set is a little thicker at 5/8" while the 4-piece set is ½" thick for very convenient storage and handling.
The table looks like a professional table with its blue and black color scheme and is full-sized at 9' by 5' when fully assembled. This gives you a tournament-quality table that you can easily put over a pool table, air hockey table, or regular table for lots of ping pong fun whenever you want.
It also comes with the net and posts you will need as well to create a full-fledged table out of the box. The play on this table is very good. It is very solid and will not shake or bounce while you play. The only place you will get a nice bounce is with the ping pong ball. The balls bounce true on this table like a normal ping pong table so players will hardly realize they are playing with a ping pong table top.
2. JOOLA Tetra – 4 Piece Ping Pong Table Top for Pool Table – Includes Ping Pong Net Set – Full Size Table Tennis Conversion Top for Billiard Tables – Easy Assembly & Compact Storage – Incl. Foam Backing
Amazon
Highlights:
JOOLA – AN OLYMPIC TABLE TENNIS BRAND TRUSTED FOR 60+ YEARS: Launched in the 1950s, JOOLA has been the proud sponsor of the biggest tournaments in the world, including the Olympics, World Championships, and US Open. Equipment designed for all levels.
CONVERT ANY TABLE: Convert your billiard, air hockey, dining or picnic table into a 12mm thick, regulation size (9x5ft) ping pong table top in just minutes! (Minimum length of table underneath: 7ft / Minimum width: 3ft)
COMPACT STORAGE: JOOLA Tetra's 4-piece Table Tennis Table hinge design makes the conversion process easy and storage compact which gives it an advantage over a standard ping pong table.
Review: 
JOOLA is one of the most widely recognized and most trusted names in the ping pong and table tennis industry. That means it is no surprise that the company has an entry on the list of best ping pong table tops in 2023. This ping pong table top is specifically designed to fit on a billiards or pool table and will fit perfectly on many different brands of table. They have special scratch protection guards on this table top as well so your pool table doesn't get hurt while playing ping pong.
The four pieces are very light which is great for maneuverability and storage. They create a full-sized, 9' by 5' ping pong table while weighing in at just 85 lbs. That is significantly lighter than some other tables on this list which can easily be heavier by 20 lbs. or more. Because this is a JOOLA table, the play doesn't suffer even though it weighs less. You will still get the elite level play you expect from this brand on this ping pong table top.
It only takes about 3 minutes from the time you take these 4 pieces out of the box until the time you are playing ping pong where your billiards table used to be. It is that fast and easy. Once you start playing you get the typical JOOLA table experience too with 12mm blue and white professional-level playing surface. The net is tough and durable and you can fully adjust the tension so you can play the game that you want to play.
3. JOOLA Regulation Table Tennis Top, Turn Any Surface into a Game Table for Quick Paced Fun in Any Location
Amazon
Highlights:
Portable trifold table assembles in just seconds, so you can be up and running at a moment's notice
Set up on traditional dining room tables, kitchen islands, pool tables, table saw platforms and more
Enjoy a game of chess, backgammon, or checkers on this table top as they are all included with table tennis top
Review: 
While many of the ping pong table tops on this list so far have been big, heavy, tournament-sized ping pong tables that are meant to help serious players turn their large gaming tables into ping pong tables, this table top from JOOLA is a little different. That is not to say it is better or worse, it is just that it is different. In many ways, this table is more versatile and more fun than these other table tops and you may even get more use out of it because of what it can do.
This is called a "3-in 1" portable table because, in addition to a ping pong table on one side, you get games on the other with a backgammon and chess/ checkers board as well. The table is best for casual players or players who really want to play ping pong but lack the appropriate space. The board itself is 7' long, 2' feet sort of a regulation table. You can still have a great, competitive match on a table this size though.
The table folds in half and comes with a nice portfolio-style carrying case with pockets for the equipment so you can easily take the whole show on the road. It is a great value too at about half the price of many of the other tables on this list. For that price, it also comes with all the equipment you need including paddles, balls, and a net as well as checkers, chess pieces, and more.
4. Poolmaster Floating Table Tennis Game Toy
Amazon
Highlights: 
Table is constructed with a non-corrosive EPS foam base and ABS top surface
Game table connects easily and includes molded compartments built into the underside of the table for easy storage of your game components
Set includes 2 oversize paddles, net with uprights, and 3 regulation ping pong balls
Review: 
One last ping pong table top that is a little out of the box, this floating table top is a very cool pool accessory and will give you, your friends, and your family hours of ping pong fun in the sun. And, while it is not a regulation size pool table, you can still pop it on a picnic or patio table and play out of the water as well. For less than $75, it is a great value for an outdoor table.
The coolest feature of this table, of course, is that it floats. The table is made from a non-corrosive EPS foam base and ABS top surface to it will not get damaged in the water and the top will be a hard enough surface for the ping pong balls to bounce on. Along with the table top and net, it also comes with two oversized paddles, great for kids, and regulation balls. There is a handy carrying and storage case as well.
If you are looking for a heavy-duty table to play real competitive matches on, this table will not be ideal. It is relatively small at about 4 ½' long but that is no problem for playing in the confined space of the pool or for kids playing on the pool deck or patio. It is a bit of a novelty item but it is a fun one that ping pong lovers will enjoy.
5. STIGA Fusion Table Tennis Conversion Top
Amazon
Highlights:
Convert your Pool Table to a Table Tennis Table with Ease
Fits 7-Foot and 8-Foot Pool Tables (And Some Air Hockey Tables)
½" Black Top Supported by Sturdy, Angular .75" Gloss Black Rail
Review: 
This is another ping pong table top from a well-known and trusted brand in the industry, STIGA. The company is known for high-quality table tennis equipment such as tables, nets, and paddles so it is no surprise that their ping pong table top is top-notch too. It is designed to work on top of 7' or 8' gaming tables and is compatible with many other brands of gaming tables.
This table top is a little on the heavier side, weighing in at over 120 lbs. but it is easy to align with side strips that help guide you. It also helps protect the table underneath from damage with sponge rubber strips that protect pool table rails and other surfaces while also holding the table to nicely in place. Once on top of another table, this gives you a regulation size 9' by 5' ping pong playing surface.
The other small disadvantage of this table top is that the net and post set is sold separately. While it is always nice to get these things included, it also gives you the opportunity to go out and get a high-quality net and post set in whatever style you like. They even suggest that you can pair this table top with either the STIGA Premium Clipper 72″ Net and Post Set or Stiga 72` Net + Posts.
6. Head Tournament Foldable Indoor Table Top Tennis Set w/ Net & Post
Amazon
Highlights:
QUICK AND CONVENIENT: Save on space and convert most any kitchen table, air hockey, or billiard table into a table tennis table, paddles and balls not included
PROFESSIONAL TOURNAMENT SIZE: Full 5 x 9 feet so there is no sacrificing on gameplay
HIGH-QUALITY: Constructed of durable particleboard, ½-inch thick, this unit is solid and sturdy.
Review: 
This is a very cool looking ping pong table top that will take any rec room or game room to the next level. With its sleek black and white design though it is the perfect addition to any man cave. The table top fits perfectly over a pool table or an air hockey table and it is well padded so whatever is underneath will not get damaged, even during the most competitive game. If you want a cool, no-frills, modern, sports car type look to your ping pong table top, this is a great one for you.
This is a very sturdy and versatile table top that you will love and it will add hours of fun to any game room. And, while the table is built for indoor use, it is hearty enough that you can take it outside and put it on top of a table there. Two warnings about this though. First, the table is not waterproof and will not stand up to rain so you should only use it outside on dry days. Second, it is mostly black so if left in the direct sun, it will get hot. Otherwise, as the company says, "Enjoy the possibilities."
The best part about this table top is the overall value. It is a very good, very functional table top that costs less than many from top brands. Head store is a lesser-known ping pong brand than other companies like Head or Stiga but don't let that stop you from getting this ping pong table for your home.
7. PRO-SPIN Retractable Tabletop Tennis Game Set, Play Almost Anywhere with Expandable Net, 2 Paddles and 3 Balls, Includes Convenient Portable Drawstring Bag
Amazon
Highlights:
BRING TABLE TENNIS VIRTUALLY ANYWHERE. Our retractable ping pong set lets you enjoy the game without the need for the bulk of a full ping pong table. An ITTF standard regulation size net of 5 feet wide ensures your matches are as competitive as the pros.
EASILY ATTACHES TO ALMOST ANY TABLE. The sturdy spring action clamps allow the net to attach to nearly any table, with a generous allowance of 2 inches. The net fits any table width up to 5 feet, and when you're done, revert it back when finished: a push of the trigger makes the net retract and collapse.
 INCLUDES EVERYTHING FOR A COMPLETE GAME. The tennis table set is ready for a match right out of the box and includes two paddles, three ping pong balls, a retractable net, and a carrying pouch.
Review: 
This may stretch the definition of a "ping pong table top", but if you truly want to be able to play ping pong on any table, anywhere at any time, this retractable ping pong net and game set is the best table top equipment you could own. True, it does not include and actual table top but with the retractable net, you can turn any table into a ping pong table. It is great fun to take with you when you go to a friend's house, on vacation, or to a party.
As far as value goes, you won't get any better value than this for something that allows you to convert a regular table into a ping pong table. For 10x less than many of the table tops on this list, you can play table top ping pong everywhere. The set also comes with 2 balls, 2 paddles, the retractable net, and a drawstring carrying case. Everything you need to be a mobile ping pong player.
Being from Maige, the products are very durable and high-quality. While the quality game will depend on the table you play on, the equipment will stay intact for a long time. One note of warning: ping pong on a table can do some damage to the table in some situations. Always make sure you are playing on a table where it will not be a big deal if it gets dinged at some point.
How to choose the best ping pong table top this year
Who says you can't have it all? Sure, a lot of times due to space, budget, or some other reason, you will have to choose between different game tables for your rec room, basement, game room, or man cave. Just because you picked a pool table or an air hockey table doesn't mean that ping pong is out of the question forever.
With the great ping pong table tops above, you can add options and freshen up your gaming space with a legit ping pong table that fits right on top of your existing table. It is a great way to bring a new element to your space. While all the table tops above are great, you need to figure out which one is best for you and your needs. Here are some helpful tips on how to choose the best ping pong table top this year.
What Will It Sit On?
The first thing to consider when looking for a table top ping pong set is where the table top will sit. Most standard ping pong table tops are specially designed to fit on top of pool tables and air hockey tables. On these types of tables, you can fit a full size 9' by 5' ping pong table. If you don't have one of these tables, make sure you find a table top that you don't need one for.
You also need to make sure though that the ping pong table fits the exact size of your pool or air hockey table. While a lot of ping pong table tops can be 9' by 5', it doesn't necessarily mean they all fit the same tables. Air hockey tables for the home usually come in 7' or 8' size while pool tables come in those sizes as well as the 9' variety. Check your base table and make sure your table top will fit nicely.
Protective Padding 
Whether you are putting your ping pong table top on a regular table or a gaming table, one of the most important things is that the table top doesn't scratch or otherwise damage the table. This is very important, especially if you still use the table underneath at times for its intended purpose.
Most pin pong table tops have some sort of protective foam or other material underneath to prevent damage. You want to make sure that the padding seems thick enough and read the reviews to confirm that it is safe for a nice table underneath. The good news is, most table tops are very well padded so table damage should be a major concern when you go with a respectable brand.
How Much Space? 
Other than the longest pool tables on the market, regulation ping pong tables will be longer than those and wider than all pool tables. You also need more space to move around a ping pong table than an air hickey table. This is why it is so important to take measurements and assure yourself that you have enough space, not only for the table but for vigorous play as well.
The general rule of thumb is that you need a space that is 19' long by 11' wide to play ping pong safely and effectively. This will give you a good cushion of 5' on each end of the table and 3' on either side. If you cannot dedicate that much space around your current game table, you may want to look to move it elsewhere or get a smaller version of a table top ping pong surface.
Set-Up and Storage 
By its very nature, a table top ping pong surface is something that is relatively temporary. It is designed to be set up on another table and taken down and stored when you want to go back to playing pool, air hockey, or using the table for other means. That is why the ease of setup and storage is so crucial. Here are a few things to look for when considering the setup and storage.
Weight
To get the table top pieces off the ground, you will have to lift them up at least as high as the table you are putting it on. This can be difficult for one person to do at times because some of these table tops are very heavy. It is not uncommon for a good ping pong table top to be well over 100 lbs. If you will need to set it up yourself, make sure the weight is ok to do so. You can find some of the higher-end table tops that are very good playing surfaces but still quite lightweight.
Pieces
This is related to weight but also has to do with storage as well. Ping pong table tops generally come in 1, 2, or 4 pieces. The more pieces, the more time consuming it may be to set up, but the lighter each piece will be. Also, the more pieces, the smaller space you will need to store the table top when it is not in use. There will also be fewer seams on table tops with fewer pieces so gameplay might be better. You will have to make these small tradeoffs for each version so think about what means the most to you.
Tools?
The last piece of setup is getting the table top in place, locking it in together, and putting up the ping pong net. Some table tops slide together easily and lock in place while others just sit in the table. Some tables and net require some small hand tools while others require nothing other than some elbow grease. Again, there will be tradeoffs in time to set up versus strength and stability so choose what works best for you.
---
YOU MIGHT ALSO LIKE: