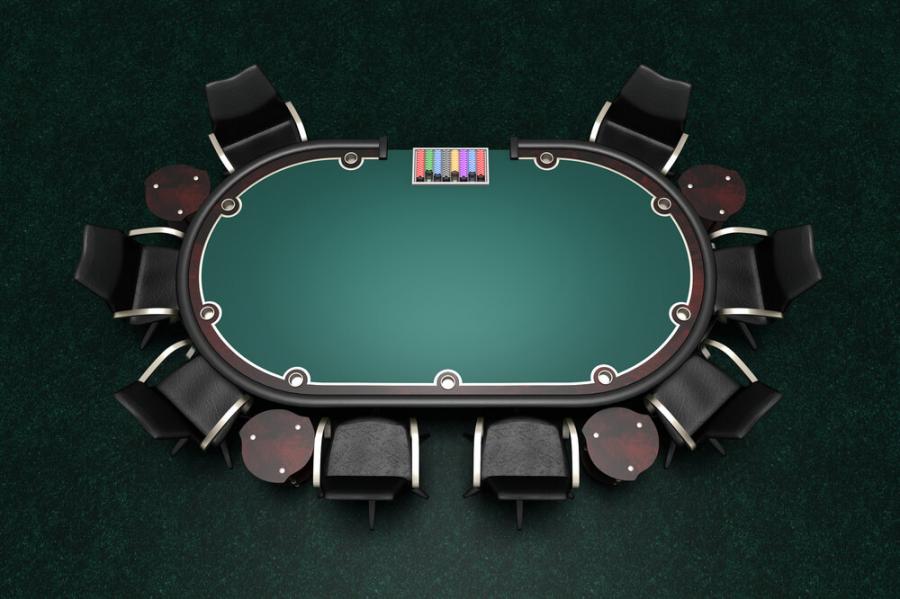 When it's your turn to host poker night, you don't want to look like a joker. Forget dealing and anteing up onto the same kitchen table where you eat breakfast. Whether it's a folding table or an oak masterpiece, you want the right surface to match the occasion.
The right poker table transports players to a different world: the far-flung game rooms of Vegas and Monaco, Atlantic City, and Macau. Break out the bourbon, the cigars, and the deck of cards—it's time to go all in with one of our picks for the twelve best poker tables to buy in 2023.
FEATURED LISTING: 1-

Triton Classic Folding 8 and 10 Player Poker Table
Amazon
Triton is a newcomer to the poker table world but, oh boy, do they know how to make an entrance. Their premium, high-end table is both exquisite and will make a great impression on all your friends huddling around for the Friday poker night. Amazon users have mentioned that the table is very easy to set up, it is spill resident and has very high end finishing touches.
The table is also easy to move around and compact for people who do not necessarily have a designated permanent space for it.
Overall, this table is worth the investment for any person who is serious about poker nights. And it's amazing for those who simply want to show off to their friends.
2- Barrington Collection Poker Table with Padded Rails and Cup Holders
Amazon
The Barrington Collection 10-seater poker table is available in two different skins—blue felt playing surface with a black faux-leather armrest, or black felt playing surface with a brown armrest. There's a Barrington poker table to match any decor.
Shaped in a classic ellipse, ideal for Texas Hold'Em, the table measures a robust 84 inches by 42 inches. The playing surface is printed with five spots for the river, in case the dealer doesn't know where to place the cards, and features drink rests at each of the ten seating positions.
The Barrington Collection Poker Table is also light-weight and compact, perfect for people who don't have a lot of space and need a poker table they can pack away when it isn't poker night. When the legs are folded up and the table is folded in half, this table has a slim profile and fits into any closet or garage corner.
Barrington ships this poker table fully-assembled and backs it up with a 30-day money-back guarantee.
3- Giantex Folding Play Poker Table w/Cup Holder
Amazon
Many poker tables have lots of frills, bells, and whistles, and the price tags to match. This eight-seater folding poker table has few bells and whistles, making it the perfect choice for poker-night hosts on a budget.
This folding poker table features collapsing legs and folds in half to make it even easier to store. When unfolded and ready for play, it features a game-time green felt surface perfect for dealing a game of Texas Hold'em, as well as the all-important cup holder at each one of eight player positions. The cup holders are set into a faux-leather arm rest that encircles the entire table and ensures long games without undue strain on the forearms.
At 73 inches by 32 inches, the table has all the space you need for a robust game. Best of all, with the legs folded, this poker table can be set on top of almost any long dining room table for use as a poker table top. Just set down a mat to keep the sturdy metal chassis from scratching your furniture.
4- Livebest 48" Octagon Folding Card Game Poker Table
Amazon
A circular poker table allows players to sit equidistant from each other and in a position to hide their hands, but so does an octagon. This octagonal poker table by Livebest, 48 inches in diameter at the corners, is perfect for a quick game of five-card draw. When the game is over, you can fold the table legs and stash it in the garage, closet, anywhere.
The table itself is upholstered in felt and comes in five attractive colors. Built-in conveniences include a cup holder and chip racetracks at every player position. At only 42 pounds, it's light enough to be handled by one person and fits into many truck beds to take the game wherever you want to go.
5- LUCKYERMORE 8 Players Folding Poker Table
Amazon
When portability is the priority in your poker table hunt, LUCKYERMORE is the way to go. This octagonal poker table seats eight players when it's in use. When not in use, the legs not only fold, but the table itself folds in half, making it the kind of table that fits just about anywhere—a small closet, a garage corner, in the back seat of a compact car, anywhere.
Unfolded, it's all game and no frills—just the faux-leather arm rests, cup holders at each of eight player positions, and a green dealing surface with card-shaped graphics at each place for the dealer to aim for.
6- IDS Poker 96″ Light Series Texas Hold'em Poker Table
Amazon
If you're not messing around, trick out your game room with an oversized Hold'em table in the form of the
IDS Poker 96", a massive 99-inch stationary poker table fit for a king. Yes, when actual kings, rock stars, and sports stars go all in with a small fortune, they do it on tables like this.
The gigantic playing surface is upholstered with classy, graphic-free speedcloth with a card suit print, available in black, blue, green, and red. It also features an expansive glossy-wood racetrack with stainless steel cup holders to mark player positions, and a fat, cushy armrest encircling the entire table.
7- Vilobos  Folding Poker Table
Amazon
If you want room to spread out, IDS has you covered with this oversized 96"-inch Texas Hold'em table. Lightweight and with folding legs, it tucks away when you're not using it. When it's time to play, however, the expansive playing surface is upholstered with blank speed cloth for easy dealing, stylishly colored in green, black, red, or blue with card-suit patterns.
The outer rail is an armrest upholstered in faux-leather. The inner rail, trimmed in glossy faux-wood, features stainless steel cup holders at each of ten player positions and acts as the perfect place to stack chips.
While this folding poker table is remarkably lightweight, the steel legs can take a beating. Despite being portable, this poker table is built to last.
8- IDS Poker 73-Inch Hold'em Table with Dealer Position
Amazon
If you need a more simple, portable, or foldable casino poker table with a dealer cutout, Trademark makes a user-friendly version of this classic table, oversized at 76 inches with folding legs that allow you to easily throw it in a truck or store it in a garage when not in use.
The dealer position features a chip bank. Each of nine player positions features a cup holder recessed into the faux-leather armrest.
9- Sunset Trading Bellagio Game Table
Amazon
Class up your gaming room with this octagonal three-in-one stationary gaming table by Sunset. The base of this oak-wood 48-inch-diameter octagonal table is a bumper-pool table. Set the tabletop down in one direction, and it's a classy dining table. Reverse the tabletop, and you have the perfect eight-seating poker table for a high-end game of five-card draw.
In poker mode, the table features cup holders at each position with removable rubber coasters to prevent glasses from slipping. Chip racetracks flank each cup holder. You and your poker buddies will be tossing those chips onto a blank, black faux-leather card-dealing surface. This table would look at home in a chic casino in Monte Carlo. What better to bring into your parlor or secret in your dining room?
The table sits on an oak clawfoot base, stained in cool tones like the rest of the table. The bumper pool table features classic green upholstery. When converted to dining-table mode, the pearl-clutching set would never know that such a venal activity as poker ever took place here. Perish the thought!
10- Barrington Poker Elite Poker Table for 10 Players
Amazon
If you want to hold a pro-level game, you want to hire a dealer, and this is the kind of table you need. The Elite by BBO Poker offers a dealer station with a chip bank and room for ten players with cup holders sunk at each player position into the plush armrest.
The table itself features LED lighting to illuminate the river, as well as the sleek speed cloth available in red, green, blue, or black. The entire assembly is seated on a tuxedo black dual-clawfoot base of solid wood.
11- HAN'S DELTA 48″ Folding Poker Table Top
Amazon
The advantage of a circular table is that each player is positioned equidistant from each other, with players to the left and to the right slightly recessed. With this positioning, it is easier for players to keep their hands hidden, especially in a game like five-card draw.
HAN'S DELTA table is a circular table that makes a huge impression, the perfect addition to a classy, upscale game room styled after classic, smoke-filled casinos and poker rooms. The 48-inch-diameter felt playing surface is available in four attractive colors to match any decor—green, black, blue, and red—and offers a poker face of its own in its lack of adornments, a blank slate for whatever game you want to deal on it.
The Nighthawk is just getting started, though. Surrounding the felt surface at each place is a stainless steel drink holder to prevent felt-damaging drink spills, as well as chip racetracks that curve with the table. Add to that a cushy armrest upholstered in faux leather and sealed with stylish studded tacks.
12- Vilobos Poker Aces Pro Folding Poker Table for 10 Players
Amazon
Play like it's the swinging sixties in Las Vegas around this oversized, art-deco Hold'em table with a sleek, blank speed cloth surface decorated in black, blue, green, or red, with stainless steel cup holders at each of ten player positions, a glossy wood racetrack, and faux-leather armrests.
What sets the Vilobos Poker Aces Pro apart is the snazzy, mod-inspired chrome base with foot rails. If you have a more modern or even retro-loft decor to match your poker table to, this stationary table might be the way to go instead of stuffy oak or mahogany tables. At 96 inches across at its widest point, this table is also big enough for any size of game you want to deal onto it.
13- PEXMOR Compact Size and Portability with 8 Players 5 in-1 Multi-Game Poker Table
Amazon
This multi-function poker table does triple duty, as a blackjack table as well as a chess, checkers, and backgammon table, depending on which tabletop is exposed. Regardless of which game you choose, the six-seater oval table can be folded in half with the legs folded in, making the table not only versatile but also portable and easy to store. Each table surface features lush graphics on the felt surface to heighten the festive atmosphere of gameplay.
How to Pick the Right Poker Table
Whether you're getting a folding "card table" or a permanent fixture for your house or business establishment, a poker table is a significant investment—not just an investment in money, but also an investment in enjoyable poker nights.
Poker-table manufacturers all seem to agree on one thing—the importance of a cup holder. Outside of that, opinions vary wildly on what makes the best poker table. To cut through the noise and make the best purchase decision for you, consider the following criteria to help you hone in to the right poker table for you.
Stationary or Portable?
If you have a dedicated gaming room, you may be on the market for a stationary poker table to take a permanent place in the firmament of that room. In this case, consider the decor you will be integrating the table into. Is it modern? Traditional? Classy? Industrial-chic?
On the other hand, if you are pressed for space or only play poker every now and then, a collapsing portable table may be what you need. Consider how much space you have to set up a table and get one that will fit that space. Consider as well the space available to store the table and whether or not the table will fit there in its collapsed format.
Another option, somewhere between the stationary and portable option, is to get a portable  "tabletop" poker table, or better yet, replace your dining room table with a "convertible" poker table—one with a reversible tabletop or table cap that turns your poker table into a dining table. Magic!
Oval or Circle?
You will notice that poker tables come in one of two configurations—oval or circle. Well, some of them come in equilateral octagon shapes, but can we agree that this is the eight-seater poker table version of a circle?
Circular and oval tables have different strengths and weaknesses, often tied to the version of poker being played.
Circular tables have the advantage of seating each player equally distant from each other, each one angled slightly away from every other player. When players are frequently holding up and looking at their entire hand—as in a game of five-card draw—this position is optimal for eliminating card-peeping and for making sure that everyone has a stellar view of your amazing poker face!
Oval tables, on the other hand, are better-calibrated for a game of Texas Hold'em. The "Flop" and the "River" in a game of Hold'Em (the five common cards) is laid out in a horizontal pattern, befitting the emphasized horizontal axis of an oblong table. Moreover, the players' hole cards are typically not held up—they stay face-down, with players lifting up the corners if they need to be reminded of what cards they are holding. In this position, it is less likely that another player will be able to steal a look at the player's hand.
Oval tables often have more playing surface, with greater circumference able to seat ten or more players. If you want a dealer cutout, oval will be the way to go.
Need a Dealer Cutout?
Many friendly poker games rotate the position of dealer among the players. In the case of Texas Hold'Em, the position of "Big Blind" and "Little Blind" rotates with the dealer.
If you want to have a pro-caliber game, tournament, or "casino night," however, you might find yourself wanting to hire a professional dealer. Some tables come with a "cutout" position on the long side of an oval table which is meant for the dealer. This position may be tricked out with a card shoe and extra chip racetracks for the dealer to use to act as the "banker."
How Many Spots?
You can squeeze as many players as you care to around a poker table, but the more people you shoehorn in, the harder it is for players to hide their hands from each other. It's good manners not to seat more poker players at a table than the table can manage (as indicated by those helpful beverage holder spaces).
Circular poker tables usually have eight spots. If you expect to regularly have bigger poker nights, consider an oval table that may have room for up to ten players. It's tough to find a table suited for more than ten, as poker games usually max out at this number.
What's the Surface?
The most important part of the poker table is the playing surface, where cards will actually be dealt with. Many poker tables have felt playing surfaces. Felt is soft and won't damage or scuff the cards, but it is coarse enough to create friction and stop the cards from slip-sliding all over the place and getting lost.
"Speed cloth" is a kind of professional poker-table felt meant to help a professional dealer retrieve cards quickly. Recognizable by its shine and its card-suit pattern, it is not nearly as coarse as felt. Cards tend to slip and slide around because there is less friction—ideal for a pro dealer, who shouldn't be dealing with the cards too hard anyway.
Some poker table playing surfaces are made of unusual materials like faux-leather, leather, or wood. If you like the way it looks, go for it, but caveat emptor.
Blank or Printed?
Some poker tables come with the playing surface festively screen-printed. These prints might be attractive and even useful—they might square off spaces for the flop and the river, as well as burn cards. They might also have squares at each player spot to tell amateur dealers where to aim, and they might also have fun designs like card suits, chips, and other baubles.
If you're hosting a "serious" poker night, however, or if you want to outfit a classy game room like a Monte Carlo poker hall, a blank playing surface is probably the way to go.
Extras
The "wild card" in the selection of the right poker table may be the bells and whistles you choose to fill out the picture. You might want chip rails in the racetracks, an extra-cushy arm rest, stainless steel cup holders, built-in track lighting … whatever tickles your fancy, there is probably a poker table on the market to satisfy it!
---
YOU MIGHT ALSO LIKE: