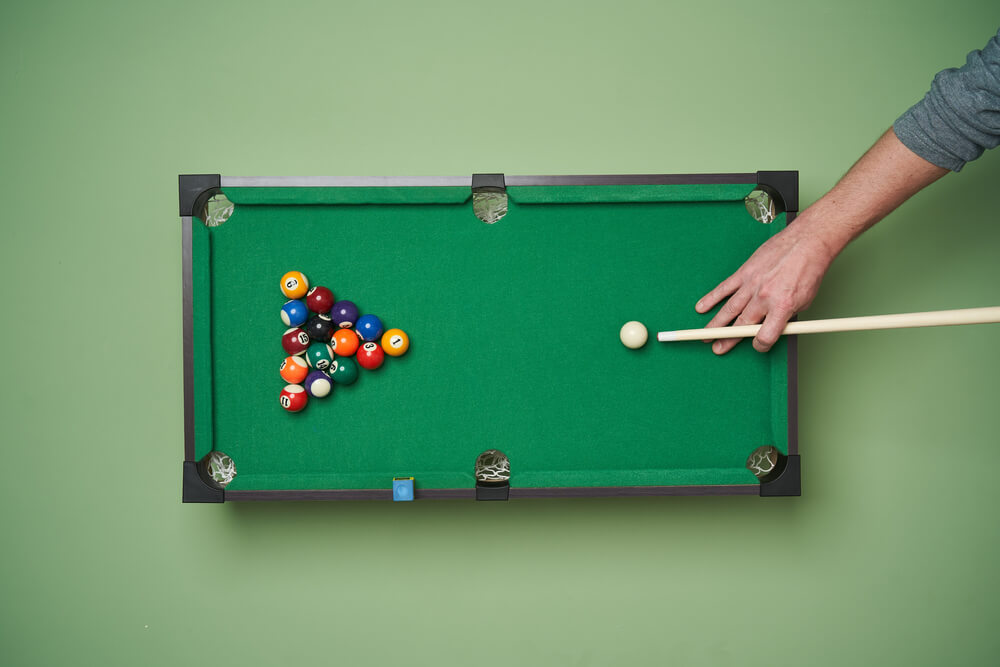 If you love pool, you need a pool table. With a portable pool table, you will never have an excuse not to play again. Whether you are short on space or always on the go, these portable tables are a must-have for any pool enthusiast. It is also a great way to start a child's love of the game.
On this list, we will discuss the best 8 portable pool tables of 2021. These are the best-reviewed tables of the years and have features that owners love. We will also discuss some helpful tips on how to choose the best portable pool table for you and your family.
Each portable pool table that is reviewed on this list offers a little something different in terms of size, price point, and gameplay. However, the one thing that they all have in common is that they are all great pool tables that let you play anytime and anywhere. Here are the best portable pool tables of 2021.
1. Hathaway Fairmont Portable
Amazon
Highlights:
EASY TO TRANSPORT – This gorgeous table includes durable, steel legs that easily fold for transportation and storage. The included nylon carry bag is rip-resistant, keeping your table safe and secure while it's on the go.
FAMILY FRIENDLY – The Fairmont's compact, 6-foot frame is perfect for kids learning the game. Adults will appreciate its high-quality construction and simple, space-saving design. A perfect addition to any game room, gym, or office.
NO ASSEMBLY REQUIRED – Every table ships fully assembled and ready to play. Simply unfold the legs and get the fun rolling. All necessary accessories come free, including two 48-inch cues, balls, a racking triangle, and chalk.
Review: 
This is a very attractive, playable portable pool table that is perfect for smaller spaces or to take along on a trip with you or bring to a party. The table itself looks great with blue felt and a sleek black and silver frame. The table is also available with red felt but you will have to pay a little extra for that. The table dimensions are 76 inches long by 43.25 inches wide, by 32 inches high and the playing surface itself is 66 inches by 33 inches. The set comes with 2.25-inch standard billiard balls, 2 48 inch, two-piece pool cues, chalk, table brush, and racking triangle
The legs of this table fold in, making it easy to transport or store when you are not using it. To help you bring the table elsewhere or just to protect it when it is not in use, the table comes with a very handy nylon carrying bag. Even though the legs fold up, when they are locked in place the table is sturdy enough for adults to play without shaking the table too much or worrying about it collapsing.
Hathaway is a very strong brand and one that pool players know well and love. They are known for creating game tables with very solid craftsmanship and construction. They even provide a 180-day warranty on this table in case anything is missing or breaks in your first few months of owning the table. This is nice for peace of mind.
2. Mainstreet Classics 20-Inch Table Top Miniature Billiard/Pool Game Set
Amazon
Highlights:
All the fun of pool, without taking up the majority of a game room with an expensive table
Compact size enables easy storage and portability for condensed fun anywhere with a table or flat surface
Side ball return allows for easier ball retrieval, similar to pub-style billiards tables
Review: 
There are times and places you just can't have a pool table. When you are sitting in your living room watching TV, lying down in bed, or doing work in your office, having a full-sized pool table just doesn't make all that much sense. That is why pool lovers love this mini, 20-inch table or desktop pool table from Mainstreet Classics. It is inexpensive and fun and any pool lover will absolutely love this tiny version of their favorite game.
The table itself is 20-1/8 inches long, 12-1/4 inches wide, and just 3-1/2 inches high. It comes with all the pool supplies you would get with a normal table, all in miniature size. This includes a full set of balls, 2 cues, chalk, a triangle rack, and even a tiny pool table brush. The whole table is an incredibly portable pool table as well, weighing in at just 6 lbs.
Unlike many other mini tabletop pool tables that have drop pockets, this table has an actual side ball return just like you would find in a real table at a pub or pool hall. It is a very cool feature that real pool players appreciate. This table is not ideal to teach kids the game on or to have a real match at the office but for pure fun in places you can't have a real pool table, this mini-game set is great.
3. Portzon Mini Pool Table, Premium Tabletop Billiards Mini Snooker Game Set – Balls, Cues, and Rack Pool, Sport Bank Shot Family Playing
Amazon
Highlights:
Compact and Portable – This portable mini billiard table is ideal for saving space, ideal for places where you do not have space to accommodate a full-size billiard table, such as a children's playroom or family room floor.
Realistic Design – This mini pool table is made of wood, and green felt covers the standard size pool table. The game ball and cue are the best size and weight for the table, making it easy to practice shooting and perfect skills.
Suitable for All Ages – this billiards game is very suitable for kids of all ages. It is small enough for children to manipulate easily, but also strong enough for adults to enjoy. Everyone can enjoy this toy at-home game night.
Review: 
This portable pool table is small, easily movable, and will provide lots of fun for children and adults alike. If you are looking for a mini yet realistic pool experience, this may not be exactly what you are looking for but for pure fun on a smaller level and as a great game to add to a kids' playroom or adult game room or even office, this is a nice tabletop game. Think of this as a "handheld" version of a real pool table.
The table itself is tabletop or desktop size at just 24.7 inches long, 14.6 inches wide, and 5.1 inches high. For as small as the table is, it is relatively solid weighing in at around 7 lbs. The balls and cues look exactly like the real things and are made from the same material, they are just much smaller. The balls are a little smaller than golf balls and the cues are about 2 feet long.
Gameplay on the table is not overly realistic. Although the cues and balls are made of the same material, the weight ratio isn't quite the same so you have to put a lot of force into your shots to make the balls roll like on a real pool table. For pool fans who want a tabletop version to play around on or lovers of the game who want to introduce the equipment to small children, this is a table that will provide lots of fun, even if it isn't exactly what you get from a real table.
4. RACK Bolton 5.5-Foot Billiard/Pool Table
Amazon
Highlights:
Perfectly Sized Superior Quality Pool/Billiard Table – Become the Pool Shark Master
Beginner/Intermediates Friendly – Better for the Whole Family
Play the Same Day – Quick & Simple Installation – Included Written Directions and Live Customer Support
Review:  
Full-size pool tables come in 3 standard sizes. There is the bar size table (7 feet long), the regulation standard table (8 feet long), and the tournament size table (9 feet long). While all these tables are great, they have two problems for many people. First, they are very big and many people do not have room for them in their homes. Second, they are usually very heavy which means they are not a portable pool table and once you put them somewhere, they stay there forever.
This portable pool table from RACK is just 5.5 feet long so it will fit in much smaller spaces than any of your standard size pool tables. Even though it is smaller than many tables you are used too, it still offers great pool action. It comes with all the equipment you need for a great game and the hip and modern blue, silver, and black style will fit nicely in any room.
Even though the table is smaller, it is still very sturdy. It is also only about 130 lbs. so it can easily be moved around a room or from room to room if necessary. The table is good for slightly older kids to learn on as well since the smaller playing surface makes it easy to reach almost any shot. Overall, this is a portable pool table that plays just like a real one and that the whole family will love.
5. Hey! Play! Mini Pool Table & Billiard Set – Small Billiards Game with 16 Resin Balls, 2 Pool Cues, Triangle Rack, & Chalk 
Amazon
Highlights:
A DISCREET POOL HALL: Ever want to play a quick game of pool at your desk? Well, now it's easier than ever without having to go to the break room!
FULL BILLIARD SET: Not only do you get our premium table, you'll also get 2 cues, a triangle rack, and a full set of 15 billiards balls!
FITS IN A DESK DRAWER: This small Tabletop Pool set is small enough to fit right in your desk drawer for easy storage. Pull it out anytime you need a pool break!
Review: 
This is the smallest portable pool table on the list but that doesn't mean it does not pack a lot of fun. The company that makes it, brybelly, calls is a "discreet pool hall" that "fits in a desk drawer". It is the perfect workplace pool table to sneak in some shots during your downtime at the office. The table is 14 inches long by 9.5 inches wide and 3 inches high and with its green felt and natural wood case, it looks just like a tiny version of the game you love.
The game comes with tiny versions of everything you get with a normal pool table including balls, cues, and chalk. It is a highly portable pool table as it weighs just 3 lbs. The only thing it doesn't come with that would be nice is a carrying case but you can easily stash it in a duffel bag or backpack you already own for easy carrying.
In addition to stashing it in your desk for some at work fun, there are many other things you can do with the table as well. It is the perfect size to practice your shots and angles in while sitting on your couch. It can also easily be toted along in the car or on a trip for your kids to play on the go or once you get to your destination. It is the perfect travel pool table as well.
6. Hathaway
Tabletop Pool Table Set and Accessories, 40" x 20" x 9" – Mini, Travel-Size Billiard Tables, Balls, Cues, and Rack
Amazon
Highlights:
Mini-size and compact: at only 40" in length and 20" in width, The Hathaway billiard pool set offers enough surface area for a one-on-one game of pool but won't take up unnecessary space in a playroom, game room, living room, dorm, or bedroom.
Realistic, premium build: though small in size, this billiard game kit looks very much like a real pool table with smooth, gray surface and balanced, weighted balls and cues. The frame is even made of a durable, attractive, deep brown wood.
Improved game pieces: custom made miniature cue balls were designed for a more accurate aim. Our cues are also 20% heavier than competitors for enhanced control and playability. These small tweaks provide a more realistic overall pool-playing experience.
Review: 
At 40 inches by 20 inches by 9 inches and weighing in at just over 20 lbs., the Hathaway Tabletop Pool Table is the definition of a portable pool table. To get started or pack and transport all you need to do is remove the legs. Even fully assembled though it is incredibly easy to move around and set up your pool table wherever you would like. This is a great table for kids and adults alike and makes a great addition to any home.
One of the issues with small, tabletop pool tables is that the gameplay can be very different than normal pool gameplay. This specific table has had some nice upgrades that give you a more realistic, full-sized pool table experience. It has realistic rubber bumpers to give the balls a true bounce off the rails and now comes with heavier pool cues for more realistic ball striking.
The set comes with a full set of 1-3/8" billiard balls, 2 36" cues, a ball rack, chalk, and a table brush. While this table is lots of fun for all ages, it is the perfect portable pool table for kids to learn on and fall in love with the game. It is a table that is just the right size for small children while not compromising the pool experience. If you want to raise a future pool shark, starting them off on this portable pool table is a great idea.
7. Table Top Toys Pool Tabletop Portable Billiards Game with 16 Balls, Rotating Pivot Shooter, Triangle Rack
Amazon
Highlights:
NEW Agio Launcher lets kids & adults play like a Pro!
Rotating, Spring-loaded Pivot Launcher makes Amazing Shots a cinch!
Nearly 3-feet long! . . . but stores easily. A HUGE Value!
Review: 
While this looks like a regular, mini, portable pool table, you will notice something a little different about this table and game right away. Instead of a clear field of green felt, there is a yellow circle affixed to the playing surface. That is the cue with which you hit the cue ball in this family-friendly, pool-style game.
While this table doesn't allow you to play pool in the traditional sense, it is a fantastic game that both pool fans and even non-pool fans alike will love and play for hours. Instead of lining up being the cue ball with your cue on every shot, you bring the cue ball to the Table Top Toys on every turn. Then, you spin the Table Top Toys into position and aim at the balls you want to hit. Then, you hit the button and let it fire, causing the pool chain reaction you are used too.
This is a great game for the whole family, especially when you have kids who are too young or people who don't play pool that often. Taking out the pool cue aspect makes the game much easier and it plays more like pinball than pool in many ways. It is incredibly fun and a unique take on the game we all know and love.
How to choose the best portable pool table this year
When you are in the market for a portable pool table, there are a few different questions you will want to ask yourself to help you clarify exactly what you are looking for in a portable pool table. As you can see from the list above, there are all types of different tables and each portable pool table will provide you and your family and friends with a different experience. Here are X questions to ask yourself before you purchase a portable pool table to help you choose the best one for you this year.
Who is going to play? 
The first thing you need to decide is who is going to use the table. Is it children? Adults? Experienced players? Players who are new to the game? Depending on how you answer these questions, you will find that a different portable pool table will be right for you.
The general rule of thumb is that the smaller the table, the better it will be for kids to play on. There is a limit to this though because a portable pool table can be so small that it actually takes more fine motor skills to play that kids will have a hard time doing it. Also, at some point, the balls and chalk can be too small for kids and become a choking hazard for babies and toddlers.
Where do you want to play? 
Are you interested in purchasing a portable pool table because you want to play pool on as large a table as possible but just don't have the space? Or, do you want to play on the go or on a table for some family fun or practice? This is the question that will determine whether you buy a portable pool table that you stand and play or sit and play.
The tabletop versions of the game are great for some moments of fun in a space where pool would not otherwise be available or even to practice your shots and angles in your downtime at home or work. A smaller version of a real table is a good facsimile of a full-size table that you can play real matches on. They are also good for teaching kids the game.
How big are the players? 
This is a particularly important question for portable pool tables that you stand and play. While smaller tables can be big fun, some might not be as strong or sturdy as their full-size counterparts. If you have full-grown adults playing on the table, or even larger children, you want to make sure the stability of the table is among your main concerns.
Pool is a game where you are forced to lean over, and in some cases on, the pool table to make a shot. If you are playing on a table that does not have a sturdy enough base, you risk breaking the table or worse, injuring yourself or another player. This is why stability is so important for a portable pool table.
What is the equipment made from? 
If you are looking for a mini pool table strictly for decoration or as a conversation piece, the make-up of the equipment is not all that important. Many people love portable pool tables though because they are able to practice real shots and angles or play actual competitive games on them. If this is the case, the equipment becomes more important.
Real pool balls and cues are relatively heavy for a reason. You need that weight to create the momentum to move the balls without an overly large amount of effort. Even though the equipment for a small pool table will not be as heavy as the real thing, they should be in the neighborhood ratio-wise. The balls should be heavy for their size and ideally made of resin like real pool balls. The cues should also have some weight, especially in the back end, and be made of wood as opposed to plastic.
Will it be on display?
The counter-question to "what is the equipment made from?" is, "will it be on display"?  If you are buying the portable pool table for yourself or as a gift for a friend who is a huge pool nut and you or they want to show that aspect of your personality off, then looks becomes the most important thing. There are some mini pool tables that look like kid's games. That is absolutely fine if it is, in fact, being used as a game for kids. If the table is meant to be a showpiece on a desk or in a game room though, you want to make sure it looks the part.
A true display-quality portable pool table should not only demonstrate a high degree of craftsmanship but it should also look like a real pool table. There are great display pool tables that are made from real, high-quality wood, come with bright colored balls, real felt, and even that have working ball returns. This is the type of portable pool table you want to show off at work or in your personal space.
---
YOU MIGHT ALSO LIKE: