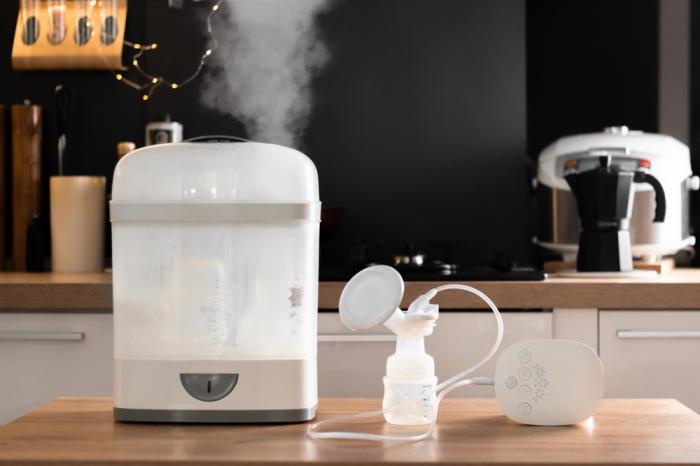 Although sterilizing your baby's bottles can be a monotonous task, it is a necessity. Sure, soap and water are usually enough to protect the health of your little one, but it's crucial to take that extra step to ensure anything going into their mouth is germ-free.
The truth is that properly sterilizing a bottle can be a complex process, and many parents will give you different advice. The boiling method many use doesn't seem too convincing, while the dishwasher method seems to take way too long and makes you wonder if the bottles are really sterile.
Let's face it – it's probably time to invest in a great sterilizer that will make the whole task so much easier to get through on a daily basis. Here are the very best ones you can buy in 2021.
#1 Philips AVENT Microwave Steam Sterilizer
Amazon
For the parents who are always busy
Other than its big-brand name, this Philips Avent product struck us as one of the best bottle sterilizers simply because of how convenient it is. This lightweight machine can hold a variety of bottles, breast pump parts, and accessories and can eliminate 99.9% of harmful bacteria in just two minutes. Impressive, right? But even better, the contents stay sterile for up to 24 hours if the lid stays closed, which is perfect for moms and dads who are always on the go and find themselves sterilizing bottles more than once over a 24-hour period.
Pros
Eliminates 99/9% of bacteria in just 2 minutes
Contents stay sterilized for 24 hours
Holds a variety of bottles and accessories
Downsides
Users need to measure out water to go in the sterilizer each time.
#2 Baby Bottle Warmer, Sterilizer 6-in-1
Amazon
For those who hate clutter
Truth is, having a baby leads to lots of clutter around the house- whether it's toys, highchairs, diapers, or wipes- so we love that this machine is a very handy six in one. Not only is it thought to be one of the best bottle sterilizers, but it's also a bottle warmer, food heater, warmer, fast defroster, and constant defroster. Growing families will love how this machine stays handy for years, from heating baby milk all the way to warming infant food with water. This machine also has an adjustable cover, so it fits a variety of bottle sizes. The built-in sensing temperature and semiconductor sensing probes work to precisely warm food or milk and keep it at a target temperature for 24 hours.
Pros
Handy 6-in-1
Grows with the family
Keeps food and milk at the desired temperature for up to 24 hours
Downsides
Takes 15 minutes – longer than boiling
#3 OMORC 550W Sterilizer and Dryer for Baby, 5-in-1
Amazon
For the tech lovers
This electric steam sterilizer from OMORC not only cleans bottles with intense steam but can also dry the bottle afterward and warm up food and milk. While similar machines have a power range of 220 to 300 watts, this sterilizer has 550w. When the device runs out of water, it automatically switches to drying mode to avoid dry heating and ensure safety. This sterilizer is big enough to fit 6×6 ounce or 4×9 ounce bottles. It is also big enough for baby dishes, cutlery, and a breast pump. OMORC also promises that this device will not leak or generate noise during use.
Pros
It's 5-in1
Power range of 550 watts
Promises to be noiseless
Downsides
A little on the pricier side, but worth the money according to reviews.
#4 New Tommee Tippee Steri-Steam Electric Steam Sterilizer
Amazon
For fuss-free parents
This new electric sterilizer from Tommee Tippee uses 100% natural steam to kill 99% of germs from baby bottles and accessories in just five minutes. The device can fit up to six bottles at any time and can also sterilize pacifiers and breast pump accessories. Contents are sure to stay sterile for 24 hours, so there's no need to run the machine again if you forget about it until the next day. It's easy-to-lift handles make sure hands are kept away from the steam, and its two-tier stackable tray can double up as a drying rack.
Pros
Superfast – sterilizes in five minutes
Keeps contents sterilized for 24 hours
Easy-to-lift handles to avoid burning.
Cons
Doesn't dry bottles afterward
#5 Dr. Brown's Deluxe Bottle Sterilizer
Amazon
For the big-brand lover
Dr. Brown's products are well-loved among the parent community, and this Deluxe Sterilizer is no different. After all, the company is known for selling some of the best bottle sterilizers. Its electronic controls have cycle indicators and an automatic shut when the sterilizer cycle is complete, so you don't have to keep one eye on the baby and the other on the sterilizer. The machine's removable tray positions bottles so that steam is directed straight into each bottle, and the built-in accessory tray makes room for pacifiers, other bottle parts, and breast pumps. Dr. Brown's deluxe device also comes with tongs and a measuring cup for super easy use.
Pros
Easy to use
Automatically switches off
Comes with built-in accessory tray
Cons
Does not dry bottles after sterilization
#6 Cuisinart 6 Bottle Capacity Sterilizer
Amazon
For UV fans
While the sterilizing market is full of steam machines, another great way to remove germs from your baby's bottles is through UV rays. This handy machine, though a little upmarket, automatically sterilizes and dries bottles in just 30 minutes with a single touch of a button. Through gentle heat and effective UV rays, the device doesn't just do a great job of cleaning baby bottles – it can also sterilize jewelry, sunglasses, and even electronic devices. You may even want to use it on water bottles – you can find some of the best to buy here. The Wabi Baby UV sterilizer can eliminate 99.9% of germs and harmful bacteria, including E.coli, Salmonella, and Staph.
Pros
No worries over mildew
Takes just 30 minutes
Can sterilize other items
Cons
Users need to ensure their baby bottles and accessories support UV sterilization.
#7 Baby Bottle Sterilizer & Warmer, Eccomum 6-in-1
Amazon
For those who love convenience
This 6-in-1 will warm milk, warm formula, sterilize bottles, heat or defrost food, and keep milk warm. The high-temperature steam sterilizer can reach 100 degrees Celsius to kill 99.9% of bacteria, protecting your baby from malignant germs and harmful bacteria. The drying system immediately switches the sterilizer to drying mode when it is out of water or the setting time is up. This product also comes with a lifetime warranty and 180 days of returns with no questions asked. The package comes with a measuring cup and heating basket for super easy use.
Pros
6-in-1
Has an automatic drying system to ensure safety
Comes with a lifetime warranty
Downsides
The device can get very hot after use.
#8 Baby Brezza Baby Bottle Sterilizer and Dryer Machine
Amazon
For parents with style
This sterilizer looks like it came straight from the future, and it works so well that we wouldn't be surprised if it actually had! This machine automatically sterilizes and dries bottles, pump parts, and other accessories with just the push of a button, leaving you more time to spend with your baby. Using natural steam, this device kills 99.9% of germs and keeps products sterile for 24 hours when the lid is left closed – perfect for those who tend to be a little all over the place looking after their kids. It also has a pretty large capacity – holding six bottles at a time- and has an easy-to-use LCD control panel.
Pros
A stylish look that will fit into any kitchen
Kills 99.9% of germs and bacteria
Large capacity
Downsides
Some reviewers claim the drying function stopped working after 6 months of use.
#9 Nuby Natural Touch Microwave Steam Sterilizer
Amazon
For the bargain hunter
This mini bottle sterilizer is perfect for parents who want to test the waters (quite literally) when it comes to sterilizers. The device will hold up to four bottles and cleans contents in just three easy steps. It's also dishwasher safe, unlike many on the market, and sterilizes in just five minutes to kill harmful bacteria. It can also clean pacifiers, baby cutlery, and breast pump parts. For a cheap and great old rounder, select this sterilizer from Nuby natural.
Pros
Super affordable for beginners
Cleans in just five minutes
Dishwasher safe
Downsides
Could get a little tired quicker than more expensive devices.
#10 Elechomes Baby Bottle Sterilizer and Dryer, 5-in-1
Amazon
For the parents with bottles of every size
We all know parents who have baby bottles of all different sizes, making it hard to find a sterilizer that can fit them all, since some brands can only accommodate specific bottle sizes. This device from Elechomes, however, can hold a wide variety of baby bottle sizes! Whether your bottles are normal, super long or a little short, they'll fit right into this sterilizer which kills 99.9% of bacteria and germs, and works as a dryer, reheater, and storage space. You're sure to never run out of steam as this machine comes with two racks, but even if you do, this sterilizer will immediately switch to drying mode. Plus, if you're juggling your baby in one arm, the LCD screen works really well and helps make handling the device a piece of cake.
Pros
5-in-1
Fits a range of bottle sizes
Easy to use LCD screen
Downsides
A little pricy but worth it for the quality.
#11 Bololo Baby Bottle Electric Steam Sterilizer and Dryer
Amazon
For the exhausted parent
If you're looking for a super product that is completely loved by most who try it, then this is the one. The baby bottle sterilizer from Bololo uses high-temperature steam to kill more than 99.99% of bacteria, according to tests verified by a third-party lab. It also comes with three types of storage combinations, meaning you can work the machine to suit your every need. The barrel can hold up to 12 large bottles and can sterilize and dry automatically in under an hour. It also has a unique HEPA filter which only allows clean air to get inside the machine.
Pros
Cleans up to 12 bottles at a time
Has three storage combinations
Contains a special filter to keep dirty air away
Downsides
The sterilizer can take up quite a lot of kitchen space!
#12 Papablic Baby Bottle Electric Steam Sterilizer and Dryer
Amazon
The one-load cleaner
This sterilizer from Papablic promises to clean everything from baby bottles and pacifiers all the way to plastic toys all in one load with the turn of just one knob. This spacious device with different stacking options can clean up to 11 bottles and accessories like teethers, pacifiers, and plastic toys at once. Its ergonomic shape makes the machine easy to transport and take apart for occasional cleaning. The sterilizer also features an intuitive timer design and safe auto shut off. Killing 99.9% of bacteria in just 8 minutes, you can see why reviewers love this product so much.
Pros
Huge capacity
Sterilizes in just 8 minutes
Features a timer design and auto shut-off
Downsides
#13 Babymoov Turbo Pure Sterilizer Dryer 
Amazon
For those always in a hurry
Babymoov's Turbo sterilizer is perfect for parents who are always on the go and struggle to have a clean bottle at the ready. This machine sterilizes bottles in just 8 minutes and can be dried in anywhere between 30 and 60 minutes. Its patented technology eliminated 99.9% of bacteria thanks to nozzles that sterilize to the very core of every bottle and a high-performance HEPA filtration system that guarantees purified air. The device's smart and practical design will hold 6 bottles at once as well as breast pumps, infant toys, pacifiers and more. Unlike others, this sterilizer can store clean bottles and accessories for 36 hours.
Pros
Hygienic storage 36 hours
Complete sterilization in 8 minutes
In-built deodorizer
Downsides
Users need to meet the specific water measurements
#14 Munchkin Steam Guard Microwave Sterilizer
Amazon
For lovers of quick and easy products
The steam guard microwave sterilizer from Munchkin kills up to 99.9% of bacteria in as little as two minutes for super-fast and effective results. The simple and lightweight design of this product makes it great for families who love to travel, as all you need is some water and a microwave (hint – if you're looking for some great travel hiking water bottles, Cool Things Chicago has some great options here). The open-away latch works to prevent painful steam burns, too. This product can clean up to 4 bottles at a time, so you won't be forever running backward and forwards to get your baby's bottles clean in time.
Pros
Super-fast and effective
Great for traveling
Open-away latch to prevent steam burns
Downsides
Does not dry bottles after sterilization
#15 Baby Bottle Warmer Steam Sterilizer, EIVOTOR 6 in 1
Amazon
The sterilizer to suit everyone
We love that if you get a little peckish warming up your baby's milk with this sterilizer, you can boil eggs with it afterward for a light snack! This 6-in-1 product works as a milk warmer, food heater/defroster, bottle sterilizer, formula brewer and even an egg boiler. The LED digital bottle heater provides real-time temperatures that you can easily control. The high-temperature steam is also compatible with most bottles on the market and can kill 99.9% of bacteria. Clips and cleaning tools are also provided for a more comfortable experience- meaning no nasty steam burns!
Pros
6-in-1 functionality
Works with most bottles on the market
Comes with tools for easy use
Downsides
Timer cannot be set manually.
#16 Dr. Brown's Microwave Steam Sterilizer Gift Set
Amazon
For the baby shower
Any new mom is sure to love a sterilizer as a baby shower gift because it's probably not something they've even thought about yet. This great starter kit from Dr. Brown's comes with a steam sterilizer, two standard bottles, a pair of sterilizer tongs, and a glow in the dark pacifier to get any new parents ready to go. This device efficiently sterilizes four bottles in minutes and is very easy to handle thanks to the tongs included. Weighing in at just over 2 pounds, this kit is also a breeze to travel with. If you're stuck looking at a long list of same-old baby shower gifts, then switch it up and go for this!
Pros
Great starter kit
Cleans in just minutes
Easy to transport
Cons
Made to fit Dr. Brown's products only
#17 UV Care Sterilizer and Dryer
Amazon
For the eco-warriors
While it is also more affordable than the other UV sterilizers on this list. UV Care bottle sterilizer also works to protect the environment as it consumes much less power than traditional steamers and doesn't require the use of water. This hospital-standard sterilizer kills 99.9% of germs using UV lights and requires no cleaning or descaling. It also comes with a convenient drying cycle to make use of this device even simpler and claims to sterilize "anything" in just 11 minutes – including baby toys, teethers, and even toothbrushes. Plus, if you don't love this product, you can return it with the promise of a 100% money-back guarantee!
Pros
Cheaper than other UV sterilizers
Claims to sterilize "anything"
Eco-friendly
Downsides
Difficult to travel with.
#18 GROWNSY Bottle Sterilizer and Dryer
Amazon
For a great all-rounder 
This 5-in-1 device works to both sterilize and dry bottles, as well as warming milk to the perfect temperature for your baby. It kills up to 99.9% of harmful bacteria to keep your baby safe from infection and claims to be more effective than dishwashers. The sterilizer can clean 6 to 8 bottles at once and comes with an accessories tray for items such as pacifiers, baby cutlery and dishes, and breast pump parts. The integrated heating plate and fan can dry bottles in under an hour and is super hygienic. It's simply one of the best bottle sterilizers out there!
Pros
Large capacity
Comes with an accessories tray
Dries bottles hygienically in under an hour
Downsides
Nothing we're aware of so far!
#19 CORAL UV Baby Bottle Sterilizer and Dryer
Amazon
For those looking to splash the cash on quality
This UV sterilizer from CORAL dries bottles then sterilizes them with strong UV lights which also eliminate any odors. The dual UV lamps rotate during operation to make sure every surface is cleaned and are proven to eliminate 99.9% of germs and bacteria. It also uses low temperature drying below 40 degrees Celsius to safely dry plastic goods without releasing toxic fumes or changing the shape of the device's contents. We love that this sterilizer also looks like a mini-fridge and comes in three stylish color choices to fit right into any room! If you're looking for the best bottle sterilizer that uses UV rays – this is one of them.
Pros
Super stylish
Dries safely at a low temperature
Uses rotating UV lamps to sanitize all contents thoroughly
Downsides
Very expensive but worth it for large families.
You Might Also Like: