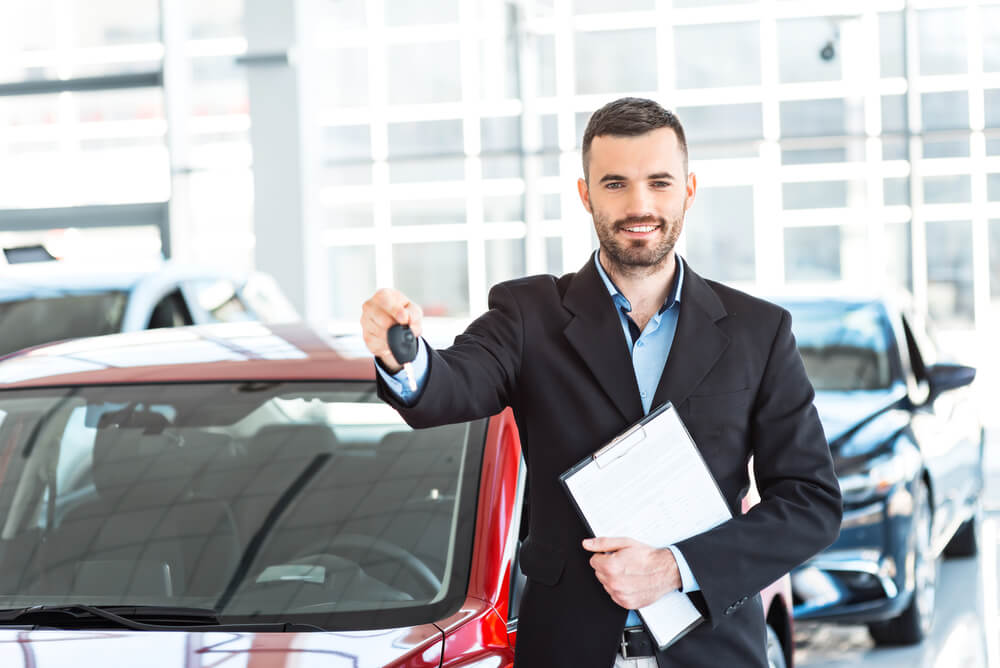 Vibrant culture, rollicking festivals, mouthwatering eats, and steel skyscrapers – welcome to Chicago, a slice of urban paradise that will blow your mind. Little wonder the Windy City has earned the coveted spot as one of the most sought-after US travel destinations.
Whether you plan to chow down on authentic deep-dish pizza, huddle up with football fans to watch Bears, rock to another music shindig at Millennium Park, or visit the glass-floored Willis Tower, there's a plethora of privileged places to see and awesome things to do in Chicago. Let's not forget the city's 580 lush parks and 26 beaches!
It's true, Chicago has a fine, dynamic public transport network complemented by rideshare companies like Uber, but a car rental remains the most effective way to get in and around the city. And with myriads of the best car rental companies in Chicago, from local boutique companies to multinationals, it's easy to enjoy the freedom of four wheels without breaking the bank.
Your instinct might tell you to go with the cheapest option, but not all car rental companies in Chicago are created the same. You'll have to do serious research and exercise due diligence to find a gem in a sea of crummy rental companies that will frustrate you with dodgy repair costs, rude staff, and unfair fees.
Thankfully, we've done the legwork, evaluated hundreds of options, and rounded up 9 of the very best car rental companies in Chicago. These are services that will likely provide you with the best ride to suit your needs, offer friendly customer support, and treat you like the treasured customer you are.
1. Enterprise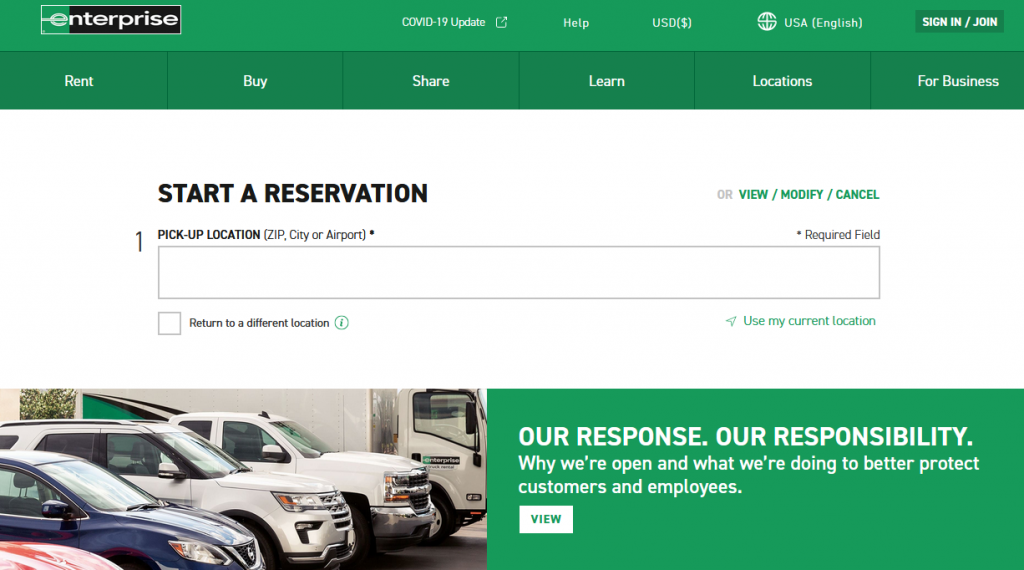 Location: 28 locations
Highlights
Unbeatable airport shuttles transfer to the vehicle's pick-up location
Traditionally low airport rates
Respectful, professional and friendly customer service reps
Affordable car upgrade options
Quick pick-up thanks to self-help kiosks
Our best choice overall, Enterprise has proven time and time again that it's the most customer-friendly, budget-friendly and effective option – and certainly one of the best car rental companies in Chicago, as well as the rest of North America and even Europe. What makes Enterprise stand out from a sea of competition is its topnotch customer service staffed by professional, respectful, and courteous representatives.
The company has 28 locations in Chicago, most of which have self-service kiosks installed for quicker, more hassle-free pick-ups. Their fleet comprises a broad selection of 4-door sedan-style cars and 5-seater standard SUVs. If you need a minivan, say for your family, it's best to call ahead of time to avoid last-minute mishaps. Thankfully, their customer service reps know how to navigate just about any issue.
Customers rave about their fairly inexpensive base price of $46 per day, plus the fact that they give them a break on several additional car rental fees. For example, the company's Month or More plan can save you oodles of money on long-term rentals. Similarly, Enterprise offers attractive rates of roughly $20 per day to under-25 drivers, which is way more favorable than as much as $35 charged by its peers like Goldstar.
Also notable, Enterprise's package options for multi-renters, out-of-state travelers, and unlimited mileage pricing will blow the competition out of the park. Even more exciting, the company's airport shuttle services have been lauded for being topnotch, friendly, and quick to get customers to their cars' pick-up points in the shortest time possible.
2. Alamo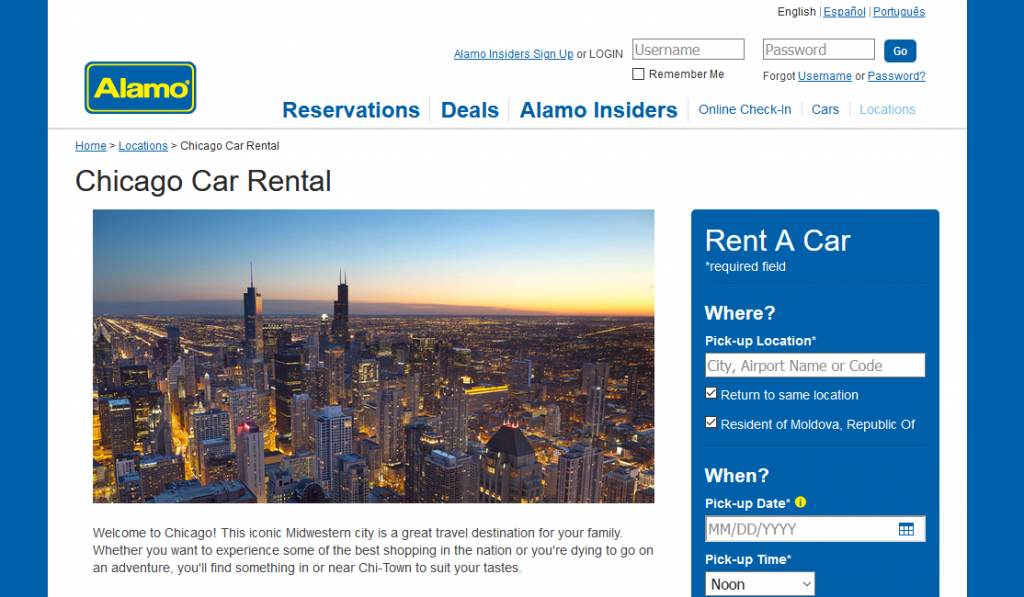 Location: 3 locations
Highlights
Hassle-free pick-up service, even for non-airport locations
Competitive pricing, way lower than the city's average
Instant discount for online rentals
Decent range of Chicago airport car rentals
Incredibly time-saving phone check-in option
Let's face it; renting a car in a big city like Chicago can be a nightmare sometimes, but you can count on Alamo to eliminate most of these car rental headaches and customer pain-points. The sister company to our top pick – Enterprise, Alamo has become a darling of customers because of its fast, fuss-free car return process.
Alamo is often considered the underdog of the Chicago airport car rentals, which may explain why it does particularly well with budget-conscious young renters. Their rates for a compact or standard car stagger at around $41 per day, which is approximately six percent lower than average.
While the company offers superb services, their locations are certainly limited, with only 3 in Chicago. If you think about it, that's three chances for the company to set itself apart for its renter base. It helps that most of these locations are close to airports, but you can expect pick-up service if you book from a non-airport location. That's a massive plus especially if you don't have a ride to their office.
In a bid to give the likes of Hertz and Enterprise a run for their money, Alamo greets their customers with an array of advanced perks. For example, they give you an instant 5 percent discount when you rent a car online.
Even though their loyalty rewards program is comparatively basic, they are a great option if you intend to share the driving with someone else. That's because they will run you about $12 per day for a second driver, which is much lower than most of its competitors.
3. Budget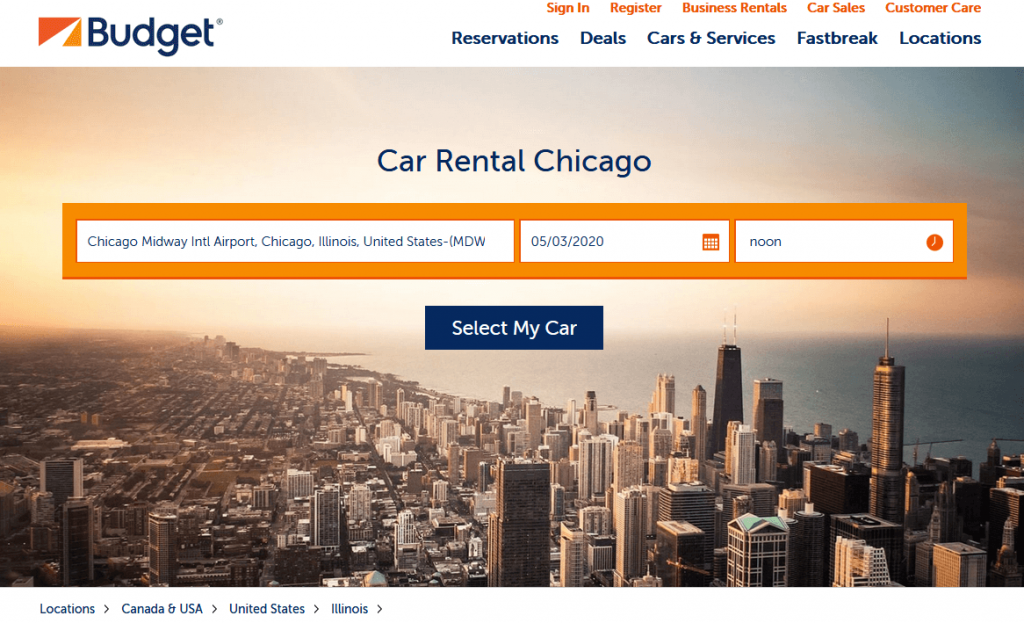 Location: 10 locations
Highlights
A wider variety of cars beyond traditional compacts
10% discount for long-term renters
Save more money when you pay for online bookings upfront
Lots of special discounts for AARP members, veterans, military, and so on
With ten locations in Chicago, Budget's biggest selling point is perhaps its diverse hybrid fleet. In addition to offering a wide selection of conventional compact cars and trucks, they also boast a decent range of minivans and SUVs on their online portfolio.
Budget Rent-A-Car also has a pretty solid customer service team backed by a robust, highly responsive website with rich FAQ pages. The site is so informative and impressive that you won't have to bother live customer service reps.
A subsidiary of Avis – a well-known car rental conglomerate, the Budget has cut a niche for itself by offering some of the best prices in the market. They charge an average of $40 per day, which is a whopping 8 percent lower than the national average. And if you pay upfront when booking online, you can chirp off a further 35 percent of the base price. That's quite impressive given that most of its rivals offer a 10-15% upfront discount.
As if that isn't terrific enough, the company offers a 10 percent discount on longer-term (e.g., monthly) rentals. Veterans, AARP members, military, and other special groups can expect dedicated discounts as well. Some customers have faulted their pick-up process, though.
4. Chicago Van Rentals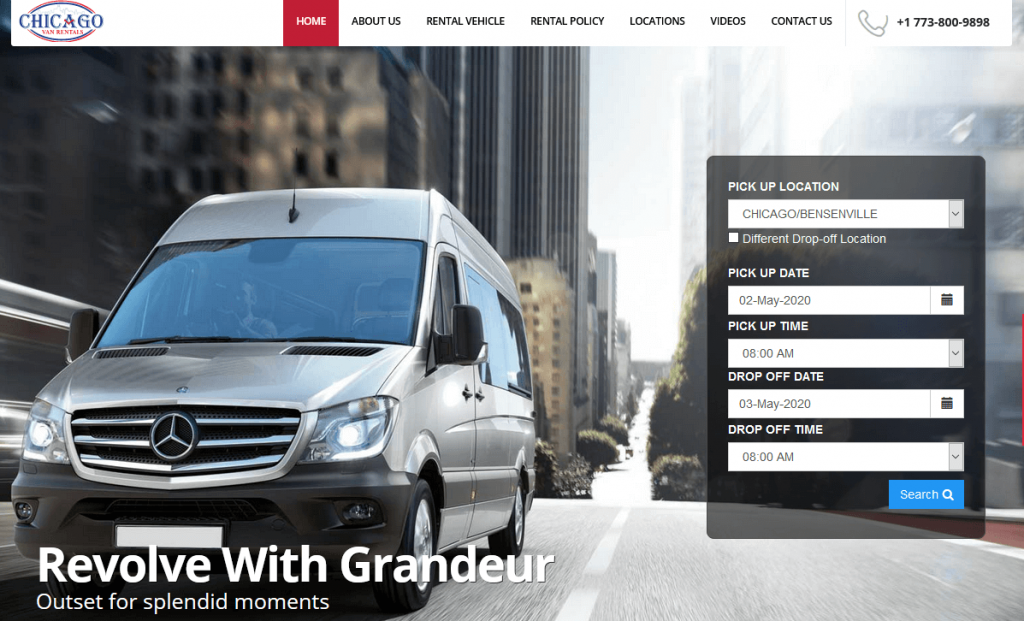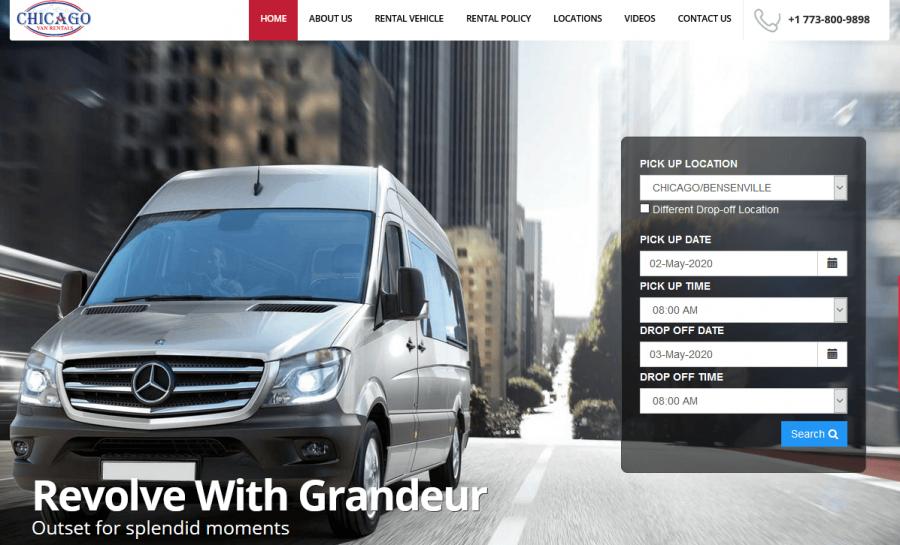 Location: 5 locations
Highlights
Family-owned, expected up-close & personal renting experience
Low gas mileage for the minivan passenger capacity
An ideal choice for family functions, large business groups, and luggage-intensive travel
Inexpensive out-of-state travel
If you're looking for a boutique-style car rental company geared towards travelers with family, look no further than Chicago Van Rentals. As the name already suggests, they specialize in minivans, standard vans, and SUVs, both luxury and regular options. They are available in five locations, including three locations offering Chicago airport car rentals, making it a perfect choice for families traveling with many pieces of luggage.
While their booking and pick-up process is fairly basic, you can expect topnotch service with a personal touch. After all, this is a wholly-owned family business steep in the tradition of luxury, comfort, and personalized services. Their fleet is composed of mostly Mercedes Benz sprinter vans and Ford Transit vans, with capacities ranging from 10 to 15 passengers. Their daily prices start from $100, while many of its comparable peers charge $175 and above.
5. Dollar Car Rental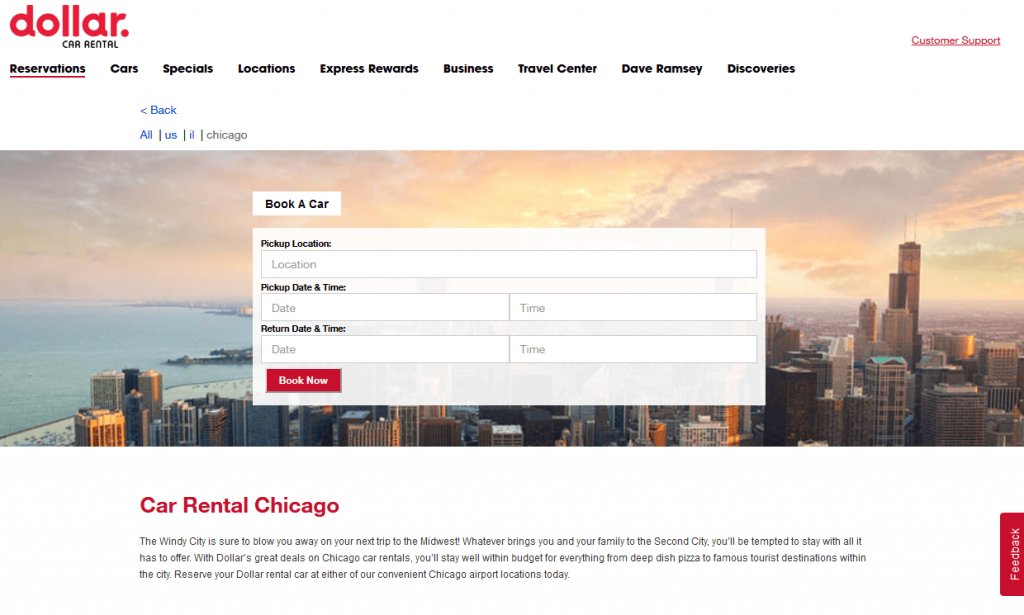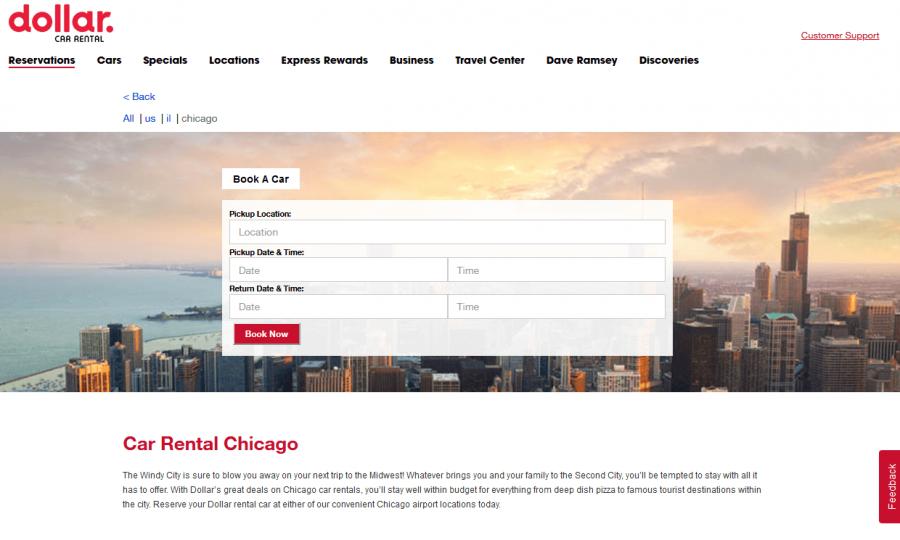 Location: 2 locations
Highlights
No pressure up-selling upgrades
Some of the cheapest rates on the market
Reservation and pick-up process pretty fast and streamlined
Longer cancelation windows
Founded in 1965, Dollar offers some of the cheapest vehicle rentals we've seen, averaging around $38 per day in Chicago. A subsidiary of the Hertz Corporation, the company is part of the world's largest consumer-use and airport car rental business.
We love the number and variety of seasonal discounts it offers, including 10% off weekend rentals during summer. If you're an older adult (aged 50 or older), being a member of Dollar's Silver Club will earn you 5% off your next rental, the same level of discounting business class customers enjoy.
Perfect for workers on temporary assignments, the company boasts very low multi-monthly rental rates. Their fleet includes 16 options, from compact cars to all-terrain SUVs and convertibles. You will never go wrong with their Chicago airport car rentals.
6. Hertz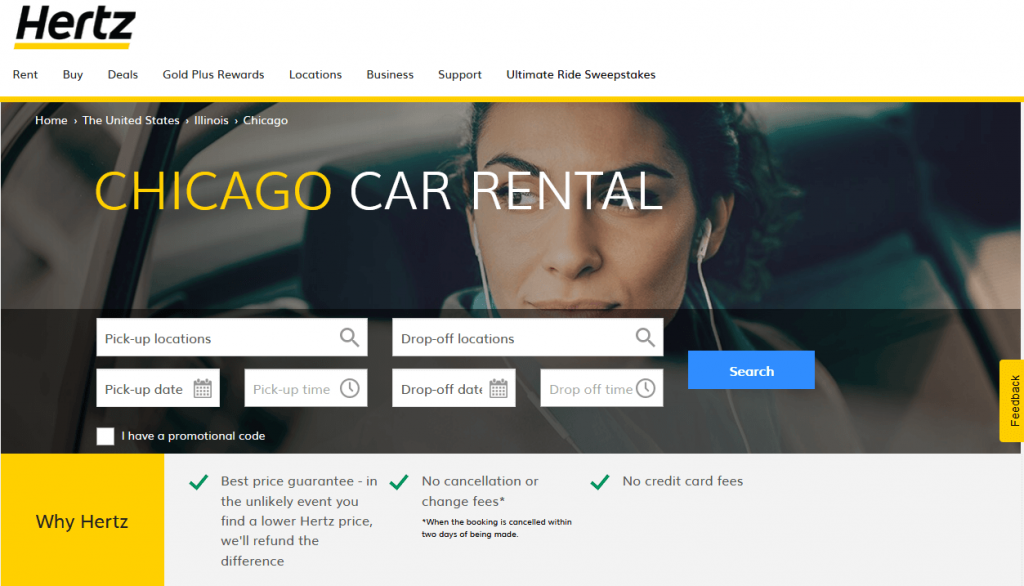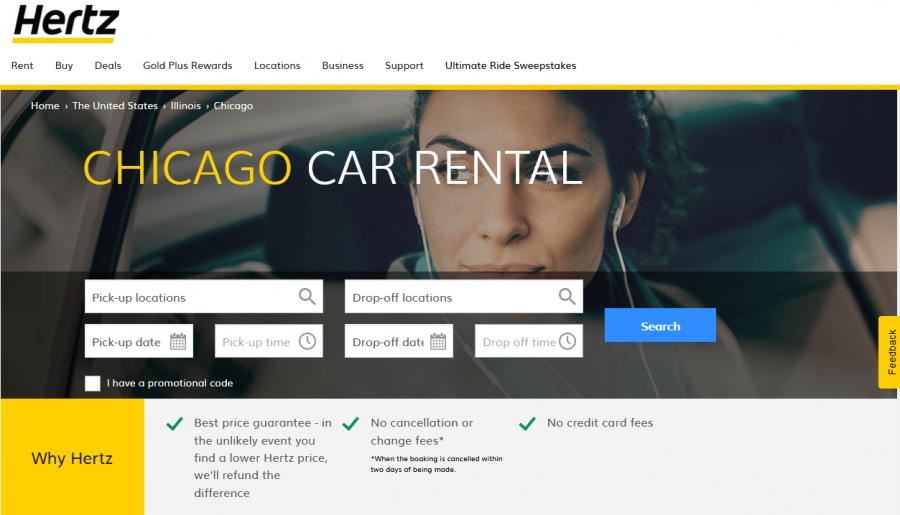 Location: 15 locations
Highlights
Multiple locations, including many outside airports
Incredibly low rates for the four-door economy and compact cars
Transferable rewards points
Great selection of coupons and discounts
Fast drop-off options
You're probably more familiar with Hertz than any other best car rental companies in Chicago. They flaunt a larger fleet, more locations, and more pricing options than our top pick, but falls a little short especially when it comes to customer service. That's not to say Hertz is a bad choice; in fact, the company is beloved by most customers.
When you book with Hertz, you don't just get a wide selection of low-cost, 4-door sedans; they also offer fast drop-off options, Chicago airport car rentals, and extensive airport shuttle services. You will enjoy one of the most exhaustive lists of ongoing discounts and coupons on their website. Plus, they allow you to transfer or receive rewards points so you can lend a hand to your family and friends.
7. Fox Rent A Car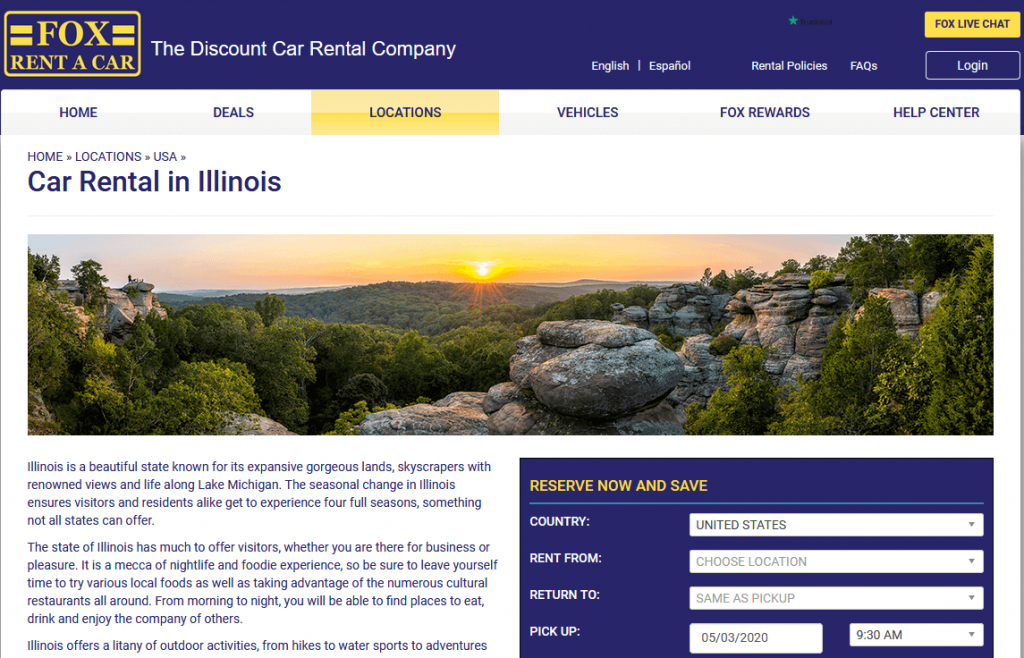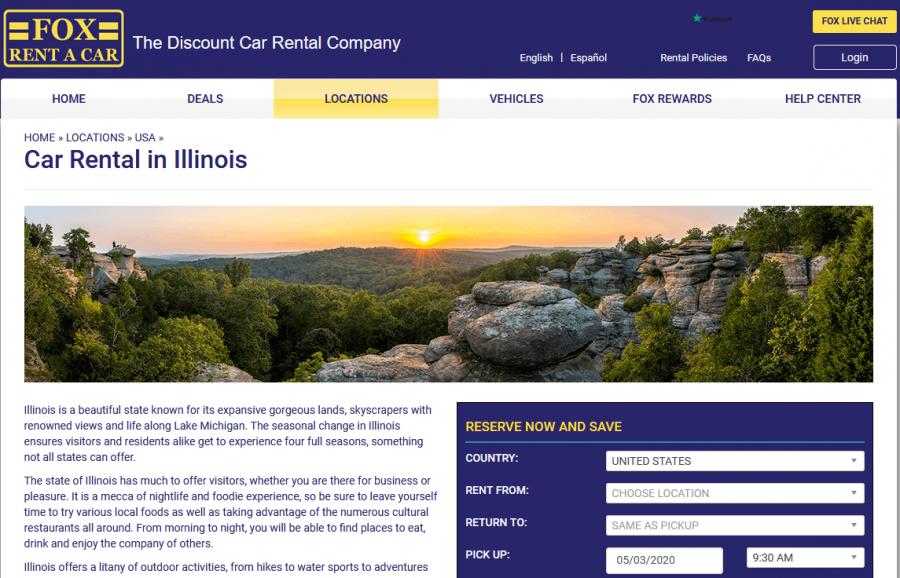 Location: 10256 W Zemke Blvd Suite 830, Chicago, IL 60666
Highlights
Lowest pricing for the economy and hybrid cars
Military discounts and special local rates
New and diverse fleet
Another wonderful boutique car rental company, Fox Rent-A-Car has managed to compete with the likes of Alamo, Budget, and Enterprise on the customer service front. They also have the region's lowest prices, with the rate for an economy car starting from as little as $27 per day. That's unbeatable, which almost makes up for the fact that they don't have airport shuttle services.
Most customers love the company for waiving cancellation fees and 5% military discounts. If you're a student, then your choice is easy. Fox carries a decent range of top-grade rental cars, including compact, SUVs, minivans, hybrids, and luxury cars.
8. National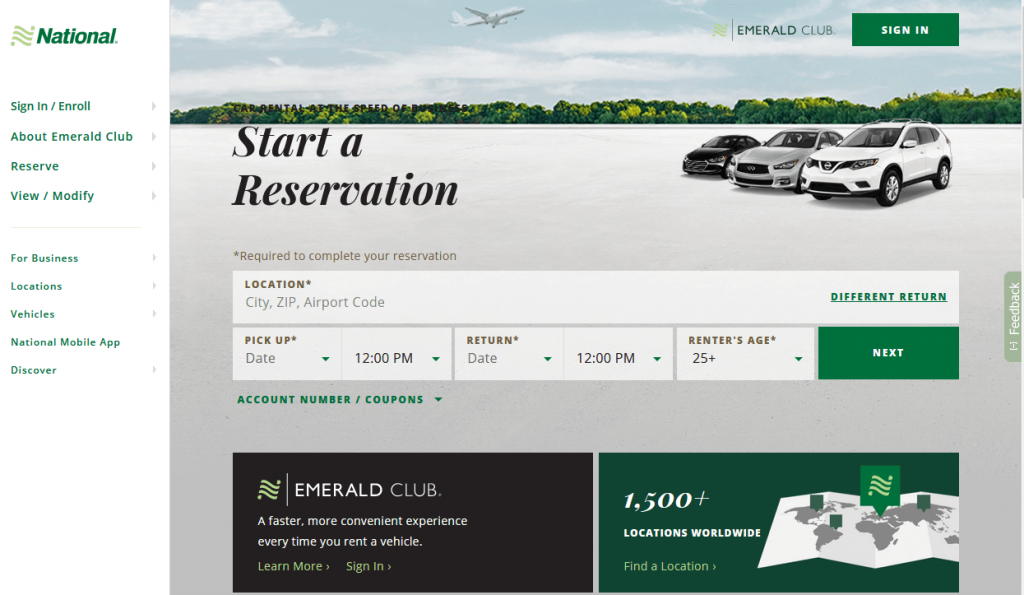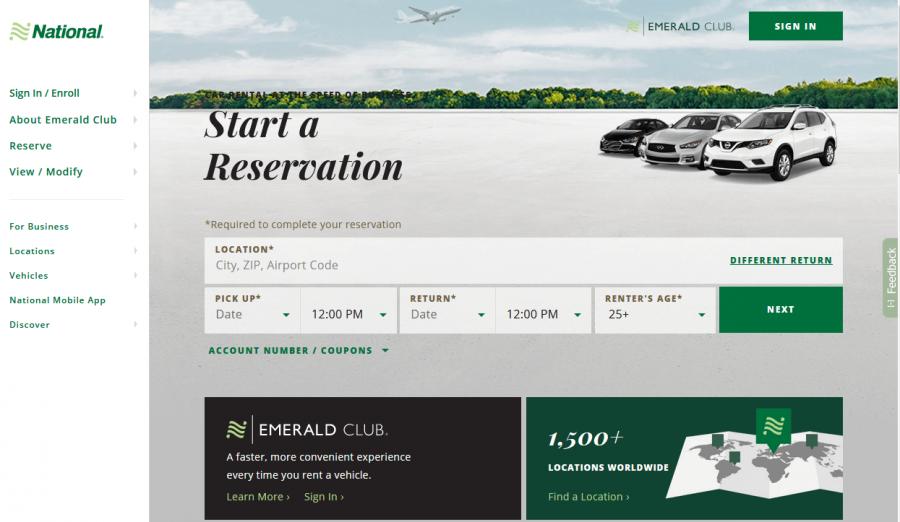 Location: 3 locations
Highlights
Lenient cancellation policy
An amazingly professional customer service team
Many ongoing promotions that give several free rental days
In an attempt to take on Hertz and Enterprise, National has stepped up its game to become one of the best car rental companies in Chicago in the past few years. They are spot on as far as daily rental prices go. Their site allows customers to get a little more intimate with the car they are interested in.
Customer service is not exactly easy, but it's something National has managed to perfect. Because of its smaller fleet and fewer locations, the company tends to run into more issues of the logistical nature than Alamo, Hertz, Budget, and Enterprise. However, that's where their expertly-trained customer service team comes into play to ensure a seamless experience. It helps that their cancellation policies are some of the most forgiving in the market.
9. Avis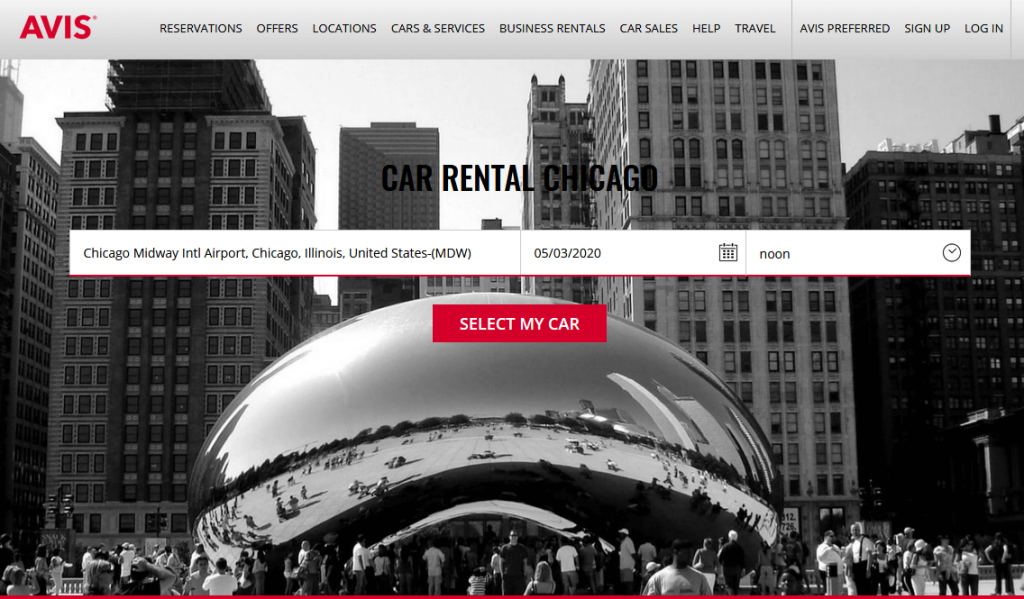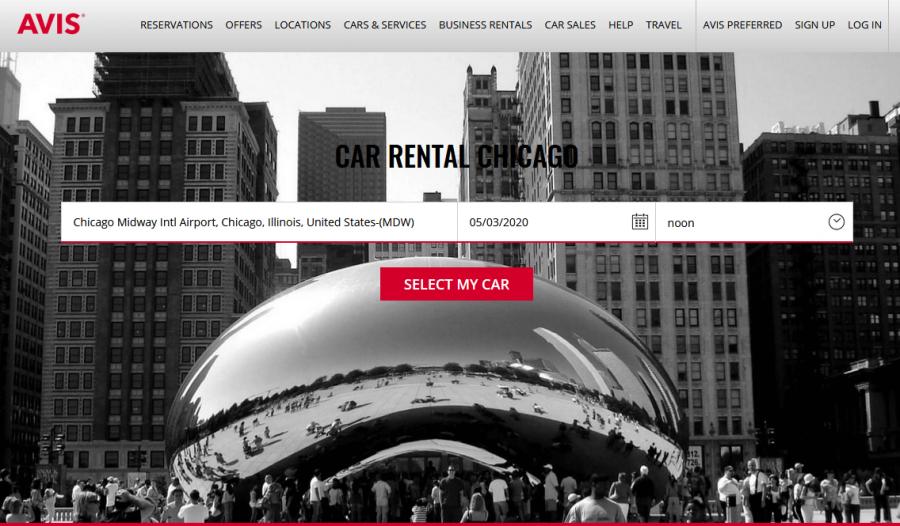 Location: 10 locations
Highlights
Low second driver fees
Many locations available
Excellent pick-up services
Free upgrades for VIP loyalty members
Avis has been a top performer for many years, but has let the ranks of Enterprise and Hertz overtake it. Even so, we still consider Avis a fantastic car rental company in Chicago. If you plan to rent a car for at least a week, be sure to check out Avis, one of the best car rental companies in Chicago, pound for pound.
Unfortunately, their daily rates don't measure up to what's offered by its closest rivals. The good news is that the company makes up for this shortcoming by offering free upgrades for Preferred Plus members. They also have an excellent number of locations across Chicago, as well as unparalleled second driver fees.
Furthermore, Avis provides pickup services for both airport and standalone locations, so you don't have to spend a small fortune to get to their rental office.
Guide to Car Rentals in Chicago
Which type of rental car is right for you?
The type of car to rent will depend primarily on the number of people in your entourage, specific needs, and of course, budget.
Compact: These go by many labels, including small, economy, compact, or subcompact cars. They include Ford Focus, Toyota Yaris, Chevrolet Cobalt/Spark, Hyundai Accent, Nissan Versa, and other similar-sized vehicles, most of which feature automatic drivetrain and 2 or 4 doors. Expect these economy fuel models to be the most lenient on your wallet, but they only carry 1-2 pieces of luggage and 4 or fewer passengers.
Mid-sized cars: Sometimes called standard, midsize or intermediate, these bring the best of two worlds – they have more room for luggage and people, and yet they offer great gas mileage. They are comfier than compact-class cars too. Toyota Corolla, Nissan Sentra, Ford Focus, and Chevrolet Cruze are a few examples of car models operated by most rental companies in this class.
Full-size cars: The name says it all; they've got the most passenger and luggage capacity. Most 4-door sedans fit into this category, offering nifty features and seat 5 persons comfortably. Here, we are talking about Ford Fusion, Nissan Altima, Dodge Charger, Chevrolet Impala, etc.
Premium cars: These are full-sized cars that offer bonus features. In this class, most operators use Nissan Maxima, Chrysler 300, Toyota Avalon, Ford Taurus, Ford Crown Victoria, and Mercury Grand Marquis. Prepare your wallet for a little bit more dent.
Luxury cars: If you need a car for an extra special occasion (wedding, anniversary, etc.), want to impress someone, or just need to splurge, this should be your go-to category. In Chicago, luxury rentals include top of the class Cadillac ATS, Lincoln MKZ, LaCrosse, and Cadillac STS.
SUVs and Vans: Sometimes you may need something that offers more passenger space, more storage room, and better features to handle rugged terrain than standard cars can provide. In this case, Chicago rental companies have got you covered with a variety of SUVs, minivans, pickups, and vans, in midsize, standard, and luxury classes. They're much more expensive and offer poorer gas mileage than other categories, though.
How much does a car rental cost in Chicago?
The average daily cost of renting from the best car rental companies in Chicago is about $80, which will get you a standard car, typically a 4-door sedan. Mark you, that rate is exclusive of insurance, applicable taxes, and fees. If you choose to upgrade, expect to cough up an extra $20 or $30 for a minivan or an SUV.
On a positive note, going for Chicago airport car rentals presents you with an even wider choice and consequently lower pricing. If you do a quick search for car hire options at O'Hare International Airport, for example, you will be surprised to find $20 or lower daily deals. Note that you may have to call well ahead to make special requests for luxury vehicles.
Your age may also play a significant role in how much you will eventually pay for the car. Under-25 and seniors 65+ are usually deemed high-risk drivers and, therefore, run into higher costs than counterparts aged between 25 and 65.
Unfortunately, there's no way you can circumvent this. However, for strictly research purposes, you can refresh the page with a different age to see if the company is unfairly upselling their cars, in which case the price difference shouldn't shoot beyond $10 per day.
The Dos and Don'ts of Renting a Car in Chicago
Do browse online
Don't make a mistake of stepping into a car rental shop without doing some due diligence online. Sure, they may entice you with 'walk-in discounts', but these are often disguised specials leveraged by salesmen to upsell you on expensive upgrades at the location.
Don't hold back on insurance – get full insurance to be on a safe side
If something should happen to the car while in your hands, you might be liable for the damage, which is why insurance is indispensable. If you're lucky, you may already have coverage via your credit card or business/personal insurance policy.
Equally important, you need to be aware of what's actually covered in case of an accident. Full insurance offered by the best car rental companies in Chicago should cover liability, road hazard, loss-damage waiver, supplement liability protection, and personal effects coverage, just to name a few.
Do note the mileage
Obviously, you want to know precisely what you are getting billed for. Clerical errors and hidden charges can quickly blow up your final bill.
Don't rent the navigation system (GPS)
It's not uncommon for some rental companies to upcharge an additional $5-$18 for GPS rental alone. That's certainly ridiculous since you can use your phone for turn-by-turn navigation.
Do hunt for package deals
The vast majority of travel sites and agencies offer a rental car as part of their package offerings and plans. For instance, a travel agency may offer a package that includes a hotel room, an air ticket, and car rental, of which the total price is deeply discounted. If you're renting several vehicles at the same time, look for multi-car discounts.
Don't forget to research airport parking fees
You don't want to discover at the last minute that the airport parking fees are sinfully high. In most cases, the feel is much lower when you rent at an airport location.
Do check loyalty programs and credit card rewards
Some credit card providers will let you earn or redeem points whenever you rent a car. Even better, join a loyalty program of a car rental company you trust so you can accumulate reward points and redeem them for free rentals, leeway on lateness, expedited services, and other perks.
Don't go with the first company you find 
The worst mistake you can make is to think that the first company you see is the best deal for you. There are millions of deals out there, so don't hesitate to consider all of your options before you settle on one that best suits your specific needs.