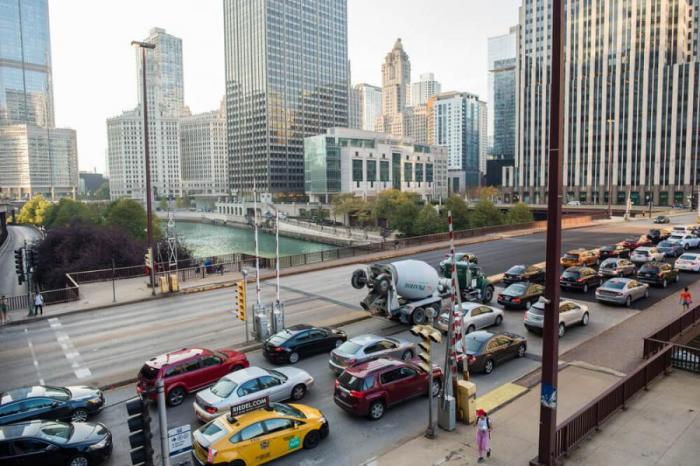 Chicago drivers wasted an average 145 hours last year in what has been named the second-worst traffic in the nation.
A new report from mobility research firm INRIX found congestion in the city was getting worse, up from third place in 2018 and fifth place in 2017. Only Boston came in as having a bigger traffic problem.
The study found drivers waste 145 hours sitting in Chicago traffic, up from 138 hours in 2018. In terms of lost economic productivity, this amount of road congestion was calculated to cost drivers $2,146 over the year.
Author and analyst of the report Trevor Reed told Curbed Chicago, "Chicago continues to see a fair bit of economic growth, which is a real driver of traffic congestion."
It is thought geography also plays a role, as there is limited space in the city to diffuse traffic by introducing alternate routes.
Another possible reason for the increase over the years could be down to a growth in ridesharing services, although the study does not specify what vehicle drivers are using to commute. It is thought these services are now taking over the bus and train systems already in place, putting more cars on the roads.
According to data released by Mayor Lori Lightfoot in her 2020 proposed budget speech, Uber and Lyft trips in the city have increased by 271% between 2015 and 2018.
The INRIX report also found that 51% of car trips were for a distance of less than three miles, while 22% were for less than one mile. Reed said this was "higher than typical," putting the figures down to the high concentration of destinations compared to more sprawling cities. The Midwest's wintery weather could have also influenced people to take the car more, he said. On top of this, more and more visitors are coming into the city as Chicago announces new and exciting events. 
Since recreational cannabis was legalized in Illinois back on January 1, weed tour buses have also taken to the roads, adding to traffic.
Lee Foley of the dockless scooter app Lime said the city could benefit from more shared bikes and scooters to replace cars on the roads.
He said, "As Chicago looks to find solutions to our numerous transportation challenges, it's clear that scooters and bikes are one of the most sustainable and effective ways to unlock congestion."
Another solution is to ask more people to work from home when they can or investing in further mass transit.
The local government has already passed legislation to charge ride-hailing companies an extra fee for operating, helping to pay for transit improvements in the city.
Reed added,"I think we are at an inflection point in how cities treat congestion. We're seeing more cities take a holistic approach to traffic, instead of trying to figure out how to push as many cars through an urban area as possible."
Philadelphia followed Chicago as the third-worst congested city in the US, with drivers losing 142 hours every year in traffic. New York followed with 140 hours, then Washington DC with 124 hours, and Los Angeles with 103 hours.
Reed did, however, finish the study with hopes for a better future as cities continue to invest in clearing the roads.
He said, "Congestion costs Americans billions of dollars each year. However, it appears to be stabilizing in some of the country's most congested metros – with delays raising roughly three percent nationwide since 2017."
"The continued innovation and investment in smarter roadway management is showing early signs of progress. To reflect an increasingly diverse mobility landscape, the 2019 Global Traffic Scorecard includes both public transport and biking metrics for the first time."