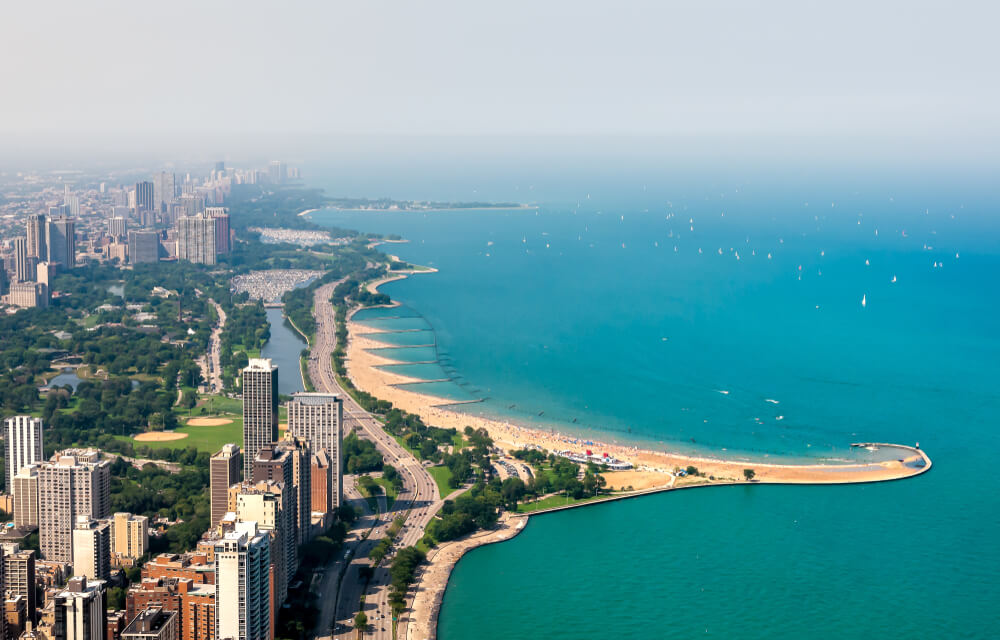 In what is certainly some refreshing news for residents of Chicago, Gov. Pritzker gave the green light to open lakefront restaurants last week. Beaches do still remain closed, here is why we believe they should stay that way. Chicagoans however will still be able to enjoy a cold beer on the lakefront, with restrictions being relaxed last Friday.
This is the statement from the Chicago Park District:
"Lifting restrictions on lakefront concessions allows the City to maximize the use of outdoor space while supporting lakefront businesses, lakefront restaurants with patios can accommodate seated dining service; grab and go concessions will require patrons to make their purchase and keep it moving."
Apprehension
There will be some clear apprehension from all parties as the restrictions begin to ease up, and it is important that everyone follows safety guidelines. Even the day after the announcement of this reopening, the state saw its highest recorded number of new coronavirus cases since the beginning of June.
It has been two weeks since bars and restaurants were able to reopen with limited capacity and so far it is working well. We covered this Riverside floating bar, which managed to open with ease under new restrictions. Lakeside restaurants and bars weren't included in that originally, until Tuesday's announcement giving them the green light.
Originally this news had been the source of frustration and many couldn't understand why Gov. Pritzker agreed to it. Reggie on the Beach's owner Robby Glick was one of the owners most annoyed by the news, claiming a double-standard:
"The riverwalk is open, the harbors are open, the harbor bars are open, but the beach is closed and anything on the beach is closed. Our restaurant is right across the street from a harbor, other harbor bars are open yet we weren't allowed to open because we were technically on the beach."
Thankfully however the rules have been balanced out and President of the Lakefront Hospitality Group cannot wait to swing those doors open again:
"We're just thrilled to be able to get back to business and be able to provide a great setting for people in the city, we've been prepared for a long time for reopening and we're glad to say that we're ready to roll."
Money and Happiness
There's been a lot of discussion about the economic impact of the pandemic on Chicago and this news comes as further relief for some. This allows residents to have some sense of normalcy in these trying times.
Naturally, this will also help the restaurants which have struggled to stay afloat over the last six months by bringing revenue back to their business. Closed bars and restaurants also impacted food producers, brewers, and shipping companies, all of whom will welcome this latest reopening.
Safety Measures
There will be strict safety measures in place for those businesses opening back up. Customers must maintain a safe distance from one another, face masks will be mandatory until you sit down at a table and temperature checks will be carried out on all customers. Each establishment must also ensure the availability of sanitizing stations and that they fill to no more than 25% of their seating capacity.
Safety measures are very much the new normal and residents of Chicago will have to get on board. In reality, this is not a difficult task. We previously reported on the reopening of Millennium Park, who found the enforcement of new rules easy and widely respected by responsible residents.
Phase 5 
Chicago is currently contemplating the 5th phase plan to get the city reopened as it was prior to lockdown. Currently, the city is in the 4th phase, and phase 5 only looks to be possible if there is a vaccine found against the virus. Although State Gov. Pritzker has vowed to continuously revise the reopening plan, Mayor Lightfoot feels things are going too slow. When restrictions on indoor dining were announced, Lightfoot had this to say:
"I do think that we can open up indoor dining, and do it safely, and I think sooner rather than later. This is something that I have been advocating for some time, but we've not been able to make progress with the state, which is unfortunate,"
The hope moving forward is that both Gov. Pritzker and Mayor Lightfoot are on the same page and looking to kickstart the economy and deliver a safe space for residents. It is time to get this city up and running again.
This should prove to be a happy week for residents of Chicago. Getting out for a beer, a conversation, perhaps even heading to one of the nude clubs we reviewed here, anything to feel free and happy again.