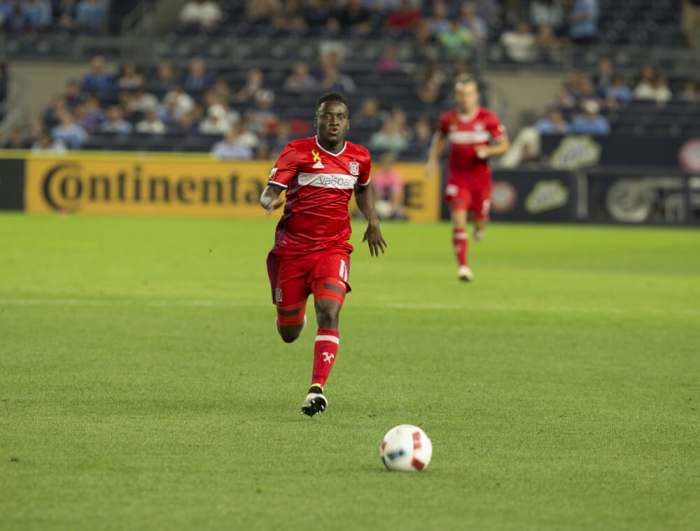 The Chicago Fire FC has been having a rather torrid time of late when it comes down to being on the soccer field, however Ezra Hendrickson will be hoping things turn around for the soccer club he currently leads imminently.
Those that have been following the Fire in the 2022 MLS campaign will have been left disappointed with what they have been watching on the field in recent weeks, whilst it would not be a shock if many were actually furious with some of the most recent performances that they have had to be subjected to.
It has been hard to support the Chicago Fire in recent times
Of course, we all know that supporting our favorite sports teams and individuals can be one of the greatest things around, but when the team is performing like the Chicago Fire is, it can also be one that is rather difficult to enjoy and actually feel like a challenge and a chore at times.
Indeed, the recent results to have been recorded by Hendrickson's side are certainly going to have made it very difficult to back the team, regardless of whether they are playing on the road or at Soldier Field in front of their own fans.
That is because the club has been unable to pick up three points since their win against Sporting Kansas City on March 19, with a total of seven games having been played since then. In that particular run, the team has gone on to draw two of those, with five defeats to have followed.
Seven games without a win
These are the recent results to have followed that 3-1 victory almost two months ago:
Chicago 0-0 FC Dallas
Orlando City 1-0 Chicago
Chicago 0-0 LA Galaxy
Chicago 2-2 Union Omaha (Union Omaha won 5-4 on penalties to advance in the U.S. Open Cup)
Minnesota 3-0 Chicago
Chicago 1-2 NY Red Bulls
Atlanta United 4-1 Chicago
In three of those games, the Fire certainly made it difficult for themselves to get a positive result, as they found that they were reduced to 10 men. The red cards picked up came in the defeats to Orlando, Minnesota, and NY Red Bulls.
How are things shaping up in the East? 👀 pic.twitter.com/hOPaqU9feF

— Major League Soccer (@MLS) May 9, 2022
Current performances have found the team at the bottom of the Eastern Conference, with just 10 points and two wins in their first 10 matches. They sit level on points with fellow strugglers Inter Miami, however, the Fire has only been able to score a total of seven goals all season.
Surprisingly, they are not the worst team in the entire MLS at the moment, though, with the San Jose Earthquakes, Sporting KC, the Seattle Sounders, and the Vancouver Whitecaps to have all picked up fewer points at the time of writing.
There has to be some concern
However, there will be some concern heading into the next game this coming weekend, as they will go up against a solid team in FC Cincinnati.
The Ohio-based outfit has been pretty solid this campaign thus far, although they have shown that they can be beaten. In their 11 games to have been played, they have won five but lost five (with one draw). They have also shown that they can concede goals, having allowed 17 to be scored against them.
Nonetheless, there will be some hope that home-field advantage can play a role for the Fire in this game, with those who are perhaps considering placing a wager aware of the fact that the hosts have a better H2H record when the two teams go against each other.
Those who take advantage of MLS betting odds available at BetMGM Illinois sportsbook will find that the Fire has been made favorites to win because they have been able to win two of the last five meetings, whilst FC Cincinnati has only been able to win one (two draws).
Of course, those who are thinking about placing a wager on the game, though, will perhaps have the fact that the team is currently experiencing a rather torrid patch of form at the moment, with the seven-game winless streak mentioned above clearly something to think about.
Torres and Mueller have been signed by the Chicago Fire
However, there have been a couple of signings made by the Fire in recent days and weeks that could provide the team with a much-needed boost in regard to the performances that are provided on the pitch at Soldier Field, which could then have a positive impact on the results that are achieved.
Indeed, the Chicago Fire has managed to sign two new wingers to its roster, with Mexican Jairo Torres and American Chris Mueller both arriving at the club in recent days.
The two individuals will likely join Xhedran Shaqiri in attack, with the designated star player appearing to need some help in regard to finding the back of the net for the team. The Swiss superstar has managed to score two goals and provide a further three of the seven scored in the MLS this season, but both of those goals have been from the penalty spot.
Torres and Mueller will likely add some attacking prowess to the team with both having individual quality, and providing Hendrickson's team with some of the much-needed cutting-edge that has been sorely missed and lacking in recent fixtures.
However, whether they will be able to hit the ground running will be one of the biggest questions that are posed, as the Fire certainly needs to start adding the wins and do so in a rather quick fashion.
What should we expect from the Chicago Fire in their next match?
Will Mueller and Torres have an impact on the team's chances in the game against FC Cincinnati should they play? Will Shaqiri be able to benefit from their addition to the roster?
Naturally, there will be many in Illinois that will be hoping that they will make an instant impact on the team and will start to help the Fire to climb away from the bottom and continue a push for a spot in the postseason.
Indeed, whilst some would suggest that this could be unrealistic given what has already happened, it is still very early in the 2022 MLS season, therefore anything could happen!