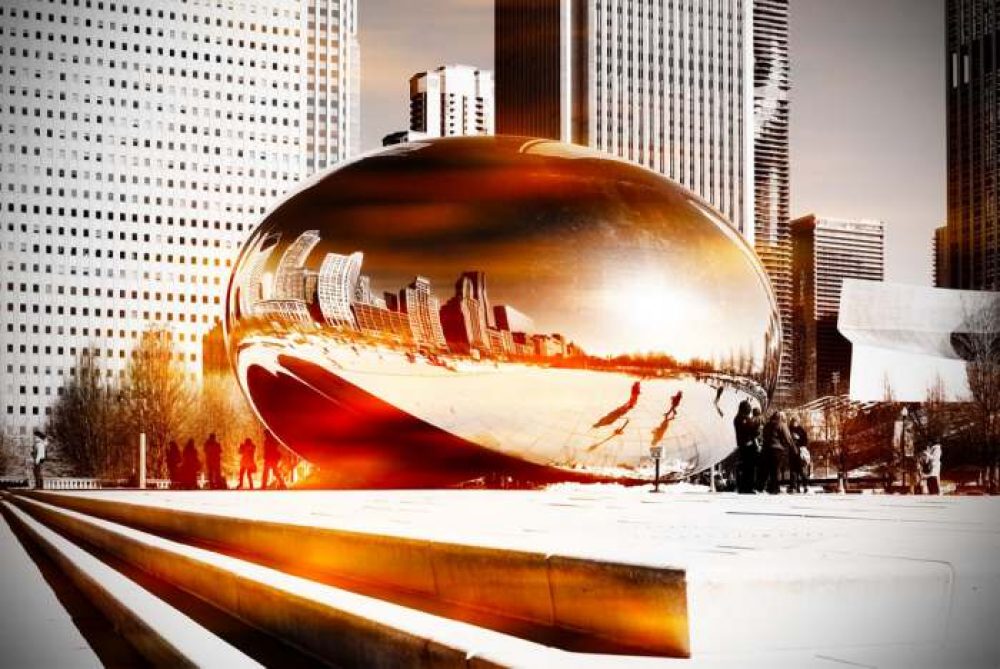 For those looking to tickle their wanderlust and perhaps brighten up their Instagram feed, Chicago has so many Instagrammable landmarks, views, and culinary experiences that it's hard to know what to check out first.
America's 3rd-biggest city has high-flying architecture, lush green spaces, world-class museums, stunning monuments, beautiful parks, and amazing food — you'll definitely be spoilt for choice! Chicagoans and tourists alike love how it perfectly blends the big city's urban feel with a Midwest charm.
If you happen to be in the Windy City or planning to visit soon, we've scoped out all of the hottest Instagram spots in Chicago that you don't want to miss out on your trip. These points are not only stunning in their own right, but also offer the perfect backdrops for your Instagram photos and videos.
Our list of Instagram-worthy spots includes a nice mix of crowd favorites like the Cloud Gate and little-known gems like Lurie Garden. So grab your favorite camera, lens, or selfie stick, and be sure to make a pit-stop at these spots for an impromptu photo op!
1- Cloud Gate (aka "The Bean")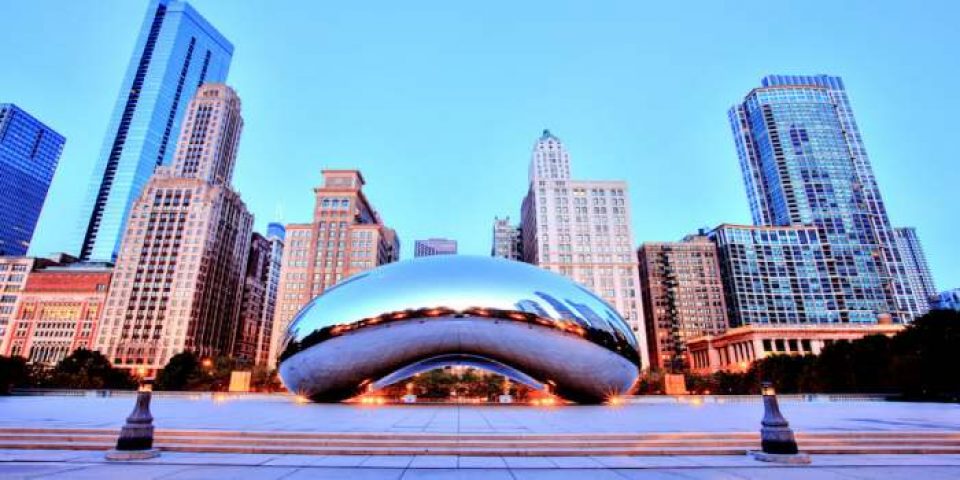 Address: In Millennium Park at 201 E Randolph St, Chicago, IL 60602
Hours + Admission: Cloud Gate is open to all for free from 6 am-11 pm.
A brainchild of British-born artist Anish Kapoor, the Cloud Gate is Chicago's most popular showpiece — it would be criminal not to check it out. The 110-ton silver sculpture inspired by a drop of liquid mercury is a picture-perfect Instagram spot in Chicago.
The monument's mirrored surface reflects Chicago's marvelous skyline, surrounding green spaces, and sky, so it's a spot that literally begs to be photographed. In fact, if you only have the time to visit one Instagrammable spot that screams that you have been to the Windy City, this is it.
The famous outdoor art installation is sometimes referred to as "the bean" because of its bean-esque appearance. You'll love to touch its expertly-polished surface. Again, Millennium Park is a highly-trafficked attraction, so you might want to get there early in the morning if you wish to snap solo pictures for your social.
2- Millennium Park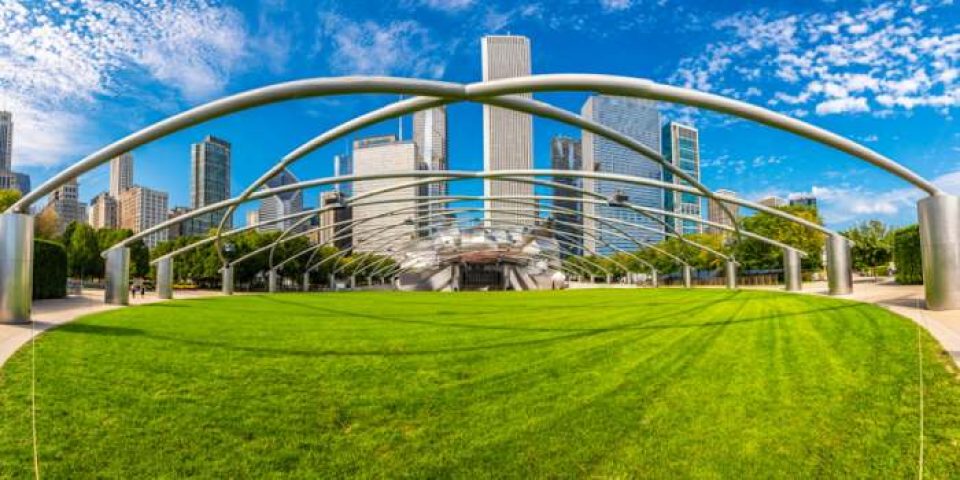 Address: 201 E Randolph St, Chicago, IL 60602
Hours + Admission: Millennium Park is open every day 6 am-11 pm. Admission is free.
After marveling at and posing for photos in front of the Bean, it's time to check out the rest of what Millennium Park has to offer. If you don't visit the 24-acre city park, did you even see the Windy City? The park is home to some of Chicago's hottest Instagram spots and thus is a must-see – after all, it's been named America's "most dazzling city park" for a good reason.
There's much more to Millennium Park beyond the Bean. Start off your visit to the Crown Fountain, a lovely water park designed by Jaume Plensa. The park's two 50-foot-high glass-block towers feature LED displays that project images of thousands of locals spurting water. These mug puckers are reminiscent of the gargoyles found on top of the Notre Dame Cathedral in Paris.
Don't forget to stroll across Frank Gehry's BP Bridge, a spot that not only offers some stunning skyline views but also provides a nice background for a mini photo-shoot. The bridge connects to Pritzker Pavilion, which frequently plays host to free weekly music concerts and summer festivals.
Even if you don't catch a show at the Jay Pritzker Pavilion, the 120ft tall pavilion spots picturesque metal frames fashioned into ribbons that appear to be blown in the wind. We're sure you'll manage to snap a few great photos for the gram here.
That's not all; Millennium Park is a tourist hotspot where you can also check out the city's gardens, greenery, and public art installations, just to mention a few ideas. Be sure to take some photos of the art pieces in the Chase Promenades.
3- Millennium Park's Secret Garden – The Lurie Garden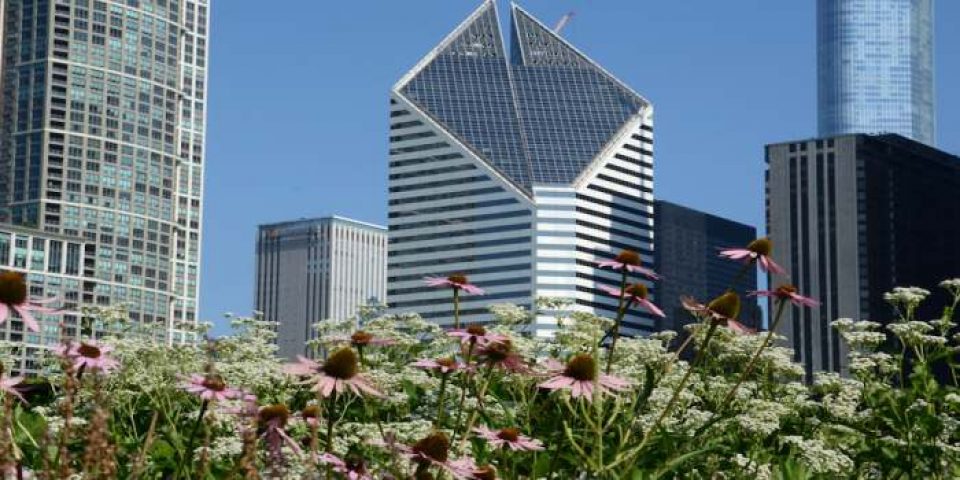 Address: Southeast corner of Millennium Park at 201 E Randolph St, Chicago, IL 60602
Hours + Admission: Lurie Garden opens daily from 8 am-9 pm. Admission is free.
Millennium Park at the Loop is, without doubt, one of Chicago's grand jewels. The city's show-stealer is a treasure trove of colorful spots, lush green spaces, artsy sights, and mesmerizing waterfalls, but it's the park's 'secret garden' that takes the cake.
Tucked away from the crowd by a15ft hedge of trees & conifers, the Lurie Garden is a hidden gem, a five-acre tranquil oasis beaming with natural plants and beautiful blooms that pay homage to the Land of Lincoln's tallgrass prairie.
The free-entry four season's garden is carpeted by bluebells, poet's daffodils, coneflowers, and other gorgeous local blooms, providing an ideal backdrop for colorful photos that'll liven up your Instagram feed. The garden's natural beauty is accentuated by a tiny river that cuts through it, creating a nice spot where you can kick back, dangle your feet, and watch Illinois' wildlife at its best.
Pro tip: Millennium Park is one of Chicago's most bustling attractions and is always a beehive of activity. It may be wise to arrive early in the morning to beat the crazy crowds, then move on to the quieter Lurie Garden when the park itself gets too busy.
4- Art Institute of Chicago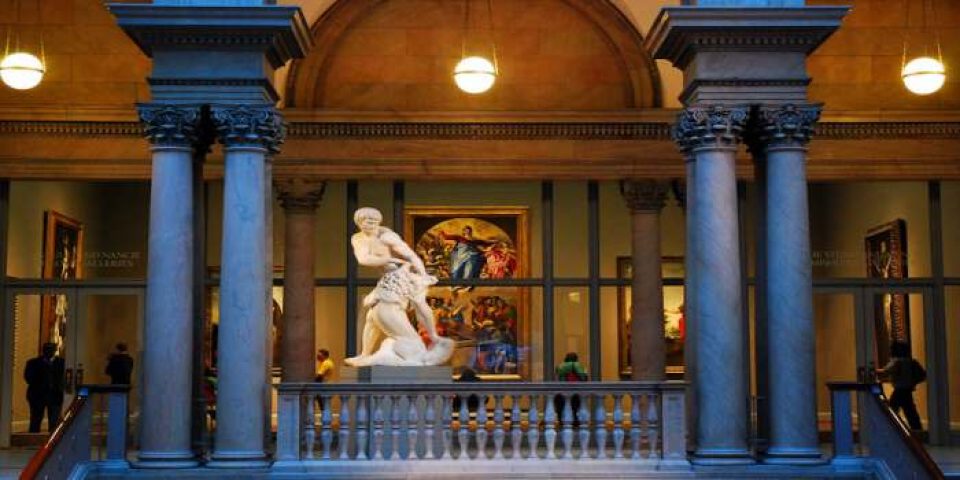 Address: 111 S Michigan Ave, Chicago, IL 60603
Hours + Admission: The museum is open Saturday through Tuesday 10:30 am-5 pm and Wednesday through Friday 10:30 am-8 pm. The general admission ticket costs $25.
If you've got a primarily art-loving Instagram fan base, then the Art Institute of Chicago is a spot that you don't want to miss out on your next trip to the city. The famed museum is located a walking distance from Millennium Park. It's one of the most highly-regarded, oldest, and largest art museums in the US, boasting over 300K works in its permanent exhibition.
Outside of the Louvre in France, it flaunts the largest collection of post-impressionist and impressionist paintings in the world, as well as surrealist works and wow-worthy masterpieces from Japan, ancient Greece, and other parts of the globe. You'll get to strike a pose with famous artworks by renowned artists like Renoir, Pollock, Chagall, Matisse, Van Gogh, Picasso, Monet, and many, many more!
The museum covers a whopping 1million square feet and therefore you may not be able to squeeze a tour of the entire establishment into one visit. Luckily, you can download the museum's mobile app for some commentary and guided audio tours.
Because you won't have time to check out every piece, you may want to focus your tour on the museum's most notable artworks, such as A Sunday on La Grande Jatte by George Seurat, Day Off by Ferris Bueller, Elizabeth Taylor portrait by Andy Warhol, and the American Gothic by Grant Wood. A few poses with Marc Chagall's stained glass windows will also spice up your Instagram feed.
5- Beatnik West Town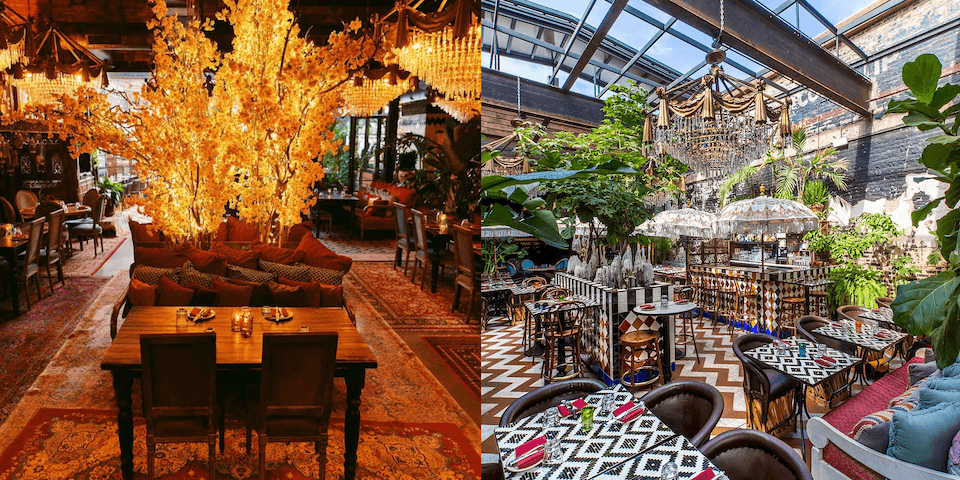 Address: 1604 W Chicago Ave, Chicago, IL 60622
Hours + Admission: The café is open between 10am and 10 pm on most days.
Named after the beatniks – fans of the 1950s and 1960s Beat Generation, Beatnik is a slice of paradise for Instagrammers and one of the most gorgeous cafés in the Windy City. The interior décor which is partly inspired by the world's cultures is breathtaking, while the food and cocktails are to die for. Plus, the service is world-class.
Patrons love the café's brightly-colored, bohemian interiors that are well-balanced by the potted plants. The decor borrows heavily from Moorish architecture, Bali, and the Mediterranean. The cute small plates and the blend of flavors from South America, the Middle East, Mexico, and Asia will dot all over your photos.
Be sure to try favorite dishes like Miso Scallops, the bone marrow, and Baba Ghanoush. When it comes to their cocktails, nothing is as Instagrammable as Beatnik's Butterfly Effect. The cocktail is as delicious as it's colorful.
There's also another Beatnik location (Beatnik on the River), but the one on West Town offers a more holistic experience, and the rustic wood appeal makes it one of the best Instagram spots in the city. Most Instagrammers suggest a daytime visit to the cafe, and we totally agree given the splash of natural lighting.
6- Buckingham Fountain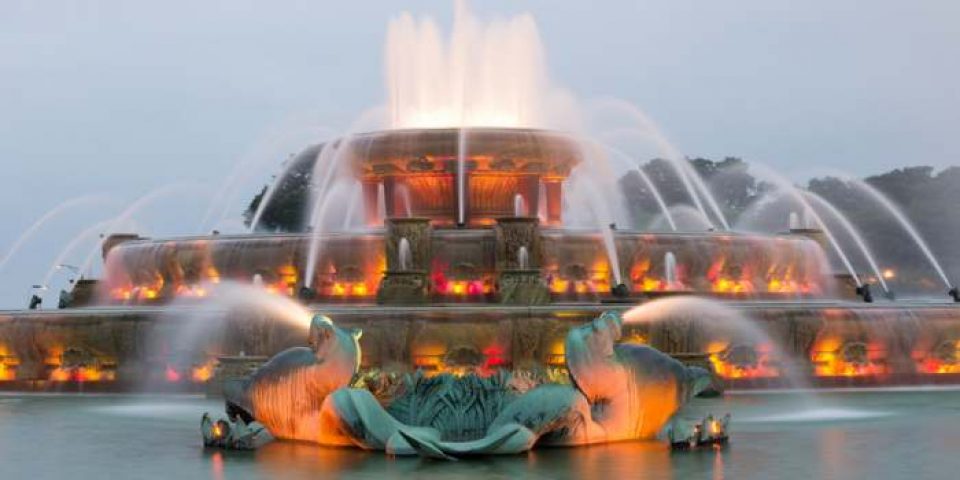 Address: 301 S Columbus Dr, Chicago, IL 60605
Hours + Admission: The fountain runs from 8 am through 11 pm. Admission is free.
Launched in 1927, the Buckingham Fountain is quite a sight and one of the hottest Instagram spots in Chicago. If it looks familiar, that's because it was featured in the opening credits of the iconic TV series Married With Children. With an impressive diameter of 128ft and water usage of 15,000 gallons/minute, this is one of the world's largest water fountains – a bucket-list destination, for sure.
The fountain is operational from 8 a.m. through 11 at night. There's a 20-minute water fountain show that begins at 9 am on each hour throughout the day. The real magic happens at night when the music and dazzling lights come on, with each 20-minute display ending in water shooting 150ft in the air. 
Make sure your camera is ready to capture this impressive sight with Chicago's night skyline providing a stunning backdrop. As long as the lights are on, you will be set to take Instagram-ready photos.
7- DuSable Bridge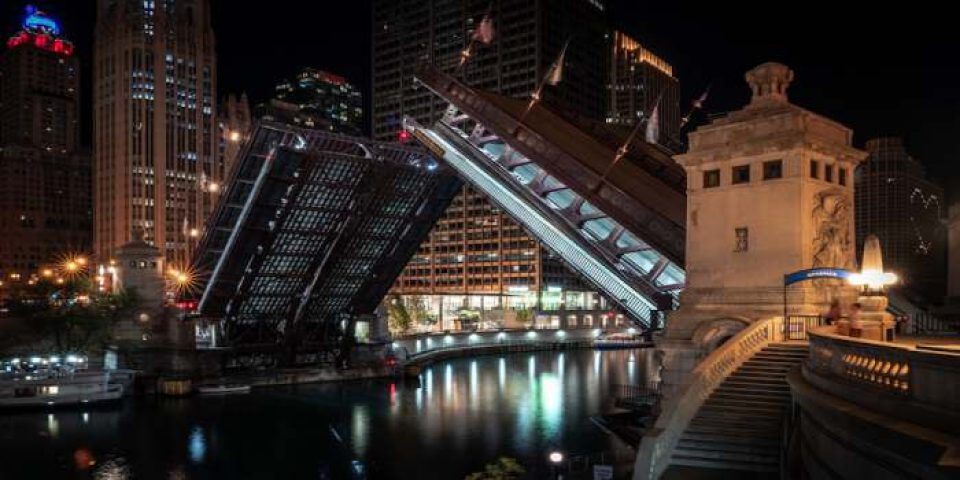 Address: 333 Michigan Ave, Chicago, IL 60601
Hours + Admission: The DuSable Bridge is accessible 24/7.
Michigan Avenue Bridge offers some of the best views of the city's famous skyline, making the viewpoint one of the best Instagram spots in Chicago. The bridge itself may be difficult to spot, especially if you're an out-of-town Instagrammer. You might want to get to the Ghirardelli store first and the DuSable Bridge will be right out front.
If some of the city's major landmarks are filled with swarms of tourists, it may be a good idea to visit the bridge first. The spot is usually less busy, so you should be able to take amazing pictures without any hassle.
8- Willis Tower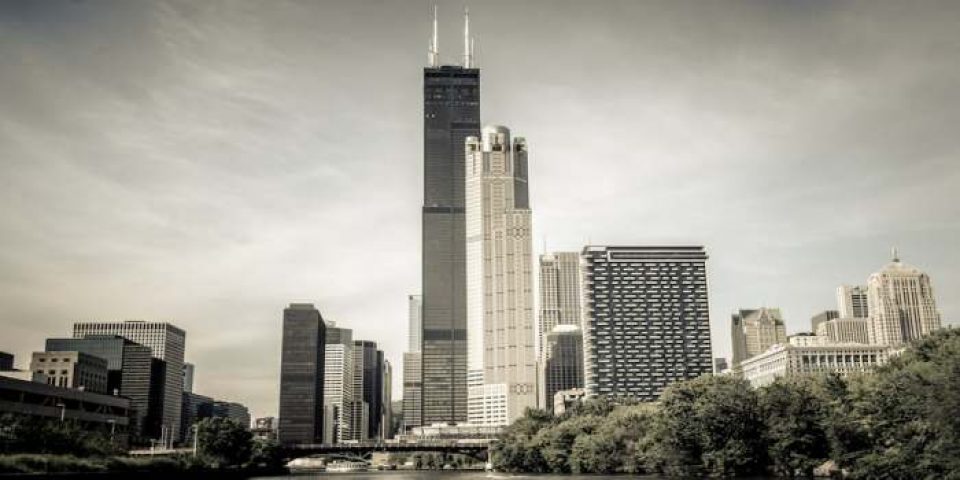 Address: 233 S Wacker Dr., Chicago, IL 60606
Hours + Admission: The tower is open daily from 9 am-10 pm March through September, and from 10 am-8 pm October through February. The admission fee is $24 for an adult and $16 for a child.
Standing at 1450ft tall, the Willis Tower is Chicago's tallest building, only second to One World Trade Center in lower Manhattan in America. The 110-story sky-scraper houses one of the best spots for Instagram photos: the Skydeck, which is located on the 103rd floor.
Take the dizzying 70-sec elevator to the zenith of the building, where you will be able to take a short ledge walk on the knee-buckling, mid-air glass floors. From this spot, you will get sweeping views of 4 states on a clear-sky day. If you don't have the guts, you can always sit on the glass-floored balcony boxes and take as many nervous photos as you want.
Note that the last entry to the Skydeck is 30 minutes before closing, something you want to keep in mind if you want to snap last-minute pics. For those who wish to skip the long queues to experience the Skydeck's Ledge, fast pass tickets can be bought at $75 per person. If you want to take absolutely amazing photos, we recommend that you get there just before the tower opens.
9- Lakefront Trail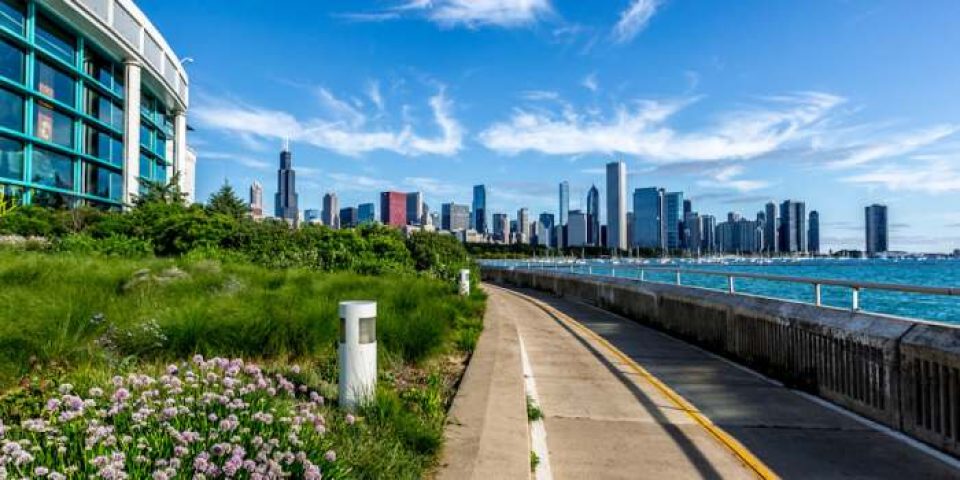 Address: The western shore of Lake Michigan
Hours + Admission: The lakefront trail is freely accessible 365 days a year, 24 hours a day.
Bordering Lake Michigan's shore, the 18.5-mile Lakefront trail is an Instagrammer's dream come true, offering plenty of breathtaking lake views from start to finish. Schedule your exploration of the trail before or after visiting the Buckingham Fountain; it's a breezy walk through Grant Park.
You can rollerblade, bike (rentals are available via Divvy), jog, run, or walk – there are a ton of ways to experience this trail. The best part is that the Lakefront trail is open to everyone 24/7, 365 days a year, making it one of the best year-round Instagrammable spots in Chicago.
If you're up against a time crunch, exploring the trail's section that borders Grant Park would be advisable. From this stretch, you will enjoy both dramatic views of Chicago's skyline and scenic lake views – you'll make lots of pit-stops to capture plenty of excellent photos along the way.
You'll also come across several beautiful beaches along the trail during the summer months. Make sure to make a short stop at North Street Beach, adjacent to the Lincoln Park Zoo; the 57th Beach, close to the Museum of Science, and Oak Street Beach, which offers impressive city views.
10- Field Museum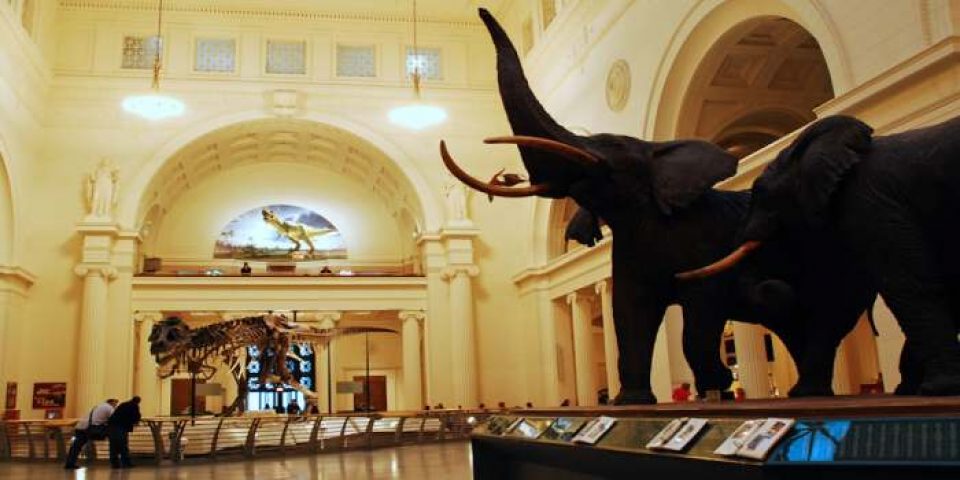 Address: 1400 S. Lake Shore Dr., Chicago IL 60605
Hours + Admission: The Field Museum is open Thursday through Monday from 9 am- 5 pm (last entry at 4 pm). Free Admission Day tickets are only available onsite. The admission fee for ticketed exhibitions varies from one exhibit to the next.
If you or your Instagram followers are fans of dinos, we've got the perfect spot for your photo op: the Field Museum in South Loop. This open gallery-style museum is home to SUE, one of the most famous T. rex in the world. In this spot, you will travel through time as you snap pictures of precious gems and dinosaurs.
The best and most picture-ready spots to visit in the Museum include the Grainger Hall of Gems, Inside Ancient Egypt, the Ronald and Christina Gidwitz Hall of Birds, and Maximo the Titanosaur. Some of the exhibits at the museum are not allowed to be photographed, so be sure to check with the staff.
11- Chicago Theater Sign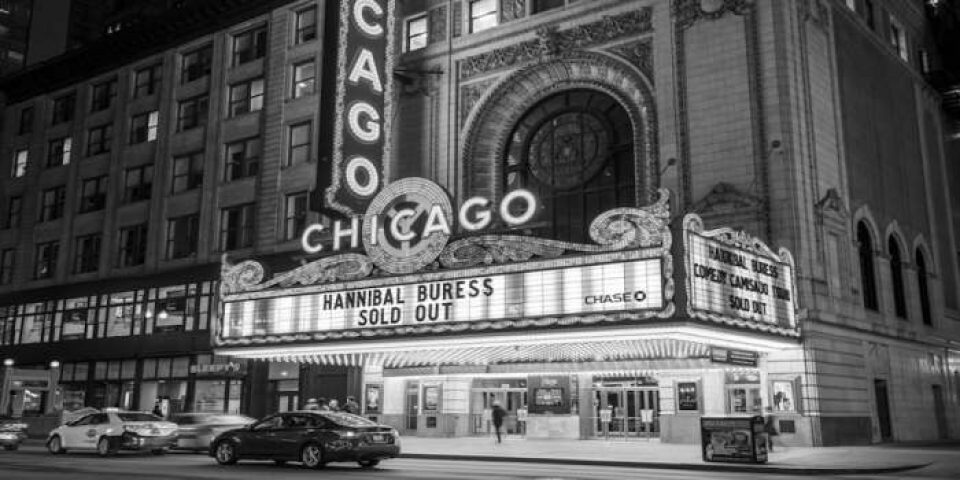 Address: 175 N State St, Chicago, IL 60601
Nothing says I've been to Chicago than a quirky photo in front of the amazing 'Chicago Theater' neon sign. Often referred to as the "wonder theater of the world," the 3600-seater theater welcomed its first audience in 1921 and was revamped in 1986 to its current glory.
The Chicago Theater has shown some of the most popular films in its long, colorful history. Some of the world's most popular artists, magicians, comedians, boxes, speakers, orchestras, and musicians have also performed at the theater.
The area around the entrance of the theater is packed from noon to about 2 pm, so you might want to avoid taking pics during this period.
11- ROOF on theWit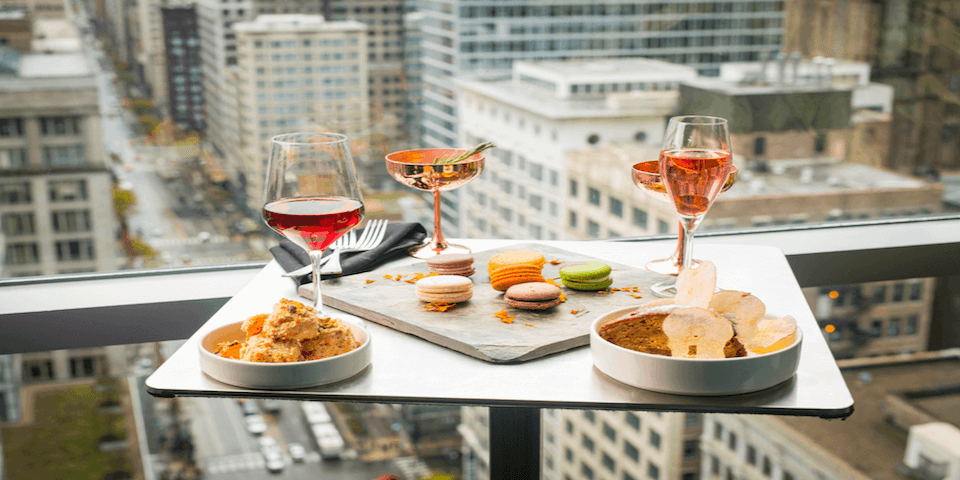 Address: 201 N State St 27th Fl., Chicago, IL 60601
Hours: The ROOF on theWit is open Friday – Saturday: 4 pm – 9 pm; Sunday: 12 pm – 6 pm
If you're looking for one of the best Instagrammable bars in Chicago, then you won't go wrong with the ROOF on theWit. For those who dread Chicago's hard winters, this multi-award-winning spot has a crackling fireplace, making it one of the coziest rooftop bars in the Windy City.
The interior décor, furniture, and handcrafted cocktail at this rooftop bar are so exquisite you'll spend most of your time there taking photos. With both outdoor and indoor seating, the bar has sweeping views of the Chicago skyline and Lake Michigan throughout the year.
12- WNDR Museum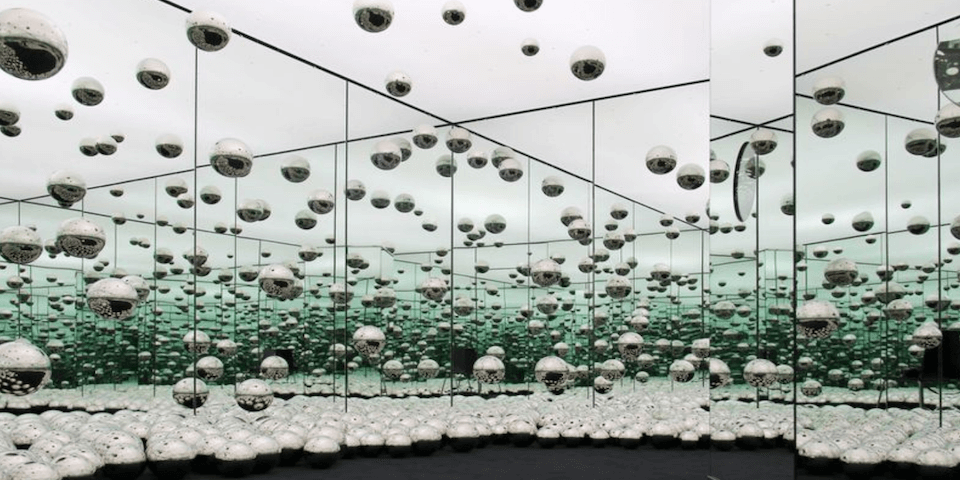 Address: 1130 W Monroe St, Chicago, IL 60607
Hours: TBD
Everything at the wndr Museum is so stunning and interesting; it's as if the spot was designed specifically for Instagram. It's the new kid on the block when compared to other highly-visited museums like the Art Museum, Field Museum, or the Museum of Science and Industry.
 If you're visiting with kids, this should be a must-visit Instagram spot in Chicago. This unique museum is packed with picture-ready décor and structures, such as the sequin tunnel and Yayoi Kusama's Infinity Mirror Room. Every corner of the museum offers something unexpected and a chance to take a once-in-a-lifetime photo.
13- Alfred Caldwell Lily Pool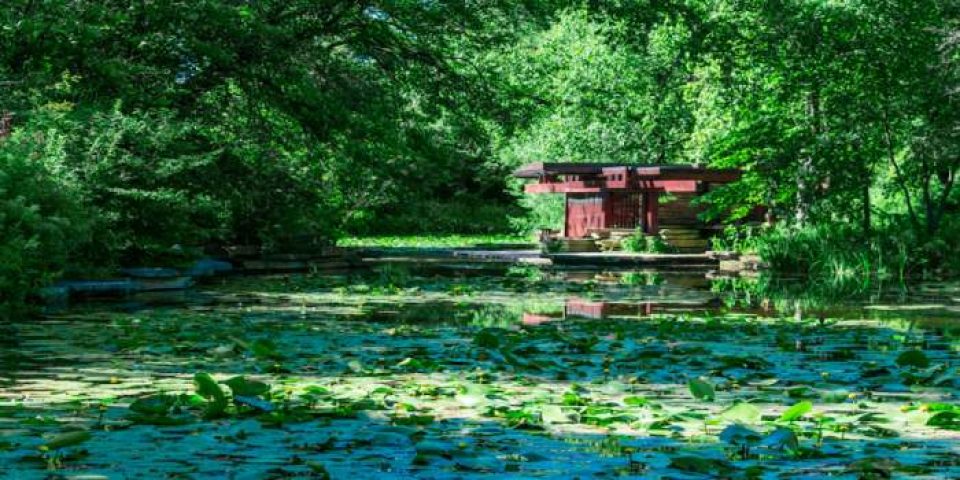 Address: 125 W Fullerton Pkwy, Chicago, IL 60614
Hours: Anyone can drop in during normal docent hours, which are Fridays: 1 – 4 pm, Saturdays & Sundays: 10 am – 4 pm
Take in a big dose of nature at the Alfred Caldwell Lily Pool. This serene spot is also one of the most Instagrammable locales in Chicago, nestled in the famous Lincoln Park Cultural Center. Be sure to snap a few photos here. Chances are good that you'll find an upcoming artist painting or frogs sunning on lily pads – what more could an Instagrammer ask for?
The entrance to the cultural center can be hard to find. You'll find it located in between Cannon and Stockton Drives, just off Fullerton Parkway. For more convenience, alight at either Fullerton or Stockton bus stop.
14- Street Murals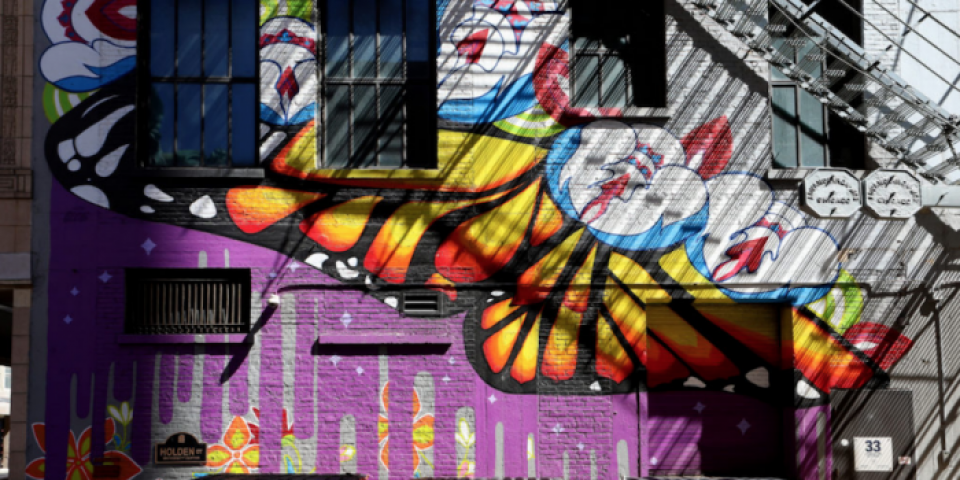 Address: Various locations thorough Downtown Chicago and neighborhoods
Chicago has a glut of gorgeous murals you can pose with for your Instagram. The popularity of these beautiful pieces of street art has really taken flight among locals and travelers alike. You'll find huge, colorful murals and other street artworks decorating various buildings and public walls all over Chicagoland.
If we must pick Instagram favorites, we'll have to say the giant pink flamingo mural just outside the eponymous club in River North; the "Welcome to Chicago" mural located at Milwaukee Avenue; Marilyn Monroe by Jeffrey Zimmerman at 663 N Michigan Avenue; "Greetings From Chicago" by Victor Ving & Lisa Beggs at 2226 N Milwaukee Avenue, and the Moose Bubblegum Bubble by Jacob Watts at 33 E. Congress (South Wall).
If that's not enough to fill your camera roll, head over to the Pilsen neighborhood; there are scores of artsy building murals with fascinating stories behind them.
15- Garfield Park Conservatory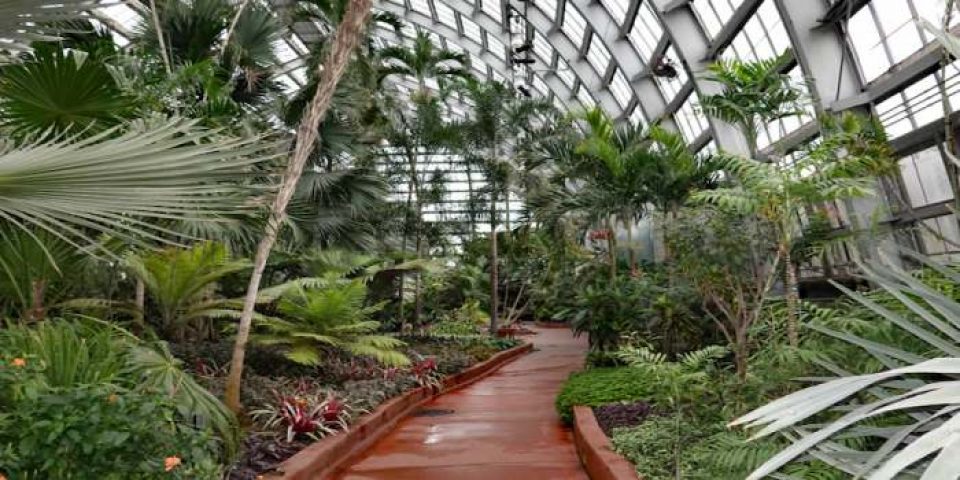 Address: 300 N Central Park Ave, Chicago, IL 60624
Hours + Admission: The conservatory is open 9 am-5 pm Thursday to Tuesday, and 9 am-8 pm on Wednesday. Admission is free, but a donation of $10 is suggested.
For the ardent Instagrammer who loves all things nature, the Garfield Park Conservatory is not to be missed on your trip to Chicago. The 2-acre conservatory under glass is open year-round, while the ten acres of outdoor space is only open during summer months.
The conservatory boasts a wide range of koi-filled ponds, lily pools, the Monet Garden, and lots of flora, including orchids, ferns, palms, and a carnivorous plant bog. If you want to take fantastic photos while learning how to take care of compost, bees, and vegetables in urban plots, venture to the Demonstration Garden.
The Garfield Park Conservatory is located near Fulton Boulevard and Central Park Avenue, about 4 L stops west of West Loop.