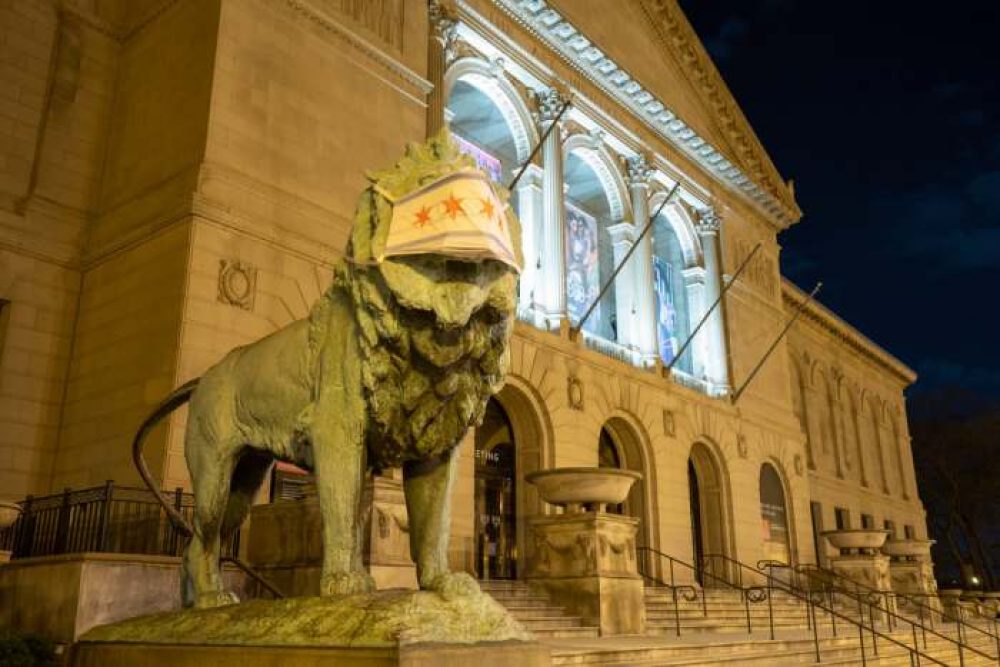 Whether you are a tourist in the Windy City or just a local eager to go out after many months of lockdown, you should know that regulations have relaxed a bit in recent weeks, allowing residents and visitors to go to museums and practice sports, under certain conditions. 
Some much-needed normality to return to the Wind City
All Illinois, including Region 11, which covers Chicago, was under Tier 3, which implies the toughest restrictions, since November 20th of last year. So the news that people might get back at least some normality does not come too soon. Since Monday, January 18th, Chicago was officially moved back to Tier 2 of the Illinois Resurgence Mitigation Plan, because of a change in the metrics the Illinois Department of Public Health has employed to measure the impact of the pandemic. This means that Chicago's cultural institutions (including museums and arts centers) were allowed to reopen, albeit at a reduced capacity, although indoor assemblies of 10 or fewer people will still not be possible. 
Wear your mask and watch your distance, health official advice
Chicago has not met the requirement for staffed hospital bed availability needed to move back to Tier 2 mitigations, but the Illinois Department of Public Health launched a series of healthcare staffing contracts to increase hospital staffing throughout the state. "IDPH and hospital leaders feel confident that metrics can safely move away from utilizing medical/surgical bed limits to move across mitigation tiers, allowing more regions to advance," according to a release. "Hospital leaders have made clear the importance of staffing in their continued response to this pandemic and conveyed that staffing contracts will be extraordinarily valuable in their ability to meet the needs of their communities," said IDPH Director Dr. Ngozi Ezike.  "We are pleased to see most of our regions move out of Tier 3 mitigations with this change, and it is critical that we maintain this progress. With new variants of COVID-19 spreading, it is more important than ever to follow the public health guidance that keeps people safe – wear your mask and watch your distance."
Museums have been cautious and put in place safety measures
As was to be expected, museums and art centers have been cautious, trying to ensure the guests' safety first.  They did not reopen immediately, especially since, unfortunately, the loosening in restrictions came only days after a new variant of COVID-19 (first identified in the United Kingdom) was identified to a Chicago patient. IDPH Director Dr. Ngozi Ezike addressed the issue in a release: "With new variants of COVID-19 spreading, it is more important than ever to follow the public health guidance that keeps people safe—wear your mask and watch your distance."
After announcing that it is monitoring the situation in order to keep all guests safe, the Museum of Contemporary Art will reopen for the public on March 2nd, as stated on the cultural institution's site. There, you can read all regulations to be observed if you will be visiting the museum, and you will be informed about all the steps the museum has been taking to ensure your safety after reopening. 
If you're feeling like you want to soak up a little more culture, especially to enjoy many pieces of artwork, then the Art Institute of Chicago is another possible choice. When you're there, you'll absolutely fall in love with all of the different pieces of art this space contains. The museum has an expansive collection of impressionist and post-impressionist works. You can also try to visit Loyola University Museum of Art, the  Hildt Galleries (located inside the Drake Hotel), the Richard Gray Gallery (located at the John Hancock Tower), and Mongerson Gallery.
Practicing sports or visiting the perfect Instagram photos spots in town 
If you are not such an art aficionado, then maybe you missed getting in shape while practicing some sports.  Indoor sports facilities and fitness centers will also be able to reopen with either a maximum of 25 guests or at 25 percent capacity, whichever is fewer. Indoor fitness classes can also resume, but only 10 people per class will be allowed to participate. 
Mayor Lori Lightfoot has recently said she wants to reopen restaurants and bars, which she feels to be safer than the unrestricted private parties many people are having in their private residences, and has been lobbying the state for a partial reopening of indoor dining in Chicago, but Tier 2 mitigations state restaurants are only allowed to host guests outdoors. If eating in a heated tent or plastic bubble is not your thing, you still have outdoor attractions in Chicago to visit, the ones that make the best Instagram photos. 
If time doesn't allow you to see them all, the Cloud Gate, a brainchild of British-born artist Anish Kapoor, is Chicago's most popular showpiece and should most definitely be on your list. The 110-ton silver sculpture, affectionately known as "the bean", is a picture-perfect Instagram spot in Chicago. The monument's mirrored surface, inspired by a drop of liquid mercury, reflects Chicago's wonderful skyline and the sky, being so picture-perfect that one simply has to photograph it. 
Whether you choose to visit museums, get back in shape or tour the city looking for the best spots to take pictures, Chicago awaits you with its finest attractions that were sorely missed for months.