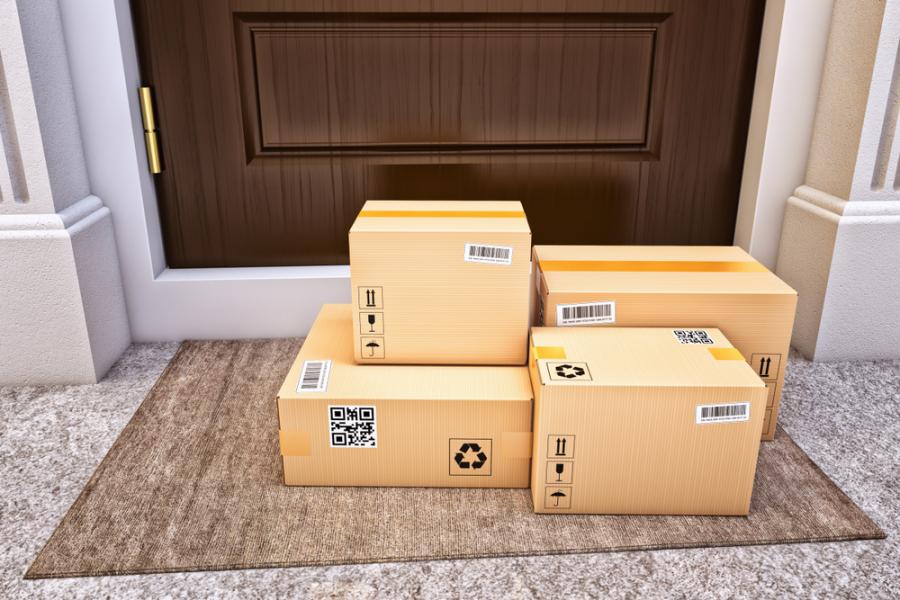 According to a New York Times report, across America, more than 1.7 million packages are estimated to go missing daily, adding up to around $25 million worth of goods. To highlight the extent of the problem, recent research has also revealed that a shocking 12,000 parcels disappear in Chicago alone, every single day.
Whether those parcels are stolen from doorsteps or simply never arrive in the first place, professor Jose Holguin-Veras told CBS2 that the numbers were extremely worrying.
The delivery expert at the Rensselaer Polytechnic Institute said that including the suburbs, the number of stolen packages could amount to a daily figure of 44,000.
Worse still, theft of multiple parcels from one address amounts to just one police report and incident, meaning the actual number of items 'lost' multiplies yet again; add to this the fact that not everyone would even think to report their package thefts to the police, and you start to see the vast scale of this problem.
The professor's numbers were based on national studies and on the small quantity of police data either published or made available against public inquiry. The reality is likely to mean far higher 'lost' package volumes.
CBS spoke to the Shaw family who were hit by a parcel theft just before Christmas. The thief, captured on camera, grabbed three parcels that were waiting on the Shaws' doorstep–including a playset intended for their one-year-old son.
The man was recorded hopping over the family's fence by their installed doorbell camera. He then unlocked the gate, grabbed the packages and made off, a scene growing in familiarity for many online shoppers who have CCTV.
Dad Ryan Shaw said: "It's not real surprising. This is something that could be a crime of opportunity or something that's planned."
The family now lives in Humboldt Park but was also hit by a similar incident at their previous address in Lincoln Park.
Shaw said: "We did not report it to the police department. The reality is there are a lot more serious problems happening around the city and we understand that there's not a lot of time."
They did, however, call the stores where the gifts originated, who re-sent them to the address. The family now has to hope the thieves don't strike yet again.
Professor Holguin-Veras has also conducted a similar report for New York, which makes Chicago's problem look small.
According to the professor, around 90,000 packages are disappearing in NYC every day–an increase of 20% in just four years. In fact, around 15% of all deliveries to urban areas of NYC are failing to reach customers due to theft or deliveries to the wrong address.
It's thought the problem is even worse in suburbs and rural areas; here, especially brazen thieves have even been known to follow delivery trucks around, out of the sight of even the most watchful neighbors.
A recent report by Forbes revealed that 49% of Americans now fear package theft, with 18% knowing a victim of this crime. It added that more shoppers are now resorting to sending personal packages to their workplace or picking them up from the post office.
Further, some 38% of Americans are choosing inconvenient delivery locations just to throw off those with eyes on parcels which aren't theirs, while 27% of Americans accept they have to shop in person to avoid these kinds of delivery hassles and worries. 32% report purposely limiting their online shopping to reduce the chances of such theft occurring.
Hopefully, your favorite gift parcels did arrive on time this year, but if not, there are a number of ways to prevent thefts from happening in the future.
Delivery companies Amazon, FedEx, and UPS have all now launched safe lockers for parcel deliveries, helping out when no one's home. A number of supermarkets, convenience stores, and drugstores have now had these nifty storage units fitted.
To conclude, while theft and missing items are an issue, large numbers of American shoppers are still habitually shopping online. UPS alone delivered 30 million packages over the festive period, hiring more than 100,000 temps to help deliver timely gifts to doorsteps.