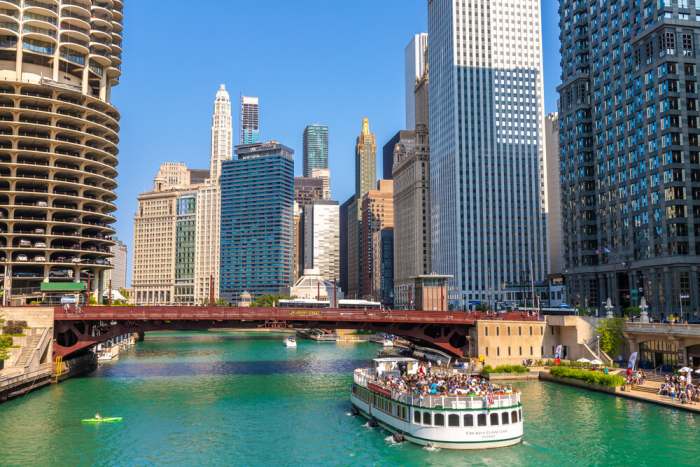 Good news for water lovers in the city and those planning to visit. The Chicago Water Taxi will be back on the River this summer, plans being to reopen late May 2021, for rides using enhanced COVID-19 preventative measures.
Chicagoans get back one of their favorite seasonal transportation options
With summer being just around the corner, people are trying to find options to spend their time outside, especially near to or exactly on the water. Of course, the coronavirus pandemic is still running its course, which makes summer pastimes more difficult. Chicago beaches, for instance, might remain closed this summer, due to the city's efforts to counteract the coronavirus, but this should not mean we can't have any fun on the water this summer. The fact is, luxury fun on the water is absolutely possible during this unprecedented time. 
Chicagoans are one step closer to getting back one of their favorite means of warm seasonal transportation, the water taxi. For commuters and tourists alike, the water taxi will offer trips down the Chicago River starting May 29 for the following lines: Ogilvie/Union (West Loop), Michigan Avenue, Chicago Riverwalk, Goose Island, Chinatown and Chicago Avenue.
People will be able to choose the ticket price that best suits their needs:
$6 for a one-way pass

$10 for an all-day pass

$25 for a 10-ride pass for Monday through Friday; $50 for Saturday and Sunday

$80 for a 31-day commuter pass
For more information on ticketing options and details on validity, you can check the company's site.
Where to have fun on the water in Chicago this summer
Once transportation on the water is taken care of, one must weigh options for more fun and adventures this summer, after being cooped up inside due to the pandemic. 
The Riverwalk is open, and ready to welcome visitors. Whether you live in Chicago, you want to show some good times to out of town friends or you are a tourist in the Windy City this summer, a fun-filled night on the water might be exactly what makes you happy. And if so, Chicago's First Lady Floating Rooftop could be the choice you could have made. The First lady is the biggest and best floating rooftop bar on the river, and it's welcoming guests aboard all summer long. Chicago's First Lady Floating Rooftop is docked at Wacker Drive and Michigan Ave on the Chicago Riverwalk. The 'rooftop' on the First Lady's upper deck offers breathtaking views of the city, paired with a refreshing menu of wines, cocktails, beer, and other beverages.  This stretch of the river was a major trade route as early as the 1600's.  The Chicago River was first engineered as a channel to serve the industry that transformed the city into the major metropolis it is today. Chicago's extraordinary transformation into a world-class city is due, in large part, to its location on the Chicago River and Lake Michigan.
Breathtaking lakefront views, unmatched entertainment, and cool breezes — welcome to Navy Pier, a slice of heaven for tourists and locals alike in Chicago. It's hands down the most sought-after attraction in Chicago and the entire Midwestern region, with a charm that will simply knock your boots off. The allure of Navy Pier lies behind its stunning street views particularly from the high-rising Ferris wheel, as well as humongous boats, splash fountains, extravaganza, great restaurants, art scene, and much more.
Instagram perfect backdrops for photo opportunities
Any and each water attraction we just mentioned up top is a fabulous possibility for those wanting to brighten up their Instagram feed. Chicago has so many Instagrammable landmarks and views, both on land and on or from the water, whether in a water taxi or floating bar. America's 3rd-biggest city has wonderful architectural landmarks, vast green spaces, world-class museums, beautiful parks, and amazing food — you'll definitely be spoilt for choice! Chicagoans and tourists alike love how it perfectly blends the big city's urban feel with a Midwest charm.
If you happen to be in the Windy City or planning to visit soon, we've scoped out all of the hottest Instagram spots in Chicago that you don't want to miss out on your trip. These points are not only stunning in their own right, but also offer the perfect backdrops for your Instagram photos and videos.
Our list of Instagram-worthy spots includes a nice mix of crowd favorites like the Cloud Gate and little-known gems like Lurie Garden. So grab your favorite camera, lens, or selfie stick, and be sure to make a pit-stop at these spots for an impromptu photo op!
For music lovers who cannot wait for those concert selfies to be back, Chicago has hopes to see at least some of its festivals returning this summer. In an interview with iHeartRadio, Perry Farrell, Lollapalooza festival's co-founder, sounded hopeful about a 2021 edition, although the specifics would have to be adapted to the pandemic conditions.
One of the many festivals Chicago usually hosts during summer and early autumn, Lollapalooza hasn't announced potential 2021 dates or a lineup, but festival co-founder Perry Farrell said there's a distinct possibility we could enjoy the event in some capacity this summer.