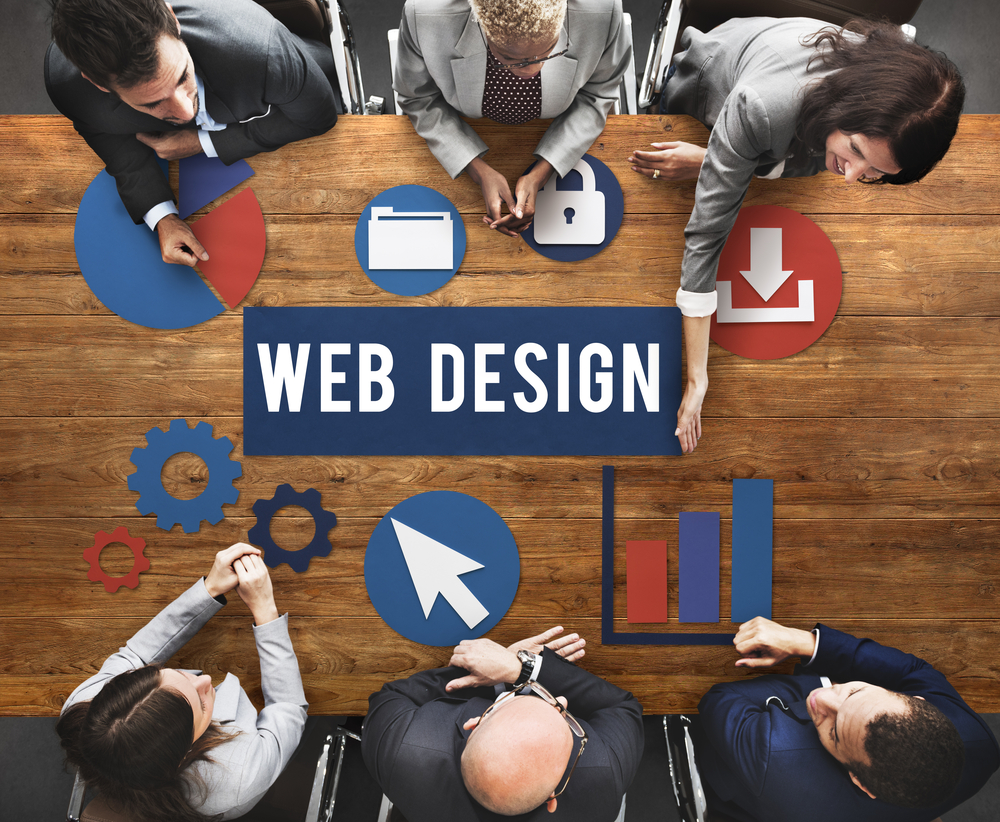 If you're visiting this page, there's a high chance you're a CEO, business owner, or an aspiring entrepreneur looking for a web design company that can meet your needs.
Although you could design or redesign your website yourself, you probably realize that doing so puts you at risk of falling behind your competition. This is especially true when 73% of companies are investing directly in web design to differentiate their brands and are generally rated more highly for doing so.
That's why we've created this list, which gathers thirty of the most innovative and unique web design companies in the city. Many of them are award-winning, and each offers something different, giving you a truly unique experience every time.
Whether you're a small B2B business or a large B2C concern looking for a web design makeover for your international clients, you're guaranteed to find what you're looking for somewhere on this list.
Digital Authority Partners
222 W Merchandise Mart Plaza, Suite 1212, Chicago, IL 60654
Phone: 312-600-5433
Founded: 2015
CEO: Codrin Arsene
Top Clients: Athenahealth, Omron, Dolbi, Fortinet, Kroger, Business Talent Group, American Heart Association
Expertise: UX Web Design, Web Development, Analytics
Digital Authority Partners is a digital strategy and product development agency that has a team ready to help you with all your web design needs.
Their expertise mainly lies in creating purpose-driven websites for the healthcare, fintech and government industries, where they use their vast experience to directly benefit their clients.
The outcome of this is authentic and accessible web designs that maximize the user experience, increase ROI, and eliminate the possibility of an ADA non-compliance lawsuit.
ePageCity
4541 N Ravenswood, Suite 201, Chicago, IL 60640
Phone: 312-730-0230
Founded: 1999
CEO: Leslie J. Sawyer
Top Clients: Atticus Recruiting, 4C for Children, Friedman Properties, Elementum Advisors
Expertise: Web Design, SEO
ePageCity is a digital agency in Chicago that specializes in designing websites for small/medium-sized businesses and non-profit organizations.
In their own words, they are online architects who build innovative solutions for their diverse set of clients, covering many industries and types of services.
These solutions come from their dedication towards aligning your business goals with intuitive, user-friendly designs that can be easily absorbed and enjoyed by your website visitors.
Orbit Media Studios 
4043 North Ravenswood Avenue, Suite 316, Chicago, IL 60613
Phone: 773-348-4581
Founded: 2001
CEO: Andy Crestodina
Top Clients: Vienna Beef, Bottleneck Management Group, Greater Chicago Food Depository, Illinois Science & Technology Coalition
Expertise: Web Design and Development
Orbit Media Studios is a Chicago-based web design company that places no limits on the businesses they collaborate with.
They work with both small and established businesses, having had experience in almost every industry in the almost two-decades since their launch.
The Orbit team themselves is passionate and creative, and it uses these skills to enhance its clients online presence, coming together as a team to create innovative web designs time and again.
They pay close attention to their clients' clients, going one step further than most web design companies to give the best chances of increasing ROI.
Gulo 
4256 North Ravenswood Avenue, Suite 110, Chicago, IL 60613
Phone: 773-276-8066
Founded: 2003
CEO: Zach Wilson
Top Clients: up4 Probiotics, Dunbar Armored, Machine Tools, American Society for Nutrition,
Expertise: Web Design, SEO, Conversion Optimization
If you're looking for a web design company with a brilliant reputation that works with clients across all industries, Gulo is the place to go.
Their specialist design teams are creative, passionate and understand what it takes to create strategic, highly-optimized websites that exceed your business goals.
At the forefront of online business for over 15 years, their main goal is to work with innovative companies to create web ecosystems that exceed your competition.
Logical Media Group
445 West Erie Street, Suite 208, Chicago, IL 60654
Phone: 312-265-0192
Founded: 2003
CEO: Christ O'Neill
Top Clients: CMK Companies, University of Chicago, Vienna Beef, Ram Racing, Hampton Inn
Expertise: SEO, Pay Per Click, Web Design
Logical Media Group is a web design company with a team that focuses on delivering results with creative initiatives.
Like you, they want your website to clearly communicate your message and purpose, converting your traffic into clients on their first visit.
They work with companies across many different industries and use a process that is kept simple and collaborative, allowing you to stay in the loop every step of the way.
ArtVersion
10 South LaSalle Street, 2nd Floor, Chicago, IL 60603
Phone: 312-690-7000
Founded: 1999
CEO: Goran Paunovic
Top Clients: Volvo, Mack Trucks, TransUnion, Federal Reserve Bank, Rush University, Shell
Expertise: UX Web Design, Branding
ArtVersion is a team of creative strategists and visual storytellers who have supported both Fortune 500 companies and notable start-ups for their web design needs.
They pride themselves on creating highly collaborative projects which allow their team to fully understand your business goals and use them during every step of the design process.
Driven by skill, the result is always a cohesive digital masterpiece that will increase your conversions and create a better online image for your business every time.
Bright Bright Great
4131 West Belmont Avenue, Suite D, Chicago, IL 60641
Phone: 773-647-1034
Founded: 2007
CEO: Jason Schwartz
Top Clients: Nike, American Institute of Graphic Arts, Crayola, McDonald's, Cards Against Humanity
Expertise: Web Design, Digital Strategy, Social Media Marketing
If you're looking for a business with an intelligent team that can create web designs that solve problems and improve your visitors' experiences, Bright Bright Great can do just that.
They pride themselves on their forward-thinking digital interactions and collaborative approach, which allows them to understand your business goals from the start.
With outstanding visuals from their creative team and cutting-edge technology from the technical side, the outcome is worth investing in.
Solid Digital LLC 
100 North LaSalle Street, Suite 1400, Chicago, IL 60602
Phone: 877-899-9981
Founded: 2007
CEO: Jesse McCabe
Top Clients: Hilton Worldwide, Ajinomoto, Embassy Suites, DoubleTree
Expertise: Web Design, Branding
Solid Digital LLC is a web design company that helps businesses achieve digital growth through award-winning website design and overall branding.
Through the use of consistent designs and their deep dive into your business goals, this company has successfully worked with thousands of clients and has received many glowing reviews.
This is mostly down to the team itself, who are passionate about what they do and extremely driven by the company's values.
Wojo Design
318 W Adams Street, Suite 1609, Chicago, IL 60606
Phone: 312-685-1542
Founded: 2004
CEO: Kyle Deming
Top Clients: Iron Galaxy Studios, Alliant Credit Union, Blue Federal Credit Union, ESPN Rise
Expertise: Web Design and Development
The creative team at Wojo Design is passionate and extremely dedicated to every client they collaborate with, working tirelessly to help you dominate your online space.
Like many web design companies, they work with all sizes of businesses across different industries, from print on demand to established bank and credit unions.
Their expertise lies with creating web designs that appeal to younger, millennial audiences, which directly influences ROI and overall conversion rates.
Duo Consulting
641 West Lake Street, Suite 301, Chicago, IL 60661
Phone: 312-529-3000
Founded: 1999
CEO: Michael Silverman
Top Clients: Chicago Botanic Garden, Verizon, Bosch, Cook County, Loyola Medicine
Expertise: Web Design and Development
Duo Consulting takes an inventive and strategic approach to website design and development to drive measurable results for its clients.
With a hands-on team of highly skilled digital experts, they will handle your project from start to finish to create long-lasting relationships and an efficient, consultative and collaborative process.
In the web design business for two decades, they have established themselves as frontrunners across many industries by businesses of all sizes.
Comrade Web Agency
770 North Halsted Street, Suite 106, Chicago, IL 60642
Phone: 312-419-7065
Founded: 2007
CEO: Ivan Vislavskiy
Top Clients: Europa Eyewear, Hoopis Group, 3Red, Precision Stone Design
Expertise: SEO, Web Design
For a Chicago-based web design company that excels at enticing younger audiences, Comrade Web Agency is a perfect choice.
Their team consists of young experts who mix their skillful knowledge of design with their practical understanding of younger generations to create a winning website design.
They work with businesses of all sizes and in all industries, and truly believe that their designs have what it takes to be contenders in the competition with corporate, national stores.
UnitOneNine 
650 West Lake Street, Suite 410, Chicago, IL 60661
Phone: 312-970-0019
Founded: 2004
CEO: Lee S.
Top Clients: Layton Construction, LaSalle Investment Management, JLL, Jim Beam
Expertise: UX Web Design
UnitOneNine is a company that helps brands to express themselves by providing creative direction in their web design products.
With your customers and business goals at the forefront of their minds, they collaborate with you to put your plan into action.
The outcome of this is a business that can operate better, smarter looking websites than those they had previously.
It also provides you with the reassurance that your customers will get the best possible experience when visiting your website over your competitors.
Doejo 
444 North Wabash Street, Chicago, IL 60611
Phone: 312-888-6473
Founded: 2008
CEO: Philip Tadros
Top Clients: Pandora, Wilson, Groupon, Tribune Media
Expertise: Web Design and Development
Every project that takes place at Doejo is guided by a team of experts who believe in collaboration, momentum and the best practices in the industry.
The team shares a unique partnership with its clients, and develops an in-depth understanding of your business that is the key to creating a successful website design that turns traffic into clients.
Since its launch, this award-winning design and development company has delivered hundreds of successful products and has proven so consultative and create that it's received the Best Digital Agency award.
Nipa Pro 
5039 North Springfield Avenue, Chicago, IL 60625-6194
Phone: 317-966-8979
Founded: 2009
CEO: Niko Papa
Top Clients: YOUTHIT, Wooden Dermatology, Chicago International Dance Embassy, Dena Vie
Expertise: Web Design
Nipa Pro is a small web design company with a team that believes that collaboration is the way to succeed in the digital industry.
Their allocation process is truly individual, with your website design handled by whoever knows your industry best, ensuring a great end product every time.
Being able to dedicate so much individual time to your project also allows them to offer you personalized service, which includes guiding you through and explaining every step of the process.
a5 Branding and Digital 
1 North LaSalle Street, 47th Floor, Chicago, IL 60602
Phone: 312-706-2525
Founded: 2001
CEO: John Harris
Top Clients: Chicago's Children's Museum, Chicago Park District, Visit Oak Park, Field Museum
Expertise: Branding, Web Design
If you're a brand looking for a no-nonsense website design from people who can deliver it clearly and concisely, the team at a5 Branding and Digital is your best shot.
Their expertise starts from local organizations and extends out to engineering firms, fintech services, healthcare and non-profits that are located in Chicago and throughout the country.
With so much expertise from their team members when it comes to the design principles of each industry, you're sure to walk away with a final project you're happy with.
Click5 Interactive
444 North Wabash Street, Suite 500, Chicago, IL 60611
Phone: 312-880-7755
Founded: 2012
CEO: Piotr Bieszk
Top Clients: Volvo Certified Trucks, Chicago Ornamental Iron, Peer Health Exchange, Parkland Memory Care
Expertise: Web Design and Development
Click5 Interactive is a growing team of creative technologists who specialize in creating unique websites tailored to meet the needs of your business.
Their current client base includes every size of business from local start-ups to internationally recognized businesses. They also have a lot of experience with helping a business move from start-up to established.
Regardless of your business' size, their team will work with you to create a website design that will put your customers first and give your business a digital makeover.
Mabbly
116 West Hubbard Street, Chicago, IL 60654
Phone: 312-448-7473
Founded: 2013
CEO: Hank Ostholthoff
Top Clients: Limitless Coffee & Tea, Microsoft, Zeno Group, Crane USA, National Van Lines
Expertise: Web Design
Mabbly is a transformative web design company that combines both technical and creative talents to create a modern experience that puts their clients' needs first.
By combining design elements with data insights like user behavior, they can create websites that increase conversions and your ROI.
Using technical data as a guiding force as they design your website will help them create a digital presence that will transform your business.
PUREi 
150 North Michigan Avenue, Chicago, IL 60601
Phone: 312-469-0457
Founded: 2000
CEO: Len Davis
Top Clients: Seattle's Best Coffee, Aquaspace, Kane County Bar Association, Prep Baseball Report
Expertise: Web Design
PUREi is an award-winning web design company in Chicago known for creating responsive web designs that engage visitors and are clearly and easily navigated.
They also work with you to make sure they are clearly communicating your brand message throughout the design process, and that your expectations in design and utility are addressed throughout the process.
Their expertise mainly lies in e-commerce stores, but they have worked with clients from many different industries to create top quality websites.
Cre8
833 West Chicago Avenue, Chicago, IL 60642
Phone: 312-315-3335
Founded: 2001
CEO: Julie Woertz
Top Clients: AIA Chicago, IASG, NADEX, NH&RA
Expertise: Web Design and Development
Cre8 is a web design company whose focus revolves around inspiring your potential clients with creative website design.
Their process involves collaborating with you to understand your business ethos and ambitions, and then using this information to shape the outcome of your website design.
In addition to working with businesses from various industries here in Chicago, they also offer their services on an international level and have had hundreds of happy clients to date.
Ice Nine Online 
444 West Lake Street, Suite 1700, Chicago, IL 60606
Phone: 773-980-9274
Founded: 2014
CEO: Matt Chiera
Top Clients: The Great Escape, Gibraltar Business Capital, Forsythe Technology, VinTech Security Systems
Expertise: Web Design and Development
If you're a small or mid-sized business who knows very little about the digital side of owning a business, Ice Nine Online can help.
Their process starts by doing an in-depth analysis of your customers' behavior so they can shape your website design around what resonates with them the most.
They use this information to create a modern and mobile-friendly WordPress business website that's easy to navigate for your employees as well as your customers.
Two by Four 
10 North Dearborn Street, Suite 1000, Chicago, IL 60602
Phone: 312-382-0100
Founded: 1998
CEO: David Stevenson
Top Clients: Zebra Technologies, Original Joe's, Navy Pier, Smart Choice MRI, Grainger
Expertise: Web Design and Development
Two by Four is a collective team of creative and strategic members who focus on creating long-term business relationships and turning your ideas into a reality.
Their casual, fun-loving nature allows them to be choosey when it comes to their clients, who tend to be smart businesses who bring the most creative of ideas to the table.
Data-driven by nature, they look to solve your website design issues as innovatively as possible to help you overcome your competition and grow your business.
Millennial Web Development 
329 West 18th Street, Unit 413, Chicago, IL 60616
Phone: 773-789-7558
Founded: 2014
CEO: Jim Clement
Top Clients: Limebike, Newswire, Spokeo, Chicago Sun-Times, Einsurance
Expertise: Web Design and Development
Relatively new, Millennial Web Development was created to offer website design services for businesses that want to appeal to young audiences.
They are experts at keeping up with the latest trends and simplifying technology and design techniques so that they can be understood by their customers at all times.
This unique way of working has led to a number of successful, responsive websites across many different industries, from local tech start-ups to internationally recognized businesses.
Lunar Media 
1200 West 35th Street, Chicago, IL 60609
Phone: 312-331-0453
Founded: 1996
CEO: Gina Hutchings
Top Clients: Garfield Park Conservatory, Bridgeport Art Center, Friends of the Chicago River, Cake Chicago
Expertise: Web Design and Development
Offering big agency designs for small company budgets, Lunar Media is the perfect option for start-up businesses or those with little exposure to the digital world.
They've been offering their skills for over 20 years and have expertise and experience that far exceeds their price point.
From start to finish, they will manage your website and create an eye-catching outcome that highlights customer experiences and increases conversions.
iSimplifyMe
1150 North Hoyne, Chicago, IL 60622
Phone: 310-270-5865
Founded: 2011
CEO: Joe Elstner
Top Clients: Evolve Advanced Cosmetic Medicine, Bartco Lighting, Casa Bonita, Stone City
Expertise: Web Design and Development, Branding
iSimplifyMe has gone back to basics and created a web design agency that embraces personalized relationships and collaborative efforts throughout.
The team is incredibly knowledgeable and creative and works hard to ensure they stay up to date with the latest trends to prevent your website from being outdated.
This company will also maintain partnerships with you on a long-term basis to provide regular updates to your design or further support your digital initiatives.
Rizk Ad 
1608 South Ashland Avenue, Suite 57651, Chicago, IL 60608
Phone: 708-357-1717
Founded: 2007
CEO: Rob Rizk
Top Clients: Desert Moon, Matty's Restaurant, Elite Mobile, Odeh Law, Benivex Pharmacy
Expertise: Local SEO, Web Design
Rizk Ad is a small company perfect for those looking to primarily target customers in the Chicago area and those that surround it.
Regardless of your industry, they take the time to thoroughly analyze your business to work out the right design methods for your target audience.
Always consultative and collaborative with clients, they will create a high-quality website design that will bring you results from the get-go.
Digital Kitchen
314 West Superior Street, Suite 601, Chicago, IL 60654
Phone: 312-944-3999
Founded: 1995
CEO: Dennis Ryan
Top Clients: Alta Forest Products, AMC, Deschutes Brewery, HBO, Microsoft
Expertise: Web Design
Digital Kitchen is a company that takes a unique approach to web design by incorporating rich brand storytelling and experiential design.
They also often incorporate film and video into their web design, which has scored them collaborations with some of the biggest US networks including HBO and AMC.
Regardless of your requirements, however, they will transform your business by creating immersive narratives that connect with your audience and increase conversions.
Lipman Hearne
200 South Michigan Avenue, Chicago, IL 60604
Phone: 312-356-8000
Founded: 1988
CEO: Minesh Parikh
Top Clients: Northern Arizona University, Moving Faith Forward, SIU, American College of Chest Physicians
Expertise: Web Design
If you are a non-profit organization in Chicago, there is no better choice than Lipman Hearne.
They are the nation's leading digital company for non-profits and have worked with some of the biggest international foundations since their launch over thirty years ago. They also work with research universities and medical institutions.
With a deep understanding of website design, they help bring these non-profit organizations into the digital world, directly contributing to their clients' branding, recognition, and longevity.
ParadigmNEXT 
116 West Hubbarb Street, Suite 4, Chicago, IL 60654
Phone: 847-780-6398
Founded: 2011
CEO: Yana Nirshberg
Top Clients: Susan G. Komen Chicago, Haus Mortgage, ZenFi, Greenridge, Channel IQ
Expertise: Web Design, Digital Strategy
ParadigmNEXT works with some of the biggest businesses directly and through their nominated agencies to create outstanding website designs.
They also have deep-rooted connections with the Chicago tech startup industry, which has led to relationships with many of the community's entrepreneurs.
When it comes to designing your website in particular, their team looks at your brand through the lens of your customer to identify the best way to tell your story.
They then implement changes that create a user experience perfect for your target audience, increasing conversions and general brand awareness.
Gyro 
410 North Michigan Avenue, Chicago, IL 60611
Phone: 312-595-0203
Founded: 1981
CEO: Christoph Becker
Top Clients: Google, Aflac, eBay, HP, Ameritrade,
Expertise: Web Design, Digital Strategy
When they launched back in the early 1980s, Gyro was the first full-service global creative B2B powerhouse and continues to be a frontrunner to this day.
Their ethos is also something that has been there from the start, with their 700-strong team working to create humanly relevant ideas.
They use information directly related to your industry and their knowledge about website design to create an innovative design that is sure to overpower any competition.
Bounteous 
4115 North Ravenswood Avenue, Suite 101, Chicago, IL 60613
Phone: 773-296-2600
Founded: 2003
CEO: Keith Schwartz
Top Clients: PBS, Enterprise Bank & Trust, KQED, Caesars Entertainment, Harvard Extension School
Expertise: Web Design
Bounteous is a dedicated web design agency that believes that the best digital experiences occur due to a foundation of data, insights, and interactions.
These are the values they use when collaborating with clients to understand their business needs, embracing user experience and combining this to create a masterpiece.
Their dedication and knowledgeable team have allowed them to collaborate with some of the biggest clients in the world, supporting their growth into the digital world.
Interested in other digital agencies in Chicago? Check out our top list of firms in the following industries: