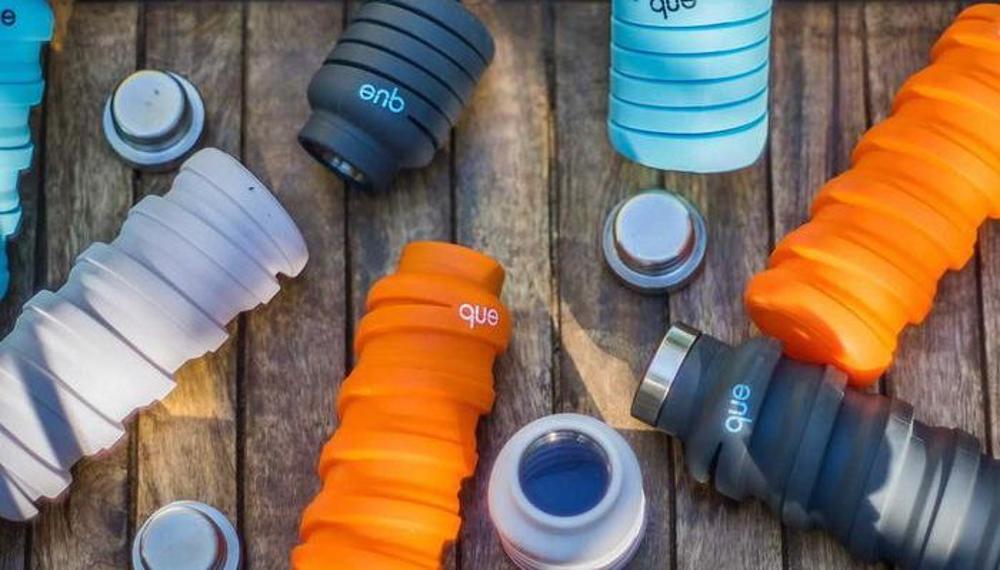 In a time when we're all trying to do our bit to help save the environment, many of us have been on the search for the perfect collapsible water bottle. A huge 38 million plastic water bottles go into landfills each year in America alone, with the average person going through 167 annually. Crazy, right?
The good news is that there's now a whole range of fantastic bottles on the market to suit everyone's taste and to help the planet to cut down on plastic just that little bit more. Not only will you be able to stay hydrated on the go, but you're likely to save up to $260 a year by making the switch.
Considering all the benefits for the planet as well as your pockets, it's pretty much a no-brainer to purchase a reusable bottle. Here we've picked the very best bottles that will store away easily and are super durable, so they're completely equipped for whatever life throws at you.
#1 Nefeeko Collapsible Water Bottle
Amazon
For the colorful character
If you're one to always lose your bottle or you have kids who would appreciate something a little fun, then why not go for Nekeeko's bright orange bottle? This lightweight bottle can be folded from 9.8 inches down to 5.5 and is made from non-slip BPA-free silicone, making it fantastic for running enthusiasts. This Nefeeko product is suitable for water or drinks from -40°F (-40°C) all the way to 446°F (230°C), so you can fill it with tea in the morning and water in the afternoon. Basically, whoever you are and whatever your hobbies, you'll find that this bottle will come into great use. There are also three other stylish colors to choose from to fit your personality.
Pros
Freezable and heat resistant
Ergonomic easy-grip design
Easy to carry with portable carabiner
Downsides
The bottle may smell like rubber upon arrival- soak in hot water with lemon for two hours before first use.
#2 Platypus Collapsible Water Bottle
Amazon
For the light packer
If you're looking for a bottle that folds away just that little bit further than the rest, then the multi-function collapsible water bottles from Tap will be right up your street. Tap bottles weigh in at less than the usual smartphone at just 33 grams and can be folded away into your pocket or bag until you want to fill it up again. These pouches are also freezable and can hold water up to 203F/95C. Unlike other bottles, reviewers mention that these bottles do not harbor strange smells and are antibacterial – great for those who tend to forget to wash their bottles every now and again!
Pros
Antibacterial
Foldable
Great for freezing in the summer months
Cons
The bottle may be a little hard to handle when filling with hot beverages
#3 mountop Collapsible Silicone Water Bottle
Amazon
For the hiker
This bottle can sustain the most heat we've seen from any of the best collapsible water bottles on this list – all the way from -50C to 200C – making it great for hikers. It can hold up to 20 ounces of water, can be folded to slot right into your pocket, and is super durable. The mountop bottle is also completely leak-proof with a rotatable cap. The company describes its bottle as 'the perfect compromise between utility and convenience' and we think they've got it down to a tee. Oh, and did we mention it comes in five great colors to choose from?
Pros
Sustains really high and low temperatures
Leak-proof
Foldable and rollable
Downsides
Has a small opening – could be difficult for some to drink from.
#4 E-Senior Collapsible Foldable Water Bottle
Amazon
For the minimalist
We love how simple this bottle is – it does the job and it does it well. The E-Senior collapsible foldable water bottle works for camping, hiking, travel, exercise, and road trips without leaking or making your water taste a little strange. It's also completely foldable meaning it packs away super small. The rotatable cap design allows the user to securely keep water, juice, and even milk with no worries of leakages. Every Senior bottle is made of 100% food-grade silicone and is free of BPA and other harmful chemicals. The bottle can hold 20 ounces of fluid and weighs just 0.23lbs.
Pros
Simple design
Extra secure
Completely foldable and rollable
Downsides
Only a small selection of colors available
#5 Platypus SoftBottles with Closure Cap
Amazon
For the bargain hunter
For those looking to test the collapsible water bottle market with an affordable product, look no further than SoftBottles from Platypus. These super lightweight bottles with a screw top come in 8 great designs and are a great introduction product to the world of reusable plastics. Every bottle is BPA-free, BPS-free, and phthalate-free and made from food-grade polyethylene which doesn't taste like plastic or retain odors. This bottle is also compatible with all of the brand's other caps and drink tubes and is available in two sizes: 1 liter and 0.5 liters.
Pros
Affordable
Great for newbies
Works with other Platypus products
Downsides
Polyethylene is a plastic so every buyer is still supporting plastic use.
#6 Tomnk 9pcs Collapsible Water Bottle
Amazon
For the whole family
Taking the family hiking? This nine-piece set from Tomnk is perfect for anyone looking to outfit the whole family with reusable bottles without breaking the bank. This super-affordable set with plenty of fun colors to choose from also comes with waterproof label stickers, so there will never be any arguments about which belongs to whom. Each holds up to 16oz of water, perfect for little hands. Each of the collapsible water bottles also comes with a metal clip to make carrying easy and a protective cap to provide a leak-proof seal. Simply air dry, flatten, and roll to store in between uses.
Pros
Affordable
Kits out the whole family
Comes with waterproof stickers for labeling
Downsides
Not as durable as other bottles.
#7 Hydrapak Stash
Amazon
For the festival-goer
If you're into music festivals, chances are you're always on the search for a lightweight reusable water bottle to keep you hydrated throughout the day. Look no further! This bottle from Hydrapak is 50% lighter than most hard bottles and is made of abrasive-resistant TPU, meaning it will take whatever you throw at it. The bottle is also 100% BAP and PVC free with no strange taste and no unnecessary or harmful chemicals. If you experience any problems with the product, Hydrapak will repair or replace it for free to keep your adventures going.
Pros
Lightweight
Made of abrasive resistant material
Repair or replacement guarantee
Downsides
Made of flexible material, so may need both hands to drink
#8 Anntrue Collapsible Water Bottle 18oz
Amazon
The best bottle overall
This product from Anntrue is easily one of the very best collapsible water bottles on the market right now thanks to its sturdy design and eco-friendly build. The bottle can reserve 550ml of water weighing in at only 197g and can be folded down to just 4.9 inches in height. It's also made of BPA-free food-grade platinum silicone and is completely leak-proof and easy to clean.
Perfect for travel and sports, this shatter-proof, flexible and durable bottle can be easily stored inside any bag or hooked onto any backpack with its own alloy carabiner. Whether you're into the gym, traveling, running, camping, or climbing – this bottle is sure to fit your every need and will never let you down.
Pros
Collapses to half of its full height
Easy to clean
Wide design making it easy to add fruits
Downside
This bottle is rated 4.5 stars on Amazon; there's no reason we can think of for not having 5 stars!
#9 Semetor Collapsible Foldable Water Bottle
Amazon
For the sports lover
This super stylish bottle folds down to just 1.57 inches making it perfect to store in your pocket after a gym session, bike ride or a long run. The Semetor collapsible water bottle is made of food-grade silicone and is BPA-free. It comes with an air-tight lid that stops the bottle from leaking even when it's full and comes with a metal buckle to attach to any rucksack or gym bag, making transportation super easy. The unusual hourglass shape of this bottle makes it really easy to hold and drink from without dropping. Reviewers particularly love that unlike some of the best collapsible water bottles, this one is dishwasher safe and is made of very sturdy material to last longer.
Pros
Sturdy
Fun and functional shape
Dishwasher safe
Downsides
The lid is made out of plastic-most silicone bottles use metal caps
#10 Nefeeko 770ml/26oz Collapsible Water Bottle
Amazon
For the inbetweeners
While 550ml may not be enough to last a 10k run, 1 liter can be way too heavy to carry. So, when we came across this 770ml/26oz bottle from Nefeeko, we knew it had to make the list. Its twist cap design is very secure and comes with a food-grade silicone seal ring in the cap. The wide-neck detachable design makes the bottle easy to clean or to add ice or lemon to the contents. The bottle can be reduced by 50% when empty and can be easily adjusted to meet the needs of the user. The company also promises no bad odors or tastes from this bottle.
Pros
Perfect 770ml/26oz capacity
Wide-neck detachable design
Odor and taste-less
Downsides
Nothing to report yet from this 5-star rated bottle.
#11 Special Made Collapsible Water Bottle
Amazon
For those who want to do that little bit extra for the world
This bottle stood out so much to us because it gives back to the world. Similar to Kool8 listed on Cool Things Chicago's list of the 10 best water bottles, Baiji gives a portion of its profits to dolphin rescue and protection organizations. In fact, the bottles themselves are named after the baiji dolphin which was declared functionally extinct back in 2007. Now, the company tries to help dolphins of all species to live on for longer. Of course, this water bottle still has all of the great features of others on this list: it's rollable and foldable, comes with a metal carabiner, and is odor resistant.
Pros
Bottle collapses to fit the palm of your hand
Large opening for easy filling
Company invested in charitable giving and environmental conservation
Downsides
#12 HYDAWAY Hydration Travel Pack
Amazon
For those who'd like a carry case
While most collapsible water bottles come in a simple pouch design, Hydaway has surprised us with its easy to use flip-up straw and carry handle to make using a reusable bottle even simpler. This product can hold up to 17 ounces and can be collapsed to just over an inch thick for easy storage. All Hydaway bottles are watertight, collapsible, BPA-free, taste and odor-free and dishwasher safe. The carry clip that comes with the product attaches to both the bottle and case. Reviewers like the removable silicone ring under the lid which prevents spillages and the smooth flow of water out of the spout.
Pros
Flip-up straw and carry case
Odor-free
Watertight
Downsides
There isn't much people dislike about this bottle – other than wishing it was bigger!
#13 Valourgo 35 oz Collapsible Water Bottle
Amazon
For the pro
This 35oz bottle is perfect if you want the option to carry a lot of water while saving space in your bag. This sophisticated design has a trusted lock-safe bottle cap that prevents leakages and makes the bottle comfortable to use. It's also made from super soft food-grade silicone that is BPA-free and shatterproof. We also love that if you order a bottle and aren't happy with it, Valourgo's customer service team will send you a refund or replace the product without the hassle of returns. Reviewers love how the bottle can be pumped with air for easy filling at just the simple touch of a button on the lid.
Pros
Large capacity
Easy and fast replacement/refund policy
Lock-safe cap
Downsides
Prone to sweating when cold water is added
#14 ONTA BPA Free Collapsible Silicone Water Bottle
Amazon
For the sporty one
This bottle from ONTA features a multi-layer leak-proof design that is sure to never cause an accident, even when squeezed. Made from thickened silicone, this bottle is definitely robust and up to any activity you want to throw at it, whether that's cycling, camping, hiking, or running. The bottleneck is ultrasonically welded, tightly connected, sealed and leak-proof. When empty, the bottle will shrink down to half its size to make for easy storage and portability and ready to be refilled. The body has a wide mouth to make for easy filling and drinking.
Pros
Made from thickened silicone
Wide mouth
Shrinks to half its size
Downsides
Heavier than others due to its strong material
#15 Joie Collapsible Water Bottle
Amazon
For the convenience seeker
Many of us are constantly on the search for purchases that will make our lives just that little bit easier, and this is one of them. This sports bottle from Joie Collapsible Water Bottle is one of the best collapsible water bottles out there while also coming with a durable carabiner and cleaning sponge gift. It can be folded from 9.8 inches down to just  5.5 inches and has a leak-proof screw cap which ensures a secure and tight sealing. The bottle's shatter-proof silicon body prevents injury when on the go as it will move with you.
Pros
Comes with cleaning sponge gift
Moves with the user
Made with a leak-proof screw cap
Downsides
#16 Nomader Collapsible Foldable Water Bottle
Amazon
For the big drinker
For many of us, a 17oz bottle simply isn't enough – so when we came across the Nomader 22oz bottle we knew we'd love it. This eco-friendly water bottle will make sure you stay as hydrated as possible throughout the day but can be squashed down to just 2.9 x 4.9 inches when you need a little more space in your bag. The automatic push button with an anti-leak silicone cap means the user can continue to enjoy the bottle even throughout the most strenuous activities, without worrying about leakages. This bottle is also much sturdier than its pouch-like alternatives.
Pros
Large capacity
Super sturdy
Anti-leak silicone cap
Downsides
The bottle gets dirty quickly
#17 Valourgo Collapsible Water Bottle
Amazon
For the hiker
As far as collapsible water bottles go, this one is loved by hikers worldwide for its top material and odor removal system. The Valourgo bottle is super lightweight, weighing in at just 211 grams when filled to its 550 ml capacity. The stretched-out bottle height is 10.1 inches, but when compressed it can shrink down to just 5.5 inches. This product is a little different from the rest as it has been specifically designed with a firm bottom to ensure it never falls over when full. It's also the only set in the market that comes with one hook with lock and one cleaning brush for super easy use. If you're looking for a stainless steel hiking bottle, however, check out Cool Things Chicago's list of the best in 2019 here.
Pros
Comes with a lock and cleaning brush set
Loved by hikers
Has a solid bottom which makes it easy to stand
Downsides
This product is loved on Amazon and is yet to receive any bad reviews!
#18 BEAUTAIL Collapsible Water Bottle
Amazon
For the adventurer
While flimsier silicone bottles may end up with holes and tears which render them completely useless, the collapsible water bottles made by Special Made are designed for adventurers who love the great outdoors. Made from flexible, shatterproof silicone, this bottle is sure not to split and will keep the user plenty hydrated with its 20oz capacity. This product also eliminates leaks and spills with its patented and sealing flip cap, which doubles as a hygienic spout cover to keep germs off your mouthpiece. It's also dishwasher safe, can handle both hot and cold drinks, and has a wide mouth to make refilling super easy.
Pros
Durable
Can handle both hot and cold drinks
It has a wide mouth for the addition of ice or fruits to water.
Downsides
Some reviewers wish the bottle had a larger capacity.
#19 Farielyn-X Premium Collapsible Water Bottle – 2 Pack
Amazon
For the dream team
Faryelyn-X, a veteran-owned and operated company, is known for making the very best collapsible water bottles. This set of two folding, compact travel water bottles are perfect for sporting dream teams out there. Made to hold 19 oz each, these bottles are super lightweight, easy to keep clean and odor-free, and completely leak-proof thanks to their double seal. Farielyn-X bottles are both suitable for freezing and holding hot liquids and will fit into any standard cup holder, backpack pocket or bike bottle cage. The company also offers a 100% money-back guarantee to anyone who is unsatisfied. A portion of the profits from every bottle sold is donated to organizations that support veterans.
Pros
Donates to veteran charities
Will fit into standard cup holders and bike cages
100% money-back guarantee
Downsides
Nothing to mention so far.
You Might Also Like: