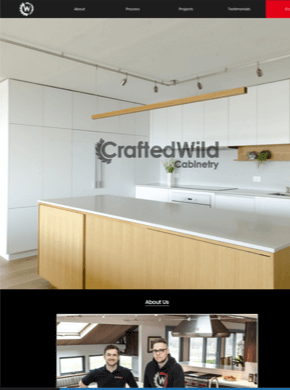 Contact for Consultation: (815) 290-9453
Highlights:
This company is all about its workers; the pride in its high-end custom kitchen and bathroom cabinets is clear, but it really makes clear that the business is especially great because of its personnel.
Product operations are led by Kornel, a third-generation wood craftsman, while Kyle ensures that you have the best service possible, pulling from over a decade of operations, sales, and customer experience.
CraftedWild has a personalized, small-business feel.
They specialize in high-end modern and contemporary custom cabinet designs in Chicago, with a sleek, beautiful result.
Review:
CraftedWild is screened & approved by HomeAdvisor and has been awarded the "Best of Houzz" for the past three years because of its great record of customer satisfaction. With years of experience in customer service and wood craftsmanship, founders Kyle and Kournel strive to give you the most personalized, high-quality experience possible when they produce custom cabinets in Chicago.
Their specialty is high-end modern and contemporary custom cabinets. While they want to push boundaries for more innovative and beautiful designs, you are always in control, and your satisfaction their priority.
To get started, schedule a consultation where they will measure your space, talk about your ideas and preferences, and answer any questions that you may have about the process. Based on your discussion, the designer will create a rendering of your space with the custom cabinets visualized and give you a proposal. Then, they can start production to build your cabinets from scratch. Delivery and installation are included in the process.
Reviews on Google for CraftedWild are great. Not only are they very positive but the business goes out of its way to respond to nearly every single one. This is a great example of the personalized attention you will get with this business. Reviewers are consistently complimenting the team for how easy it is to work with them. In addition, the attention to detail and attentiveness to customer needs makes CraftedWild stand out from the competition for custom cabinets in Chicago.
Find out more about CraftedWild on their website here.