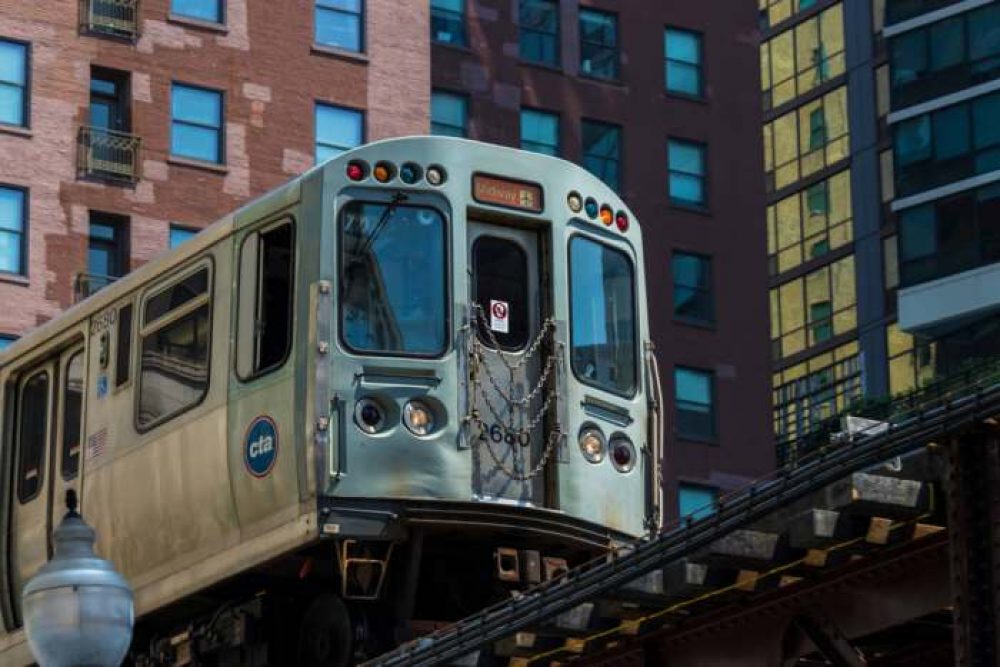 Although everybody in Chicago knows waiting half an hour for a packed train during rush hour is no joke, people still think the Chicago Transit Authority is still one of the best public transport systems in the world, or at least this was the result of a survey conducted by Time Out. 
How easy is it to use public transport in our city?
According to the survey's findings, the CTA came in 17th place among all public transport systems from around the globe. More than 20,000 riders in over 50 cities were asked the simple question: "Is it easy to get around your city by public transport?" Here in Chicago, 82 percent of locals had positive things to say about our rail-and-bus network. 
With eight train lines and 129 bus routes, the CTA connects all parts of Chicago's North, West and South Sides, and helps folks easily get to the many beautiful landmarks and new things to do in the city in 2023 and amazing budget friendly attractions. It's one of only three North American systems to make the list, coming in behind New York at No. 15 and Montreal at No. 16. 
Taking the top spot on the rankings is Berlin, with 97 percent of commuters giving the transport network a thumbs up. It's followed by Prague and Tokyo, which also reported more than 90 percent satisfaction. All in all, at least four out of five locals had mostly good experiences with public transportation.
Chicago is the capital of Illinois and attracts thousands of new residents each year, many of them choosing to settle in the suburbs surrounding the Windy City. The city covers more than 10,856 square miles and has a population of over 9.5 million in just the metropolitan area. This makes Chicago the third-largest and most populous place in the United States. 
Known collectively as Chicagoland, the suburbs that surround the city do not have clear definitions. For example, many view the suburbs as including parts of Indiana, Wisconsin, Iowa, and Michigan as part of Chicagoland. Some smaller towns and cities are located within proximity of Chicago which are great places to live.
But, evidently, living in the suburbs means commuting, and doing so in the car can sometimes become tedious, especially when expressway construction is underway. So, keep in mind, next time when you are waiting for the train to commute to and from work: Chicago actually has a pretty good transportation system, or at least so the people using it the most say. 
History, facts and numbers around CTA
The Chicago Transit Authority (CTA) operates the nation's second largest public transportation system. On an average weekday, 1.6 million rides are taken on CTA. The CTA is a regional transit system that serves 35 suburbs, in addition to the City of Chicago, and provides 81 percent of the public transit trips in the six-county Chicago metropolitan area either with direct service or connecting service to Metra and Pace.
CTA has 1,864 buses operating 129 routes and 1,536 route miles. Buses make about 19,237 trips a day and serve 10,768 bus stops.
On the rapid transit system, CTA's 1,492 rail cars operate eight routes and 224.1 miles of track. CTA trains make about 2,318 trips each day and serve 145 stations.
Chicago is one of the few cities in the world that has rail service to two major airports. CTA's Blue Line 'L' can take customers to O'Hare International Airport. Orange Line trains, which operate clockwise on the Loop 'L' structure, travel to Midway Airport.
CTA also provides around-the-clock service on certain routes. During late night and early morning hours, major rail lines and some of CTA's bus routes offer "Night Owl" service, much of it with connecting schedules and routing.
CTA's history is almost as long as that of the city. The first public transportation system in Chicago, the horse car service, began Apr. 25, 1859, and gradually evolved to the current system which operates 1,864 buses, and 1,492 railcars, on 8 lines. 
CTA – an independent governmental agency
Chicago Transit Authority is an independent governmental agency created by state legislation. CTA began operating on Oct. 1, 1947, after it acquired the properties of the Chicago Rapid Transit Company and the Chicago Surface Lines. On Oct. 1, 1952, CTA became the predominant operator of Chicago transit when it purchased the Chicago Motor Coach system.
The governing arm of CTA is the Chicago Transit Board, with Terry Peterson as chairman. The board consists of seven members, four appointed by the Mayor of Chicago and three by the Governor of Illinois.
The Mayor's appointees are subject to the approval of the Governor and the Chicago City Council; the Governor's appointees are subject to the approval of the Mayor and the Illinois State Senate. CTA's day-to-day operations are directed by Dorval R. Carter, Jr., president.
CTA generates revenue from both farebox collections and non farebox revenues, and also receives supplemental funding for operating expenses through the Regional Transportation Authority (RTA).
The RTA was established in 1974 to oversee local transportation operators in the six-county Chicago metropolitan area. Illinois state law requires the three RTA service boards— CTA, Metra (the suburban rail system) and Pace (the suburban bus system) — to collectively recover at least 50 percent of operating costs from farebox and other system revenues.