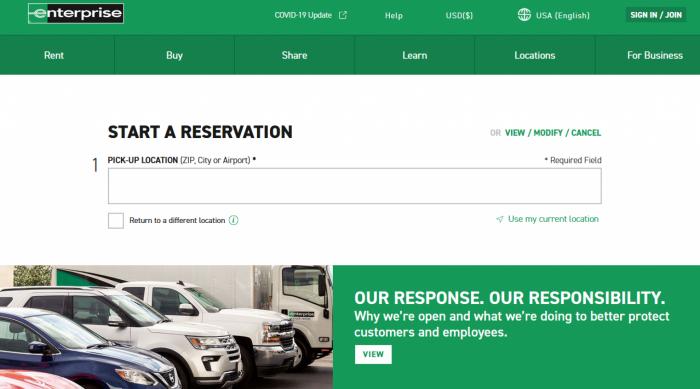 Location: 28 locations
Highlights
Unbeatable airport shuttles transfer to the vehicle's pick-up location
Traditionally low airport rates
Respectful, professional and friendly customer service reps
Affordable car upgrade options
Quick pick-up thanks to self-help kiosks
Our best choice overall, Enterprise has proven time and time again that it's the most customer-friendly, budget-friendly and effective option – and certainly one of the best car rental companies in Chicago, as well as the rest of North America and even Europe. What makes Enterprise stand out from a sea of competition is its topnotch customer service staffed by professional, respectful, and courteous representatives.
The company has 28 locations in Chicago, most of which have self-service kiosks installed for quicker, more hassle-free pick-ups. Their fleet comprises a broad selection of 4-door sedan-style cars and 5-seater standard SUVs. If you need a minivan, say for your family, it's best to call ahead of time to avoid last-minute mishaps. Thankfully, their customer service reps know how to navigate just about any issue.
Customers rave about their fairly inexpensive base price of $46 per day, plus the fact that they give them a break on several additional car rental fees. For example, the company's Month or More plan can save you oodles of money on long-term rentals. Similarly, Enterprise offers attractive rates of roughly $20 per day to under-25 drivers, which is way more favorable than as much as $35 charged by its peers like Goldstar.
Also notable, Enterprise's package options for multi-renters, out-of-state travelers, and unlimited mileage pricing will blow the competition out of the park. Even more exciting, the company's airport shuttle services have been lauded for being topnotch, friendly, and quick to get customers to their cars' pick-up points in the shortest time possible.