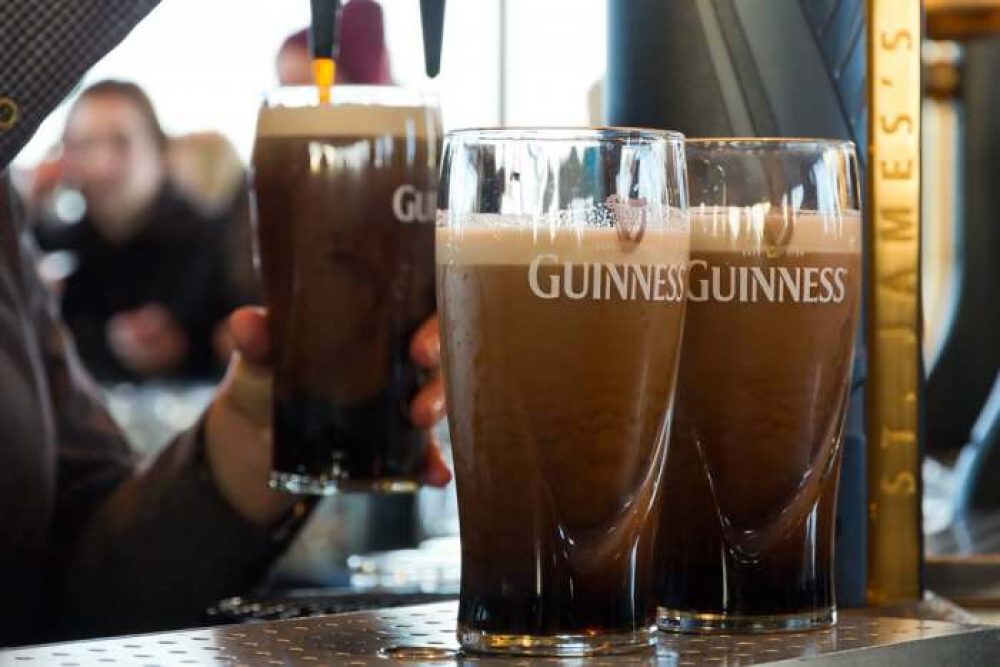 Guinness recently announced the launching of a 15,000-square foot, community-immersed taproom in Chicago's Fulton Market. It is the second location of a new neighborhood 'hub' concept the Diageo-backed beer brand is developing in the United States. 
Chicago, the second biggest market of the brand 
In 2018, Guinness launched its first American outpost in Baltimore, Maryland. 
In Chicago, ground will break this fall, with an expected opening date of St. Patrick's Day 2023. Fitting—"St. Patrick's Day is a really, really big deal for us," says Jay Sethi, Diageo Beer Company's Chief Marketing Officer. 
"Chicago is a really special city," Sethi, a Chicago native, told Forbes. "It's one of the biggest markets in this country and our second biggest market nationally." He notes the brand will be partnering with local chefs and artists to make brews reflexive of local communities, like a Mexican-influenced beer inspired by the Pilsen neighborhood. "Essentially," says Sethi, "the entire ethos of how we approach Chicago is centered around how we can be a good neighbor and how we can honor the city."
The Windy City has great food and innovative brewers
Our great city is famous for its breathtaking architecture, sports life, festivals, 1920s gangsters, and Fortune 500 companies, but nothing says Chicago better than its spectacular food. Ours is one of the best cities for culinary experiences, offering a variety of unmistakably Chicagoan dishes as well as global eats and a wide breadth of dreamy restaurants. So, get ready to be impressed by the best dishes and must-try restaurants Chicagoland has to offer.
To accompany such good food, one always needs good drinks also. Chicago has always been on the forefront of innovation when it comes to drink options. Hard seltzer is the option in trend right now, a major reason behind people's preference being the reduced content of calories, which resulted in more than $4 billion in sales over the past year in the United States. Chicago brewers have not fallen behind in following the winning trend, Solemn Oath producing its widely distributed City Water line and Lo Rez Brewing experimenting with berry-flavored seltzers. Last December, Hopewell Brewing Co. joined their ranks, launching a pair of hard seltzers under a new brand called Wayup, meant to encompass all things non-beer.
But, of course, beers remain the main interest for breweries, and the revival after the worst part of the Covid pandemic meant that beer consumption might go back to what it was before the disease hit, and maybe even significantly grow over the next couple of  years, provided things go back to normal. 
New experimental and one-off beers to be made in the new location
Since opening in 2018, the taproom-slash-brewery in Baltimore, Maryland has welcomed over 900,000 visitors and turned out 250 small-batch brews.
While the Chicago property will boast beer-brewing capabilities, Guinness's signature stout won't be made on location. Instead, the brand will be focusing on new experimental and one-off beers, all made via a 10-BBL brewing system. Small-batch beers will be served in the full-service, 300-seat restaurant inside the long-vacated Pennsylvania Railroad Depot. The property will create 75 new jobs in taproom operations. 
Both taprooms mark a big push towards on-premise after a year that has completely upended the bar and restaurant scene. "We believe that on-premise will come back," says Sethi. "In many ways it already is, and it's our responsibility to contribute to it. To demonstrate that, we're making significant investments into our Chicago and Baltimore communities."
The brand completely overhauling the West Loop property, allowing for full safety accommodations to be considered.  "We've learned a lot in the last year on how to do a taproom well in terms of safety and logistics," says Sethi. "How to make people feel like they have the right safety accommodations in terms of space, sanitation, logistics, menu ordering, and more. We've gotten really good at this in the last year." There is no shortage of clients in the area, which is where some of the best wedding venues can be found, so the new space has all the reasons to do well. 
Good neighbours, working with the community
Both the Baltimore location and the forthcoming Chicago Guiness stronghold will form partnerships with the local communities. 
Guinness funded a $1 million community fund for Baltimore's Black community, supporting Visit Baltimore Education and Training Foundation, Reginald F. Lewis Museum, Job Opportunities Task Force, Maryland Food Bank, and Baltimore Action Legal Team.
"What I'm most proud of is a series of beers we did with diverse, creative, talented people that the city would love – like Black is Beautiful", Sethi added, noting that they want to continue in Chicago what they have started in Baltimore, "which is to come into a city with the right spirit, be good neighbors, and collaborate with folks around the city. We want to find local partners to do things for the city itself. Chicago is the first step in this." 
Another initiative the beer brand wants to extend to Chicago is making bread for people who need it. " During the pandemic, there was a moment where we couldn't make as much beer for all the reasons you could imagine," says Sethi. "So we started to make bread with the resources we had and the people we employed. To combat food scarcity, we made over 50,000 loaves for Baltimore food banks. We're going to build a bakery so we can continue this in Chicago."