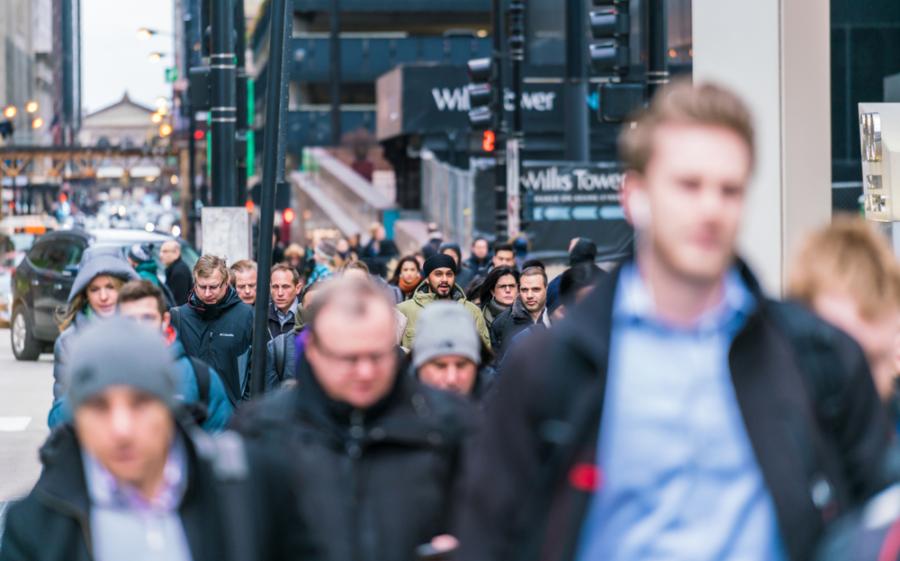 Chicago's economy could be affected by the coronavirus that is spreading throughout China.
Global stock markets rebounded on Tuesday after their worst day in months over fears of the virus, which has now killed 213 and sickened 9816, according to live updates from the South China Morning Post.
Worries are now surfacing that the city of Chicago could be affected by the events more than other areas of the U.S. due to its large transportation and logistics sectors.
Chicago is an important hub for the transportation of goods, mostly through O'Hare International Airport and the region's ground transportation lines, making it easy to access all corners of the globe.
Billions of dollars of cargo from China makes its way through O'Hare airport each year, while the U.S. ships a range of raw material and parts to China that are often returned as finished products.
As China continues to take further steps to limit travel in and out of the country, however, America's trade and manufacturing sectors could be hit pretty hard.
Shawn McWhorter, the Chicago-based CEO of NCA Americas at Nippon Cargo Airlines, a Japanese company that airlifts huge amounts of goods to the U.S. from China, said there have been no substantial changes so far.
He added that the virus came to light just before Chinese New Year when Chinese factories and businesses close down for the holiday.
McWhorter told Chicago Business: "It's too early to tell how this will affect operations but we should have a better sense in a few weeks.
"While we can expect some slowdown right now, there will be a huge backlog and high demand to move cargo again once this outbreak is contained. The question is simply how long will this outbreak last?"
Chinese officials have already extended the country's shut down over the Lunar New Year to February 2 in an attempt to contain the disease, which has prolonged the shutdown of financial markets.
If the shutdown was to be extended again, it could begin to affect the movement of goods from China to the U.S which in turn could affect inventory levels, particularly in the tech industry.
To use a huge example: Apple makes nearly all of the world's iPhones in China, a process that could be severely impacted over the next few weeks if the situation in the country doesn't improve.
Michael Hewitt, an associate professor in the information systems and supply chain management department at Loyola's Quinlan School of Business, expressed his concerns to Chicago Business.
He said: "If things get worse, meaning U.S. manufacturers and retailers can't get their supply from China, U.S .stores will run out of products and prices will jump significantly.
"U.S. manufacturers and retailers may find alternate suppliers, but that doesn't happen overnight."
On the other end of the scale, others involved aren't as worried about the effects of the virus.
Commonwealth Chief Investment Officer Brad McMillan recently noted the deadly SARS outbreak in China in 2003 had essentially 'no effect' on U.S. economic growth. He predicts that the impact of the coronavirus will be similar.
He wrote: "Even if this new disease proves to be much worse than it looks at the moment, here in the U.S. the damage will be limited—and should pass quickly."
At last count by the South China Morning Post on Thursday evening, 8 cases of the Coronavirus have been confirmed in North America.
The United States has now set its advisory to Level 4, which represents a high safety risk for Americans traveling to China. The red caution is reserved for the most dangerous situations.
You Might Also Like: