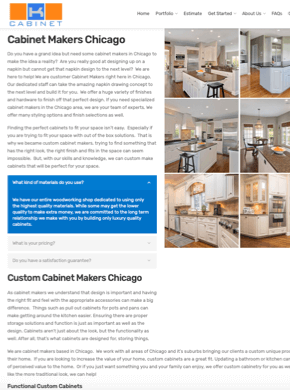 Contact for Consultation: (630) 827-2228
Highlights:
Work directly with the people who'll build your Chicago custom cabinets for a closed-loop maker-to-buyer experience.
Only high-quality materials used in their builds, to ensure that your bespoke cabinets will look great and last for years to come.
Get custom cabinets for your kitchen, bathroom, home office, or library.
Backed with a 100% satisfaction guarantee, K Cabinet will do whatever it takes to make sure that you're happy with the end result.
Review:
K Cabinet has been awarded Top Cabinetry Pro Award three years in a row by Thumbtack, so you know you're getting some of the best custom cabinets in Chicago. The company operates out of a woodworking shop where they create all of their custom cabinets.
There's no third party, only you and the people who will design you the best custom cabinets. Because there are fewer people involved, you get a truly unique, individual experience. Whether you're looking for kitchen cabinets, bathroom cabinets, or cabinets for your home office, they've got you covered.
To ensure quality, K Cabinet uses only high-quality materials. They're not about cutting corners to make an extra buck, but they are about helping you build a home that you and your family can enjoy for years. Their work is backed by a 100% satisfaction guarantee, so if you're not happy with the end result, they'll work with you until you are.
Start by booking an appointment for a complimentary consultation, where you can discuss ideas, share pictures of your favorite designs, and work out a budget for your Chicago custom bathroom cabinets.
Though there are only 15 Google reviews for K Cabinet, they are all 5-star reviews and they stretch back for years. From this, we can be sure K Cabinet has been providing excellent services for custom kitchen and custom bathroom cabinets in Chicago since the beginning. Reviewers also say that the price for their custom-build cabinetry project was fair, and the team fantastic. They also say that they receive a lot of compliments on the work done and they would happily go with K Cabinets again for their next cabinet remodel in the Chicago area.
If you're looking for a professional, personalized experience at a reasonable price, this business is perfect for you.
Find out more about K Cabinet on their website here.