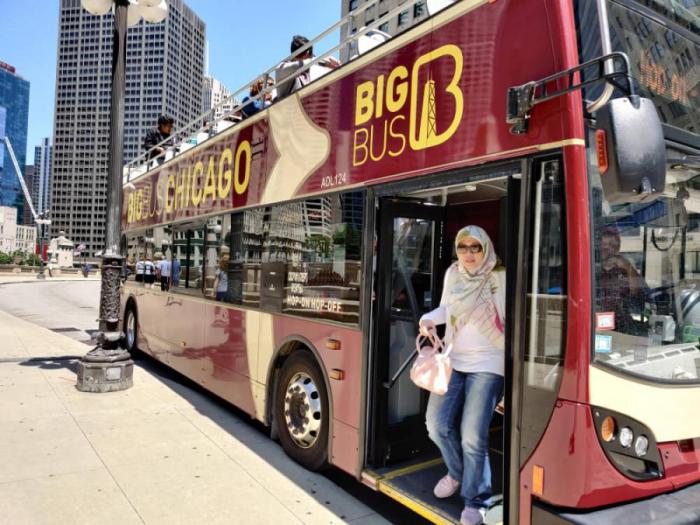 Marijuana buses have been introduced to Chicago to give residents the chance to learn how to roll a joint and smoke a bong.
The new world of cannabis tourism has taken Illinois by storm since pot was legalized in the state on January 1, encouraging some who have never previously touched marijuana or experienced CBD oil, to give weed a try.
Opponents of the legalization, however, argue the buses promote intoxication and cause problems similar to excessive drinking on party buses.
Marijuana bus company Loopr has dismissed the claims and now runs tours transporting a limo bus full of weed-curious Chicago residents through downtown for a night of pot education.
Loopr has future plans to offer tour stops to cannabis shops and grow houses in the city, but the newness of legalization means weed stores often have customers queuing for hours to buy products or are even closed altogether to restock.
For now, the tour company takes 16 passengers to a condominium on the Near West Side, where the weed-experienced offer their tips and tricks. The buses feature couches and tables with bongs, pot grinders, and tea and coffee.  The tours do not offer alcohol and ask passengers to bring their own weed.
State law specifies weed cannot be smoked in public places; Loopr considers its lounge a private space. Since the law also prohibits users from smoking in vehicles, no consumption is allowed on the bus itself.
Technically, state officials have also said smoking lounges must be within a licensed cannabis or tobacco shop, although little has been done to enforce the rule so far.
Loopr officials say they are following state law by keeping consumption private (the bus stops at private residences), in an environment for adults 21 and over, and not on the bus.
Loopr's three-hour tour sets each passenger back $55 and starts at the city's Water Tower. Once everyone has boarded, the bus takes a cannabis-themed tour through downtown.
Speaking to Chicago Tribune,37-year-old bus passenger Susan Michaels said: "I'm happy to see this is offered in Chicago," she said. "I don't understand how alcohol has been legal all this time and cannabis hasn't, when it's so much safer." Susan had joined the tour for a night of 'good vibes' with her friends.
Passenger Alyssa Rhone, 28, of Oak Forest, said: "It sounded like a good idea, to get high and not to have to deal with traffic. Everybody's friendly, everybody's high, and in a great mood."
Competing business Paint and Puff Class offers a similar cannabis tour alongside painting lessons to allow passengers to get arty while high.
Former White House drug adviser and now president of Smart Approaches to Marijuana Kevin Sabet, however, has hit back at weed tourism.
He said: "The bus tours and smoking lounges are all part of the industry's playbook to normalize a substance they want to make money from. It's Big Tobacco all over again."
A spokeswoman for Opt Out in Naperville, Jennifer Taylor, expressed her concerns that the weed buses may create a dangerous party culture similar to that of alcohol buses.
Chicago Mayor Lori Lightfoot has also expressed that she is 'worried' about cannabis buses, and has already proposed speaking with Governor Pritzker to introduce more laws to address the issue. The Mayor has worked with the Governor on several big projects over the last six months.
Marijuana bus tours are not yet specifically regulated, and the Illinois Department of Financial and Professional Regulation warned that they may not comply with state law.
For now, city officials are trying to educate new businesses on the laws, rather than take them down. City of Chicago spokesman Patrick Mullane said officials would work with businesses and individuals to 'develop smart and effective regulations as cannabis expands in Chicago'.