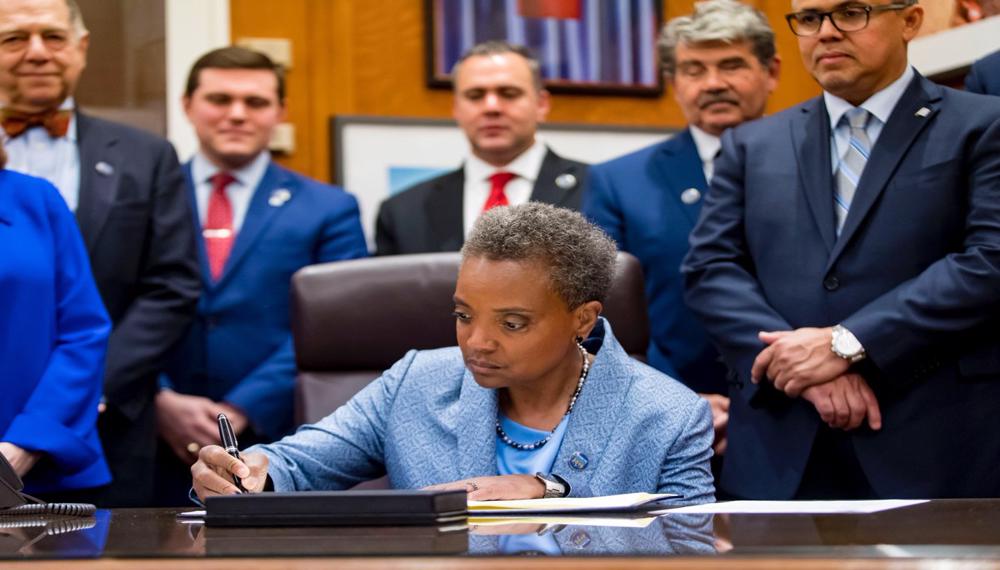 Chicago Mayor Lori Lightfoot has given consent to allow refugees to live in the city.
Mayor Lightfoot signed a letter to welcome refugees following an order from President Trump asking cities and states to consent to re-settling foreigners.
The executive order states it is the policy of the administration to speak with governments on both a local and state-wide scale to 'identify the best environments for refugees, but also to be respectful of those communities that may not be able to accommodate refugee resettlement'.It also adds that state and local governments are best positioned to know if they have the resources and capacities available to support refugees placed in their area.
In the letter dated Christmas Eve, the mayor said she was proud to welcome refugees, especially during the holiday season. Earlier in the year, Lightfoot joined more than 80 other mayors from across America in urging the Trump Administration to retract its executive order and boost refugee admissions back to their earlier level.
Since taking office, Mayor Lightfoot has taken several other measures to demonstrate her city's support of immigrants, including the approval of the Accountability on Communication and Transparency ordinance. This enactment serves as Chicago's largest expansion in immigration protections since the Welcoming City Ordinance.
At the time, Lightfoot said in a statement:
"The ACT Ordinance is more than a piece of legislation; it is a statement of faith on who we are [as a] city and… our values as a people. Chicago will always stand and fight for the safety and protection of our residents and families, no matter the cost. We are a proud welcoming city and will continue to be a beacon of hope and promise to families from all over the world."
Her administration also coordinated measures across city departments to ensure refugee communities would be offered the same level of protection as any other resident group.
For example, the directives mean that Chicago Police Department is prevented from sharing data with the U.S. Immigration and Custom Enforcement (ICE), while ICE officials are also not allowed to enter publicly owned facilities–including schools, public housing, and park district buildings–without a warrant.
22nd Ward Alderman Michael D. Rodriguez said: "The ACT Ordinance is an important step to make Chicago a truly welcoming city.
"This ordinance will improve our protections against ICE raids, expand the resources available for Chicago's immigrant communities, and reaffirm our City's commitment to stand up for all residents."
The new rules reaffirmed the commitment made to protect Chicago's immigrant families from deportation by the federal government.
In her most recent letter, Lightfoot wrote: "While the Trump Administration's executive order stands as another expression of their cynical vision to undermine America's heritage as a nation of immigrants, Chicago will continue to do everything it can to fight for our families, rise to our highest values and remain a beacon of hope for families here at home and across the globe."
In welcoming refugees, Chicago has joined other municipalities in the state, including DuPage County and Illinois. In December, Democratic Gov. J.B. Pritzker also said he fully supported allowing refugees into Illinois.
He said: "As the great-grandson of a Jewish refugee from Ukraine, the president's attacks on immigrant families are deeply personal to me. I will always embrace refugees with open arms, and under my administration, Illinois will always be a welcoming state that values the contributions immigrants make in our society."
World Relief has strongly condemned the Trump Administration for its recent announcements on how the country will welcome refugees. In a press release, World Relief President Scott Arbeiter said: "The world's need is clear: With over 70 million displaced persons, including over 25 million refugees, we are in the middle of the worst refugee crisis in recorded history… We must not abandon this stabilizing role or those in desperate situations and in need of a safe haven."