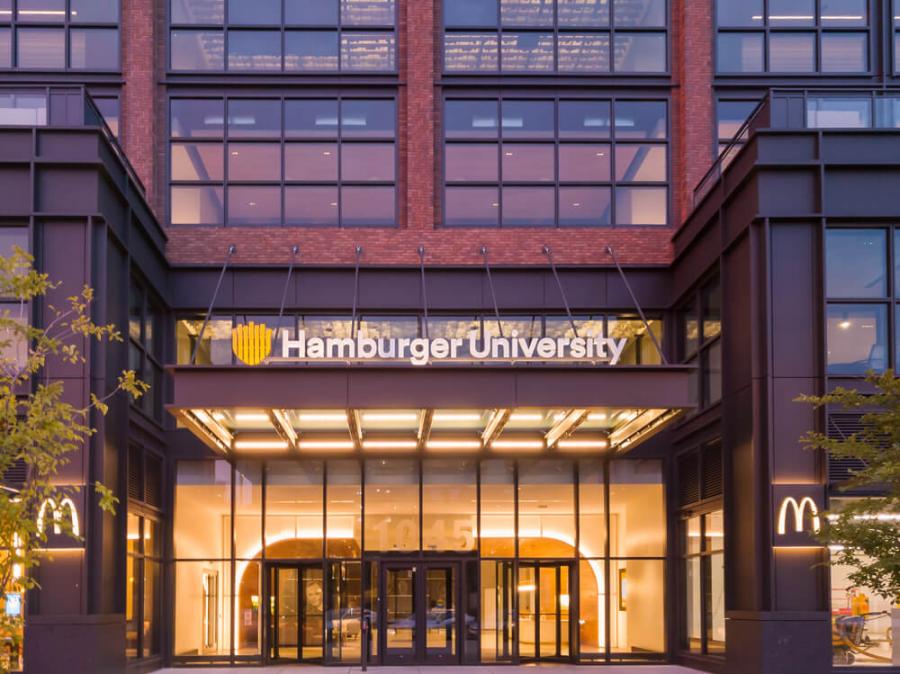 The building home to McDonald's headquarters in the West Loop has been put up for sale.
Developer Sterling Bay has announced it is selling the 575,000-square-foot, nine-story office building at 110 N. Carpenter St.
It is also home to a Walgreens drugstore, FedEx, and the Politan Row food hall, with more than 15,000 square feet of retail space still available for lease.
The headquarters itself includes an on-site training facility known as Hamburger University and a 6,000 square-foot, ground-floor international restaurant. Its lease is due to expire in July 2033.
In a statement, Sterling Bay CEO Andy Gloor said, "In developing this one-of-a-kind urban headquarters experience at 110 N. Carpenter, our team has not only helped build a new and improved workplace culture for one of the world's leading brands but has transformed Chicago's Fulton Market neighborhood into a hub for corporate innovation that now attracts top-tier economic drivers to our City."
"We're extremely proud of this development and look forward to continuing our work in transforming spaces—and communities—both across Chicago and in new markets across the country."
No asking price has been revealed as of yet, but those familiar with the offering estimate the building could go for as much as $450 million, making it the highest-priced sale of any Chicago building since 2018.
The sale would also significantly work in the favor of Chicago's commercial spaces market, which suffered a significant downturn in investments last year. Commercial sales fell by almost half compared with 2018, leading to worries over potential property tax increases.
The building was completed just two years ago, with McDonald's headquarters soon moving out of their offices in Oakbrook to the new build in Chicago. The building has open floor plans, floor to ceiling windows, a 700-person conference room, several outdoor spaces, onsite parking with a bike room, and even a fitness center.
The site is also the previous location of Oprah Winfrey's Harpo Studios, which was closed when Winfrey sold the building to the developers for $32 million in March 2014.
McDonald's headquarters is Sterling Bay's next planned sale following a successful few years for the company.
In 2016, Sterling Bay sold what is now Google Headquarters for $257 million to American Realty Advisors. The company paid just $12 million for what was a cold storage facility in November 2012.
In August of last year, the company sold its own headquarters at 1330 W. Fulton Market Street for $175 million. It's just one of many big sales happening in the area now, which is quickly becoming a business hotspot.
The area, previously known for meatpackers and food distributors, has transformed into a swanky office hub for major brands over recent years.
While it mainly leases large-scale space to companies such as McDonald's and Google, Fulton Market also offers a range of great co-working spaces, including the women-only space The Wing.
Now, the developer is seeking city approval to build a 14-story office building at 1200 W Carroll Avenue, also in Fulton Market, with a ground floor retail park and 90 parking spots. The plans have been met with controversy as neighbors worry the building could lead to issues due to its proximity to the Metra tracks.
The company did additionally receive an approval just last year for an 18-story office tower at 1000 W. Carroll Ave, and an 11-story office building at 345 N. Morgan St, found in the same area.
Sterling Bay is also building a 20-story building at 330 N. Green St, a 19-story building at the old Coyne College parking lot, and a 21-story building at 360 N. Green St.