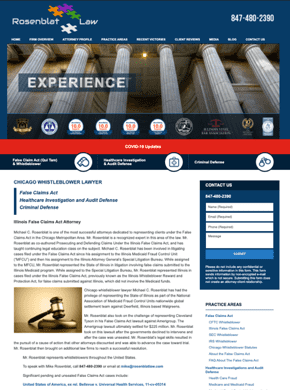 Michael C. Rosenblat has built an impressive reputation representing whistleblowers, and has done so all over the country. His work on false claims and other health care fraud cases led to his assignment to the Illinois Medicaid Fraud Control Unit and then to the Illinois Attorney General's Special Litigation Bureau.
Mr. Rosenblat has worked with lawyers from New York to California and regularly co-counsels with Chicago area Attornays.
He has also co-authored a guidebook for attorneys practicing False Claims Litigation.
He has taught a number of legal classes and seminars.