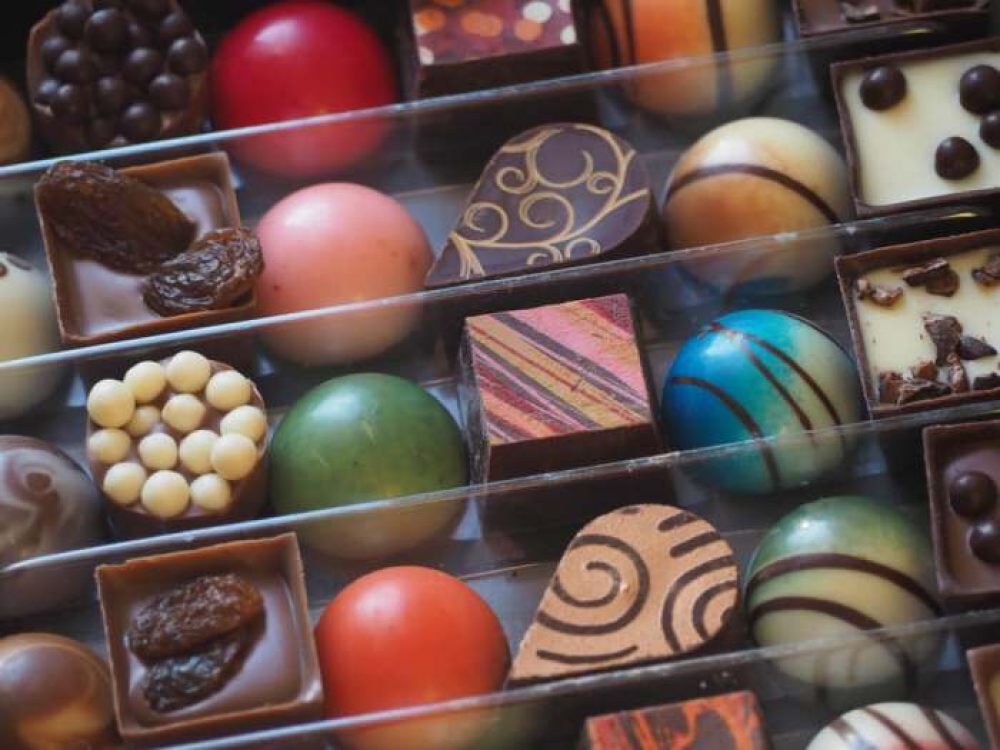 Using only ethically-sourced quality ingredients, Michelin-starred pastry chef Jared Bacheller crafts chocolate bars, bonbons and more to be found at Time Out Market Chicago.
If most of us started some regular hobbies like knitting or making giant puzzles when we found ourselves stuck inside during pandemic induced quarantine, Michelin-starred pastry chef Jared Bacheller used the new found time to start an especially sweet new hobby. Bacheller— who was the head pastry chef at Acadia, Sixteen and Entente—bought a grinder and a roaster and started crafting his own chocolate bars, which now make a very appreciated gift for connaisseurs.
Chicago, the city of gifts to be chosen, tasted and offered
There is no shortage of gifts one can buy in Chicago. There's simply so much going on in the Windy City, you are sure to find the perfect gift for your favorite someone, or for any family member, friend, school or work colleague.  Whether you're looking for a gift experience, buying something for someone who lives out of town, or purchasing a souvenir to remember this enthralling city, Chicago has unique gifts that'll fit the bill.
Thanks to its direct association with authentic dishes, gangster history, blues, and so much more, Chicago has no shortage of souvenir mementos. Choosing something to take home with you if you are here for a visit or something to give to someone passing through, if you are a local will prove especially hard, since the selection to choose from is impressive. 
Art, culture, and music buzz Chicago into life, and it can brighten your day or that of your loved one, too. The city has some of the most treasured museums and art galleries in the US, if not the world. These gems have stores teeming with precious gifts that you can take home as a souvenir. But if you are the type who thinks love goes rather through the stomach, and you have a sweet tooth, a special dessert can make a perfect gift. Chicago is famous not only for its wonderful food, but also for the variety of sweets, from the simplest pies, to the most exquisite French desserts, the macarons. Sweet and delicate macarons that really have the right flavor are often hard to come by. They're so hard to make that pretty much only those that know them best sell them – usually French bakeries. For those who crave these tiny treats, we put together a list of the best places to find macarons in Chicago for future reference.
Bad Bach, bitter-sweet chocolate perfection in a box
But if sweet and puffy is not your thing, you want a dessert, but made on the darker side,  then pastry chef Bacheller's new endeavour is worth a try. He might be new at this type of product, but this is of course not his first rodeo in fine dining dessert making. 
"I've always done confections in the fine dining world—bon bons, decor, show pieces—but was never making the product itself," he explains. "I thought, well, I know how to do pastries, so I could probably figure this out. " 
It did not take much for Bacheller to figure out how to make his chocolate bars. After only a few online classes, while he was still working in the takeout-only kitchen at Entente, he simply started the trial-and-error process, sharing the newly created bars with his friends. When Entente closed in late 2020, Bacheller got way more serious with his chocolate making, and soon after he officially launched Bad Bach. The line now offers small-batch chocolate bars, bonbons, truffles and other delicious and extremely well looking confections inside of Time Out Market Chicago. Bad Bach—a name that might seem bad for business, but it was inspired by Bacheller's surname and the need of "being bad in order to break the mold"— consists of creations such as candy cap mushroom truffles (made with real mushrooms), ganache-infused, toasted vanilla bean bonbons, and a selection of dark chocolate bars. 
Uncommon Cacao – a sourcing company that makes transparent trade
Bad Bach is actually really good, especially considering how its chocolate bars are made from single-origin and ethically-sourced beans. This aspect was really important to Bacheller, who researched and watched documentaries about the unethical labor practices in the chocolate industry before starting to produce his own brand. He orders his beans from Uncommon Cacao, a sourcing company that shows how much farmers are compensated for their products in a process called transparent trade (not fair trade, which seems to be a windfall for larger corporations which negatively impacts small farmers). So, if you buy Bad Bach, you know exactly where the chocolate came from, down to the specific farm or region of the specific country where cocoa beans were sourced from. This is important not only because you know exactly how much the farmer and the middleman got from the price you are paying, but also because the origin of the beans gets reflected in the finished product. For one, Bacheller thinks that the quality of the beans gets better if the farmers are paid more. And then, as for the coffee beans, the production process, as well as the place the cocoa beans were grown, influences the final taste.  As a result, flavor profiles from small-batch production can vary from fruit-forward to nutty or spicy. Bad Bach's chocolate bars, made with 70 percent dark chocolate, feature tasting notes that tell the tale of the beans' origin. A bar from Maya Mountain in Belize, for instance, features notes of pineapple, honey and raisin. Bacheller says the simple production process is simply a vessel to better showcase the farmers' work. Might be, but what an elegant vessel!