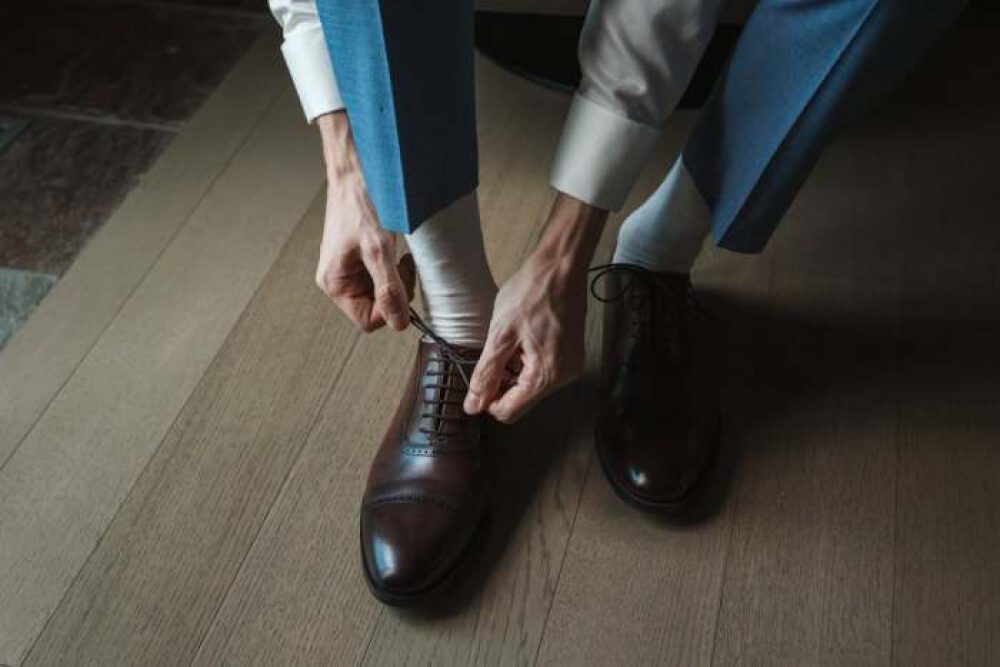 1 new from $19.99

Free shipping
Last update was on: May 4, 2021 5:50 pm
MAXIMUIM DURABILITY – Super comfortable, 80% cotton durable socks. 10% spandex and 10% polyester to keep elasticity and softness.
MOISTURE CONTROL –Socks are extremely breathable and guaranteed to keep your feet fresh and dry.
HIGHLY CLASSY – Variety of colorful socks that are highly fashionable and funky
MACHINE WASHABLE - wash colored socks with like colors and tumble dry medium.
SATISFACTION GUARANTEED - We accept returns and exchanges No Questions asked
Review
There's a good reason Mio Marino's moisture control dress socks have become so popular among grooms and groomsmen. They are 80% cotton, 10% polyester, and 10% spandex, a material blend that makes them very strong, soft, and durable. They are sure to withstand wear and tear for years and years to come.
They offer a perfect combination of style, function, and pizzazz. And many satisfied Amazon customers, including Mike Ferring, agree, saying: "This product scores on every level: price, fit, presentation, comfort, style. I chose them for all of those characteristics and they delivered." These dress socks are expertly woven with cotton-rich fabric to keep your feet, legs, and ankles protected against fungi, wetness, odors, and bacteria.
One of the most exciting features is that these high-quality dress socks are available in an amazing collection of fun designs, colors, and patterns. They come in an assorted pack of six different pairs of socks, including groovy, wedding-friendly color schemes that include Cerulean Pop, Sleek Flair, Traditional Man, Uptown Sapphire, Raven Sharp, Astral Nightfall, Sharp Twilight, and Earthy Haze.
In each pack, you'll find socks in a variety of patterns like argyle, polka dots, stripes, diamond plaids, and other attractive designs. In this way, you can dress each member of your wedding party differently to create an appealing contrast. Of course, you can use these patterns and colors to coordinate other items in your wedding outfits. With fun color schemes and sock patterns like these, you can easily showcase that you've got a little personality beyond the cliché official suit.
Don't get it wrong; these patterns are not too loud or too bold. They are subtle enough for semi-formal weddings and won't steal too much of the spotlight from your tux or suit. In fact, they won't call unwanted attention to your feet yet they add a bit of fun to the whole ensemble.
Fun color schemes and patterns aside, Mio Marino's Men's socks for groomsmen are constructed with moisture control and durability in mind, so they are a great option for hot or humid weather. With above-average cotton composition, their comfort, moisture absorbency, and breathability are well above par. They will prevent your feet from getting sweaty, particularly when you dance or walk for a long period.
Another noteworthy feature that your pals will love is that these socks boast a high content of spandex. At a tenth of the total composition, these socks will fit snugly and feel like a second skin on your leg. They are built to stay up from when you wear them until you remove them at the end of the day.
Of more importance to grooms, these socks are packaged in a lovely presentation gift box with each pair individually wrapped. If you're after some of the best socks for thanking your groomsmen or asking them to be there for you during your special day, then you won't be disappointed by this six-pack from Mio Marino.
The only downside is that they lack proper cushioning under the bed of the foot, but most people don't seem to have any qualms with this. We recommend that you wear them with well-cushioned dress shoes, preferably loafers.
What we liked
Fun yet classy – The perfect dress socks that are as fun as they are stylish and classy; neither too bold nor too plain

Ready to gift – The socks come in a wow-worthy packaging that's excellent for asking groomsmen to stand by you at your wedding

Competitively priced – Sold as a six-pack in which the cost breaks down to slightly over 2 bucks a pair, so styling your whole groomsmen crew won't break the bank

Velvety soft – High cotton content makes these socks super-soft, comfortable, and highly absorbent. Polyester helps wick away moisture, helping keep your feet dry and prevent bunching and blistering.
What could improve
Mia Marino's dress socks are not reinforced at the heel or toes, meaning they lack in the arch support department

They like necessary cushioning underfoot, which isn't really a big deal for occasional wear