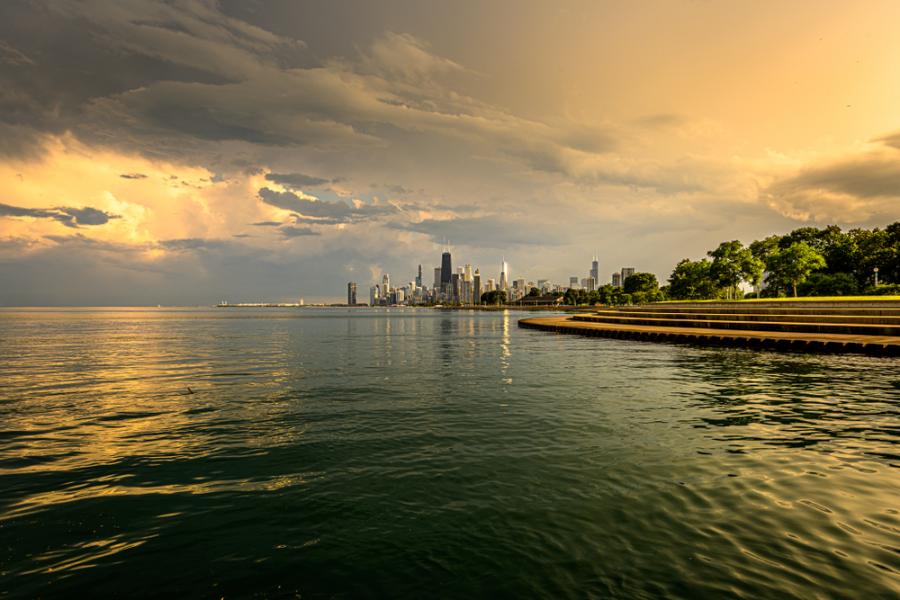 Wednesday (Jan 29 FAO of editor) marked seven straight days of no recorded sunshine in Chicago.
Weather historian Frank Wachowski, who records sunshine data near Midway airport on the city's South Side, first brought the unusual weather to light.
Even by normal winter standards, the weather is unusually gloomy, with the month ready to be put down as one of the cloudiest on record.
November through January are usually the cloudiest three months of the year for Chicago, but 2020's streak seems to stand out as one of the very worst.
According to WGN-TV, we are now in the longest period of overcast weather Windy City has experienced in 22 years.
The last time the city experienced such a cloudy streak was between January 2 and 8, 1998.
That record was followed by an eight-day stretch between January 22 and 29 in 2017, during which the average cloud cover was recorded at 100 percent.
Today, MSN reported that residents shouldn't expect the sun to appear anytime soon.  The first bright rays are not due to appear until Sunday, with a mild Monday expected.
It added there is also a chance for some light snowfall Friday night through to early Saturday, similar to what was seen on the North Shore last week, due to a small low-pressure event.
A winter weather advisory was issued for several Chicago-area counties last week, with warnings of snow accumulating between 2 and 6 inches.
If snow does fall, areas north and west of Chicago are likely to be the most affected. Snowfall this weekend will mark the fifth straight Saturday with measurable snow -meaning snow has been seen every week of the year so far- although the snow total for January is still below average.
It is predicted that temperatures will reach 47 degrees on Sunday before another cold front moves in.
While Chicagoans tend to endure another gloomy winter, it should be noted that simple gloom beats last year's weather when wind chills plunged to -50, surface temperatures fell to -23, and the city went through the fourth-longest deep freeze ever recorded in the city.
It was so cold, that experts warned the most vulnerable to stay indoors and encouraged people to avoid talking too much or breathing deeply outside in order to protect their lungs from the severely cold air.
Chicago ended up recording colder temperatures than those in Alaska, Greenland, the South Pole, and even Mars.
At least those days were sunny, even though the sun started to appear to rise in two places over Lake Michigan, in what was known as a Polar Vortex.
This week's high temperatures will remain in the mid-30s, which is 80 degrees warmer than what it felt this time last year.
Speaking to Fox 32 Chicago, Doctor Mark Loafman of Family and Community Medicine at Cook County Health noted that a lack of sunshine can be unhealthy for the body.
He said: "We see everything from depression, definitely mood disorders." Many now resort to sunlamps and vitamin D tablets to keep their mood elevated on cloudy days. A lack of sun can even affect how we sleep, our bone strength, and how effectively our immune system works.
So far, 2020 has seen 15 cloudy days, 12 partly cloudy days, and just one clear day.
The good news is that spring is just around the corner, kicking off in March-just in time for the sports training season to start.
Meanwhile, the weather for the Superbowl on Monday continues to look bright!