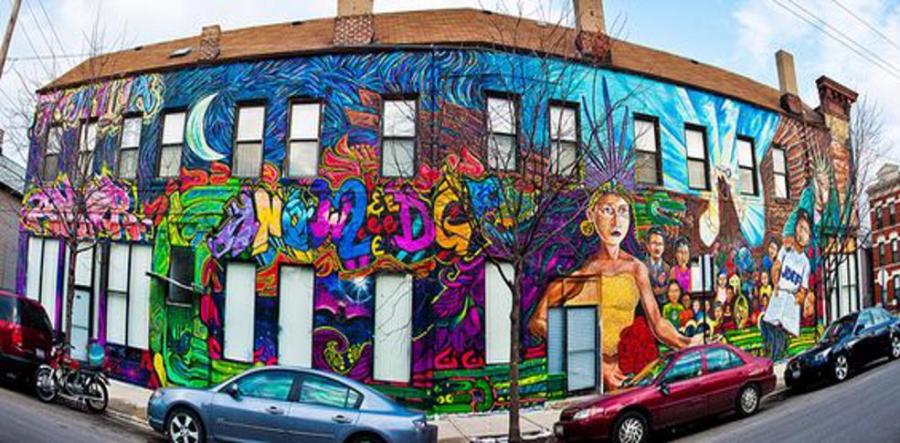 Pilsen in Chicago has been named as one of the world's 10 coolest neighborhoods by Time Out editors and experts.
The list released on Tuesday is based on the publication's 2019 index survey, where it asked its readers around the world to name the best, most overrated and most undervalued neighborhoods in their home town.
Time Out editors and contributing writers then pinpointed and listed the best of the best, which named 50 awesome areas.
The top 10 of those included Pilsen, the major arts hub of Chicago.
The list was compiled by studying how each area was thriving, its affordability, the number of things there for tourists to see and do, and most importantly – how much it felt like an up and coming scene.
Chicago has always been great for its wide range of things to see and do in the city, but it seems that Pilsen is really pushing the boat out this year.
Pilsen is well known for its street art community and was described in the list by Time Out as what could be 'Chicago's most recognizable neighbourhood'.
It was first known to be a welcoming home for Czech, Polish, German and Italian immigrant communities, which later became a thriving area for Latinos in the 1970s.
This community brought with it the National Museum of Mexican Art and authentic Mexican cuisine which is thought to be the best in Chicago.
From then on, Pilsen had its own unmistakable identity that now draws in many from across the US and beyond.
The neighborhood is probably most known for 18th Street, the main gathering point of bars, thrift shops, cafés, and taquerias- Mexican restaurants that specialize in tacos.
Pilsen also made its way onto our list of Unique Chicago Eateries for Every Cuisine, thanks to its Mexican restaurant Las Carnitas Uruapan.
That isn't all though, Time Out suggests visiting the aforementioned National Museum of Mexican Art to see over 10,000 permanent pieces of art, photography, paintings, and sculptures.
It also recommends eating at Thai and Danielle Dang's Vietnamese restaurant HaiSous, which cooks elevated Vietnamese food combined with French fine-dining techniques.
Swinging piano bar Tack Room is also up there as the best place to go for cocktails and a great music lineup that runs all the way from Thursday to Saturday.
As for places to stay, the list suggests browsing Airbnb for a selection of stylish loft conversations.
Other than that, The Hoxton in the West Loop, which is described by Inside Hook as a 'hip property with great rooms, excellent food, and a boutique feel'.
Pilsen has made the list alongside Astoria in New York, Embajadores in Madrid, and Peckham in London.
Arroiois in Lisbon makes the top spot on the list for its open-air galleries, food from all corners of the world and the neoclassical São Lázaro Municipal Library.
Local pride has really crept its way across Chicago as one of its own made the list, however.
Time Out gave the following quote from the locals: "Culturally, it's one of the Chicago neighborhoods that has stayed intact. It has a beautiful art scene and a wonderful community.'
We think they couldn't have described it any better, and are super proud to be from the same city as this cool and collected neighborhood.
To check out more of Chicago's best attractions, take a look at our 1-day itinerary.