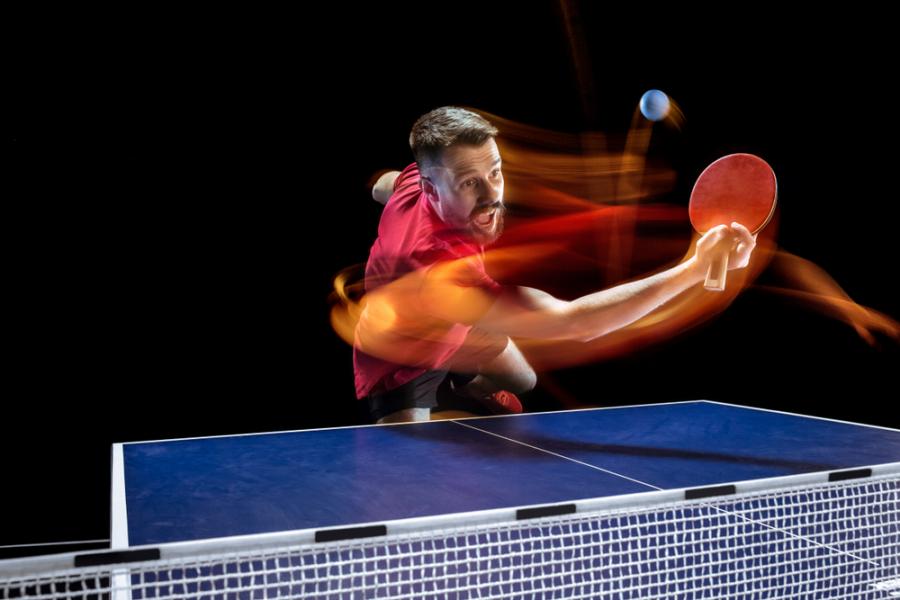 A ping pong table – or a table-tennis table as it's professionally known – is a must-have if you're a fan of this wildly entertaining sport. If you want the best ping pong table for your needs, you will need to do some research and give it some thought.
To save you some time and trouble, our ping pong masters are here to help. After hours of research, and many more playing table-tennis, we've ranked the 20 best ping pong tables your money can buy in 2023.
On this list, you'll find high-quality ping pong tables ideal for the indoors, outdoor play, budget buyers, kids, professional competitions, small spaces, and much more – there's definitely something for everyone!
First up – What to Look for When Buying a Ping Pong Table
Whether you're a casual player, a seasoned pro, or are simply buying one for your recreational game room, there is an array of factors to keep in mind if you want to land the perfect ping pong table. These include:
Thickness – Balls tend to bounce better on thicker tables, so thickness does have an effect on the overall performance of the table. The thickness for competition-grade tables ranges from 22mm to 25mm.  Outdoor models are typically thicker than indoor tables. However, any table less than 19mm thick is a no-go – it won't provide consistent ball bounce and will likely warp too often.
Frame – One defining factor that affects balance, performance, and durability is the frame. The material build of the frame should be sturdy enough to offer stability and support as well as prevent the table from toppling or warping. Go for steel or aluminum-framed tables because they are sturdy and hold up well to the elements. The same goes for the undercarriage and chassis.
Size – The ideal size depends on where you plan to place the table. When choosing an indoor model, for instance, the size of the room is a major consideration. Conversion tops are usually versatile in this regard.
Portability – Three aspects influence the portability of a ping pong table: size, overall weight and mobility features (think: wheels). Although heavy models are not exactly bad, having wheels on your table-tennis table can make your life much easier.
Surface – An aluminum composite makes the best ping pong table surface. It offers optimal bounce quality and looks great, plus the composite is rust-resistant and incredibly weatherproof. Plastic-enameled surfaces are also popular because they generate awesome spin drives. Wood is common as well, but is not recommended for outdoor use. The surface should be super smooth, evenly finished, and blemish-free.
Cost – A good quality table will certainly put a dent in your bank account. There are plenty of good quality tables you can get at a fair price, but high-end models typically deliver better performance and last longer. In this trade-off, it is better to lean towards a table that provides the better of the two worlds, while still staying within your budget.
Post & Net System – Most table-tennis tables have a net system. Top-notch models, however, include a foldable net with an integrated post system mounted onto the tabletop. Make sure there is a mechanism in place to adjust the net so you can maintain its tightness.
Features – Good quality tables usually come packed with a raft of good-for-play and safety features: ball holders, wheel brakes, locking wheels, protective corners, locking play, and true playback for solo practice, among others.
With that quick primer, here you go … our top 20 picks for the best ping pong table:
(1) JOOLA Inside – Professional MDF Indoor Table Tennis Table
Amazon
Our top pick 
If you want a truly high-quality recreational ping pong table; the one that most players swear by, your search should end right here. Joola Inside flaunts an Amazon user-rating of 4.65/5 after more than 4,600 verified reviews. It's a clear player-favorite.
It's sold in three variants: 15mm, 18mm, and 25mm, with a 5/8-inch, 3/4-inch, and 1-inch thick table top, respectively. All of them come with: thick adjustable-height steel legs, 2 magnetic abacus scorecards, clamp-style net, silk-screened white stripping, safety latch system, locking casters, and independent table halves for solo practice.
What we liked:
Folds effortlessly for easy storage
Can be assembled in less than 15 minutes right out of the box
Super-sleek design
Great for solo practice
Reasonably priced
Get tournament-quality play at home
What could be improved:
No balls or paddles included in the package
Slightly heavy
(2) STIGA Advantage
Amazon
Runner up
STIGA Advantage is an indoor ping pong table that offers competition-quality play at an unbelievably affordable price tag. It's designed to be assembled in a matter of 10 minutes, so you can spend more time playing and less time getting the table ready.
With a 5/8-inch thick MDF tabletop, silk-screened striping and multi-coat finish, this beauty is not only durable, smooth, and lightweight, but also offers fantastic drive spin and consistent bounce. It sports a few safety and stability features that include leg levelers, steel levels, and 3-inch lockable cast wheels.
What we liked:
Excellent playability and portability
Tournament-quality at an affordable price
Foldable for easy carry, storage, and solo play
Includes a set of easy attach/remove 72-inch clamp-style post and net
Lightweight yet sturdy
What could be improved:
Difficult to make the table on an uneven floor
(3)
GoSports 6'x3' Mid-size Table Tennis
Amazon
Best compact table for small spaces
GoSports Mid-size checks all three important boxes – it's affordable, high-quality, and of a compact size, which means you can squeeze it into any basement, garage or apartment.  It makes ping pong fun for the entire family without causing a major dent in your bank account.
GoSports Mid-size is quite versatile outside of playing table-tennis. The easily detachable table halves are perfect for entertaining, crafts, or playing board games, poker, and other card games. Once folded, you can tuck it away underneath your bed or in your closet.
What we liked:
Freestanding table halves are ideal for multi-use
Easy storage
Budget-friendly
Fits into small spaces (compact)
What could be improved:
Obviously, this isn't ideal for professional players or tournaments
Has no wheels or locking mechanism
(4) JOOLA NOVA DX
Amazon
Best outdoor ping pong table
JOOLA Nova DX is hands down the best outdoor ping pong table we've reviewed. What's more, this gem sits over an undercarriage made of a powder-coated, rust-proof steel frame, so it's well suited for both outdoor and indoor play. It stands even on any type of terrain, including grassy patches, beach, campsites, basement, etc.
It comes with a 6mm thick tabletop engineered from a smooth, durable, top-grade aluminum-plastic composite material. It won't chip or warp easily. With a foldable design, 4 casters, automatic anti-tilting locks, and a set of ping pong nets, it is well worth more than its price-tag.
What we liked:
Composite surface tabletop is rust-resistant, waterproof, and resistant to warping and chipping
Folds neatly in half for hassle-free storage
Stylish and sturdy
Assembly is a breeze – it should be ready in less than 10 mins
What could be improved:
(5) JOOLA Rally TL 300
Amazon
Best ping pong table with ball holders
The JOOLA Rally TL 300 could easily be the best professional-grade ping pong table in the indoor category, boasting a cost-to-quality ratio similar to the Stiga Advantage. Even though it is slightly pricey, this beast scores an easy A+ when it comes to extra features like ball holders, abacus scorer, tray-style wheel system, and more.
Features that make JOOLA Rally TL a stand are: safety latches, snap-lockable casters for unbeatable stability & maneuvering, adjustable-height thick steel legs, a 5/8-inch thick tournament-grade MDF tabletop, and 1.5" tube aprons for a consistent bounce. It comes with a professional-quality clamp-style net and post set.
What we liked:
Top-notch quality
Features corner ball holders
Halves are independent and foldable for solo play
Stable and easy to move
Compact for easy storage
Sleek design
What could be improved:
Slightly heavy for some users
Can take quite some time to put together
(6) STIGA Space Saver Compact Table Tennis Table
Amazon
Best compact ping pong table for value
Measuring only 71 inches x 40.5 inches x 30 inches, STIGA Space-Saver is probably the most compact ping pong table loved by expert players. It fits into any tiny space, whether that means your garage, basement, attic, or studio apartment. Priced at under $250, it's also pleasantly affordable for both pro and amateur players.
This table comes 100% pre-assembled, so all you need to do is unpack, unfold, and start playing. The two detachable halves can easily fold on the back for solo playback.  They can also be used for crafts, to entertain, or play poker, baccarat, and any other card games.
What we liked:
Multi-purpose table halves
Fully assembled so you can start playing in a snap
Compact design – can fit anywhere
Includes standard ping pong net and post set
What could be improved:
No wheels
Plain and lacks notable features
(7) EastPoint Sports EPS 3000
Amazon
Best budget ping pong table
For most casual players, ping pong is all about having fun, which is why the vast majority don't want to spend a small fortune on a table. Does this sound like you? If you don't want to spend an arm and a leg to have a decent quality table-tennis table, don't look further than EastPoint Sports EPS 3000. It's a well-designed two-piece foldable table with a laminated 18mm thick tabletop.
Top features include: a center-mounted holder that can hold up to 6 balls and 4 paddles, four 2-inch lockable casters, foldable halves for solo play, molded corner caps, and 1.375-inch aprons. With a firm, rust-resistant powder-coated steel frame, it offers unrivaled durability and excellent playability.
What we liked:
Lockable wheels offer easy mobility and stability
Includes paddle storage, so you'll never lose your balls and paddles
Great features at a comparatively affordable price
Strong, weather-resistant steel frame
Lightweight
What could be improved:
Tabletop is a little thin
Tabletop may come off the frame if not properly handled
(8) Butterfly Junior Ping Pong Table
Amazon
Best ping pong table for children
Your kids will fall in love with this compact, low-height ping pong table for its smaller tabletop, footprint, and sleek design. It arrives 100% assembled so your child will have no trouble setting it up.  It's foldable for easy transportation and storage.
At three-quarters of the regulation size, it's slightly larger than mid-size tables, providing more playing real estate. Weighing just 35 lbs, it's lightweight and portable, plus it has two wheels on the inside. Best of all: the table halves are multi-purpose.
What we liked:
No assembly is required
Comes in beautiful green or blue
Includes corner protection pads to prevent chipping
Lightweight
Detachable two halves are great for multiple uses
Adjustable net
What could be improved:
Not for every player or competitions
A bit pricey for the compact size
(9) JOOLA Tetra 4 Piece Ping Pong Table Top
Amazon
Best ping pong conversion top
Already got a sizable table? Made of 4 foldable pieces in two detachable halves, the JOOLA Tetra lets you convert any reasonably-sized dining table, billiard table, pool table, air hockey table, or picnic table into a snazzy 12mm thick ping pong table top in minutes.
Crafted by one of the biggest names in the world of table-tennis, this ping pong table comes almost fully assembled; it will take you mere minutes to put together. It comes with a clip-on net and protective backing foam, so you can rest assured your billiard, pool, or picnic table will be scratch-free at the end of play.
What we liked:
Folds easily for quick storage
Very versatile – it can work on any sizeable table, from billiard to picnic table
Tabletop surface is regulation size
Includes padding foam for scratch-free play
What could be improved:
Slightly heavy
Some users have reported leveling issues with the conversion top
Other Honorable Mentions …
(10) Killerspin MyT7 BlackStorm
Amazon
The Killerspin MyT7 BlackStorm is a mid-range ping pong table with high-end features. Meant for outdoor play, this contraption features an aluminum-plastic composite tabletop 4mm in thickness, offering unmatched spin drive and ball bounce. It's rust-proof, water-resistant, and has a slick design that delivers awesome playability.
The table can be folded on the back so that players can enjoy solo play. It has built-in pockets to convenient hold up to 8 balls and 2 paddles on either side of the table.  The 8 castor wheels are 75mm for fuss-free transportation.
What we liked:
Strong, water-proof clip-on post and net system
Folds for easy transportation and storage
All-weather resistant design
Powder-coated steel frame offers great durability
Ball and paddle holders
What could be improved:
Not intuitive construction and not very easy to assemble
Corners of the table are not safeguarded with aprons
tabletop is only 4mm thick
(11) Donic Walder Table Tennis Table
Amazon
Donic may not be a well-known ping pong table brand, but this product is something of a flagship killer. Designed for outdoor use, the Donic Walder is supported by a sturdy powder-enameled steel frame, making it durable and rust-proof and ensures that it will hold up well to all elements.
The tabletop is about 0.24 inches thick and made of aluminum, so it's super smooth, weather-resistant, durable, and offers plenty of bounce quality. Underneath there are 8 wheels with a superb locking system; the table comes with a net and post set. It also folds in half nicely for easy storage, as well as a playback position for solo play.
What we liked:
Precise playback position
Lasts long thanks to the strong, powder-coated frame
Super easy to assemble
Foldable and easy to carry wherever you want
What could be improved:
0.24-inch thick tabletop is wanting in thickness
No-frills design can be a bit boring and uninspiring
(12) JOOLA Tour
Amazon
If you're a player looking for a basic, entry-level table, JOOLA Tour might be exactly what the ping pong doctor prescribed. It's a tournament-quality indoor ping pong table sporting a 15mm, 18mm or 25mm thick MDF table top. This makes it a perfect option for an avid player needing a table for at-home practice.
Even at its cheap price, you can expect a strong unit with powder-coated steel framing, 1.5-inch thick steel legs, adjustable-height levelers, 1.5-inch aprons for maximum protection, and a net/post system. It comes with an eight-wheel trolley undercarriage stabilized by wheel lockers and anti-tilting locking devices.
What we liked:
95% pre-assembled; only needs 8 bolts for it to be ready for play
Wood composite surface adds more bounce to ping pong balls
Can assume playback position
Boasts 4 sets of locking wheels for optimal mobility
Weather-resistant
What could be improved:
Separate tools needed to assemble
Net doesn't sit uniformly on the tabletop
(13) STIGA Synergy
Amazon
STIGA's Synergy line of table-tennis products is well-known for their good quality, playability, and durability. In this product, the brand brings its reputation of making top-notch, tournament-caliber equipment to the recreational market. Although it is a little pricey, the unit does offer features that even a more seasoned player will truly appreciate.
Instead of paint, the 5/8-inch thick black tabletop features silk-screen striping.  It is fully sanded and UV-filled to create an even, smooth surface for unbeatable playability and optimal bounce. Safety and mobility features include 1.75-inch protected steel legs, 2-inch steel aprons, and 3-inch mag wheels complete with locking system.
What we liked:
Incorporates two-inch aprons with protective padding
Sports both steel legs and casters for optimal stability and mobility
Comes with easy to attach/remove net system
Either side folds to create a lovely playback platform
What could be improved:
Only meant for indoor play and use
Assembly takes longer than expected
Some units have reported minor damage
(14) Joola Inside Table Tennis

Amazon
As the moniker suggests, Joola Inside is a fully assembled, double-chassis ping pong table, making it extremely friendly to people with a hectic lifestyle. It is priced well above other models in the category, but you can always count on Joola's track-record for quality in the industry, so being instant-play is just an added bonus.
Setting up this unit for play is pretty easy. Just press a single latch to release each half. The latches are so well-designed, strong, and firm that the table will not unlatch itself. Besides, it has a ¾-inch black tabletop, 3-inch mag wheels with locks, 2-inch steel legs, and a 66-inch post and net system.
What we liked:
Comes ready to use right out of the box
3-inch rolling casters with locks offer both mobility and stability
Striping is added to the tabletop
Has protective aprons around the corners
What could be improved:
Some border lines are skewed
Expensive for the class
Some units arrive with minor damage
(15) MD Sports Official Size Table Tennis Table
Amazon
If you are a budget shopper who wants a no-frills under-$200 ping pong table, then you might want to check out the MD Sports Official Size table. It is a good starter table.  The playing surface is a 15mm thick tabletop that offers so-so bounce with each strike.
Even though it has painted lines, the apron is top-notch, providing smooth gameplay. As you might expect, it's a fold-up table, so you won't have trouble finding a storage spot for it in your closet, garage or even underneath the bed.
What we liked:
Comes with 2 balls and two paddles
Tournament-size surface
Easy assembly
Folds tightly for easy storage and transportation
What could be improved:
Tabletop quality is acceptable, but not optimal
No mechanism for adjusting net tightness
(16) STIGA XTR Pro Outdoor
Amazon
If you're an outdoorsy person who wants to take your love of ping pong outside, you need to seriously consider buying the STIGA XTR Pro Outdoor. It's all in the name. Made of aluminum composite, it can power through any type of weather element, plus the 6mm-thick tabletop won't chirp or warp when exposed to outside elements like moisture.
It's designed for quick, hassle-free assembly; it should take no more than 10 minutes. It's perfect for your lawn, garage, patio, and other outdoor spaces. Although it comes folded, the sturdy legs have a self-folding system, so you can unfold and start your game in no time.
What we liked:
90% assembled right out of the box
Compact design, full professional-grade play
Easy to set up
Exposure to all kinds of weather conditions does not cause damage
Legs have self-folding mechanism
Playback feature for solo practice
What could be improved:
May show signs of wear and tear
No anti-glare feature
(17) Kettler Eden
Indoor Table
Amazon
The best professional table-tennis table
This outdoor/indoor hybrid is the ultimate professional ping pong table. What makes it light years ahead of the pack? With Kettler's globally recognized brand, it provides unbeatable quality and packs advanced features, most of which you can'T find in other models.
The Eden Indoor Table sports a 7mm thick tabletop fashioned out of resin laminate with MATTOP anti-glare coating, offering unseen firmness, 10x glare reduction, and unparalleled bounce quality. Thanks to the thick, powder-coated steel frame, the table is level and sturdy on uneven grounds.
What we liked:
Weather-resistant and rust-proof, great for outdoor play
10x less glare than traditional table-tennis table surfaces
Well-designed and expertly built
Stylish, sturdy, and of uniform design
Tabletop surface is of exceptional quality
Sports large double-wheels for added mobility
What could be improved:
Unprotected corners can easily chip
Not exactly easy to assemble
(18) Head Summit
Ping Pong Table Table Tennis
Amazon
A sturdy and durable product, the Head Summit is a great choice for someone who is after a compact-size and easy-to-store ping pong table with professional-grade features. The tabletop comes in two variants: the 16mm which is okay for beginners, and the 19mm which is recommended for intermediate players since it offers better bounce.
Weighing less than 175 pounds, this is one of the lightest table-tennis models in the category. Each foldable half has a set of larges wheels which makes it easy to transport and store. A net set is included alongside Butterfly clips for easy attachment and removal.
What we liked:
Compact design
High-quality overall
Two cool colors: green and blue
Easy-to-assemble net system
Excellent drive spin and bounce
3-year warranty for added peace of mind
What could be improved:
A bit pricey for a compact design
(19) Donic Waldner 25 Table Tennis Table
Amazon
If you're a fan of Donic Waldner sports equipment but don't want to break the bank, this should be your table. It is Donic's bottom-priced model, but it is engineered to the brand's highest standards. The 5/8-inch thick tabletop is SUV-filled and sanded, offering decently consistent bounce, but it lacks the silk-screen striping found in high-end models.
Other praiseworthy features include the 3-inch mag bearing wheels with a locking system, 2-inch steel legs, and a 2-inch steel apron that combine to provide even support for the top. Donic Wldner prides itself on including the patented QuickPlay Chassis architecture.
What we liked:
5/8-inch tabletop meets tournament regulations
2-inch profiled steel aprons include protective features
Lockable 3-inch wheels offer a convenient way to move the unit
Easy-fit net and post system
What could be improved:
Shows a visible center gap when folded
Only for indoor play and use
You Might Also Like: