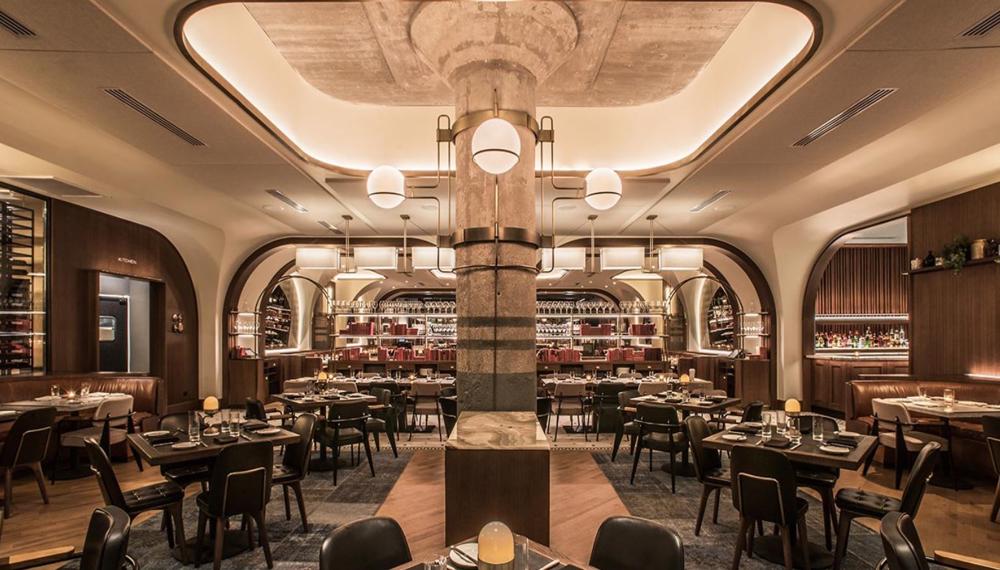 A brand new steakhouse has hit Chicago, right across from Wrigley Field.
Hospitality company Boka Restaurant Group has switched out Dutch & Doc's in favor of a new, stylish steakhouse.
Swift & Sons Tavern, which opened on March 6, has created the perfect spot for baseball fans to enjoy a great steak and a few drinks.
Other than a brand new 30-foot oyster bar installed on the first floor, the two-level restaurant hasn't changed much from its previous venue.
Dutch & Doc's was seemingly performing well for Boka from the outside in, but wasn't quite as booming as the company wanted. It opened in 2018 arriving just after its neighbor, Hotel Zachary.
In its last few months the restaurant was receiving great reviews, was used by the 2019 James Beard Award-winning company for pop-up events, and was the place where Momotaro chef Gene Kato released an Italian-Japanese menu.
Dutch & Doc's was, however, in competition with other big-name restaurant companies such as 4 Star Restaurant Group running Smoke Daddy and Fifty/50 Restaurant Group offering West Town Bakery & Tap.
It is thought Boka made the switch to Swift & Sons because an established brand made more sense in the location. S&S first opened in 2016 in Fulton Market offering high-end dining; its Wrigleyville counterpart is said to be much more laid back to fit in with the baseball scene.
It isn't the only place to go through a change lately.  Some of Chicago's best restaurants have closed in recent years.
Swift & Sons hope to flourish as Wrigleyville's only steakhouse – and although steak isn't technically linked to baseball, the venue wants to offer somewhere new for fans to try before and after games.
Those who are so inclined can enjoy oysters, shrimp cocktails, smoked whitefish and creole crab salad, but old tavern favorites are very much the center of the menu.
Starters include tavern poutine served with bacon, cheese curds, banana peppers, black pepper gravy, and Brauhaus pretzel served with chili cheese dip and caraway mustard sauce.
The tavern also offers a range of lighter sandwiches, including grilled chicken, veggie hoagie, and shrimp po boy. Of course, salads still make an appearance with all the usual favorites including Caesar and Greek.
Now onto the main dishes, which will surely not disappoint, based on the restaurant's track record. Swift & Sons makes it nice and easy with 'steak' and 'not steak' categories.
In the steak section, diners can choose between hangar steak frites, tavern flat iron steak, petite filet, prime NY strip, and ribeye.
Customers wanting something from the 'not steak' menu can choose fish and chips, a fried shrimp platter, roasted salmon, or brick chicken.
Burgers and macaroni and cheese are on the menu; two of Dutch & Doc's more popular items, although it's unclear if these are new recipes or a carryover.
Brunch will be served on Saturday and Sunday between the hours of 9am and 2pm.
The venue prides itself on being the 'home of the $4 pint, which is served throughout the day. Guests can also choose from a range of cocktails and wines.
So while baseball fans may be waiting a little longer for the season to start due to the coronavirus, they will now be able to pass the time with great oysters, steak, and beer.
The tavern can be found at 3600 N. Clark Street and is open 5 pm to 9pm Monday through Thursday, (yes- open on a Monday- like these other restaurants), 4pm to 10pm on Friday, 9am to 10pm on Saturday and 9am to 9pm on Sunday.