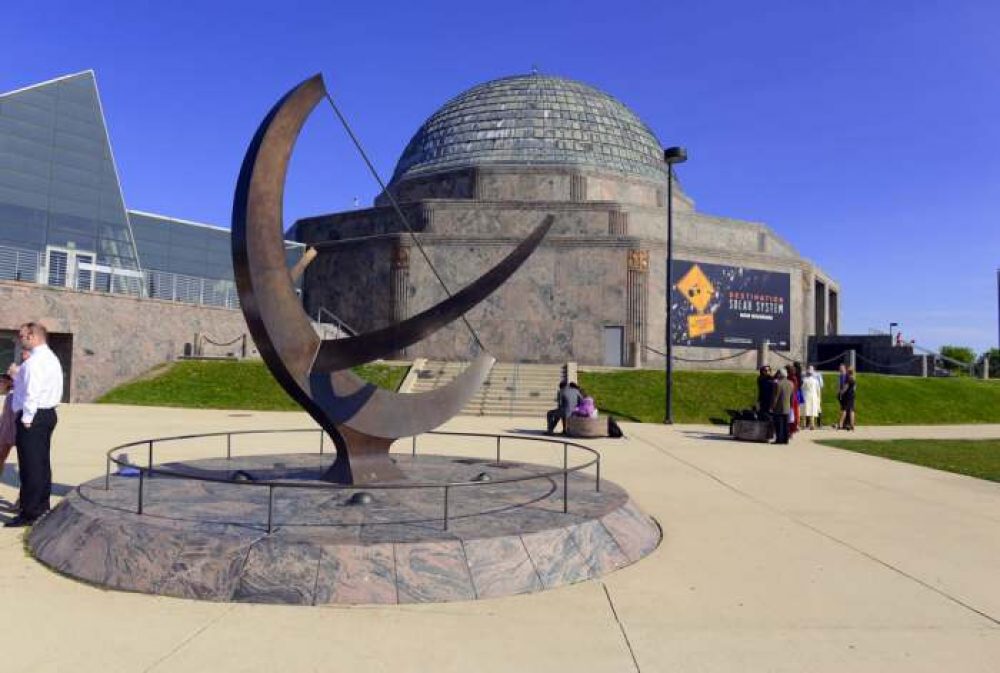 The Adler Planetarium, the Museum Campus attraction well loved by Chicagoans and not only, will reopen after almost two years, welcoming back guests with new ticketing options and procedures meant to ensure public safety.
The Final Major Chicago Institution to Reopen for the Public
It's been nearly two years since visitors have last had the occasion to see a show at the Grainger Sky Theater, gaze up at scale models of the planets in our solar system or look inside the tiny Gemini 12 capsule that brought a pair of astronauts to space and back. Friday, March 4th, this will change, since Illinois residents and out of state guests will finally have the opportunity to see the popular Museum Campus attraction again. The Adler Planetarium is the final major Chicago institution to reopen after being closed when the pandemic started and we could not be happier.
After finding out we are getting back our Saint Patrick parades, the reopening of the Adler is the other best news March 2022 brings.  
For those looking to expand their horizons and also maybe brighten up their Instagram feed, Chicago has so many Instagram worthy landmarks, and the Planetarium can easily be added to the list. 
A few changes have been made in order to reopen safely.
First, you'll need to purchase all Adler Planetarium tickets in advance through the institution's website. Frequent visitors have a few perks: The Star Pass is a ticket option which offers one year of unlimited access to Adler Planetarium exhibits, visits to the Doane Observatory and sky shows in the domed theater. A Star Pass is just $65 for individuals and $180 for families, including access for two adults and all children ages 17 or younger.
Masks Are Not Required, but the Adler Strongly Supports People's Choice to Wear Them
Thanks to the repeal of Chicago's mask and vaccine mandates on February 28, masks and proof of vaccination won't be required to visit the Adler Planetarium. 
The Adler Planetarium is committed to maintaining a safe environment for all guests, staff, and volunteers. A few rules have been put in place to ensure everyone remains safe while visiting the Planetarium, buying the tickets in advance, online (available here), being only one of them. 
On the day of your visit, you may arrive at any time during public hours, however, if you have purchased one or more sky shows, you are required to arrive 30 minutes before your earliest show time; late seating will not be available.
When you arrive at the box office, you must have your mobile device ready to display your tickets. If you chose to print your tickets, you are kindly asked to make sure each guest has their own ticket to show staff upon arrival. Any sky show tickets that have been purchased will be scanned outside of the theater prior to your show.
Although the mask and vaccination are not required for admission, the Adler is mask friendly and strongly supports people's choice to wear a mask.
Plus, the Planetarium is taking every measure to help ensure guests' safety:
Hand sanitizer stations are easily accessible throughout the building

High-traffic areas are cleaned regularly

A digital map

lets you navigate the museum using your own device

Ventilation systems have been upgraded with high efficiency filters that exceed industry standards to greatly reduce virus transfer from one space to another

The staff at the Adler Planetarium is 100% vaccinated 
New Visiting Hours and Late Wednesdays with Free Entrance for Illinoisans
Keep in mind the Adler Planetarium will have new visiting hours, being open from 9am–4pm daily, except on Wednesdays, when you will be able to visit until 10 pm. Illinois residents who present a proof of residency will benefit from free admission on Wednesday nights (beginning at 4pm), but everyone has to make sure they reserved the complimentary tickets through the Adler Planetarium's website. Being open later on Wednesday, from 4:00 pm–10:00 pm, the museum offers people the possibility to come after work, after school, for a date night (what can be more romantic than observing the starry sky or fool moon with the loved one?), and let their curiosity guide them to new discoveries. They will find hands-on, minds-on activities, experiences, and shows about the universe that will blow their mind!
The museum has award-winning sky shows that are not to be missed. One can imagine the Moon with the staff, search for a new ninth planet, take a fast-paced tour of the solar system, get to know the sky above Chicago, and fly through the stars at impossible speeds in the Adler's state-of-the-art theaters.
Skywatch Wednesday, an Option for Those Who Can't Visit
And if for some reason or another you can't go in person to the Adler just yet, there are still ways to enjoy the skies.
Skywatch Wednesday is a YouTube video series from Adler Planetarium that encourages viewers to get to know their night sky. Each episode highlights objects like constellations and planets you'll be able to spot on your own at home during the upcoming week, a weekly challenge, and other fun facts about our universe.
After each episode, the Museum's staff members encourage you to go out and explore your night sky to try and view the objects discussed in the episode. Then, you can even let the Adler know what you see by commenting in the YouTube comment section or on social media—tag @adlerplanet and #LookUp on Instagram and Twitter.
Catch new episodes on YouTube on Wednesdays. You can browse the playlist above using the playlist menu in the top right hand corner of the video or visit the Adler's YouTube channel for the latest Skywatch Wednesday updates.