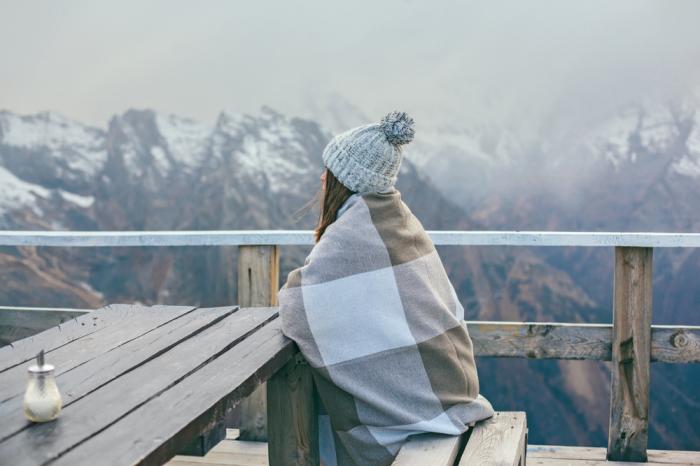 A travel blanket has become an essential item for anyone flying to their destination, especially frequent flyers, especially since the news spread about the unhygienic nature of airline blankets. The reality is, not purchasing your own travel blanket often means you are cuddling up in someone else's germs, especially if your flight isn't the first of the day.
If this doesn't sound like something you want to endure on your next trip, there's no need to worry as we've curated a list full of blankets for you to choose from. Every option on our list provides something different to suit all different needs and personality types, so you're bound to come out with a few options on your list. From anxious flyers to children and passengers traveling in luxury-mode, there's a travel blanket on this list for you below.
BlueHills Premium Soft Travel Blanket 
Amazon
This premium blanket made from micro plush material uses patent-pending creative technology to offer enough comfort for you to drift off on any plane. It comes in a variety of different colors, from bright teal to more muted browns, making it a great blanket for everyone. BlueHills also considered practicality with this blanket, including a hand luggage belt and backpack clip to enable you to carry it without it taking up unnecessary room in a bag.
Let's Innovate Life Compact Airplane Blanket
Amazon
This Let's Innovate Life blanket is compact enough to carry in a backpack or bag, but large and thick to keep you warm while traveling, including on planes. With its own carry case made out of the same plush polyester, this is a great blanket if you're looking for a  travel blanket and pillow set. It's also one of the most innovative on the market, with two pockets to carry your documents through the airport or provide additional lumbar support.
FOHOG Blanket 
Amazon
The FOHOG Blanket has received many accolades since it was first launched, including being listed as the best travel blanket by Amazon. It's also often the blanket of choice for many high-end hotels, with a velvety soft texture that maximizes comfort over everything else. Despite its texture, it's also incredibly easy to look after; simply machine wash before use and then every six months afterward following the care instructions.
Fleece Blanket, Red Sona Blanket

Amazon
This blanket is another one that has received high praise from Amazon, being named one of the most versatile blankets on their website. The versatility is something the company has worked hard on, meaning if you purchase this you will have lumbar support, a pillow, and a blanket in just one piece of material. The company also carefully considered the comfort, too, using premium plush coral fleece materials that will keep you comfortable regardless of the way you travel.
ComfortPlus 3-in-1 Premium Blanket 
Amazon
If you're looking for something lightweight that doesn't take up much room, this 200 gram micro fleece blanket has everything you need. It comes in a compact, fleece blanket that makes it far less cumbersome than traditional traveling blankets and has an adjustable travel strap for easy carrying. With the bag made from fleece material, you could get creative and also use the bag as a neck roll or nap pillow if needed.
Maluhia Designs

Blanket 
Amazon
Your luxurious travel trip wouldn't be complete without a matching blanket, and this Maluhia blanket is one of the best. They consulted with top travel experts to understand what people most wanted on their trips and made comfort their top priority. They created a luxurious and soft blanket with sherpa on one side and fleece on the other, making it versatile for all personalities and sensory desires.
Forestfish Fleece Throw Blanket 
Amazon
If you're looking for the best travel blanket that is also incredibly simple and affordable, this one by Forestfish is the perfect option. It's completely machine washable with a unique design that won't fade in the wash, making it great for long-term use. It's made from fleece as opposed to the Sherpa or wool options many other blankets have, making it lightweight and easier to pack compactly in your carry-on.
Lavish Vault Fleece Airplane Blanket 
Amazon
This blanket is unbelievably soft and feels great on your skin, helping you to relax enough to fall asleep regardless of which mode of transport you use. You don't need to stress about carrying it with you, either, as it folds down into a 10×10 size that can be buried at the bottom of a backpack when not in use. If you don't travel frequently but want to travel in style when you do, this blanket is multipurpose and can be used as a bed throw when not needed in the air.
Cloudz Bamboo Blanket with Bag
Amazon
For vegans, or those concerned about the environmental impact of traditional blanket materials, you don't have to be left out of staying warm. Cloudz, a trusted brand of over 15 years, has created this sustainable bamboo blanket that will keep you warm on the coldest of flights. It's made from bamboo-infused fleece, and is extremely lightweight, making it a great option for those who don't exactly pack light for their vacations or work trips.
Go Cozy 4-in-1 Compact Fleece Blanket 
Amazon
This blanket is created from ultra-plush flannel fleece material that is durable and ensures you stay warm regardless of the temperature. It's a generous size which makes it perfect for getting comfortable on your flight, and can also double up as an ordinary blanket once you reach your destination. This blanket also comes with a bag made from the same materials, which has a handy front pocket for you to store important documents at the airport.
TravelerClub Plane Packable Blanket
Amazon
With comfort in mind, this blanket has been made from high-quality soft microfiber fleece material for maximum relaxation on your next flight. It's also large enough to cover your entire body for a quick nap, and with an extra t-shirt, the accompanying bag can be utilized as a pillow. The bag also makes it easier to carry around airports, with a handle and backpack clip that can be attached to any kind of luggage for hands-free transportation.
Oceas Warm Fleece Waterproof Blanket 
Amazon
Not everyone who travels is headed to a destination of sun, sea, and quality time, which is something the Oceas brand has embraced with this blanket. One side is made from plush fleece and has insulation to keep you extra warm throughout your flight and provide extra cushion if you are camping outside. The other side is made from waterproof materials, making it great for hiking expeditions or weekends in the wild as it will ensure you stay warm and dry at all times.
Vera Bradley Fleece Blanket 
Amazon
If you're looking for a blanket that perfectly combines fun and comfort, this 100 percent polyester micro-fleece option from Vera Bradley is perfect. Unlike other options out there, this blanket is easily machine washable and fade resistant, giving you years of comfort on your traveling adventures. This design when packed up also comes with a handy trolley sleeve so that it can be attached to a suitcase for hands-free travel between flights.
Pavilia Compact Blanket 
Amazon
This is one of the luxurious travel blanket and pillow sets that carefully considered its design aspects at every point. This has resulted in a lightweight blanket that weighs just over a pound made from premium soft micro plush fabric. It's also incredibly easy to repack back into the pillowcase it's provided with when not in use, with a zip function that keeps it secure at all times.
Pembrook Micro Fleece Blanket 
Amazon
Manufacturing high quality products for over 40 years, Pembrook knows what they're doing, and their ultra-soft coral microfleece is no exception. They have taken the classic fleece blanket design and upped its comfort, also adding a handy travel handle for ease of transportation when on the go. Despite being made from super soft materials, it's machine washable and can even go in the dryer if you need it dried quickly for an early-morning flight!
HappyLuxe Travel Wrap and Blanket 
Amazon
If you're looking for an airplane blanket with a difference, this travel wrap by Happy Luxe definitely meets your requirements. It's extremely versatile, able to add a touch of luxuriousness to any airport outfit or add a layer to a sophisticated evening outfit once you've reached your destination. The wrap is made in the USA and made from eco-friendly Micro Modal material, making this another great option for those conscious about sustainability.
HAOK Lightweight Throw Blanket 
Amazon
Although this wasn't originally created as a travel blanket, it's easy washing and lightweight features have many considering it the best travel blanket. The main thing you'll notice about this blanket is that it's made for comfort, knitted from high-density microfiber which makes it thermal and durable in design. With eight different designs to choose from, this throw blanket could also be used as a décor feature in your home when you're not out traveling the world.
Cocoon CoolMax Blanket 
Amazon
This knit blanket is lightweight and comes in its very own bag, making it the perfect companion for your upcoming travel adventures. It comes in thirteen different colors, from bright yellows and pinks to subtle browns and greys, allowing you to choose a blanket that best suits your personality. One of its best features according to reviews is its size, which far outweighs many other travel blankets on the go and is more than enough for one person.
DII Luxury Lightweight Microfiber Throw Blanket 
Amazon
This is the best travel blanket if you're looking for something that matches your exuberant personality and won't be hard to find if you put it down somewhere. Made from polyester materials, it's super soft, durable, and lightweight, which makes it perfect for hand luggage where weight may be a concern. To take with you, simply roll it up into a ball and secure it together with the attached strap, which ensures it doesn't expand or get ruffled in your bag.
Kululu 4-in-1 Poncho Style Blanket 
Amazon
If laying your blanket over you sounds too mainstream, or you want to make sure as much of you is covered as possible, this is the blanket for you. Created in a poncho style from soft micro-plush fleece material, it even has a hood you can cover your face with when you need to sleep. It also comes with a handy carrying pouch which includes a strap to buckle to your luggage for times where you can't wear it.
U UQUI Cozy Soft Microfleece Blanket 
Amazon
This blanket uses skin-friendly flannel fleece materials to make your traveling adventure as comfortable as possible. With nine luxurious, bold colors, your blanket is sure to stand out among the ordinary airplane blankets, easily becoming the envy of the plane. Despite being less than $20 on Amazon, the company created it with long-term durability in mind, making it the perfect travel companion for many trips to come.
Bare Home Sherpa Fleece Blanket 
Amazon
This carefully crafted Sherpa blanket is designed with maximum comfort in mind, to the point where you may struggle to get up and face the world when the plane journey ends. Bare Home has taken everything into consideration and made sure that their products are the highest quality possible. To do this, they have collaborated with a factory who believe in their ethos and help them to provide products using nontoxic, hypoallergenic premium materials.
GlamVie Lightweight Airplane Blanket 
Amazon
This luxurious blanket is made from super-soft microfleece material, making it perfect for those who like to sleep comfortably on long haul flights. For practicality, it comes with a case made out of the same material that doubles up as a pillow when the blanket is folded up inside of it. It also comes with a handy strap so that you can keep it attached to your luggage when traveling for a hands-free experience.
The Everything Travel Blanket 
Amazon
This blanket might not look like much from the outside, but its creators have made sure that it performs in the style department as well as being comfortable. You can fold this up and use it as a scarf, shawl, or pillow, as well as a blanket, and it comes in its own petite carrying duffle. With eight muted, sophisticated colors, it's perfect for accessorizing and allows you to choose a style that best suits your personality.
MAXTID Travel Size Weighted Lap Blanket
Amazon
Designed to help travelers overcome anxiety, this weighted blanket might not work if you're using your hand luggage allowance for other items, but if you're an anxious flyer, this could be the lifesaver you need. It weighs 8lbs with the weight evenly distributed, giving you a feeling of comfort that can help you relax, even during the worst cases of turbulence. The weighted blanket is also covered in a soft, fleecy material for the journey, making it comfortable to lay beneath even for longer journeys.
Orion Outpost Trading Co. Lightweight Fleece Blanket 
Amazon
This blanket is unlike the other blankets we have on our list, created using lightweight, military-inspired polyester. It's completely no-nonsense with its basic design, but makes up for its simplicity with its many applications; you can use it for hiking or camping purposes as well as for traveling to your destination.  You also shouldn't be put off by the material description, as this is still far softer and less itchy than wool, making it a great accessory for your next plane ride.
MERYLIFE Throw Blanket
Amazon
MERYLIFE has created a 100% polyester blanket that is light, warm, and cozy; everything you need for a successful long haul flight. With many wondrous colors to choose from and a variety of blanket sizes, this is the perfect blanket to buy if you want something you can also use at home. Buying one of their larger blankets is a great option, as it means you can take one for two people, saving room in your hand luggage.
WONDER MIRACLE Fuzzy Throw Blanket 
Amazon
This soft microfleece knit blanket was created to be kind to the skin, made of safe, hypoallergenic materials with no phthalates or chemicals that can harm skin. The beautifully textured blanket is the perfect travel companion for adults, children, and babies. Its size is another plus, as you can easily pack it away in your hand luggage or a bag in the back of a car once you arrive at your destination.
BlueHills Premium Soft Coral Fleece Blanket 
Amazon
This is one of the travel blanket and pillow sets that should be at the top of your wish list if you are a frequent flyer or want ultimate comfort on your next trip. It's luxuriously soft, created from coral fleece, which makes your days of traveling a lot less stressful when you know you can relax once you're on your flight. This blanket also comes with a large and practical loop on the back so that it can be easily slipped onto your suitcase or attached to your backpack.
EverSnug Luxury Travel Blanket and Pillow Set
Amazon
If you're looking for the ultimate relaxation on your next trip, why not invest in one of these travel blanket and pillow sets? This one is created out of soft, grey fleece material, and comes with a blanket, neck pillow, and an eye mask to give you the best chances of shut-eye on a plane. The best part about this set is that it can all be folded into the small bag it comes with, stopping it from taking up lots of your hand luggage allowance.
BlueHills Travel and Throw Blanket
Amazon
The downside to using the complimentary airplane blankets is that they're usually cold and scratchy, a complete contrast to what this company offers. Plenty big enough to cover one person comfortably, this blanket is made from luxurious French microfiber to make your flight as pleasurable as possible. It's also extremely easy to pack away, making it great for those moments when you're in a rush to catch a connecting flight or meet someone at your destination.
World's Best Soft Mink Fleece Blanket 
Amazon
This is the best travel blanket if you're looking for something soft and easily storable that you can use around the house as well as on a plane. It's made from mink fleece materials to relax you and bring you a sense of calm that will allow you to fall into a restful slumber on your next airplane ride. Better yet, you don't need to take any special measures when washing this blanket after your flight as it can simply be thrown in with the rest of your clothes.
CozyBomB Kids Travel Blanket and Armrest Buddy Set 
Amazon
Traveling with kids can be difficult, but help them process the situation more easily by gifting them this comfortable blanket and armrest buddy set. The blanket is made from polyester materials and is large enough to cover a tall child, making it the perfect companion for long airplane rides. The armrest buddy, Tux the penguin, allows your child to nap comfortably against the armrest and can double up as a soft toy if your child needs comforting.
Summary
So there we have it! An entire list full of blankets for you to choose from for your next vacation. With different options to suit all trip sizes and shapes, and budget options to boot, you won't have any trouble finding the right one for you. Although we've focused more on airplane blankets and hand luggage allowances, the items we've included are also great for other modes of transport, too!
You Might Also Like: