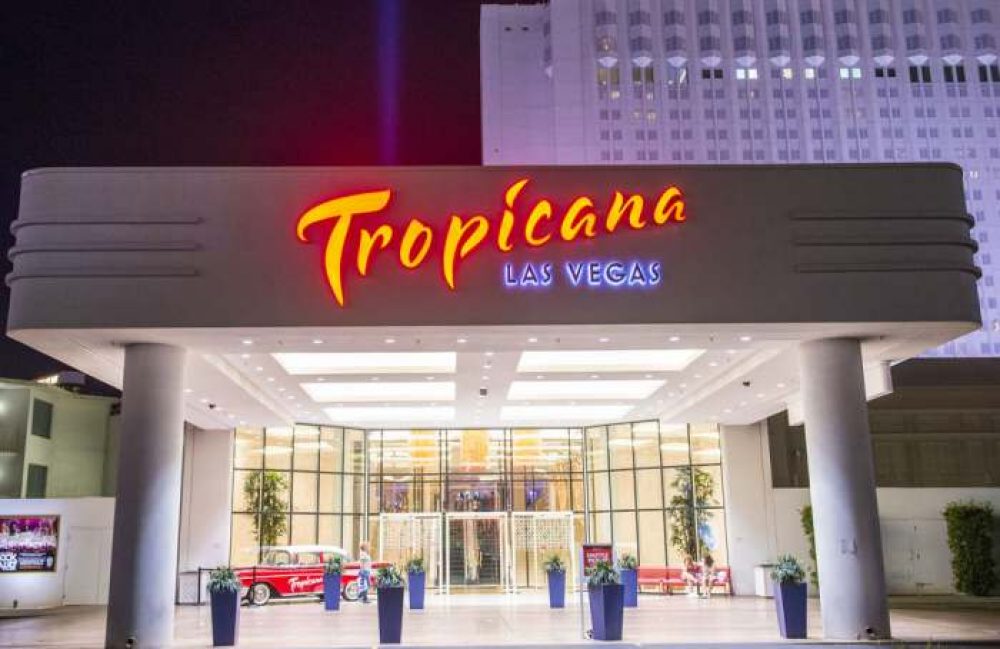 The Tropicana Evansville property is changing hands. Caesars Entertainment, which built the casino hotel and entertainment complex, has agreed to sell it to Gaming Leisure Properties and Twin River Worldwide Holdings. The price tag is $480-million. The facility, which opened in 1995 as the Casino Aztar includes a 45,000 square foot casino, a hotel with 250 rooms, a parking garage with room for 1,660 vehicles, a pavilion which is home to pre-boarding facilities (for the casino boat), retail shops, restaurants, and a lounge. An addition to the property opened in 2006 which included a 100 room boutique hotel and more restaurants. The deal won't be final until partway through 2021 as it is subject to a working capital adjustment.
The Lease Back Part of The Deal
The deal has an interesting element attached to it. The investment trust Gaming and Leisure Properties will purchase the real estate owned by the Tropicana for a price of $340-million. Then they will lease that land back to Twin River Worldwide Holdings at an annual rental rate of $28-million. Twin River will take on the casino part of the operation from Caesars for $140-million. Where the Indiana-based deal gets very interesting is that it will give Twin River unencumbered rights to sports betting and online gaming skins that have been used by the casino. This gives Twin River instant access to the Indiana sports gaming market. The significance of this is yet to be realized but expect the group to work on establishing more than just a sports betting app to reach those within the state who do not live in the immediate area and cannot easily access a brick-and-mortar sportsbook – which may also be part of the plan.
But There's More
The agreement also has a few extra bonuses. For example, Caesars has agreed to include the real estate from two more of their properties under the Gaming and Leisure Properties master lease. They include the Isle Casino Hotel Waterloo and Isle Casino Hotel Bettendorf. What this means is that Twin River will end up owning the complete Tropicana selection of properties that they can hold and operate or choose to sell off at a later date as a complete casino package. Then there's the riverboat. Formally known as the "City of Evansville" the casino boat was the first-ever gaming riverboat in the state that was established following legislation in 1993. The riverboat casino opened two years later and is a replica of the Historic Robert E. Lee racing sidewheel steamboat. The riverboat casino moved inland in 2017 and during 2018 it changed hands when Eldorado Resorts took over Tropicana Entertainment.
What They Had To Say About The Deal
Tom Reeg, the CEO of Caesars Entertainment thanked all involved for "their hard work and dedication, especially during the COVID-19 pandemic…" He went on to wish the Evansville team members well with new owners. George Papanier, President and CEO of Twin River stated the purchase was consistent with the company's core strategy "of acquiring strategic gaming assets at attractive valuations and, importantly, represents the company's entry into a tenth state." It is interesting to note that Twin River Worldwide Holdings, a Rhode Island-based company, has had dealings with Caesars in the past and has made several purchases of what are now former-Caesars properties. The list includes Bally's Atlantic City, MontBleu in Lake Tahoe, the Isle of Capri in Kansas City, Missouri, and the Eldorado Shreveport in Lousiana.
What Makes Indiana So Attractive
Looking at the numbers related to sports betting activity in Indiana, it becomes clear why Twin River moved into the neighborhood. Although sports betting has been legal in the state since May 2019, the first legal brick-and-mortar sportsbook didn't open for business until September of that year and was followed the next month by the first legal mobile online sportsbook. According to the Indiana Gaming Commission, there were a total of 15 brick-and-mortar and 4 mobile sportsbooks in operation in January 2020 and that has increased to 15 and 10 as of October 2020. That growth rate is currently faster than online sports betting in Illinois has grown. The biggest monthly handle to date was recorded in October at $230,932,251. The state has a 9.5% tax on sportsbooks in the state but it is obvious that bettors are making use of their local sportsbooks and dumping a fair deal of money on wagers. This data would have been a factor in the decision by Twin River to expand into Indiana.
Online Casino Gaming Still On Hold
Although sports betting is legal in Indiana, casino gaming is not. However, it is expected to become a hotly debated topic of discussion at the legislative level when the state lawmakers go into session next year. The actual timeline leading to the legalization of online casino betting in Indiana is anyone's guess at this point. However, you can't blame Twin River for getting into position as they already have competition on that front from William Hill. The IGC gave William Hill the green light in late October 2020 to start offering online betting and you know the smart money is riding on them to launch a casino app as soon as the Indiana government passes legislation in favor of the technology. When you consider that the state currently earns 9.5% through taxation of sportsbooks, they will also see additional revenue streaming from legal casino gaming once that is approved and a tax is added. The state's take from these gaming opportunities is used for various programs and are mostly related to building infrastructure and programs to benefit residents.
In Conclusion
Online sports betting has opened several doors to new and innovative ways to generate cash flow at the state level. While the number of US states that have legalized sports betting in all forms is still very low, it is most certainly catching on. The state of Indiana is one such example where casinos sell and attached to them are rights related to sports betting opportunities. It is an exciting time to be a sports fan in the United States. It is equally as exciting to be in the sports betting industry. With new technology continuing to evolve, sports betting apps continue to improve making it attractive for players to join in on the fun of wagering online.