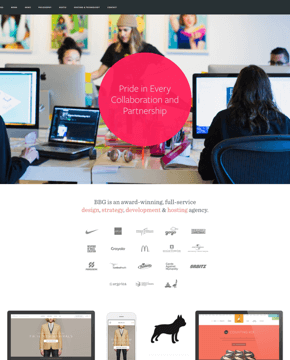 4131 W Belmont Ave D, Chicago, IL 60641
Phone: 773-647-1034
Website: https://brightbrightgreat.com/
Founded: 2007
Owner: Amy and Jason Schwartz
Top clients: Nike, Lucasfilm, Crayola, McDonalds, Cards Against Humanity, Orbitz, Argo Tea.
Expertise: Interactive design, web design, interface design, digital strategy, interactive marketing, social media.
Company Description 
With over ten years in business, Bright Bright Great subscribes to the "10 Principles of Good Design," established by famous industrial designer Dieter Rams. In Rams' point of view, good design:
… is innovative. If it's been done before, why do it at all? Always push boundaries. 

… makes a useful product. The use of the product comes first, before any other considerations.

… is aesthetic. There's more to life than function. Beauty makes a difference and moves consumer behavior.

… makes a product understandable. The goal is not to be smarter than the customer; there is no extra credit for a confusing product.
… is unobtrusive. While the product or experience may command attention, the hand of the designer goes unnoticed.

… is honest. No attempt is made to manipulate the customer into believing the product is something that it is not.

… is as little design as possible. A less-is-more approach puts the focus where it belongs—on the essential functions of the product.

… is long-lasting. Forget fads—good design looks for the classic and enduring.

… is thorough down to the last detail. Design is an opportunity to remove chance from the equation and focus on accuracy.

… is environmentally friendly. That means minimal visual or physical pollution in the creation of the product or anywhere in its lifecycle.
Repurposing this philosophy out of industrial design and into digital marketing is one of many innovations that have shaped BBG into a force to be reckoned with in the marketing space.
Focus Areas
In keeping with their 10-point philosophy, Bright Bright Great see themselves as designers first. Their marketing strategies spring from a dedication to design as the first, best way to strengthen a brand.
A design-centric approach to marketing involves three project phases:
Learn.

Gather data, identify problems to solve, and build brands through branding strategy, research, analytics, UX design, and brand positioning.
Make.

Create innovative digital experiences with big visual impact through expert art direction, UI design, front-end development, photography, and videography.
Sell.

Develop a strong message to create customer engagement through marketing campaign creation, including email marketing, SEO, social media marketing, and more.
Do It Again.

Once a growth strategy is in place and working, it's a matter of rinse-repeat. There's no limit to the scalability of most organizations through effective marketing and design.
Services Provided
Research

Brand Positioning

Brand Audit 

Functionality Audit 

Analytics 

Brand Strategy

Brand Development 

Art Direction

User Interface Design (UI)

Photography

Videography 

Illustration

3D Rendering 

Front-End Development

API Integration

Data Migration 

Back-End Development 

Motion Graphics 

Copywriting 

Brand Identity 

Print

Typography 

Design 

Back-End 

E-commerce

Product Messaging 

Search Engine Optimization

Brand Messaging

Marketing

Account Management 

Campaign Creation

Paid Advertising

Social Media

Customer Engagement 

Email Marketing 

Social Reporting

Brand Marketing
Notable Clients
Nike

Lucasfilm

Crayola

McDonalds

Cards Against Humanity

Orbitz

Argo Tea
Why Work with Bright Bright Great
BBG is a good choice for organizations that want to develop and position their brand for maximum customer engagement, particularly brands looking to make a strong visual impact in their digital experiences. This company is driven by innovation and aesthetics. They strive to make experiences that are as beautiful as they are functional. It's a go-big-or-go-home approach best tailored to ambitious brands that swing for the fences—which is why Nike, Lucasfilm, and Orbitz have trusted BBG with their branding and messaging. 
BBG also partners with companies that know that the work of brand positioning is ongoing. Today's strategy might not be the same as tomorrow's strategy, and long-term success requires agility and constant reevaluation. It's an ideal partnership for companies that envision an ongoing, evolving relationship with their chosen marketing professionals.
You Might Also Like: