If you landed on this page, chances are you are a CEO or a director of marketing on a quest to find a marketing company that caters to your specific needs.
You don't need any more convincing. You already know that in order to reach new heights you need to outsource your marketing functions to a third party agency. According to the 2018 Content Marketing Institute Report, 56% of companies in America are doing the same.
A marketing agency is a business whose experts help organizations stand out and generate growth using digital advertising tools. Marketing experts are usually well-versed in digital strategy, branding, website design, social media marketing, public relations, video production, and pay-per-click. Their mission can be deceptively complex: get businesses in front of targeted audiences, on the right channels, at the perfect time.
There are hundreds of marketing agencies in Chicago; getting the right company for the job can take weeks, if not months.
This article is designed to help you navigate the myriad of agencies populating the city's marketing scene. Instead of frantically scouring the internet and meeting with less-than-stellar candidates, spend a couple of minutes reading our list of top local marketing agencies.
These are award-winning companies that, just like us, have yielded astonishing results. And they will do it for you too.
Whether you're looking to increase your website traffic, gain national media coverage, sell out your Amazon products, or build a powerful social media presence, any agency on this list will help you get there.
Digital Authority Partners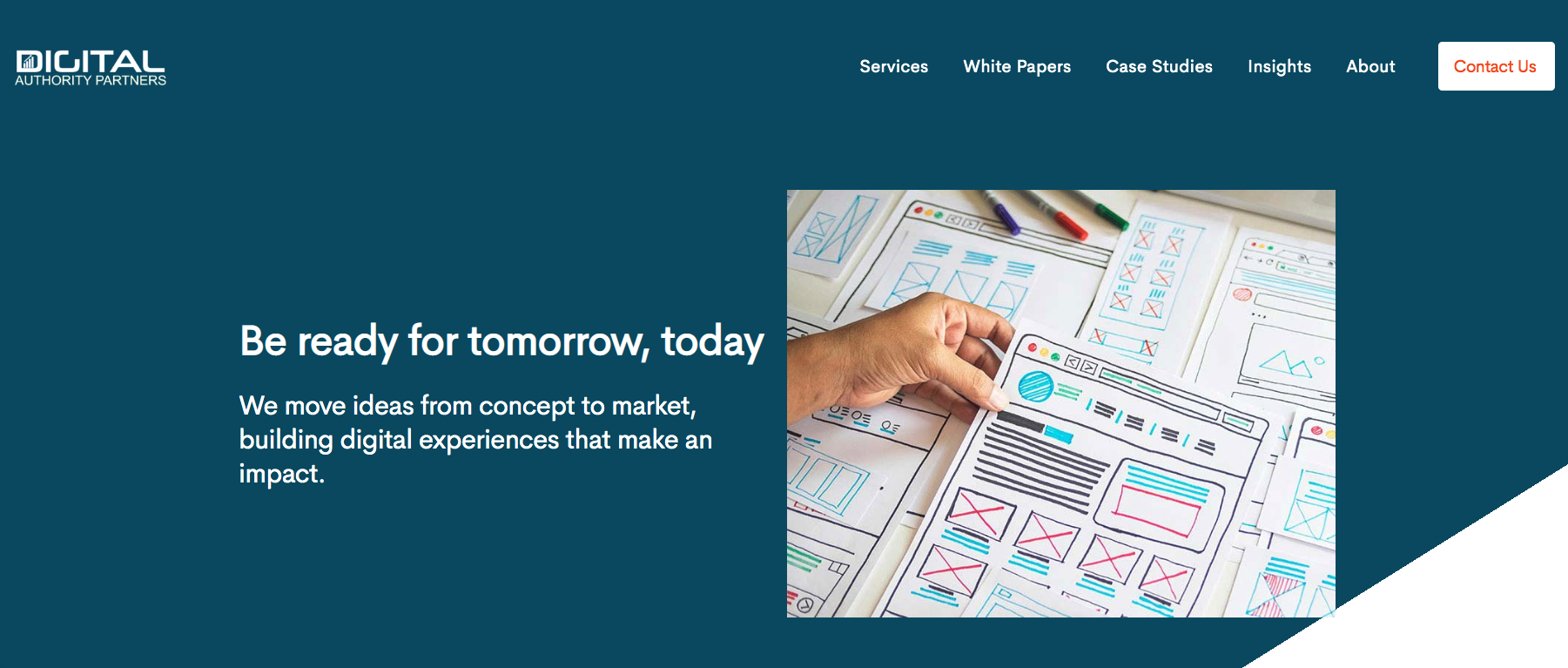 222 W Merchandise Mart Plaza #1212, Chicago, IL 60654
Phone: 312- 600-5433
Founded: 2015
CEO: Codrin Arsene
Top Clients: Athenahealth, Omron, Dolbi, Fortinet, Kroger, Business Talent Group, American Heart Association.
Expertise: Digital strategy, user experience design, analytics, and development.
Digital Authority Partners (DAP) is a digital strategy and product development agency that helps companies build digital products and experiences that make a difference.
The company's main industries are healthcare, financial technologies, and government.
DAP's experienced team of product managers, developers, designers, analysts and marketers guide businesses on how to implement voice technologies, artificial intelligence, blockchain, and virtual reality to slash their operational costs and boost ROI. The agency's CEO, Codrin Arsene, has extensive experience helping Fortune 500 companies achieve their full potential through complex digital strategy initiatives.  
Arsene is on a quest to revolutionize healthcare from within. As a result, in 2018, DAP launched healthcareweekly.com, a news website dedicated to executives in the private and public sectors who aspire to digitally transform the industry.
One North Interactive
222 N LaSalle St #1500, Chicago, IL 60601
Phone: 312-469-1740
Founded: 2012
CEO: John Simpson
Top clients: Burns & McDonnell, Greenberg Traurig, Plante Moran, Skadden, West Monroe Partners, Navigant.
Expertise: Digital strategy, branding, back-end development and technology support.
Recently acquired by TEKsystems Global Services, One North Interactive is a full-service digital agency with more than 90 professionals specialized in brand, digital strategy, experience design, technology and managed hosting.
They launched hundreds of websites and other digital solutions for over 70 B2B organizations. But One North Interactive has built a reputation for working with leading law firms. In fact, over 40 percent of their clientele are law firms included in the The National Law Journal's annual list of top 250 law firms in the country, known as the NLJ 250. In 2016, the company was voted "#1 Law Firm Website Design Service" in the 5th Annual Best of The National Law Journal, a reader ranking survey of the top providers in the legal industry.
Mabbly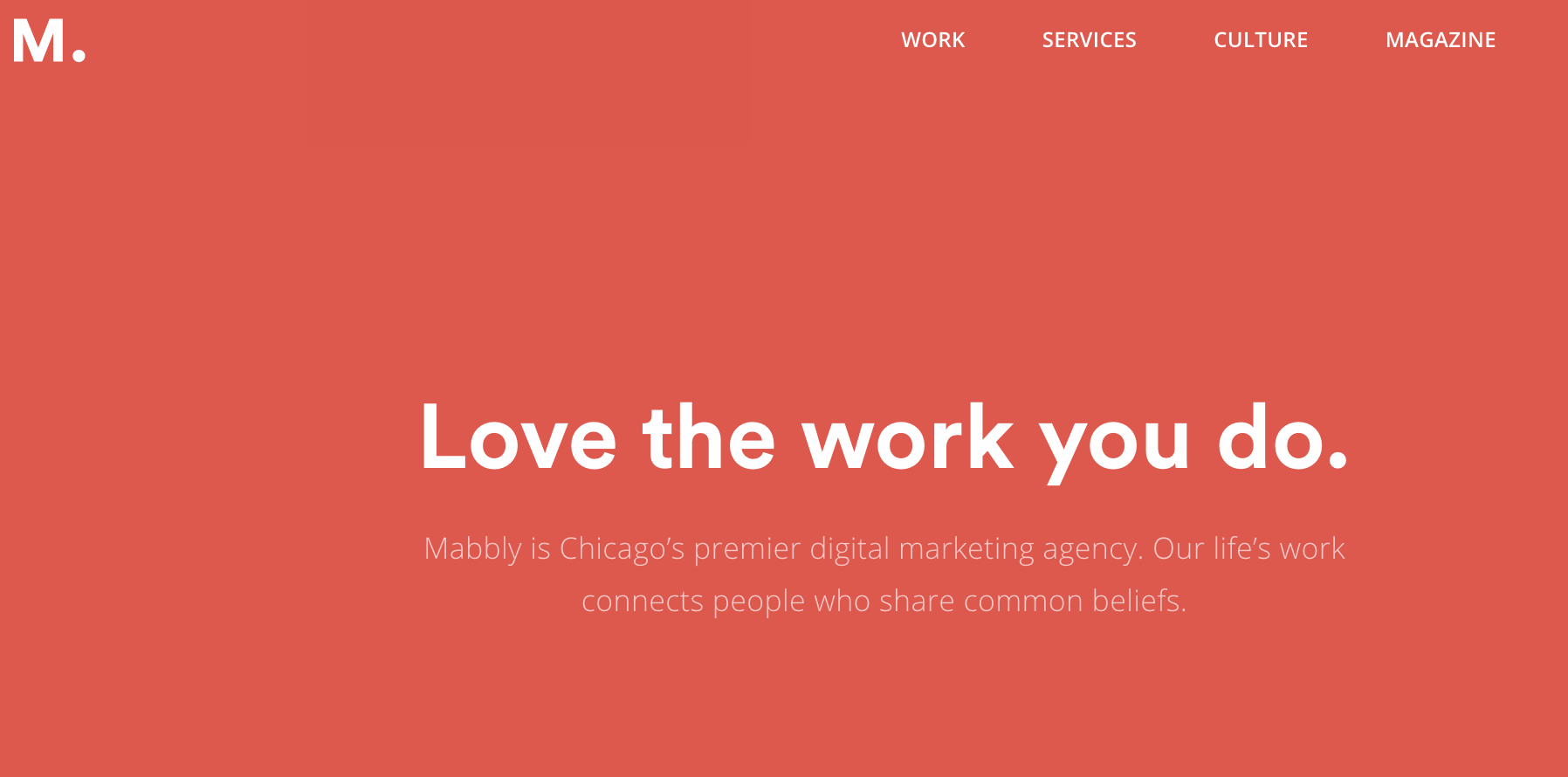 116 W Hubbard St #2, Chicago, IL 60654
Phone: 312-448-7473
Founded: 2013
Founder: Adam Fridman
Top clients: Northwestern University, Microsoft, Limitless Coffee & Tea, SPR.
Expertise: Brand identity, UX/Design, and development, search engine marketing, digital advertising, public relations, video production.
Since launching in 2013, Mabbly has designed marketing strategies for hundreds of startups and corporations. And with 28-year-old Vlad Moldavskiy as a Chief Growth Officer, the agency's youthful team is a selling point for brands looking to expand their online exposure. Mabbly's strategists, data scientists, PhDs, and developers help companies with everything from brand identity to social media, website design and development, and even online reputation.
However, the agency's strongest asset is by far, storytelling. This became even more clear last year, when founder Adam Fridman and CEO Hank Ostholthoff released "The Science of Story: Brand is a Reflection of Culture."
Drawing on 500 interviews with executives from startups to major enterprises, the book aims to teach marketers how to build strong brands and through storytelling.
Mabbly was featured in major publications such as Forbes, TechCrunch, and Entrepreneur. And Clutch, a leading B2B ratings and reviews company, included the company on their 2018 report of best advertising and marketing agencies in Chicago.
Walker Sands Communications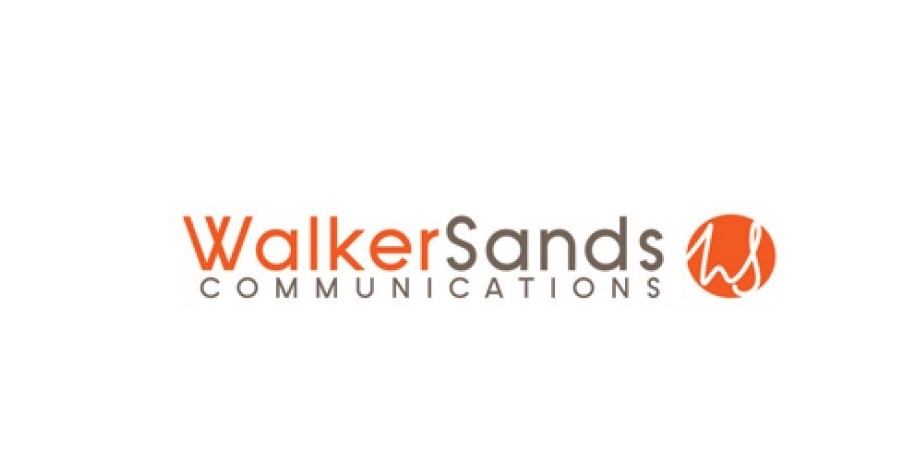 55 W Monroe St #3925, Chicago, IL 60603
Phone: 312-267-0066
Website: www.walkersands.com
Founded: 2001
Founder and CEO: Ken Gaebler
Top clients: Uptake, Grubhub, Sprout Social, Nintex, Miller Heiman Group.
Expertise: Public relations, content marketing, design, web services, demand generation and branding and strategy.
With clients across a range of industries including electronics, retail,  fintech, artificial intelligence (AI), cybersecurity, and healthcare, Walker Sands Communications has proven to be a well-rounded marketing agency. The company's services are as diverse as their customer's needs.
Walker Sands Communications helps companies drive ROI with public relations, content marketing, design, web services, branding, and strategy. Their work is backed by a long list of industry awards, but it's the agency's case studies page that does all the selling.
From helping a business solution review platform secure $45 million in funding to boosting a cybersecurity company's website traffic from social media by almost 300 percent, prospects can scroll through tens of success stories.
Comrade Web Agency
770 N Halsted St #106, Chicago, IL 60642
Phone: 312-265-0580
Website: https://comradeweb.com/
Founded: 2007
Founders: Ivan Vislavskiy and Stan Bogdashin
Top clients: Belgravia Group, Kruger Inc.,Levinson Law Group, Marmot, Granite Selection.
Expertise: Web design and development, branding, online marketing, search engine optimization, search engine marketing, pay-per-click.
What started as a two Russian student's dream has now become an award-winning digital marketing agency. Established in 2007, Comrade Web Agency blends web design, SEO, and inbound marketing to help businesses navigate design, technology, and marketing challenges.
Their roster of clients include law firms, local service providers, IT startups, construction and manufacturing companies, as well as ecommerce websites. One of their major achievements was positioning Phlearn as the second leading brand in US for Photoshop tutorials after Adobe.
A HubSpot and Google Certified partner, the agency is now focused on serving more law clients. Their blog is the equivalent of a crash course in PR for lawyers; it features practical advice on how to build a specific clientele, how to improve their website's performance, how to incorporate voice search into their practice, and more.
Lightspan Digital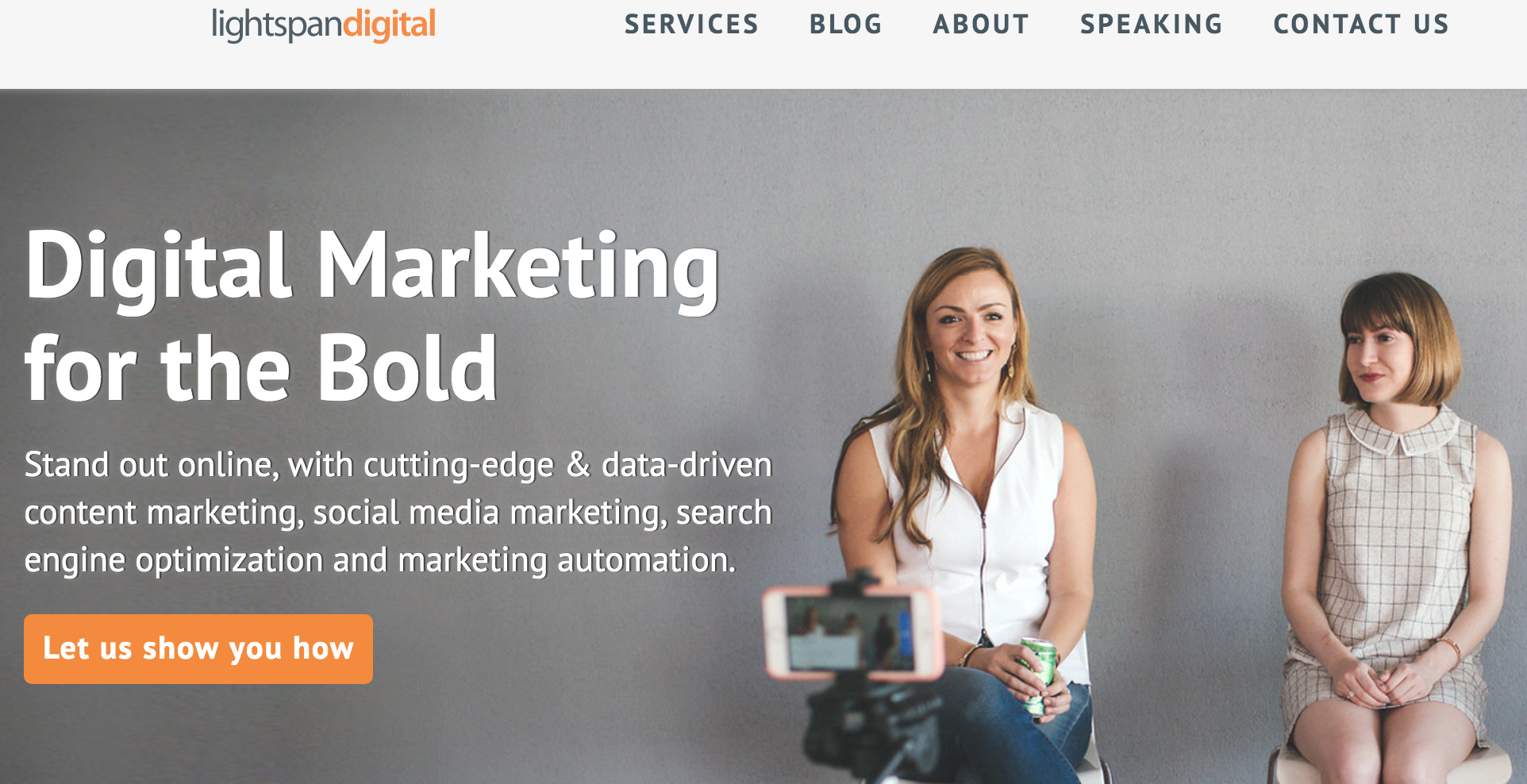 2339 N California Ave., #47590, Chicago, IL. 60647  
Phone: 773-442-2448
Website: lightspandigital.com
Founded: 2009
Founder: Mana Ionescu
Top Clients: Wholesome, Mondo, UChicago Masters in Computer Science, Fidelitone
Expertise: Digital storytelling, social selling, influencer programs, employee advocacy, marketing automation, analytics.
Lightspan is a digital marketing agency focused on driving traffic to clients' websites and securing sales through social media and content marketing. What's unique about Lightspan is their "digital detox" program and their 12 core values that defines how they approach their work.
The agency engages audiences with compelling digital storytelling; and that is best showcased on their blog.
Aside from discussing what's trending and changing in social media and digital marketing, Lightspan's blog offers outside-the-box content such as "How to Turn Your Mission Statement from Boring to Meaningful" and "Memes, Emoji Phrases, and GIFs: Staying Relevant in Online Communication."
The agency also stands out through its philanthropic efforts. Lightspan helps non-profits through Chicago Cause and its staff members are involved with different charities and local community-focused efforts, from Gateway for Cancer Research's Team Demand to Paws, Door County Half Marathon, and LoganSquarist.
OneIMS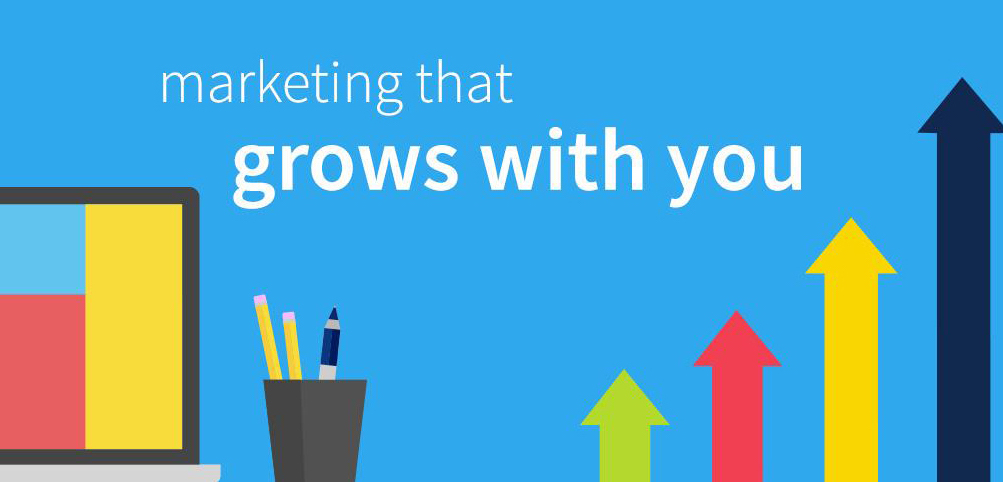 111 E Wacker Dr Suite 435, Chicago, IL 60601
Phone: 888-663-4671
Website: www.oneims.com
Founded: 2006
CEO: Solomon Thimothy
Top clients: Sears Holdings, Kmart, Costco, Heinz.
Expertise: Inbound marketing, search engine optimization, content marketing, lead generation, conversion optimization, pay-per-click, display ads.
The recipient of many awards including the "Best in Search" title from topseos.com, an independent authority on search vendors, OneIMS collaborates with brands to transform leads into customers and brand ambassadors.It does so through social media marketing tool such as profile optimization, copywriting, content calendars, reputation management and data analysis.
The results can be seen on their Case Studies page. Video testimonials from dozens of marketers explain how OneIMS played an instrumental role in their business growth.
The company's easy-to-digest blog posts make for a valuable marketing resource. They also offer free webinars, downloadable guides such as "10 Ways to Get Traffic to Your Ecommerce Site" and "The 80/20 Approach to Content Marketing" plus a ROI projection tool.
Bright Bright Great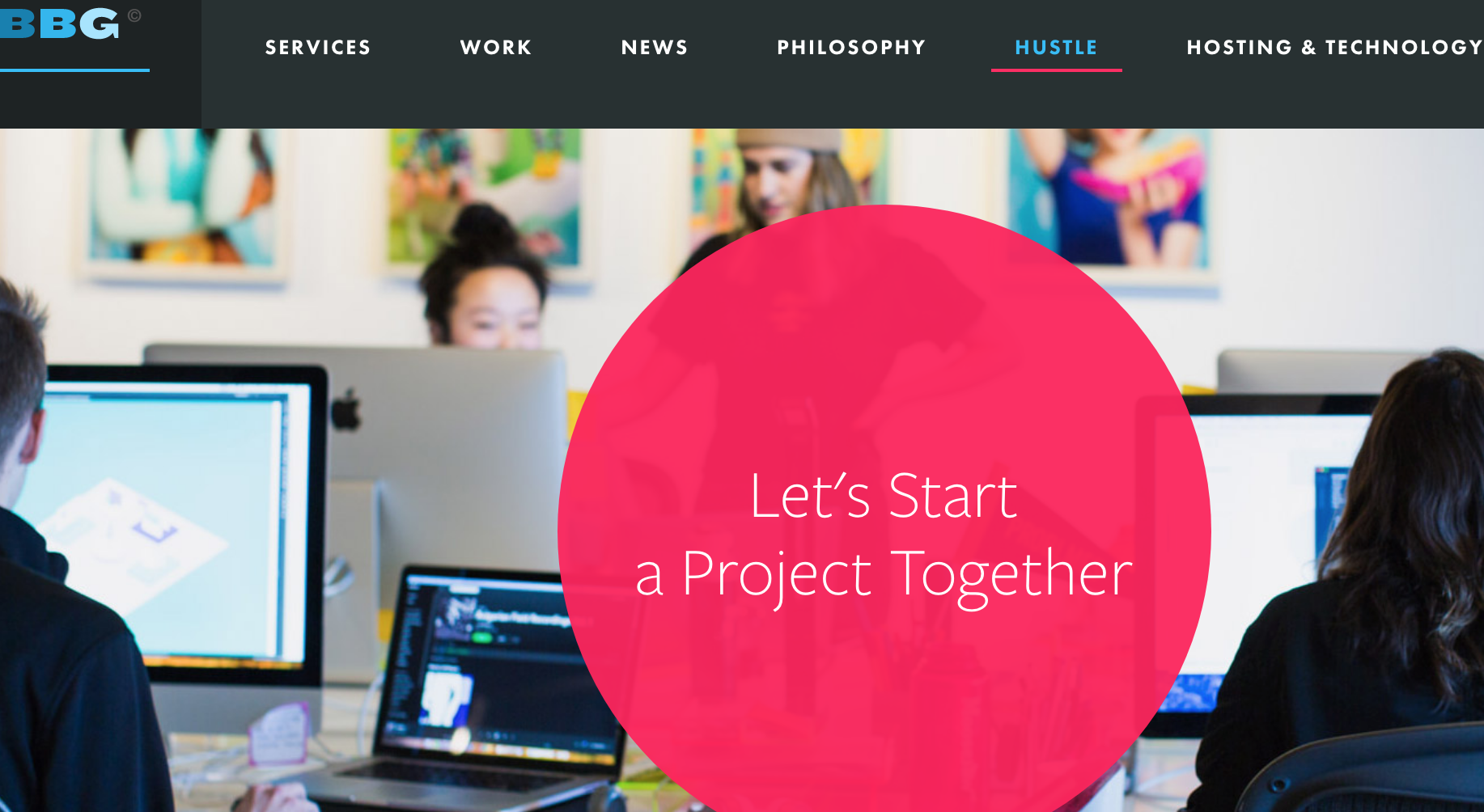 4131 W Belmont Ave D, Chicago, IL 60641
Phone: 773-647-1034
Website: https://brightbrightgreat.com/
Founded: 2007
Owner: Amy and Jason Schwartz
Top clients: Nike, Lucasfilm, Crayola, McDonalds, Cards Against Humanity, Orbitz, Argo Tea.
Expertise: Interactive design, web design, interface design, digital strategy, interactive marketing, social media.
While a relatively small agency, Bright Bright Great (BBG) has worked with some impressive clients including Comcast, The University of Chicago, chewy.com, Nike, and Hightower Financial. Aside from building websites, the agency's staff has a knack for online marketing, copywriting, and designing interactive, mobile interfaces.
BBG's portfolio boasts the rebranding of American Needle, one of the largest retailers of sports related headwear. Several successful campaigns for Cards Against Humanity earned them press coverage in magazines like Wired, People, and The Huffington Post.
The couple behind BBG, Creative Director Amy Schwartz and Managing Director Jason Schwartz, are also sought-after speakers. Amy Schwartz was featured in Print Magazine's "New Visual Artists 2017: 15 under 30" issue.
True Interactive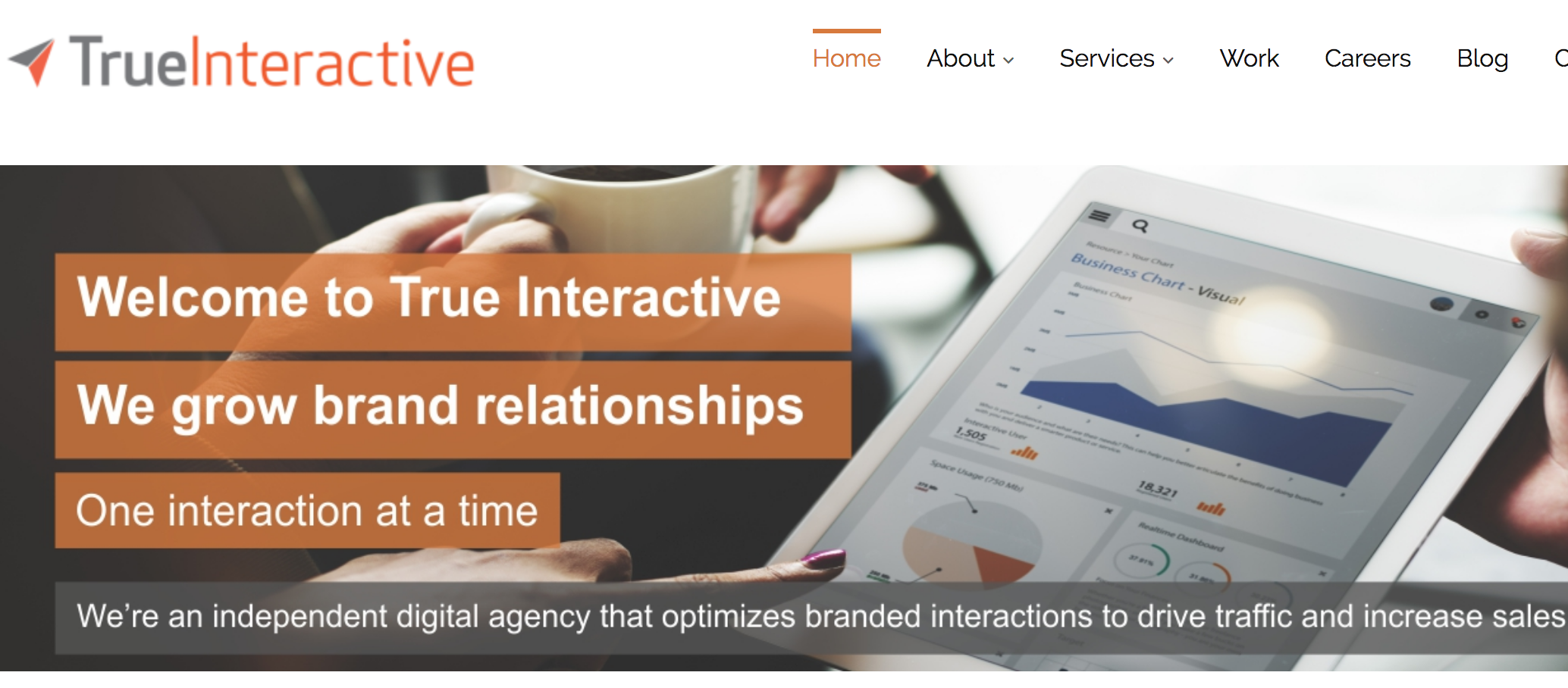 900 National Parkway, Suite 280, Schaumburg, IL 60173
Phone: 847-222-0300
Website: https://trueinteractive.com/
Founded: 2005
Founders: Kurt Anagnostopoulos and Mark Smith
Top clients: United Airlines, Redbox, Michaels, Presence Health, Snapfish.
Expertise: Search engine marketing, analytics, pay-per-click advertising, digital marketing consulting, display marketing, mobile marketing, social media marketing, remarketing, and paid social media.
This independent digital agency prides itself on helping brands "present the right message to the right person at the right time."
True Interactive's client portfolio speaks volumes about their ability to deliver results. After working with True Interactive to launch a new campaign, United Airlines, one of the world's largest airlines, managed to increase their click-through-rates by 88 percent. Their cost-per-order also improved by 200 percent.
Optimum, a company which provides cable service to millions of Americans, is another pleased client. Optimum wanted to improve the effectiveness of its paid search. True Interactive put Google algorithms to work and managed to attract 40 percent more customers for 60 percent less money. All in less than two months.
Drawing on current news such as Facebook's 2019 advertising strategy or the launch of a "checkout" feature on Instagram, the agency's blog posts provide real-life marketing lessons.
eBizUniverse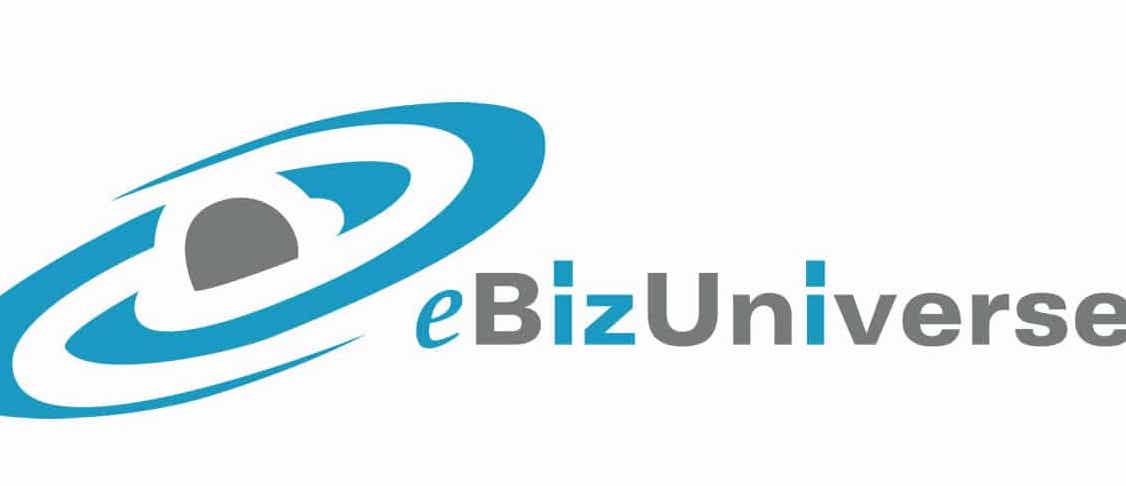 1900 E Golf Rd #950, Schaumburg, IL 60173
Phone: 800-379-2829
Website: https://www.ebizuniverse.com/
Founded: 2007
Founder and CEO: Thomas Bibby Varghese
Top clients: Bedding Experts, DESIGNfirst Builder, Algonquin Orthodontics.
Expertise: Social media management, search engine optimization, web design and development, eCommerce, software development, and mobile application development.
Named one of the top digital marketing agencies in Chicago for two years in a row, eBizUniverse specializes in affordable marketing solutions for local companies.
The agency offers a free consultation to every potential client. This includes an analysis of the client's online image and footprint, as well as, a recommendation of how they could maximize the reach of their brand.
eBizUniverse has published hundreds of articles on digital marketing, some of which were penned by their CEO himself, Thomas Bibby Varghese.
Leveraging advanced social media, internet and mobile marketing, as well as web design, eBizUniverse achieved notable results. Recent examples include redesigning DesignFirst Builders' website. A Chicago home remodeling company, DesignFirst Builders had trouble generating leads. eBizUniverse designed a faster website, added call-to-actions and keywords throughout the site, and managed to increase leads by 320 percent within two months.
The Ocean Agency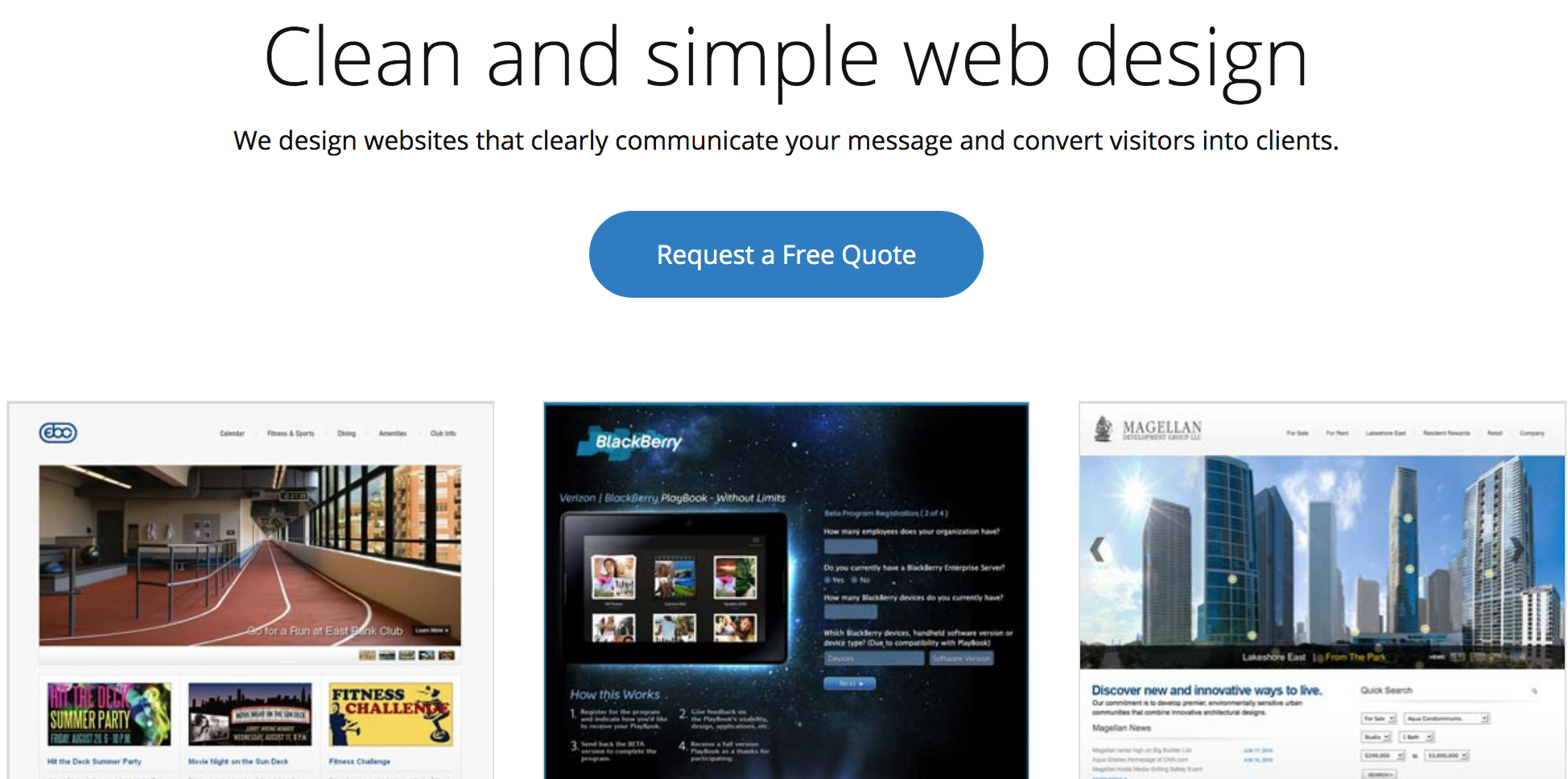 445 W Erie, Suite 208
Chicago, IL 60654
Phone: 312-265-0192
Website: https://logicalmediagroup.com/   
Founded: 2003
Founder: Marvin Russell
Top clients: BlackBerry, Burrell, Cadillac, CareerBuilder.com, Consumers Digest, Marketing Werks, Verizon.
Expertise: Digital marketing, social media optimization, social media marketing, web design, WordPress development, and website auditing,
The Ocean Agency started in 2003 with building websites and quickly started working with some of the biggest brands in the world including Toyota, BlackBerry, CareerBuilder, Sprite, and Walgreens.
After being acquired by Logical Media Group in late 2014, they began offering more SEO-focused marketing solutions. Presently, all their social media strategists and pay-per-click consultants are certified in Google AdWords and Google Analytics. This enabled the agency to improve organic rankings and drive website traffic for clients in a number of different industries, including for Amazon Vendors.
Take for instance Fresh Wave, a maker of biodegradable odor-eliminating products.
After teaming up with Logical Media Group, Fresh Wave saw an increase of over 1,300 percent in sponsored ad revenue and an almost 300 percent growth in Amazon sales.
SoMe Connect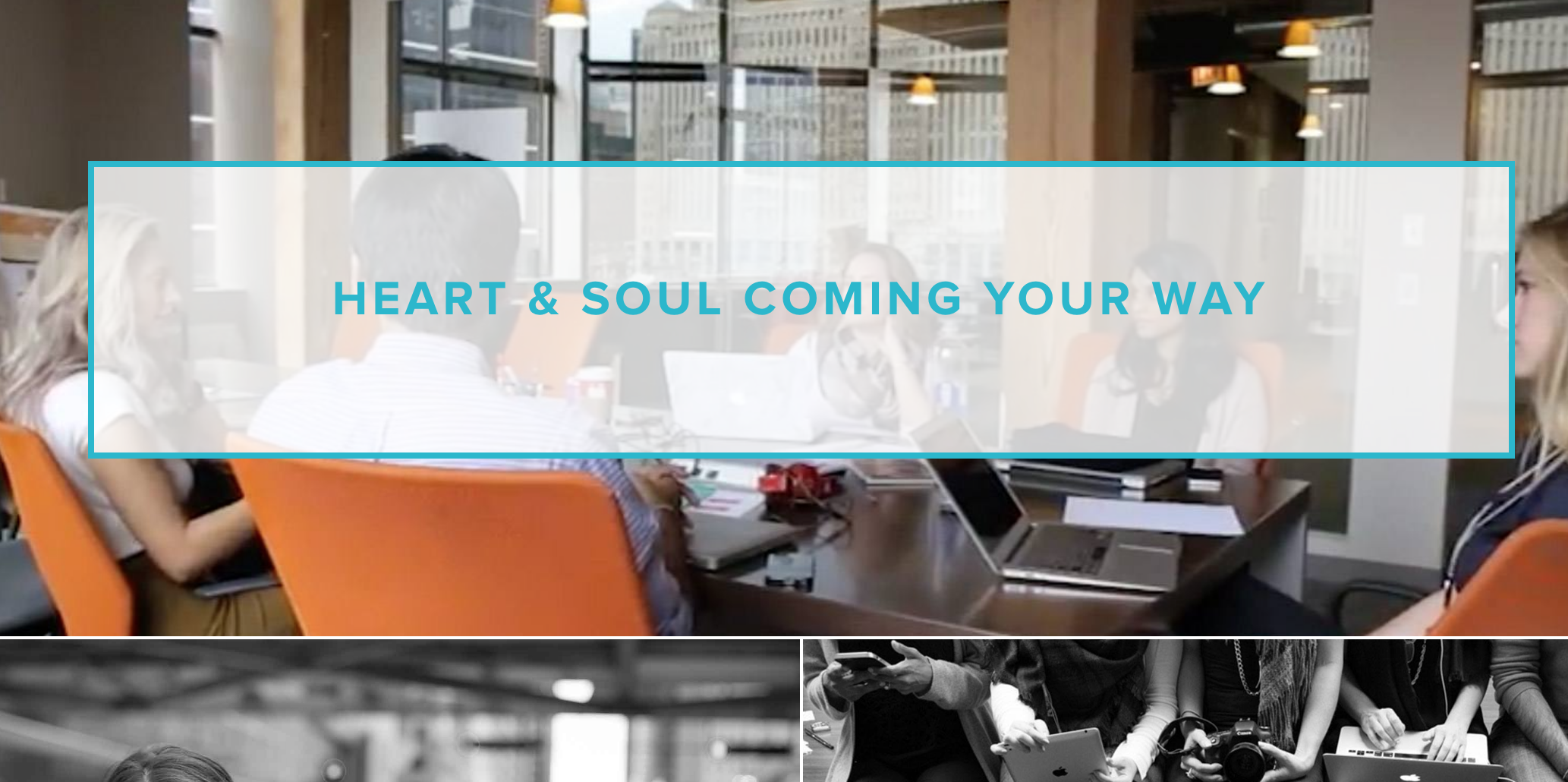 845 W. Washington Blvd, Floor 2
Chicago, IL 60607
Phone: 773-466-4965
Website: https://www.someconnect.com/
Founded: 2011
Founder: Madhavi Rao
Top clients: Apollo Education Group, Gildan, Medcor, Howl at the Moon.
Expertise: Social media strategy, blogging, pay-per-click, paid search, reporting, digital media, content development, content marketing, and web development.
SoMe Connect provides full service digital campaigns for small businesses. One of the agency's strongest assets is its founder's diverse experience. Prior to starting SoMe Connect, Madhavi Rao, held positions in retail, non-profit, academia, and management consulting.
Their customer portfolio consists of restaurants, educational institutions, credit reporting agencies, human resources consulting companies, and health clinics. One of their biggest being Byram Healthcare, a national leader in disposable medical supplies. SoMe's B2B social and online ad campaign for Byram resulted in a 98 percent total engagement within six months, turning the company's static consumer audience into an active community.
Another major accomplishment for SoMe? Getting C-Suite decision makers to engage with Apollo Education Group's professional development programs.
In just a few months of working with the agency, Apollo, one of the world's largest private education providers, achieved an average of 1,000 site visits in a 12 day period and conversion rate averaging over 15 percent.
Rise Interactive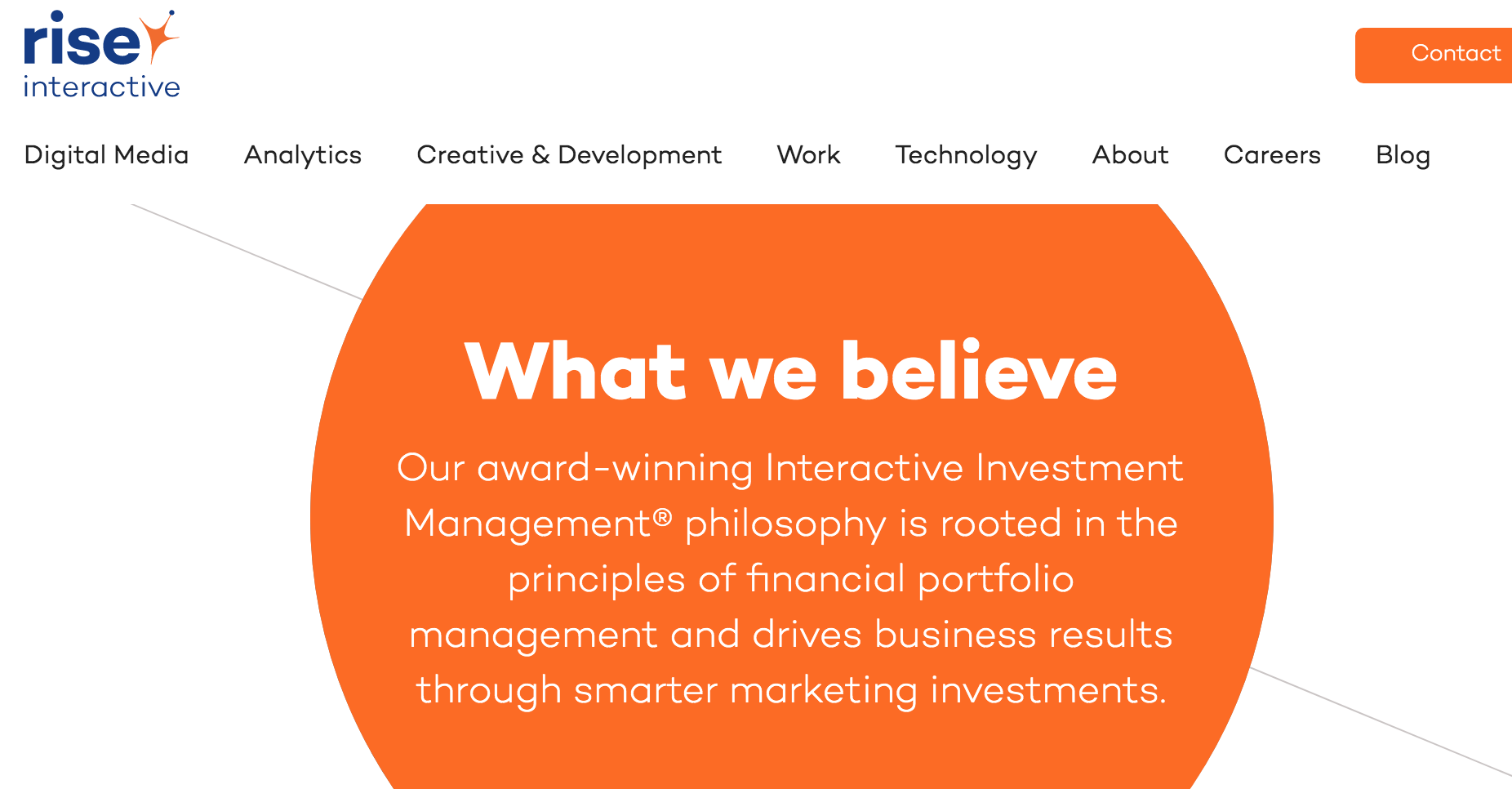 1 S Wacker Dr, Chicago, IL 60606
Phone: 312-281-9933
Website: https://www.riseinteractive.com/
Founded: 2004
Founder: Jon Morris
Top clients: Grubhub, Pandora, ULTA Beauty, Reynolds Consumer Products.
Expertise: Search marketing, social media, display advertising, affiliate marketing, email marketing, web analytics.
Founded in 2004 by an MBA student at the University of Chicago's Booth School of Business, Rise specializes in leveraging advanced analytics to ensure that its clients'
make smarter investment decisions. Named as one of Crain's 2018 100 Best Places to Work in Chicago, Rise's team consists of hundreds of engineers, developers, and data scientists.
Their clients range from beauty and automotive retailers to hospitals, jewelry manufacturers, and even The American Egg Board.
A big win for Rise was boosting ULTA Beauty's online sales revenue during the holidays. After working with the agency, ULTA, one of the largest beauty retailers in the United States, saw a 300 percent year-over-year increase in revenue.
Nerdery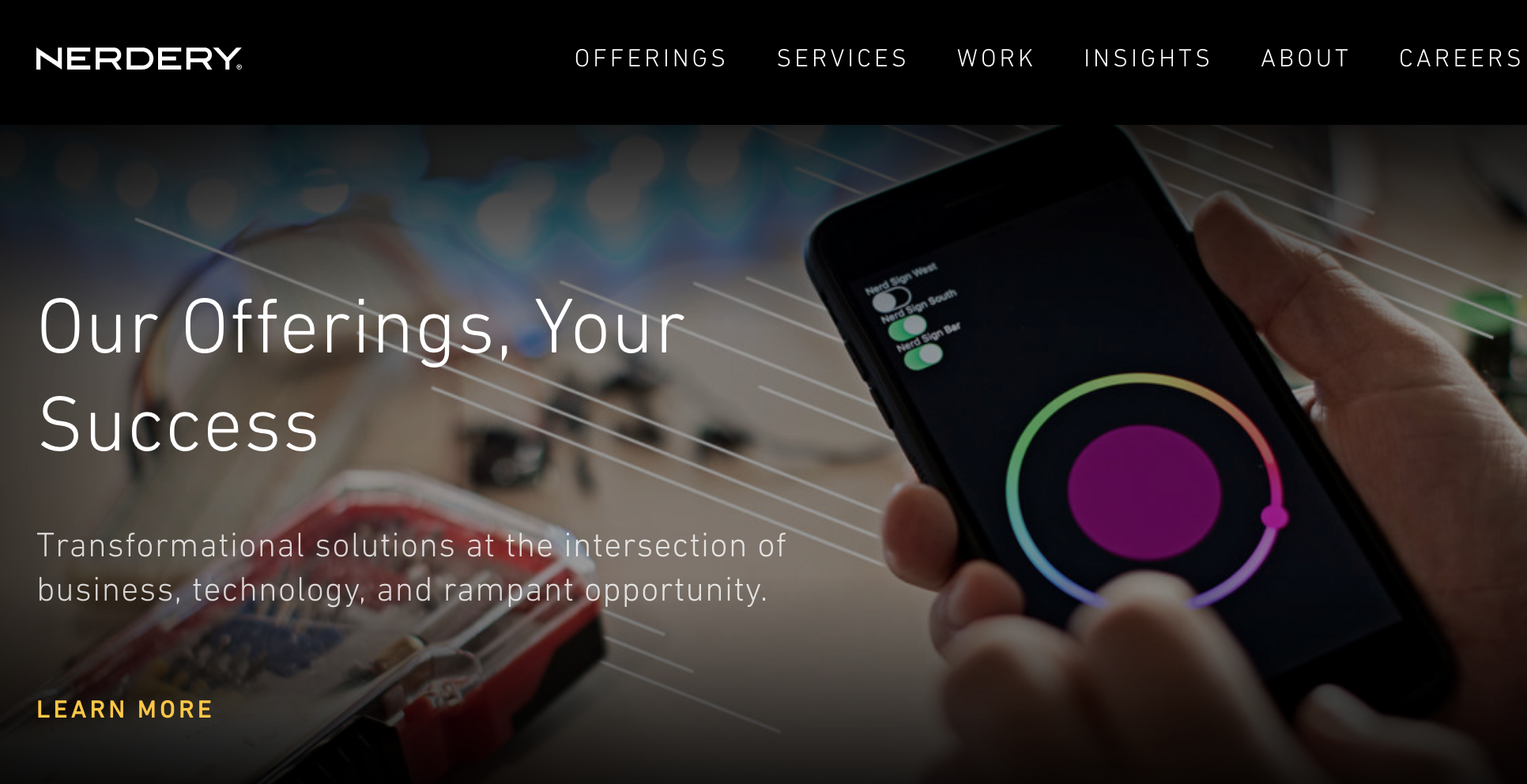 1033 W Van Buren St #700, Chicago, IL 60607
Phone: 312-226-1211
Website: https://www.nerdery.com/
Founded: 2003
Founders: Mike Schmidt & Mike Derhiem
Top clients: Hy-Vee, Google, AmericInn, Medtronic, Best Buy, Purina.
Expertise: Digital business transformation, experience design, software engineering, agile coaching, data engineering, digital strategy, application Development, information architecture, research and consumer insights.
Since the company was founded in 2003, Nerdery has evolved from designing and building software products to providing digital business consultancy.
Their CEO, a former SapientRazorfish executive, has worked with Fortune 100 clients in automotive, CPG, financial services, healthcare, restaurants, retail and telecommunications. His expertise is highlighted in the agency's results. A 100-year-old supermarket chain, Hy-Vee wanted to become a digitally-driven company. Nerdery worked with Hy-Vee to reinvent the grocery shopping experience — through mobile shopping and grocery delivery.
The results speak for themselves: a 96 percent increase in users adding deals to their shopping list and 91 percent of new app users activated a loyalty card. Nerdery has offices in Minneapolis, Chicago and Phoenix.
Clique Studios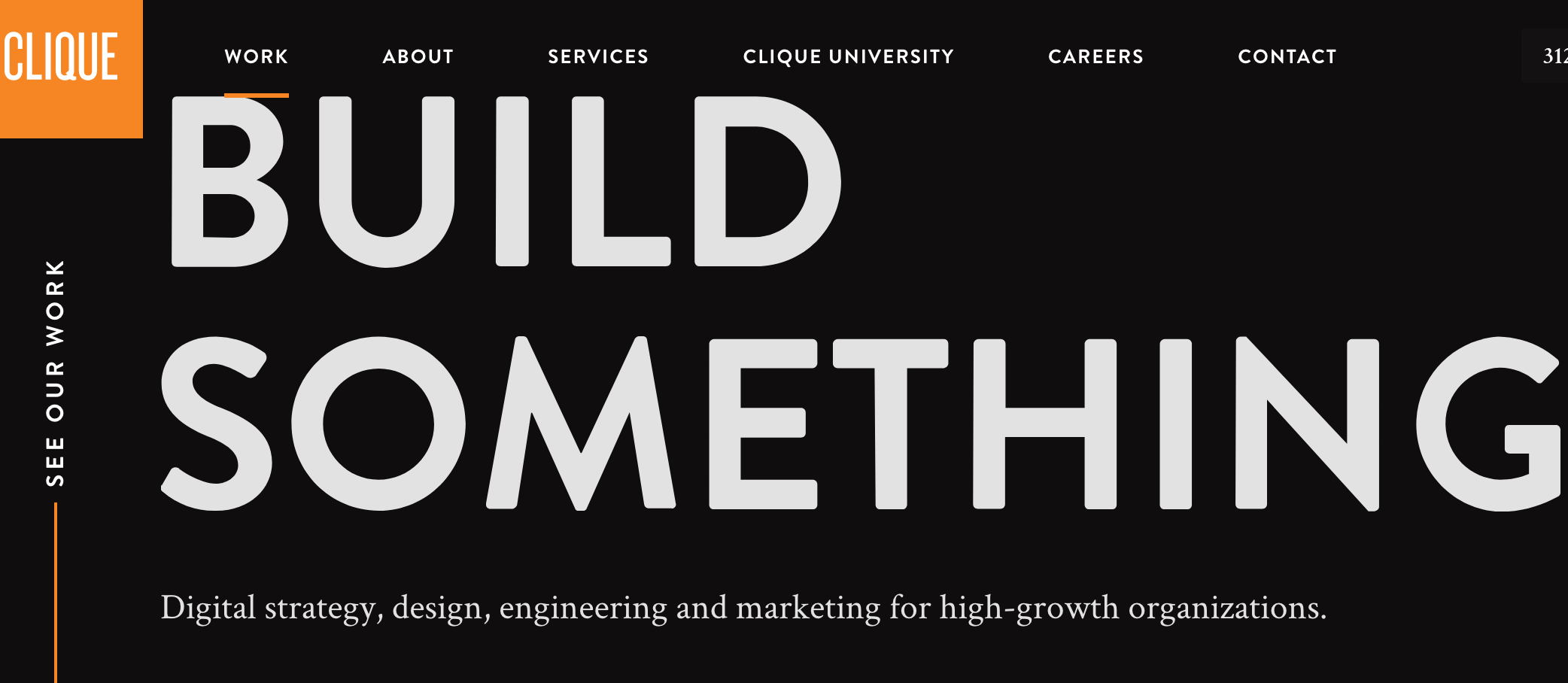 410 S Michigan Ave Suite 801, Chicago, IL 60605
Phone: 312-379-9329
Website: https://cliquestudios.com/
Founded: 2003
Founders: Derek Nelson, Ted Novak and John Gile.
Top clients: Motorola, Sears, Crate & Barrel, Serta, Magellan, Urbanbelly, Signal, Currency Chicago.
Expertise: User experience design, software development, digital strategy, digital marketing.
With offices in Chicago and Denver, the company's team of 40 offers strategy, design, development, and marketing for a variety of industries like education, healthcare, startups, and nonprofits. Over the years, Clique has designed and built over 400 digital platforms for some of Chicago's biggest organizations including Northwestern University, The Second City, Adler Planetarium, and the Special Olympics. The agency also created websites for each of the Michael Jordan Steak House locations.
The belief that their work is as good as their employees drove the agency to open
Clique University, where they offer personalized growth plans, apprenticeships, and courses for their staff members.