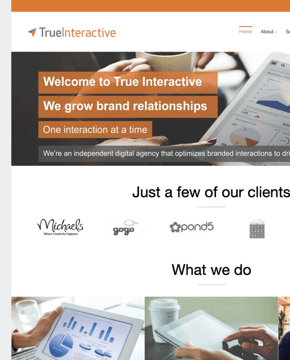 900 National Parkway, Suite 280, Schaumburg, IL 60173
Phone: 847-222-0300
Website: https://trueinteractive.com/
Founded: 2005
Founders: Kurt Anagnostopoulos and Mark Smith
Top clients: United Airlines, Redbox, Michaels, Presence Health, Snapfish.
Expertise: Search engine marketing, analytics, pay-per-click advertising, digital marketing consulting, display marketing, mobile marketing, social media marketing, remarketing, and paid social media.
Company Description 
Did you know that there was such a thing as paid search engine marketing before there was such a thing as Google? The team at True Interactive knows it, because they were doing it back then—carving out a business from the infant digital marketing space before most of their future clients even knew it existed. They were running SEM when businesses were still paying top dollar for print newspaper ads.
As a mandarin of digital marketing from its very earliest stages, True Interactive has seen a lot of fads and trends come and go. They have also seen business practices evolve, and they often don't like what they see. Members of the team know what it's like to be the client of a digital marketing company that says "You do your job, and let me do mine," disappearing behind a curtain like the Wizard of Oz and never surfacing again unless it's to demand more money, "if you want results."
True Interactive set out to do business a different way—by offering total transparency. As a client of True Interactive, you will always know what the dozen or so dedicated professionals are up to with respect to your account—where the money is going, what the data suggests, what is working and what isn't. They have nothing to hide, because they are very, very good at their jobs. 
Focus Areas
True Interactive is a full-service marketing agency that helps businesses and organizations in every industry. They're more interested in what you're doing now and how it can be improved upon. Their most important services include:
SEM Audits.

Any business that has a website has some sort of search engine presence, even if it's on page 20 of the most relevant keyword search. So how is your SEO and SEM working for you now? How is your PPC working? What data is on hand already and what needs to be gathered to identify problem areas? True Interactive performs comprehensive SEM audits that inform the direction of future SEM, SEO, and PPC strategies.
Social Media Audits.

Again, most companies have

some

social media presence—in many cases because the CEO's college-aged daughter scolded him for not having a company Twitter or Pinterest. But

having

a social media presence isn't the same as using it for maximum impact. Similar to the SEM audit, a True Interactive social media audit assesses where you are now in your social media presence, takes stock of the data gathered so far and what still needs to be gathered, and forms the basis of the multi-channel social media strategy to be built.
Services Provided
Search Engine Optimization

Analytics

Search Engine Marketing

Shopping

Display

SEM Audit

Social Media
Notable Clients
United Airlines

Redbox

Michaels

Presence Health

Snapfish.
Why Work with True Interactive
There are compelling reasons to choose True Interactive. For starters, they're independent, not beholden to any venture capital or angel investors to produce profits at all costs or profit at the expense of superior customer results. True Interactive is in a position to put the customer first.
They also treat their people well, with a true "team" attitude that leads to some of the lowest turnover in the industry. Not only does this mean your team will be long on morale; it also means your project leader isn't likely to change midway through the project.
Then there's their commitment to transparency and their longevity in the industry, dating back to the earliest days of search engine marketing. Most of all, they're a company that cares about the customer, because they know that their customer's success is a key indicator of their own success.
You Might Also Like: