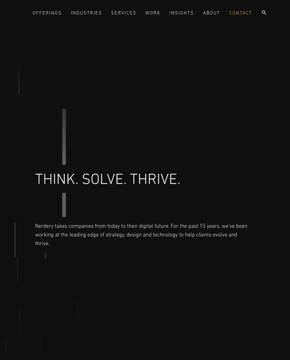 1033 W Van Buren St #700, Chicago, IL 60607
Phone: 312-226-1211
Website: https://www.nerdery.com/
Founded: 2003
Founders: Mike Schmidt & Mike Derhiem
Top clients: Hy-Vee, Google, AmericInn, Medtronic, Best Buy, Purina.
Expertise: Digital business transformation, experience design, software engineering, agile coaching, data engineering, digital strategy, application Development, information architecture, research and consumer insights.
Company Description 
Who doesn't want their marketing team to nerd out on their digital solutions? With over 15 years in business, Nerdery earns its name with an obsessive commitment to its clients and their digital journey. 
Nerdery is founded on a quintet of rock-solid values that make longer-term and profitable partnerships possible:
Constantly Push Boundaries.

They're no "I can't" at Nerdery. Whatever the challenge, they're up for it.

Be Humble.

Predictable, with a name like Nerdery. But no one is out for themselves or their ideas at Nerdery—the best idea is the winning idea, and if results don't come, they pivot. 

Win by Empowering People.

Through trial and error, Nerdery builds up not only strategies, but also people.

Integrity in All Circumstances.

Take the right actions for the right reasons to build trust with both the client and the client's customer base. 

Solve Problems Pragmatically.

Go with what works, in alignment with the other values, to achieve the desired results, whatever it takes.
In keeping with these values, Nerdery focuses on digital experiences that make an impact, adaptable and fast to market for maximum effectiveness.
If there's one thing that defines "nerdiness," it's a passion for the chosen craft. Nerdery has that in spades, and that passion shows in the work–and the results.
Focus Areas
While they run a full-service agency, Nerdery has industry-leading experience applying their talents to the following industries:
Healthcare.

The digital revolution in healthcare will change the way patients interact with their doctors and monitor their own health. Nerdery has helped numerous healthcare providers and medtech companies build their brand messages and digital experiences.

Industrial.

Many industrial and manufacturing companies are in dire need of a digital makeover. Nerdery is committed to helping manufacturers boost their online profiles and streamline their processes with world-class data platforms and IoT support devices to maximise ROI and ROAS.

Consumer Goods and Services.

Sustainable consumer goods industry growth depends on a customer-centric approach. Nerdery guides decisions based on consumer data, closely monitoring metrics, and refining the strategy to optimize all digital assets for the best customer journey. 

Government Services.

Nerdery values digital ethics and privacy concerns. It carries these values into its industry-leading work helping government services build and publicize their platforms.
Services Provided
Business Model Innovation

Customer Experience Strategy

Data Strategy

Digital Product Innovation

Digital Strategy

Enterprise Architecture Strategy

Organizational Change Management

Experience Design (XD)

Information Architecture

Interaction Design

Inclusive Design

Research and Consumer Insights

Service Design

(Usability) Testing

Engineering

Application Development

Cloud Native

Data Engineering

Devops

IoT

Native Mobile

Performance Testing

Security

Systems Integration

Machine Learning

Delivery Enablement

Agile Coaching

Application Lifecycle Management

Digital Compliance

Digital Product Delivery

Quality Assurance
Notable Clients
Hy-Vee

Google

AmericInn

Medtronic

Best Buy

Purina
Why Work with Nerdery
The Nerdery Innovation Studio can transform your brand in the areas of:
Platform Modernization.

If you're relying on underperforming legacy systems, Nerdery can help you phase them out and level up your systems to compete on a modern digital playing field—or simply modernize what you have with API enabling. 

Cloud Services.

The Cloud is becoming the standard, not the exception. Nerdery specializes in migrating systems and architecture to the Cloud, creating a globally-enabled infrastructure available on demand anywhere with data access—a key component to digital longevity.

Connected Ecosystems.

By integrating business systems into one interconnected ecosystem, Nerdery makes it easy to deploy plans, monitor results, and streamline business processes for optimal efficiency.

Digital Product Development.

Nerdery can help digital startups from day one to design a product strategy, hone the product experience, and develop the product, adding warp speed to the journey from idea to company.
IoT Services. Nerdery also specializes in IoT startups and product development, creating a plan to market, streamlining the prototype process to be as rapid as possible, and building products for both resilience and scale.
You Might Also Like: