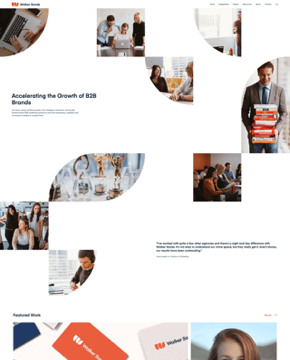 55 W Monroe St #3925, Chicago, IL 60603
Phone: 312-267-0066
Website: www.walkersands.com
Founded: 2001
Founder and CEO: Ken Gaebler
Top clients: Uptake, Grubhub, Sprout Social, Nintex, Miller Heiman Group.
Expertise: Public relations, content marketing, design, web services, demand generation and branding and strategy.
Company Description 
Visiting the corporate office, the only sign that Walker Sands has been around for nearly 20 years is the fact that their Chicago facility is state-of-the-art–as are their San Francisco and Seattle offices. Founded in 2001 by CEO Ken Gaebler and executive emeritus Ellen Hanson, the agency, which has expanded to over 135 employees and three cities, still feels like a scrappy insurgency. The young team seems to love working together and loves their jobs–and they must think they have something to prove, because they do those jobs very, very well. 
The accolades speak for themselves. Walker Sands is a 7-time honoree on the Inc. 5,000 Fastest Growing Companies list. They enjoy a 4.7 rating on glassdoor.com. They have received an AVA Digital Awards, a PRSA Chicago Skyline Award, a Platinum PR Award, a LinkedIn Sabre Award, and been named one of the Best Agencies to Work For by the Holmes Report.
Of course, all those awards are just paperweights without the results to back them up. Walker Sands is the agency that:
Created the digital and PR strategy for

G2 Crowd

that lead to $45 million in funding and 2000% growth.

Created the integrated commerce campaign that led to

CloudCraze

being acquired by SalesForce.

Pivoted the PR strategy of

DailyPay,

leading to 51 placements in three months.
Those results don't happen by accident. The fun-loving characters who run Walker Sands have some serious game.
Focus Areas
Walker Sands focuses on a particularly unforgiving marketing niche—B2B marketing. While B2C industries have certain time-honored roadmaps to success and growth, B2B marketing is often more delicate. The products are often complex, the messaging obscure. The brands themselves are not well known and could be too "niche" to build a clean brand story around. Many B2B companies don't even know where to start with their marketing and brand development. 
Successful B2B marketing requires creativity and a flair for outside-the-box thinking. Walker Sands' deep bench of marketing experts deploys that kind of thinking to boost brands in fields like:
Distribution and Logistics
Services Provided
Public Relations 

Content Marketing 

Design 

Web Services

Demand Generation 

Branding and Strategy
Notable Clients
Uptake

G2 Crowd

CloudCraze

Grubhub

Sprout Social

Nintex

DailyPay

Worldpay

Miller Heiman Group

OpenX

Nintex
Why Work with Walker Sands
If you offer B2B products and services, Walker Sands is a great choice for your marketing and branding needs. They specialize in B2B, a finicky subgenre of marketing that requires a lot of finesse to get right. You don't want a B2C marketing specialist to take a swing at your B2B marketing campaign; you don't want someone to "wing it" on something as critical as your brand messaging and digital experiences. Walker Sands has won awards and experienced exponential growth on the strength of serving B2B companies. They're pros.
You may also have heard the cliche "big firm resources, boutique agency feel."  That's definitely what you get with Walker Sands. With over 135 employees and offices in Chicago, San Francisco, and Seattle, this firm has the clout to go toe-to-toe with any giant of the industry. Stop by the office, however, and you will discover a dynamic team of big personalities, not a bunch of cogs in a corporate machine. Your project will be assigned the team best suited to boost your brand, to brainstorm the strategy that will hone your messaging and customer experiences. There's no one-size-fits-all approach to B2B marketing—unless you count "hire Walker Sands" as a strategy, considering they have martialed all the requisite talent under one roof (three roofs?).
You Might Also Like: