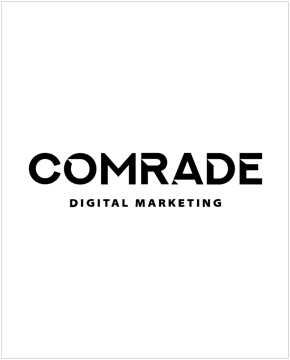 770 N Halsted St #106, Chicago, IL 60642
Phone: 312-265-0580
Website: https://comradeweb.com/
Founded: 2007
Founders: Ivan Vislavskiy and Stan Bogdashin
Top clients: Belgravia Group, Kruger Inc.,Levinson Law Group, Marmot, Granite Selection.
Expertise: Web design and development, branding, online marketing, search engine optimization, search engine marketing, pay-per-click.
Company Description 
Comrade was founded in 2008 by CEO Ivan Vislavskiy, who built his first website at the age of 16, and his university friend and marketing strategist Stan Bogdashin. Rounding out the leadership team is VP Sasha Berson, who, eight years after hitting these shores, founded a two-person lending operation, which grew to a top-20 multibillion-dollar wholesale lender before Berson sold it in 2009 and joined Comrade. Clearly, these guys know a thing or two about building web presence and breaking a business.
But when you meet them, it's the team they want to talk about. In their mind, Comrade's lean team of about 30 professionals from diverse backgrounds is the secret sauce that moulded the agency into a 2019 honoree as Chicago's best SEO agency and a top Chicago Marketing and Advertising agency. Comrade is also rated by Upcity as a top web design firm in Chicago, as well as a top local agency.
They emphasize the team because by hiring Comrade, companies add between 8 and 12 experts to the team, drawn from some of the most senior experts on their bench. Comrade offers a full suite of web services, with a particular emphasis on:
Focus Areas
Comrade is a full-service web development and digital marketing agency, but it does maintain top-line expertise in a few specific verticals and horizontals, including:
Corporations.

When customers visit a corporate website, their expectations are high. Comrade makes sure corporate websites meet the highest standards held by clients who want to do business with high-level players.

Small Businesses.

Comrade can be the outsourced marketing solution for small businesses who want to scale and expand intelligently and sustainably, defying the odds that suggest most small businesses fail to make it past their fourth year.
eCommerce.

With competition from Amazon and Google, eCommerce businesses face more hurdles than ever before in starting up and remaining competitive. These businesses live and die by effective multi-channel digital marketing. Comrade stays on the cutting edge of what works to succeed in eCom.

 
Stone Fabricators.

Now we're niching down. Comrade has carved out a healthy reputation as a go-to marketing vendor in the high-margin but competitive field of stone fabrication.

Senior Living Facilities.

Senior living facilities represent a growing industry that requires careful messaging. Comrade takes great pride in their deft touch with this sensitive sector. 

Manufacturing.

Manufacturing is notoriously hard to market, but Comrade has taken it as a personal challenge. They claim to have cracked the code. If you're a manufacturer who wants to scale, can you afford to ignore that?

Law Firms.

Another marketing challenge in a competitive field, law firms also require thoughtful messaging, a deft touch, and consummate professionalism—which are all hallmarks of Comrade campaigns.
Services Provided
Web Design

Branding

Interactive Design

Web Development

App Development

Online Marketing (SEO and Social Media Marketing)
Notable Clients
AARP Illinois

Belgravia Group

Kruger Inc.

Levinson Law Group

Marmot

Granite Selection
Why Work with Comrade
One of Comrade CEO Ivan Vislavskiy's favorite sayings is "To go fast, go alone. To go far, go together." In keeping with that ethos, Comrade focuses on strategies for the long-term prosperity and brand durability of their client companies, rather than flashy short-term results.
Companies should work with Comrade if they want marketing strategies and branding that are built to last—especially if the company falls into one of Comrade's key focus areas. With ambitious but realistic expectations, Comrade clients can avail themselves of the talent that produced such results as:
Growing a mom-and-pop granite company into the dominant competitive force in Chicagoland.

Increasing ROI by 500% or more for multiple eCommerce companies.

Raising $130,000 on Kickstarter from a $3,000 marketing budget.

Delivering their own brand to 3 billion search results on Google.
You Might Also Like: