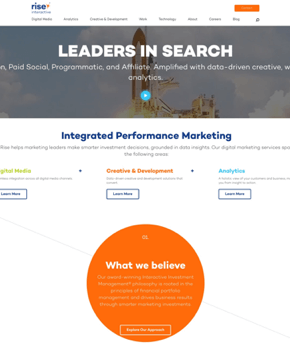 1 S Wacker Dr, Chicago, IL 60606
Phone: 312-281-9933
Website: https://www.riseinteractive.com/
Founded: 2004
Founder: Jon Morris
Top clients: Grubhub, Pandora, ULTA Beauty, Reynolds Consumer Products.
Expertise: Search marketing, social media, display advertising, affiliate marketing, email marketing, web analytics.
Company Description 
Whoever said there was no virtue in second place never met Jon Morris. His second-prize-winning business plan, which he submitted to the New Ventures Challenge at the University of Chicago, led to so much VC interest that Rise Interactive was born from that silver-medal business plan in 2004.
Today, Rise Interactive has a footprint that spans an entire hemisphere, with headquarters in Chicago, Mexico City, and Buenos Aires, as well as regional offices across the US and in Cordoba, Argentina. They could also sink a small ship with the awards that their world-class team has racked up, including:
A Hermes Creative Award

Internet Advertising Competition (IAC) award for Best Healthcare Provider Website, 2020

Global Digital Excellence Award winner for Best B2C Website of the Year, 2020

Adweek 100 Fastest Growing Agency, 2019

US Search Awards winner, 2019

Search Engine Land Award Winner, Local Search Marketing Initiative – SEM, 2019

The Drum Search Awards Winner, 2018

Best Places to Work in Chicago, 2018
And the list goes on and on. They're also a nine-time entry in Inc 500/5000's fastest-growing companies. Few companies can claim to be a truly global leader in the field of search, but Rise Interactive has acknowledged mastery in SEO, SEM, Amazon advertising, social media advertising, and a host of other disciplines, in addition to a full suite of marketing services. No project is too large for Rise Interactive to take it down.
Focus Areas
Rise Interactive has a rights reserved on a proprietary formula called Interactive Investment Management®. The "investment" is a client's investment in marketing—including costs and Rise Interactive's fees. Rise Interactive sees it as their job to produce a return on that investment, which justifies the investment. It's all about the ROAS—return on ad spend.
Interactive Investment Management® plans are built on three pillars:
Philosophy.

Rise Interactive treats a client's marketing investment with the respect that a fiduciary investment advisor would use to treat a financial services client's investment dollars.

Methodology.

Rise Interactive targets the entire customer journey with a data-driven approach to user engagement at every touchpoint, with constant testing and proving to hone in on the most optimized user experience.

Suite of Tools.

Tools that talk to each other to analyze, plan, personalize, and optimize. Transparent to the client, with real-time access to analytics from a SaaS back office.
Services Provided
Search Marketing

Social Media

Display Advertising

Affiliate Marketing

Email Marketing

Web Analytics
Notable Clients
Grubhub

Pandora

ULTA Beauty

Reynolds Consumer Products
Why Work with Rise Interactive
You work with Rise Interactive for the reputation and their execution—some of the biggest brands trust Rise for end-to-end marketing solutions. Some examples of their success stories include:
Ulta Beauty.

Rise directed a cross-channel digital strategy for the beauty retailer giant that led to a 306% year-over-year increase in revenue, surpassing ROAS goals by 3x with a 256% increase in ROAS.

Northshore University HealthSystem.

Rise analyzed data and performed keyword SEO, increasing marketing operational efficiency for 10,000-employee-strong healthcare provider, increasing organic search traffic by 27% year-over-year and increasing appointment requests by 490%.

Meineke.

Rise Interactive's digital CTV strategy for the 900-location auto service brand contributed to a 63% increase in conversion on ads run during live sporting events, plus 48,000 offline conversions.

Nicklaus Children's Hospital.

Rise performed an SEO and UX retrofit as well as a content restructuring plan for the 800-doctor children's hospital, resulting in an 88% year-over-year increase in total traffic, with a 92% increase the month after launch. 

Stanley Steemer.

Efforts by Rise to control marketing budgets, improve ROI, narrow their local targeting, improve conversion rates, and track metrics contributed to a 541% improvement in ROAS, a 420% increase in monthly revenue, and a 76% decrease in cost-per-job.
You Might Also Like: