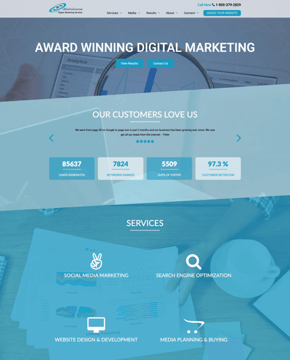 1900 E Golf Rd #950, Schaumburg, IL 60173
Phone: 800-379-2829
Website: https://www.ebizuniverse.com/
Founded: 2007
Founder and CEO: Thomas Bibby Varghese
Top clients: Bedding Experts, DESIGNfirst Builder, Algonquin Orthodontics.
Expertise: Social media management, search engine optimization, web design and development, eCommerce, software development, and mobile application development.
Company Description 
The dozen or so web design and digital marketing experts that make up eBizUniverse love their data. So how's this for some data?
85,637 leads generated

7,824 keywords ranked

5,509 cups of coffee consumed

97.3% customer retention rate 
It's hard to tell what did it—the coffee, or the decades of experience behind a crack team that cut its teeth working in project management at Big 4 consulting firms and Fortune 500 companies. 
Whichever it turns out to be, eBizUniverse has an impressive reputation of taking companies whose web presence is little better than dead weight, and turning that web presence into a center of profit generation in its own right. They boast an impressive resume of success stories, including:
Lighthouse Emotional Wellness Center.

Top Google map placement, leads almost tripled in a month, website traffic increased 212%.
Design First Builders.

Lead volume increased by 320% in two months, page load time decreased by 4 seconds.
Conveyor Rollers.

5-8 leads per day within months.
Skypoint Medical.

Premium branding led to rapid growth and opening of more regional locations. 
Image One Facility Solutions.

Six figures added to the bottom line within months, traffic up 5,400%, and conversion up 333%.
Algonquin Orthodontics.

Web traffic increased by 6,200%, 640% increase in web-sourced leads, automated scheduling implemented.
Chicagoland Mold Doctors.

Seven figures in sales generated from the internet.
Tomlinson Law Office.

Ranked for over 50 keywords on Google. Inbound web leads went from zero to several dozen every week. 
Chicago Prostate Cancer Center.

Web traffic up 635%, established a national presence as a leading cancer center.
Schiele Group.

Seven new clients in the first campaign week, over $30,000 in booked revenue, LinkedIn activity up 1,300%.
If coffee is for closers, eBizUniverse has earned all the coffee in the universe.
Focus Areas
The methods deployed by eBizUniverse work for large enterprises in competitive industries, but eBizUniverse seems to have a particular knack and affection for small businesses and local businesses, especially professional service businesses and medical or healthcare practices.
Their digital marketing strategy focuses on the website as a funnel for leads, not just a digital calling card or resume. Their design process is meticulous, data-driven, and thorough, walking the partnership through five stages:
Consultation.

A discussion of goals and available business metrics, early-stage brainstorming of a design direction for the site.

 
Theme Design.

A custom template based on the look and feel guidelines determined in the consultation. 
Mock-Ups and Prototypes.

Client approval at milestones as a working mock-up of the site begins to take shape.
Testing.

Manual white-box testing to identify errors and glitches to correct and make the most fully-functional site possible.
Revision and Changes.

Client feedback and ideas inform the final delivered web product.
Services Provided
Web Design

Web Development

E-commerce

Mobile Friendly Design

Blog Marketing

Social Media

Linkedin Lead Generation

Facebook Advertising

Software Development

Video Creation

Video Promotion

S

EM
Notable Clients
Bedding Experts

DESIGNfirst Builder 

Algonquin Orthodontics
Why Work with eBizUniverse
The best reason to go with eBizUniverse? When you're a small organization starting from scratch, or you have an outdated website that needs to be scrapped or completely reimagined, eBizUniverse truly partners with you to reimagine, redesign, and relaunch your digital presence.
Through SEO, SEM, content marketing, and social media marketing, the internet can actually become a profit center for the business, not just window dressing but a place where sales happen or leads get nurtured to the close. eBizUniverse specializes in reimagining every business, even in-person services, as a digital business, harnessing global data networks to connect companies with their hottest market.
With eBizUniverse, the proof is in the results—their work isn't done until you have more leads, more revenue, more operational efficiency, and a beefier bottom line than when you started.
You Might Also Like: